Homemade Vegan Granola
Homemade Vegan Granola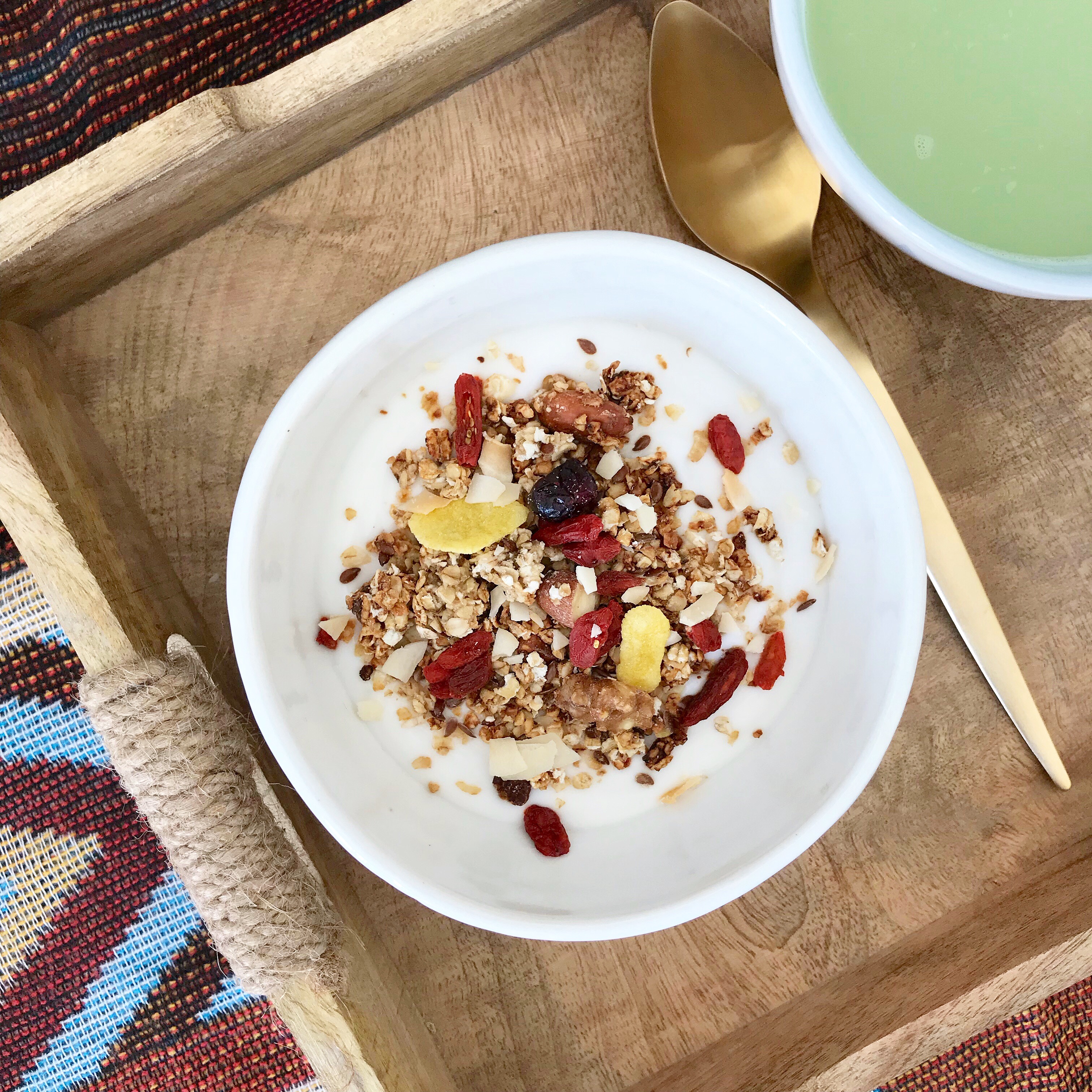 I love homemade vegan granola! It´s packed with nutrients and there´s so many variations depending on what you like and how nutritious you want it. Granola is quick and easy to make, easy to store, and perfect for breakfast and as a snack. Or even as a dessert if you add it to nice cream
Easy to store and take with you in a glass jar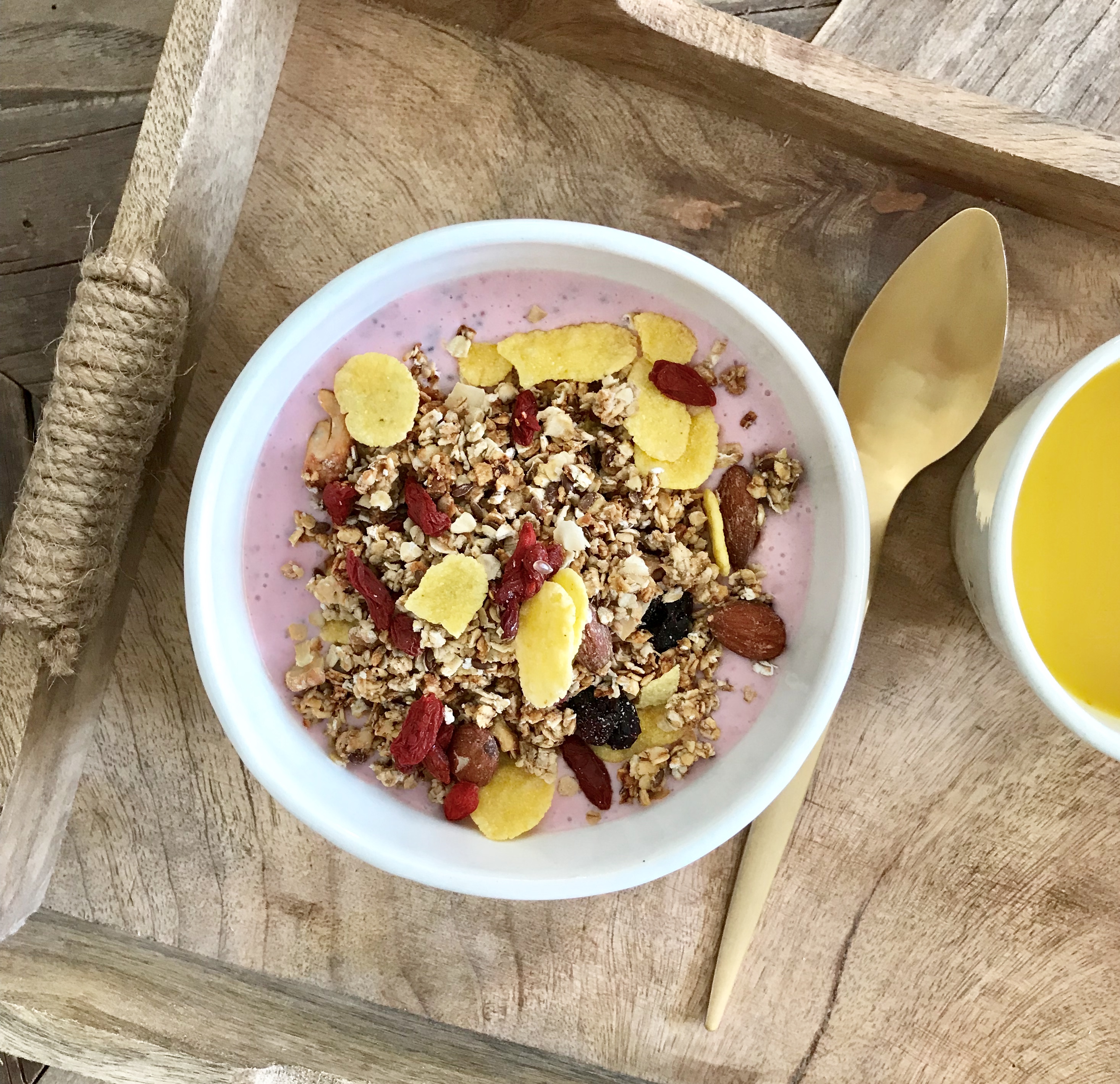 Mix the granola with a chia pudding with fruits or a smoothie bowl, and you've got the fruits of the day covered. Add more nuts and seeds, or turmeric/spirulina/maca powder and you've got those superfoods in too! Use it with dairy free yoghurt or plant milk with calcium and some added vitamin b 12, d2. You can add spices like cinnamon and natural sweetener like stevia or carob syrup if you want. Sometimes I use maple syrup too. For The Olive Tree Sanctuary I made them sugar free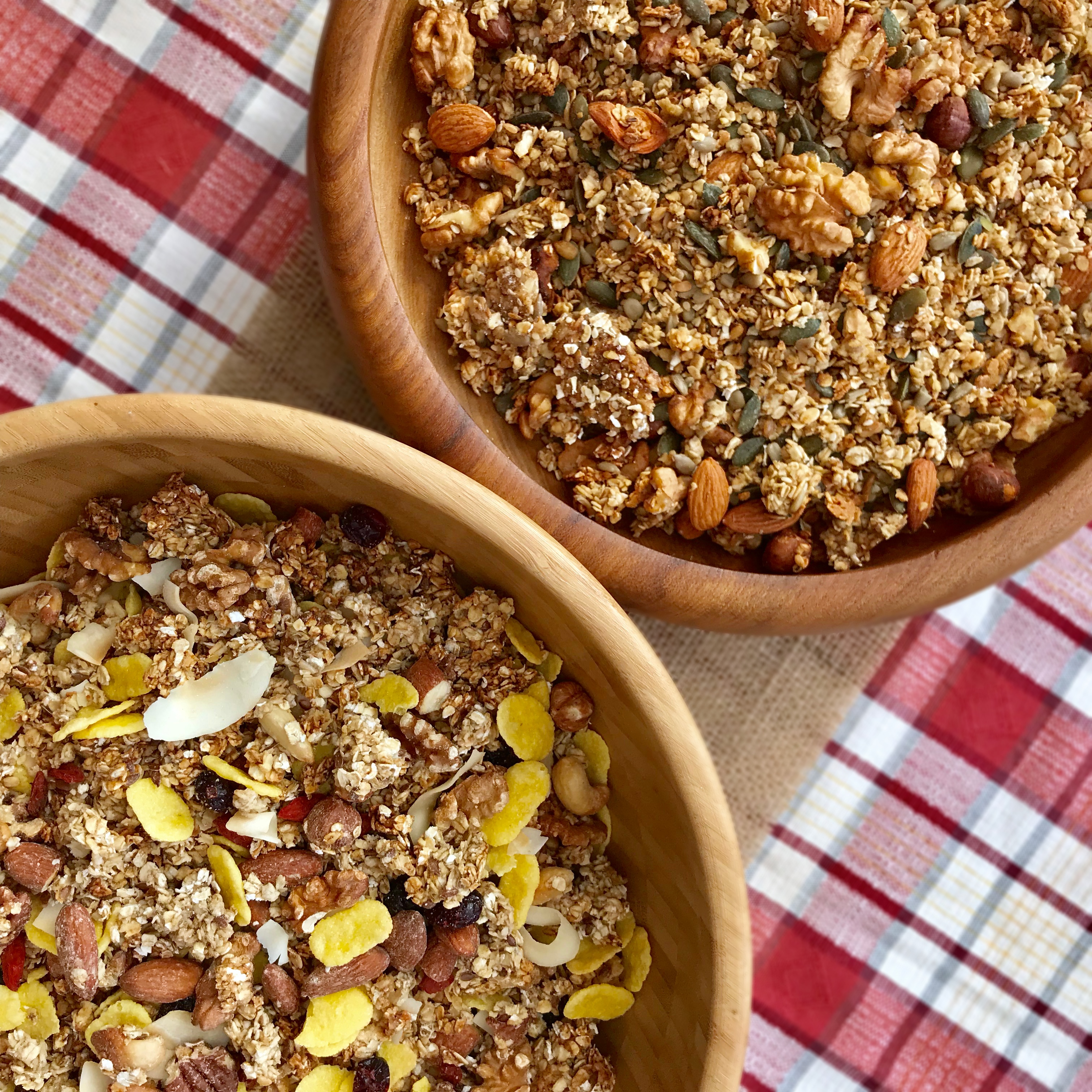 Easy homemade banana granola (sugar free)
I use organic where it is possible. I also mix different nut depends on what taste I want. I love them all. Walnuts, almonds, hazel, brazil nuts, cashew and pecan.
500 gr of oats (porridge/rolled)
4 tbs of coconut oil
3 big ripe bananas
1 cups of nuts of your choice
1/2 cup of flaxseeds
1/2 cup of hot water (use a small cup, and add more if the granola is too dry, but it´s not suppose to be sloppy wet!)
Preheat the oven to 175 degrees.
Melt the coconut oil, mash the bananas mix together with 1 cup of hot water (to make the granola stick together). If you're making granola without bananas, add 1/2 cup natural syrup.
Use a big bowl and mix oats, nuts and flaxseeds. Add the bowl of mixed bananas, coconut oil and water (here it´s nice to add 2 table spoons of maple syrup if you want). Mix together.
Use a big tray or two. Place in the middle in the oven. Turn after 15 min. Bake until golden brown color. Mine is usually baked for about 30-40 min. And I leave them in the oven with the door slightly open to cool down. OBS!! Granola burns easily, so you might want to keep a look at it….and reduce the heat when baking it longer.
When the granola is cooled off, mix in what ever you want of:
seeds (more flaxseeds, pumpkin seeds, sunflower seeds ect.)
dried fruit (apricots, bananas, figs, dates, prunes ect.)
dried berries (goji, cranberries, raisins, blueberries ect.)
coconut chips (I love this in granola)
organic corn flakes
Store the granola in air-tight glass yars. The granola can be easily stored for a few of weeks. I usually finish this batch in one to two weeks. Breakfast and night meal.
Our bowls of happiness at The Olive Tree Sanctuary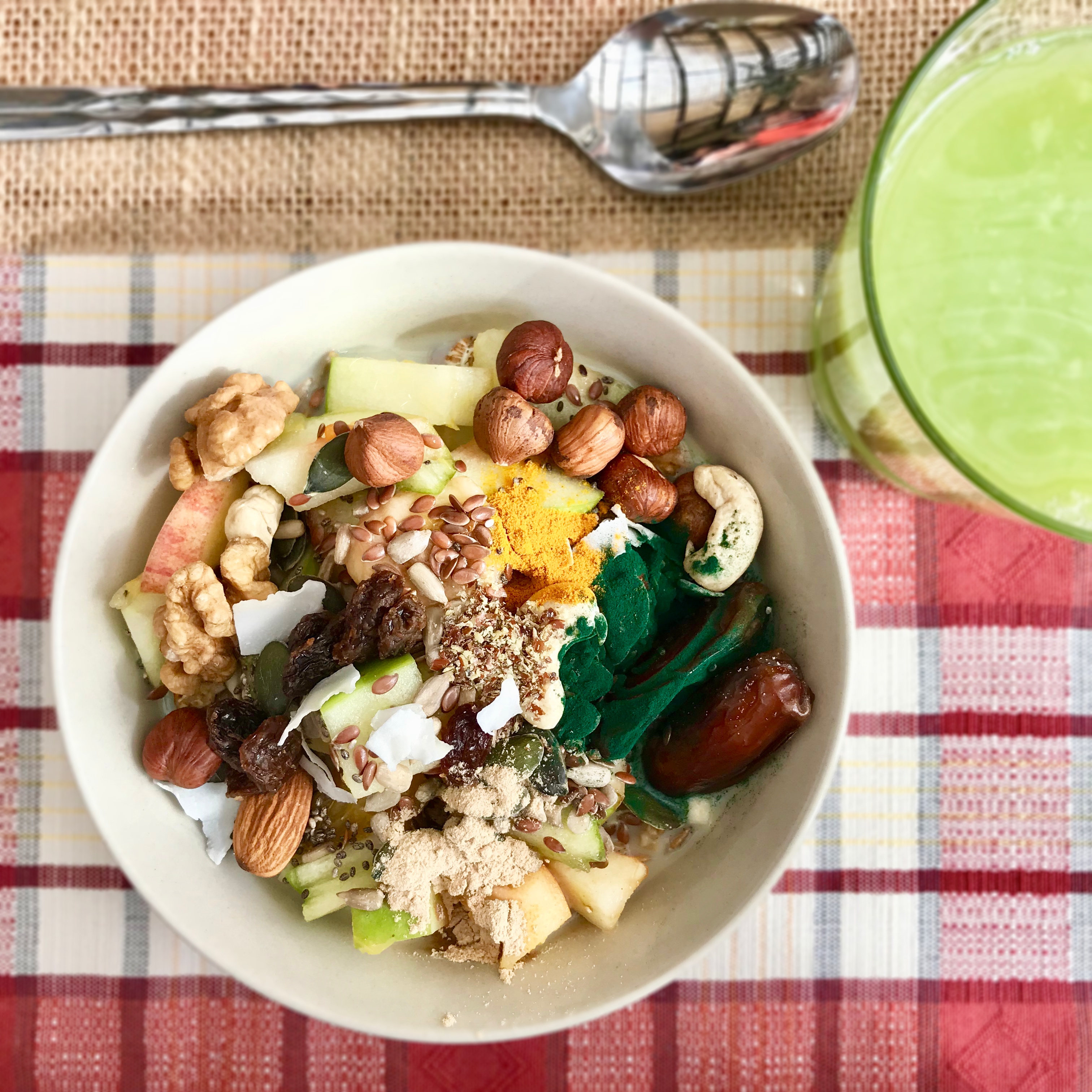 Granolas with fresh fruit, nuts, seeds, dried fruits, dried berries, coconut flakes, organic turmeric, spirulina and maca powder with Koko dairy free milk (or soy milk or almond milk)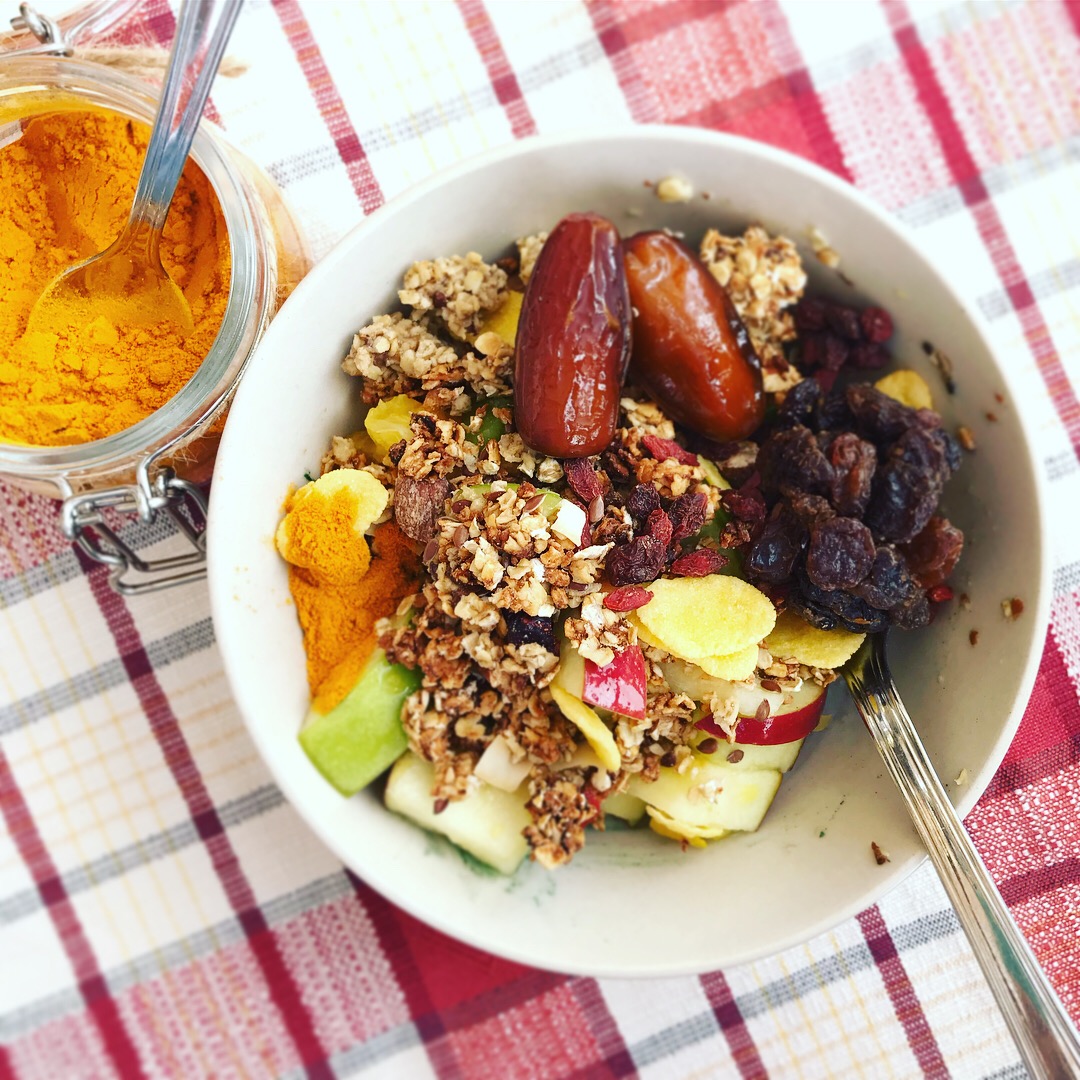 How amazing is this for breakfast?
Healthy, yummi and packed with so much of the right fuel for our body!
Start the day right…even if you one of those who´s not hungry in the morning and don't eat breakfast, let your first meal of the day be a nutritious one.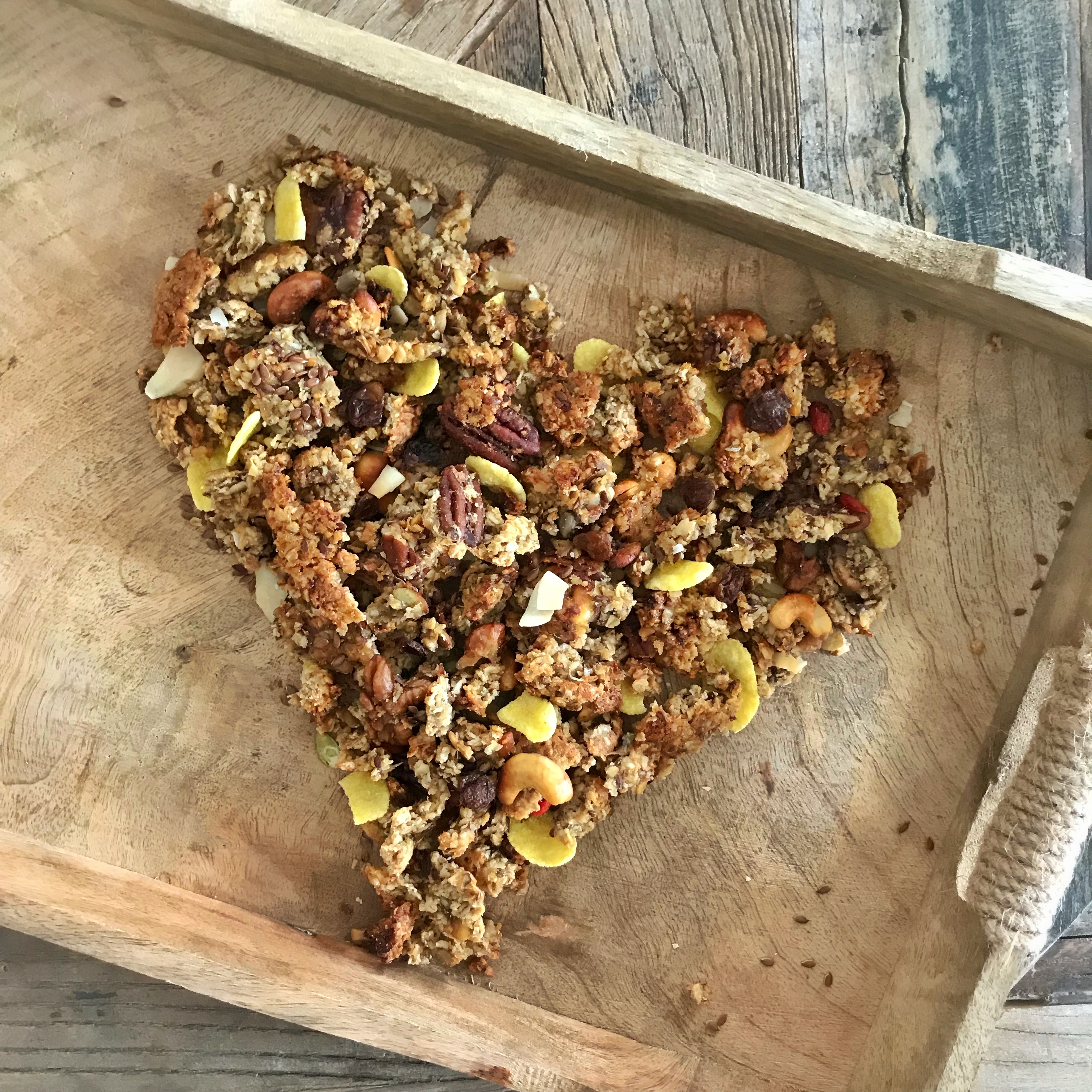 Wish you a happy healthy day:)
Lots of Love:)