Let the journey begin – The Olive Tree Sanctuary
Let the journey begin – The Olive Tree Sanctuary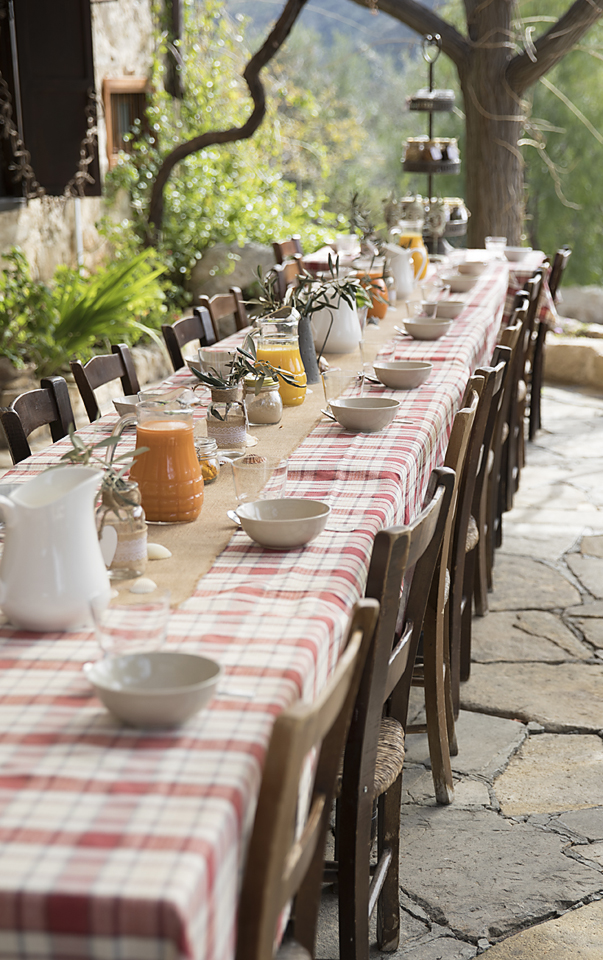 Finally after months of dreaming, planning, working and visualizing we could welcome our first guests to The Olive Tree Sanctuary! Our dream come true. A vegan holistic yoga retreat on the beautiful island of Cyprus – A healing retreat. A perfect opportunity for you to do something beautiful for yourself. Let your light shine. And fall in love with taking care of yourself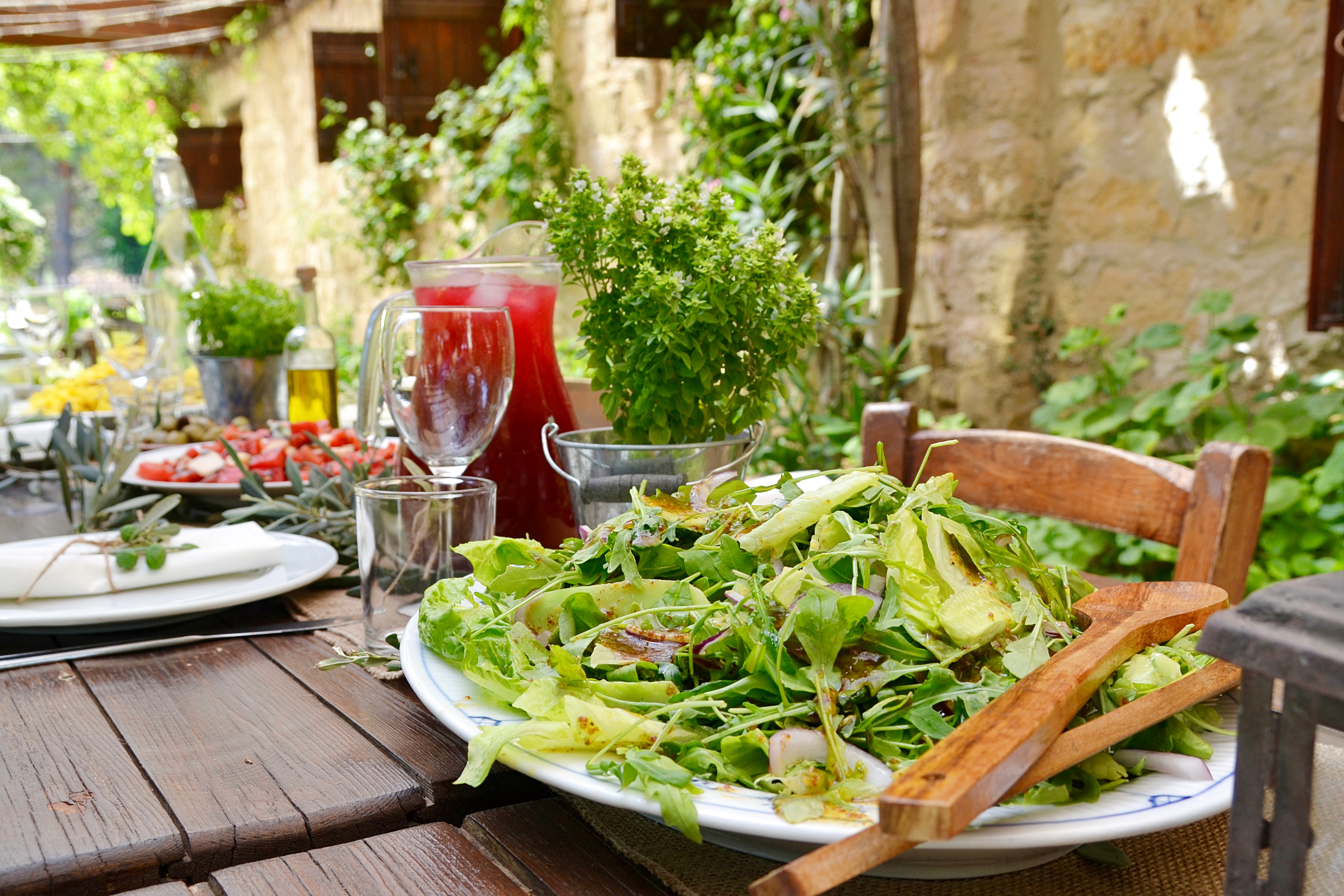 We've been so excited for our opening weekend of our Vegan Holistic Yoga Retreat – "Song of the Self" with yoga, meditation, essential oils, sound healing, holistic treatments and healthy vegan soul food. Here´s a little peak into how this retreat looked like at The Olive Tree Sanctuary. We're so pleased to be working along side of the lovely staff and owner at the venue where we have our retreats – Vasilias Nikoklis Inn. We couldn't have had a better place or better people! A beautiful traditional Cypriot stone building in a peaceful valley of olive trees and animals walking around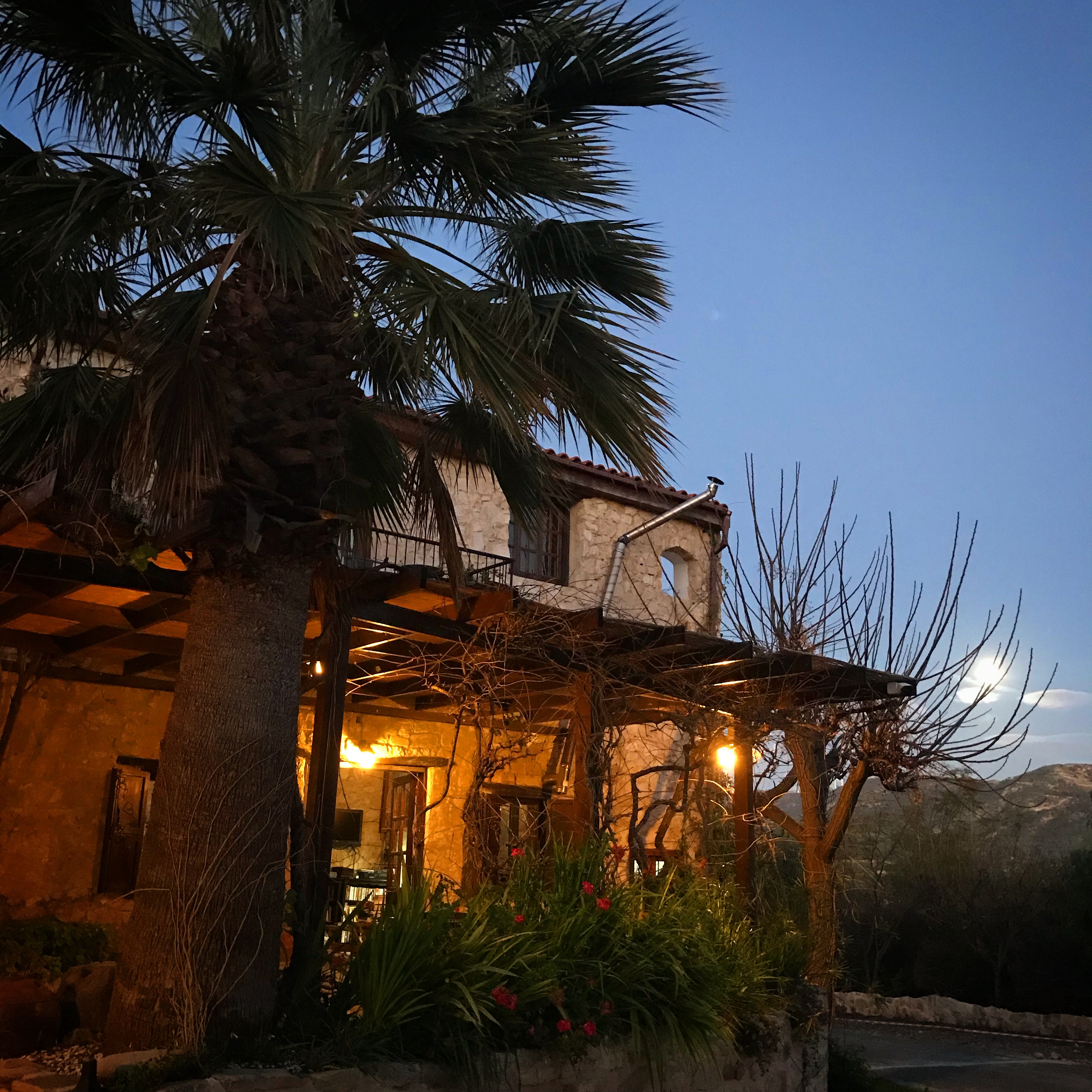 Night time before the retreat started…It was a fullmoon and we had this peaceful, but at the same time exciting feeling..We couldn't wait to meet everyone! We had two lovely photographers with us on two of the days capturing beautifully the retreat. There's a bit of mix between professional photos and iPhone pics in this blogpost. Thanks to Amita and Bridget for the professional photos. Time to let the journey begin with us…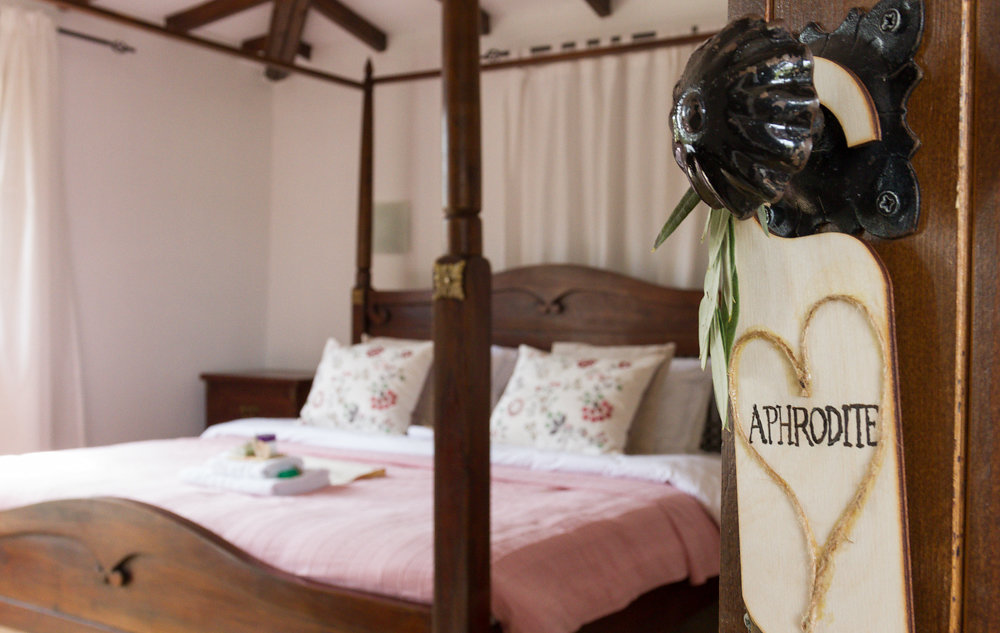 Room preparations with vegan toiletries, home made sugar scrub with DoTERRA Lavender essential oil and fractionated coconut oil, tote bag with our logo, welcome letter, a notebook for guest to write down their dreams, thoughts, inspirations, manifestations…or something they learn while staying with us..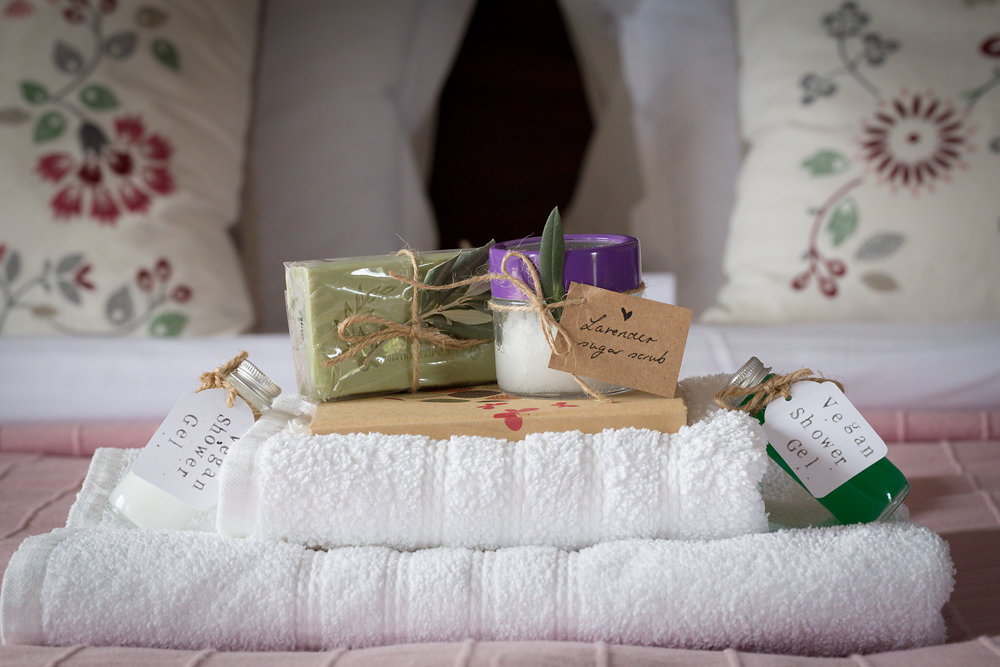 We love our eco-friendly tote bag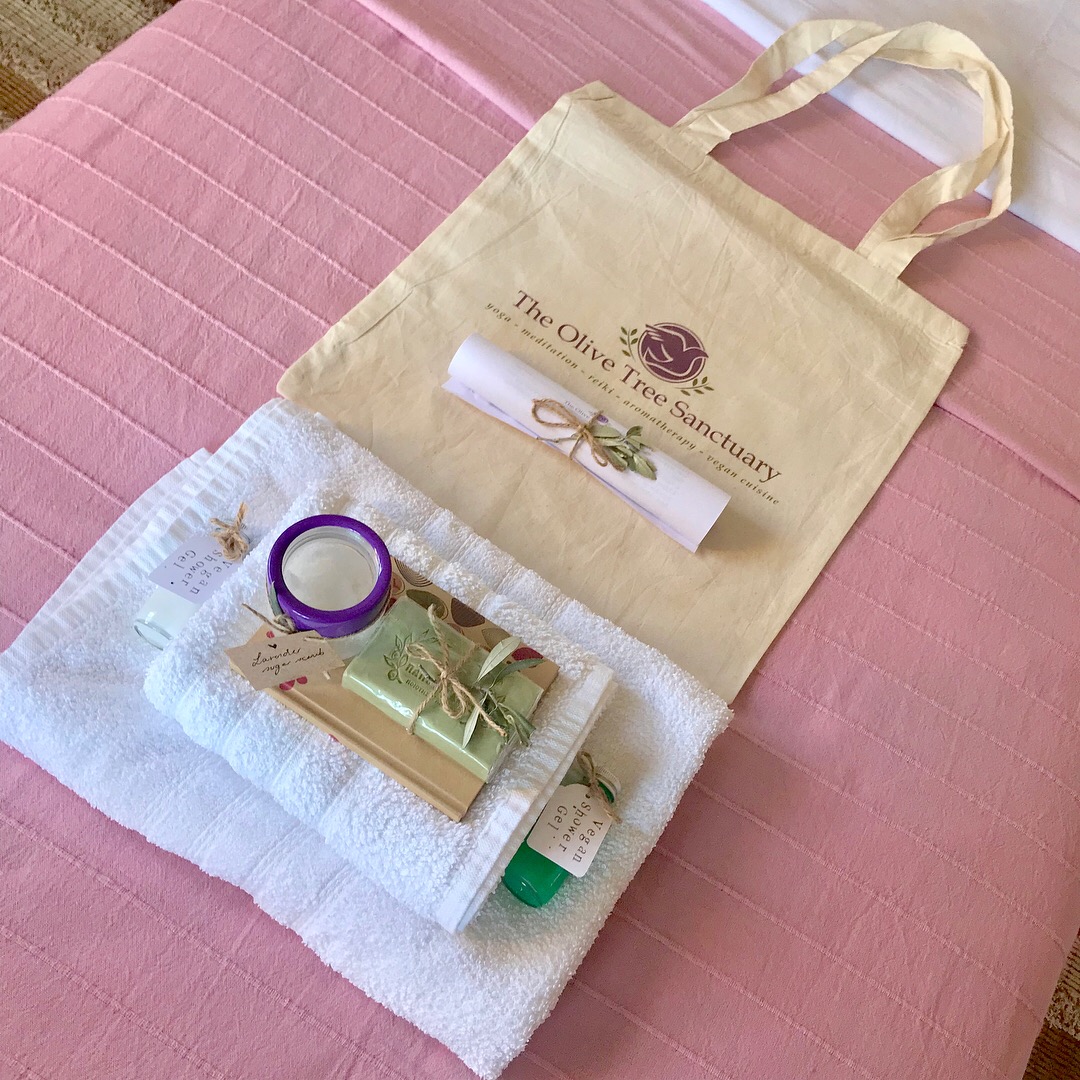 You might wonder about all the olive leaves…Our name "The Olive Tree Sanctuary" – comes from both the memories of a life changing experience we shared and we wanted something that symbolizes what we're creating… The olive tree symbolizes peace (for us this means peace within, once we find our peace within, a more peaceful world for people around us), wisdom (to be guided by your true soul, and to continue learning) and prosperity (to follow your passion). The olive tree of course still plays a big role in the Mediterranean and has throughout history, from ancient times and in Greek mythology. The olive tree has been used for everything from medicinal cures, protection against evil, and to victory crowns. The legend has it that Goddess Athena gave the olive tree to mankind as the greatest gift known. The tree also shows longevity and resilience. We love the olive tree and everything it is…both as a legend, beauty and for its uses today.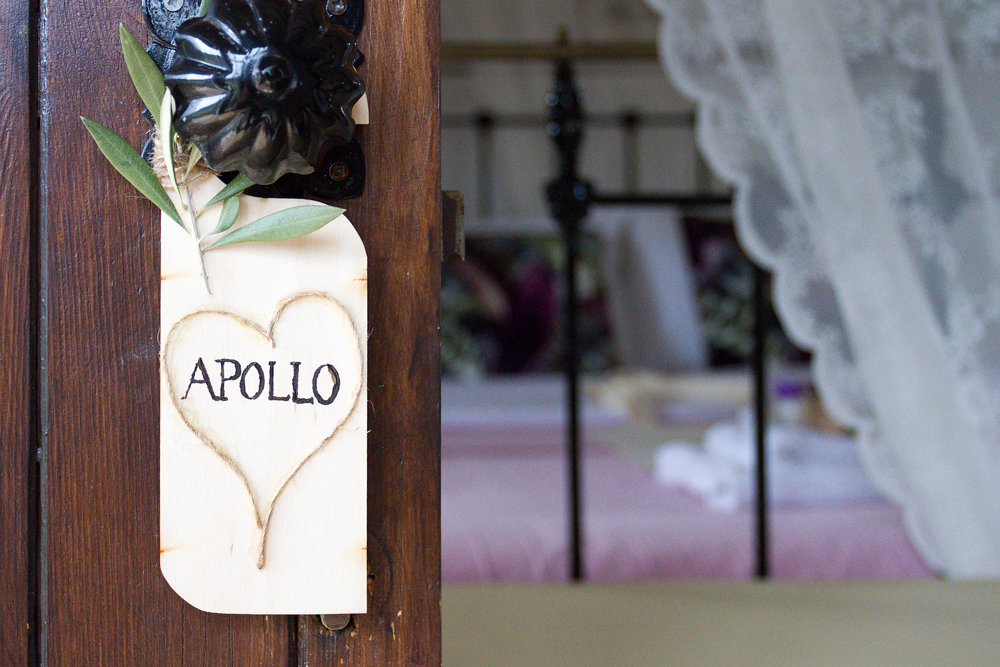 Homemade signs for all the personalized rooms…with name of Greek Gods and Goddesses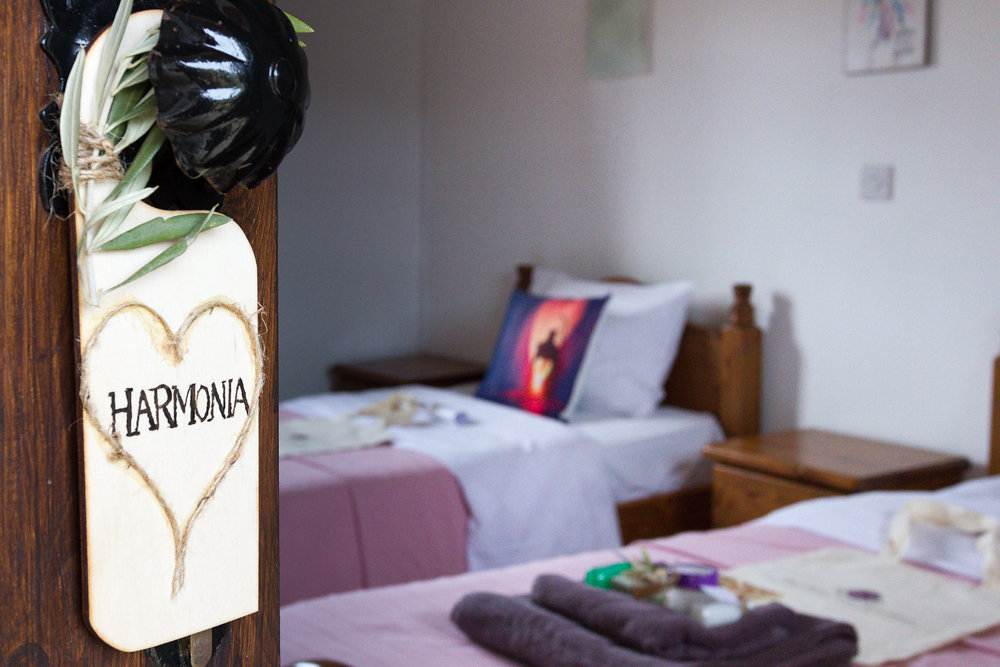 Just having that time for yourself is healing in itself… "The mind is like water, when it´s turbulent, its difficult to see. When its calm, everything becomes clear". – Prasad Mahes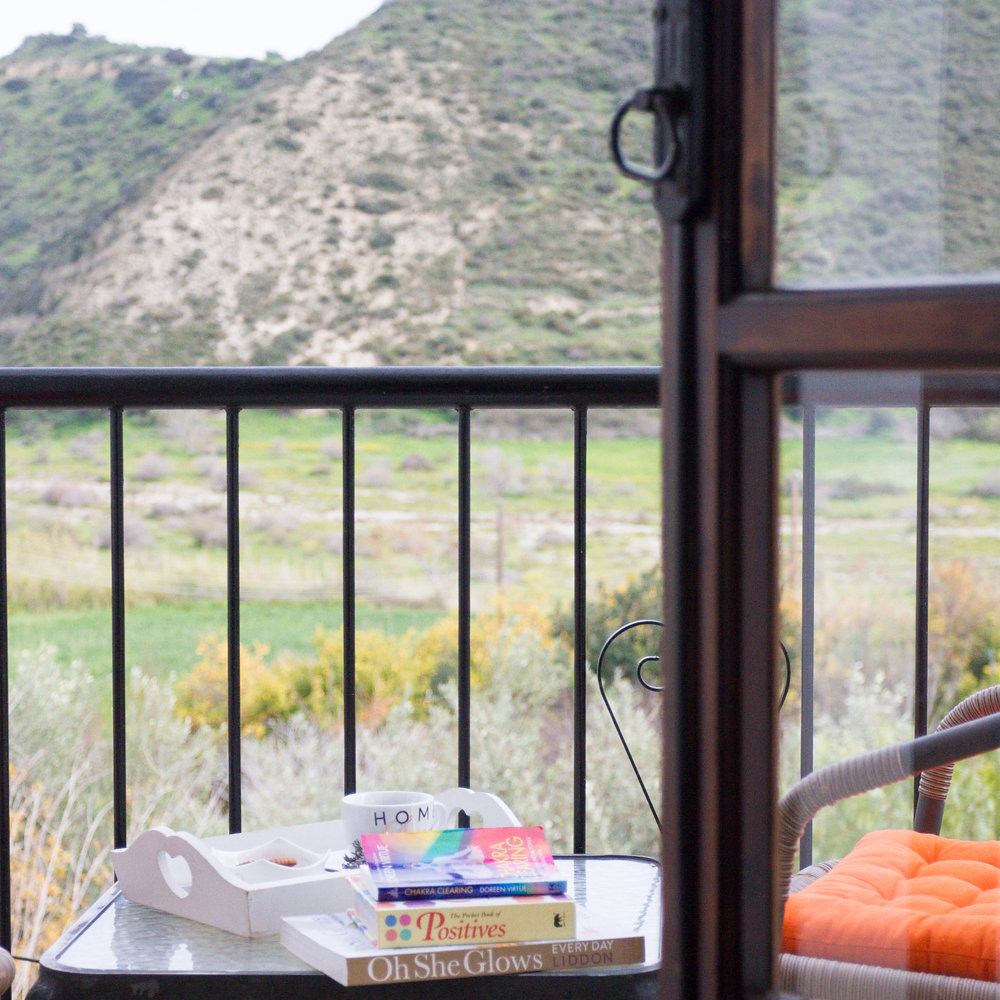 Be kind to yourself. Listen to what your soul needs. Serenity is the tranquil balance of heart and mind..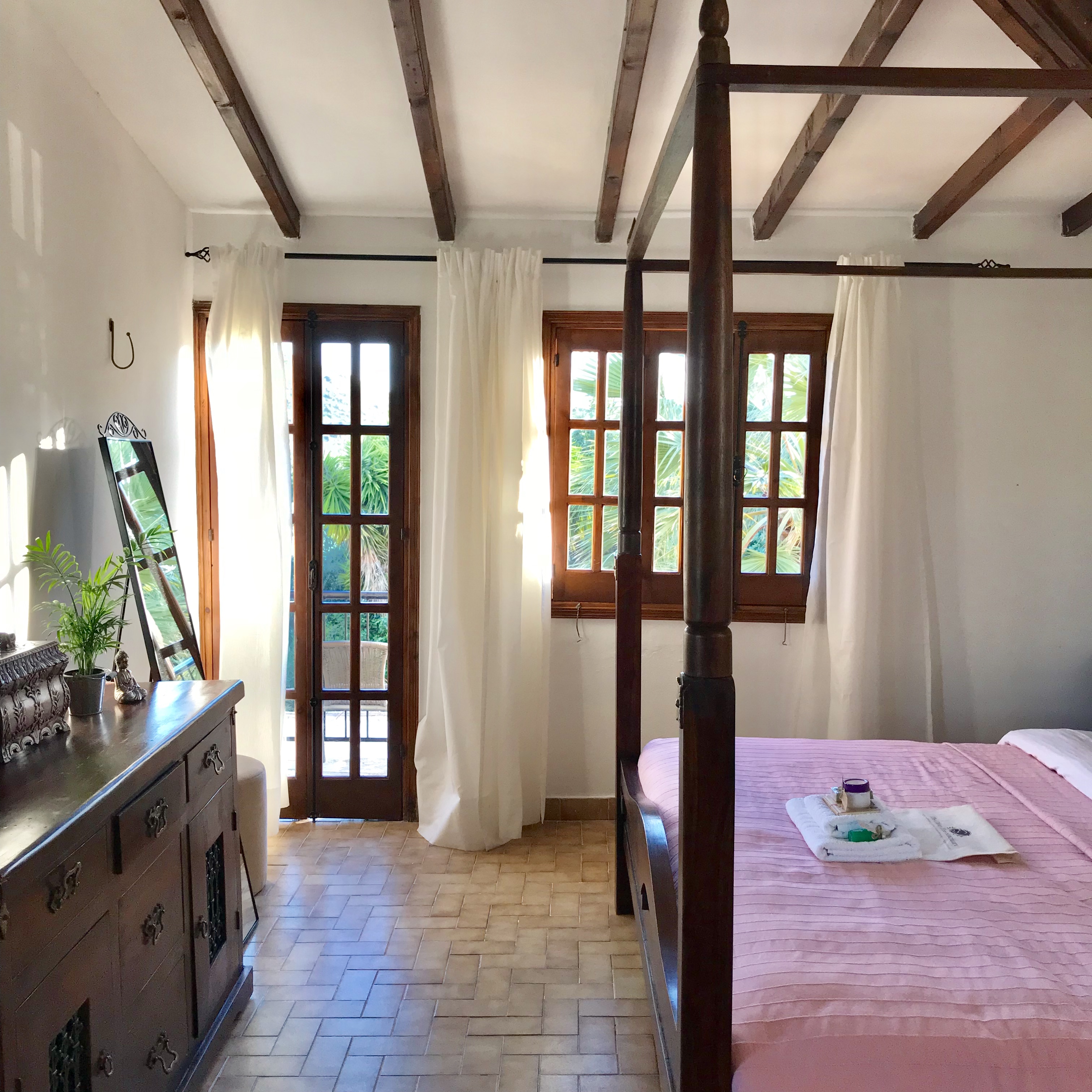 The Aphrodite room – Goddess of Love and Beauty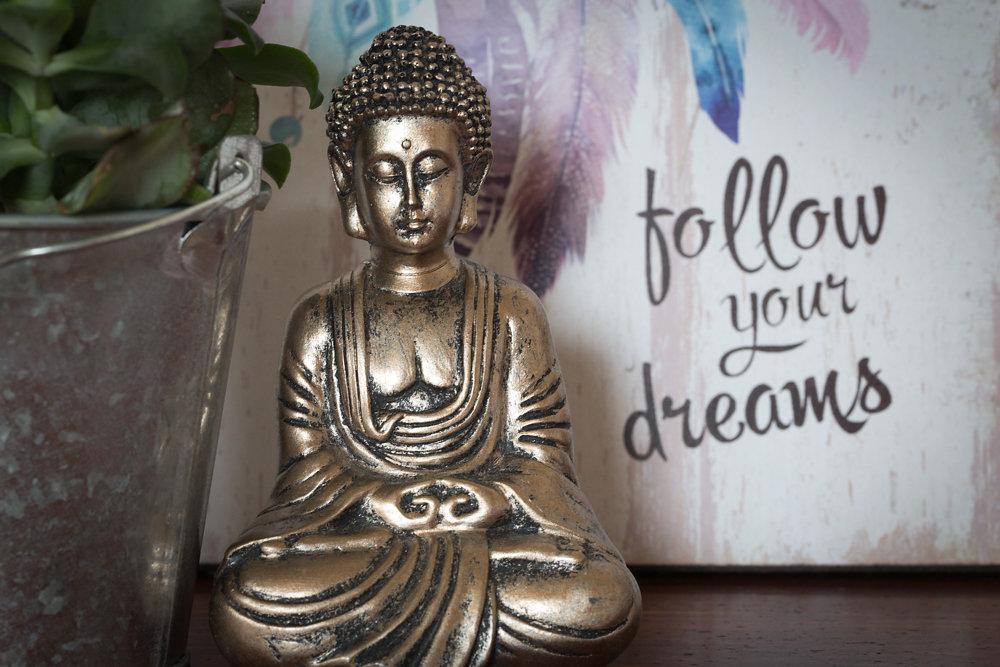 "Follow your dreams – they know the way…"
The beautiful and peaceful venue – Vasilias Nikoklis Inn… Soak in the history and energy of this place…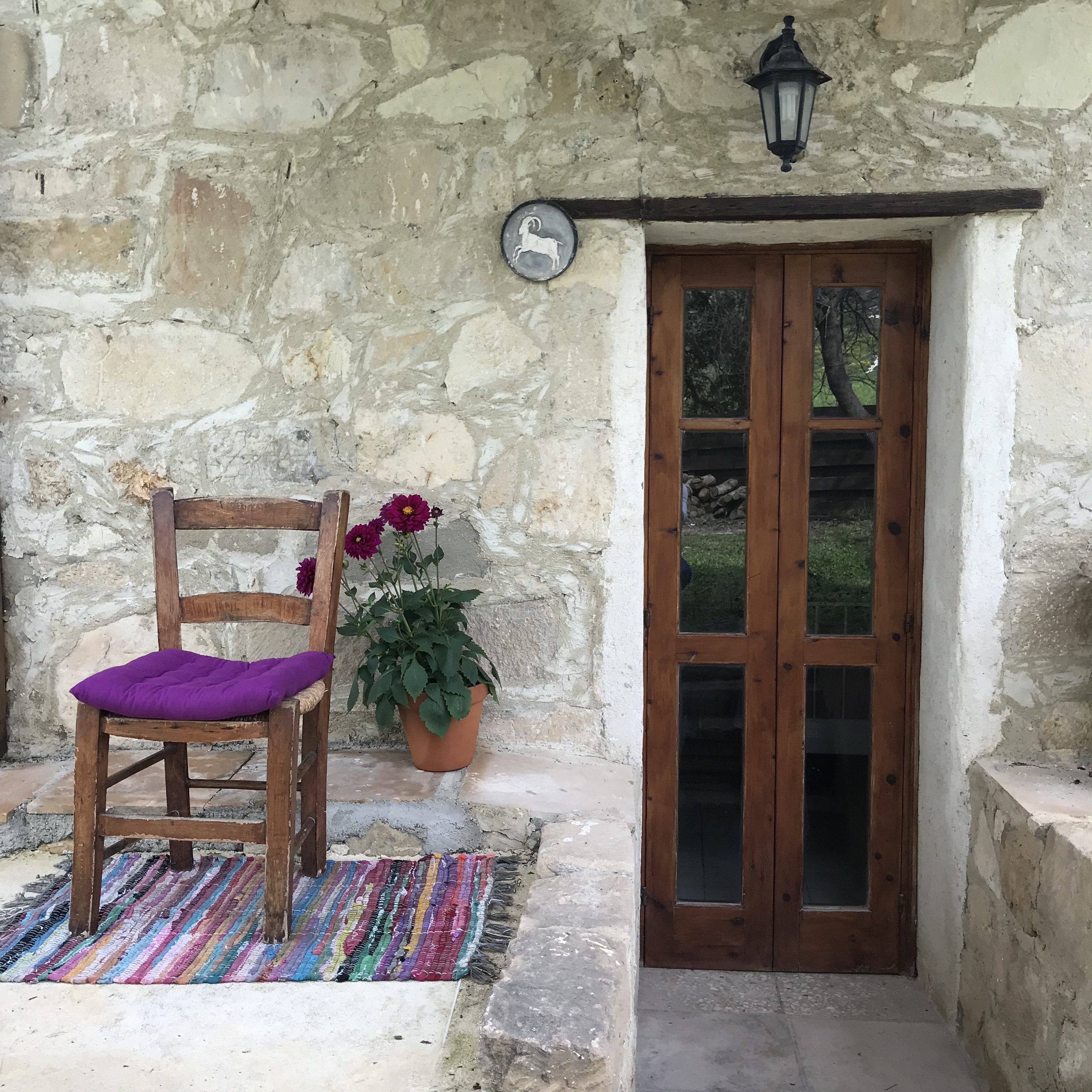 "Deep within your soul is a door that opens into a world of wonder. Open the door and let the magic in…"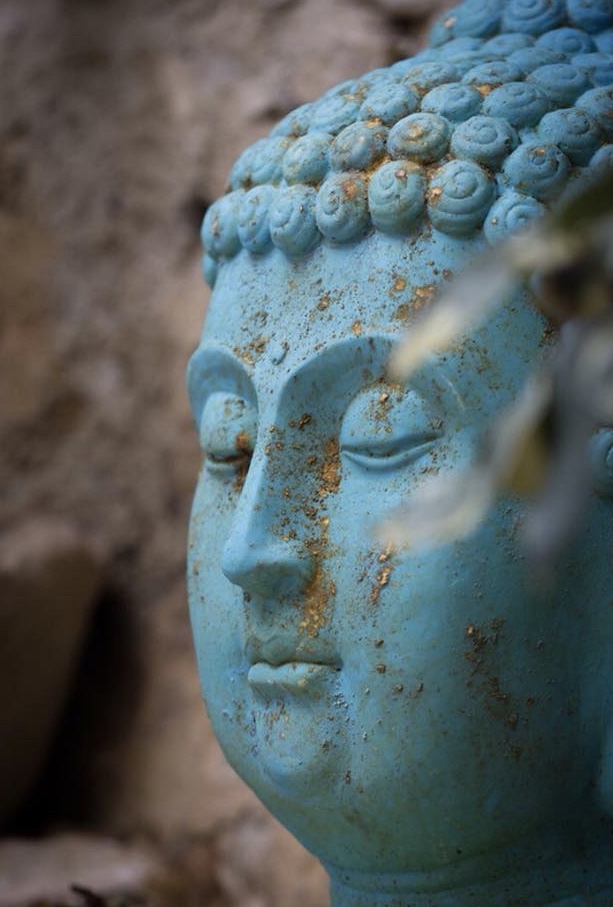 Yoga is set up for the first session with our lovely Yoga teacher – Dora Nemes and sound healing with music of an angel – SimGe Akdogu. It´s the beginning of March and spring has just begun. The nights are still a bit chilly, but fresh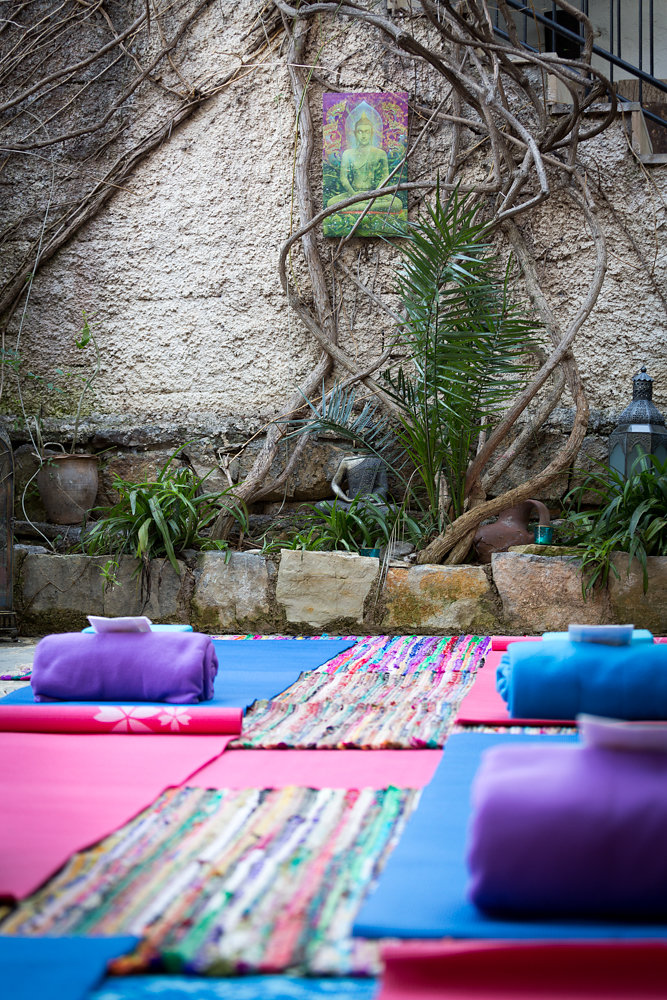 Each guests had a little welcome gifts on their mat, and Grizoulis – the yoga cat who we all fell in love with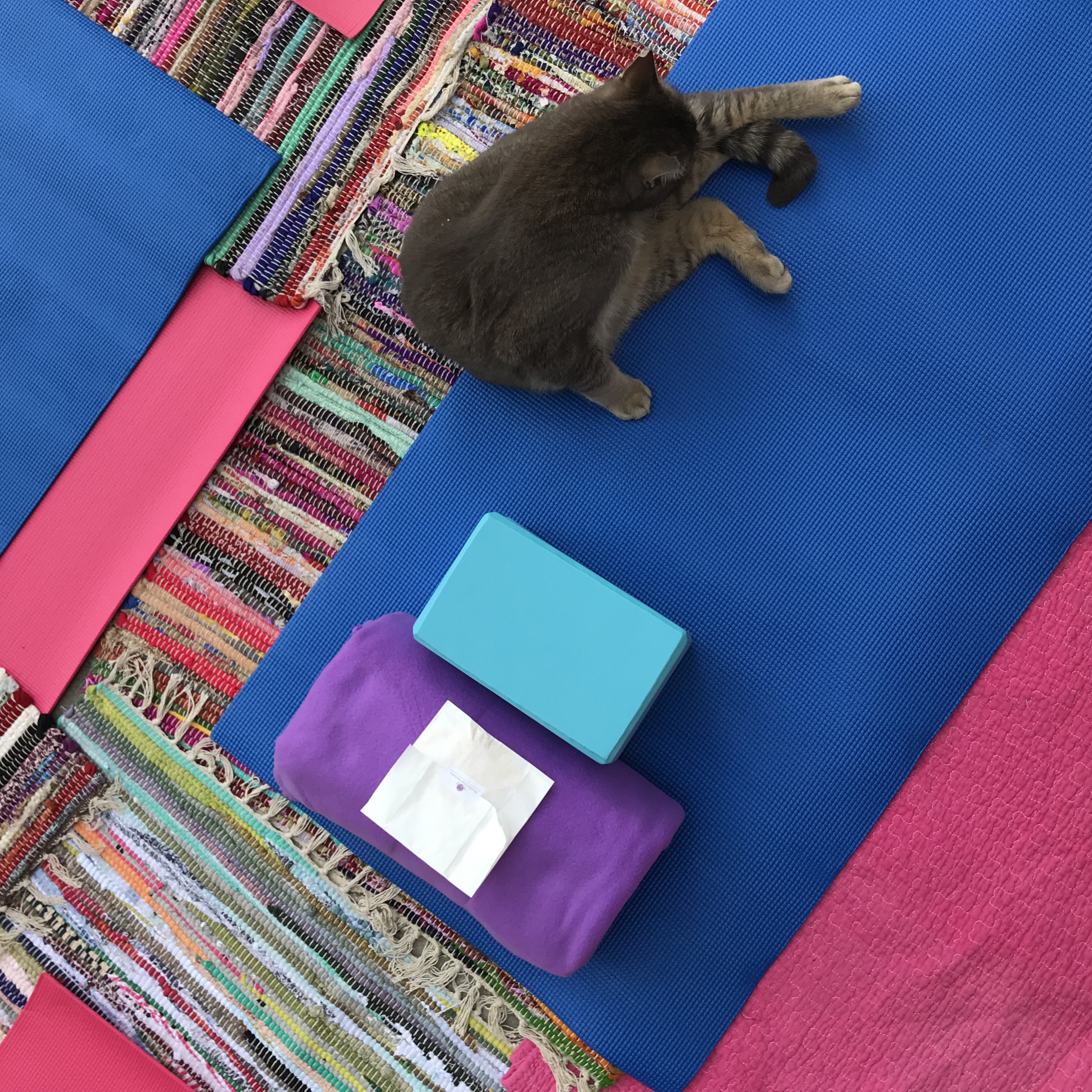 Time to welcome our guests with vegan cakes and herbal teas. All our herbal teas are organically grown, picked and packaged in Cyprus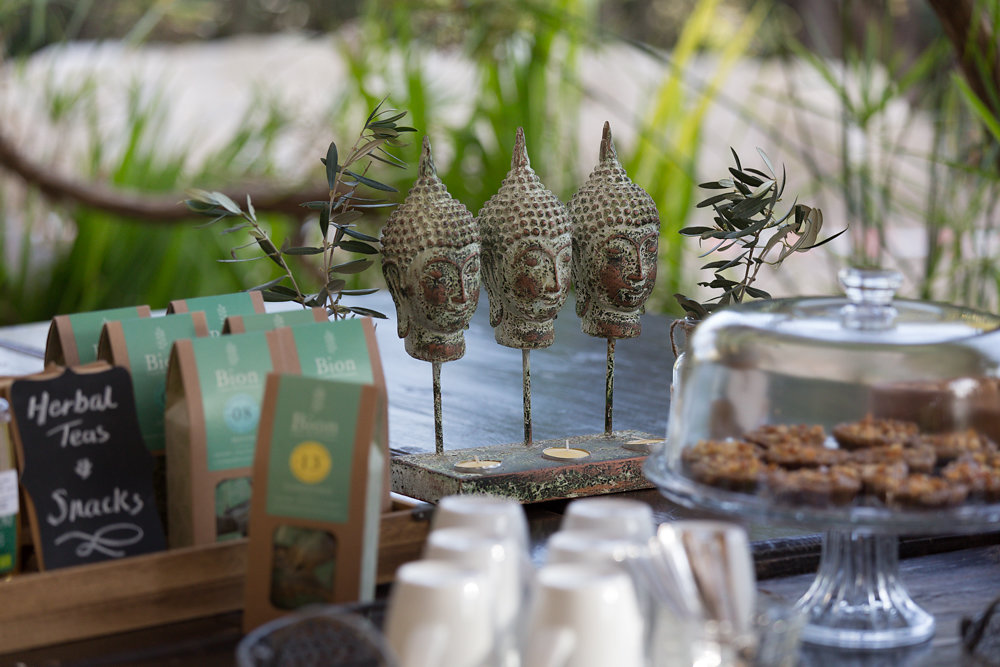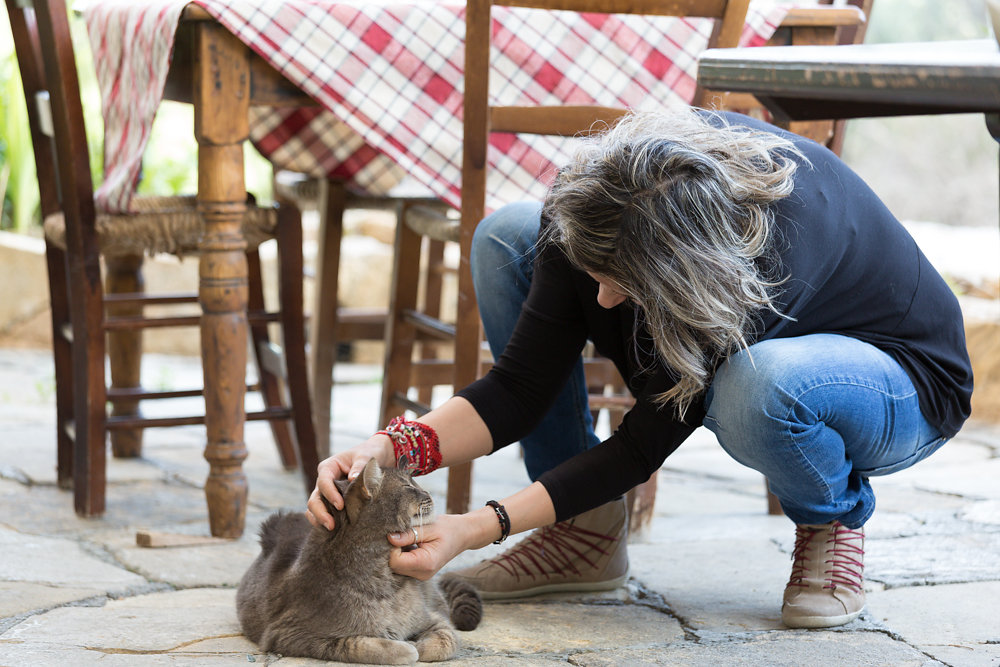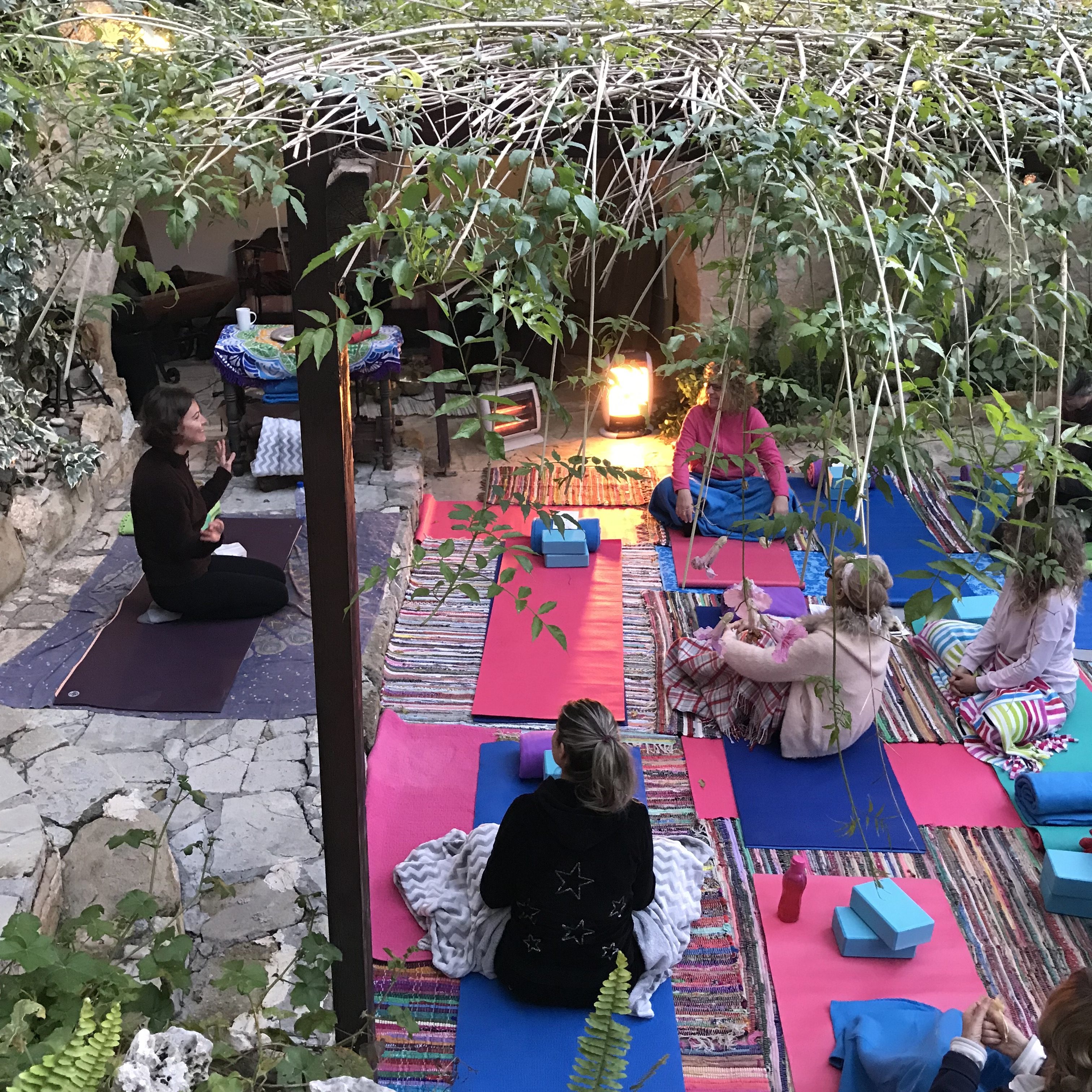 Yoga with the kind and warm spirit Dora – followed by meditation and sound healing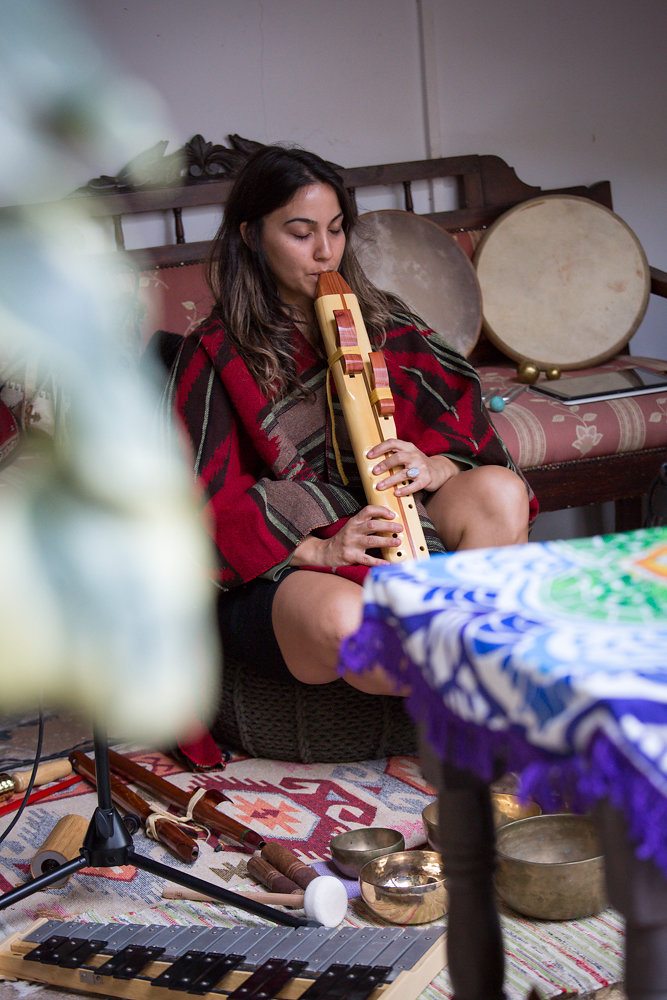 Sound healing by SimGe – A truly magical experience! The voice of an angel…goosebumps all over..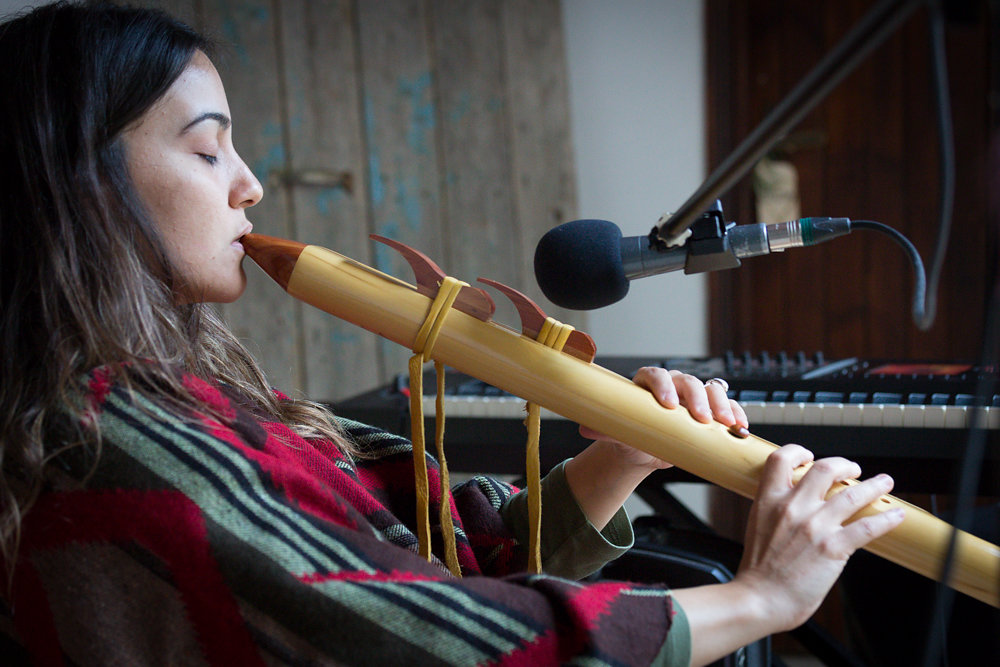 Click on the link for a little taste of the amazing sound healing with SimGe
Ps. Dora gives our guests a smell of essential oils in the video..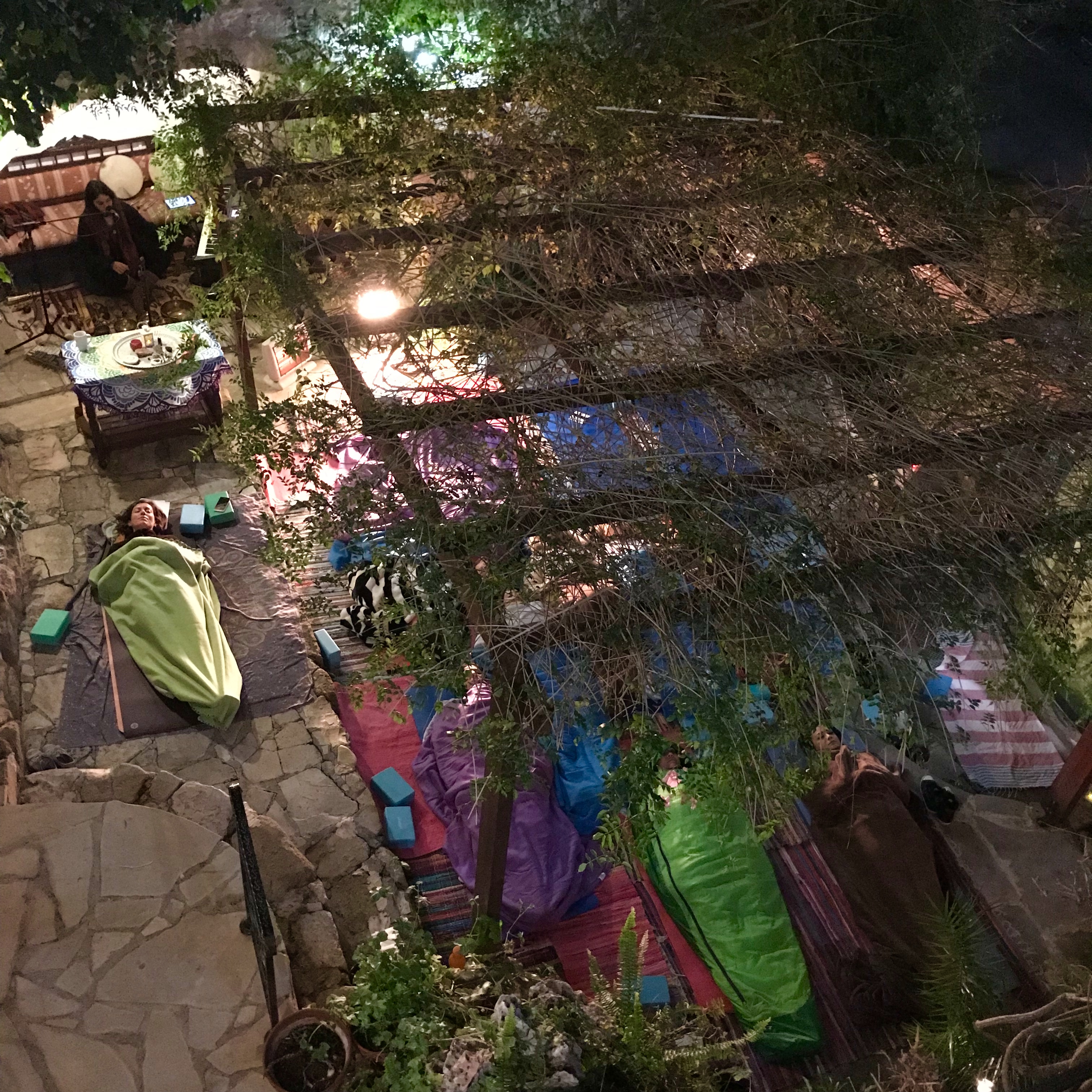 They are all wrapped in…the crisp spring air and essential oils make their way into our bodies. "Quite the mind and the soul speaks…"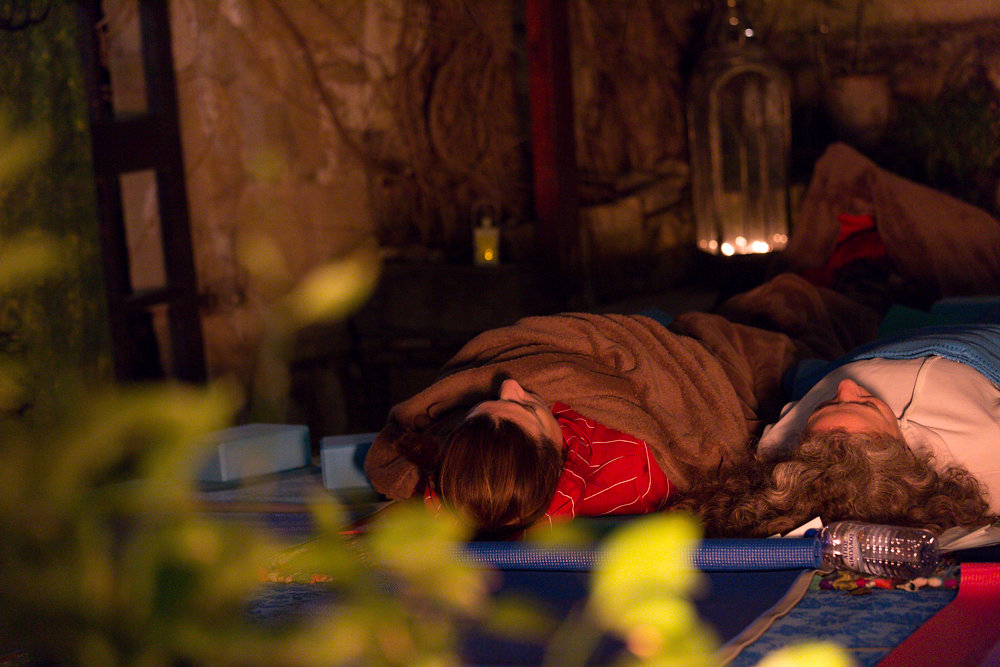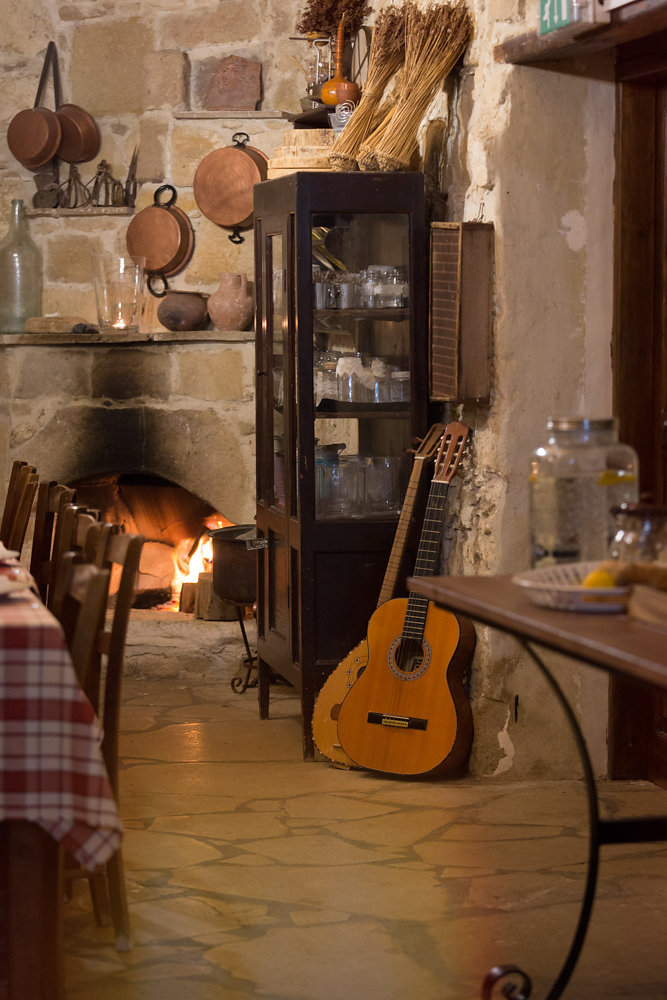 Getting ready for dinner by the fireplace.. "One cannot think well, love well, sleep well, if one has not dined well" – Virginia Woolf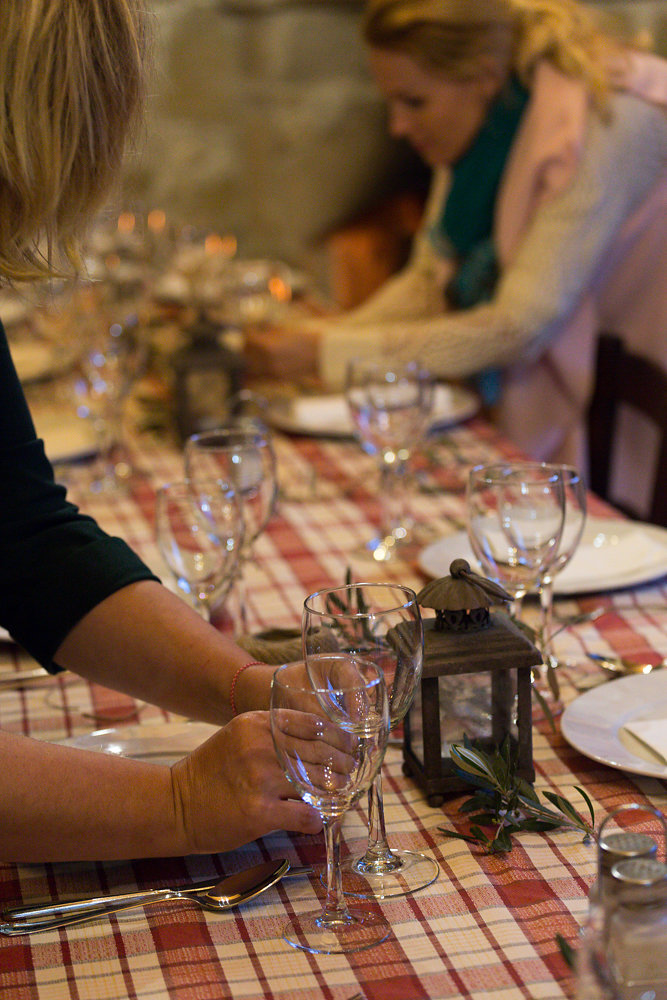 Wine for the soul – All of our wines are local and vegan. "If food is the body of good living, wine is it´s soul" – Clifton Fadiman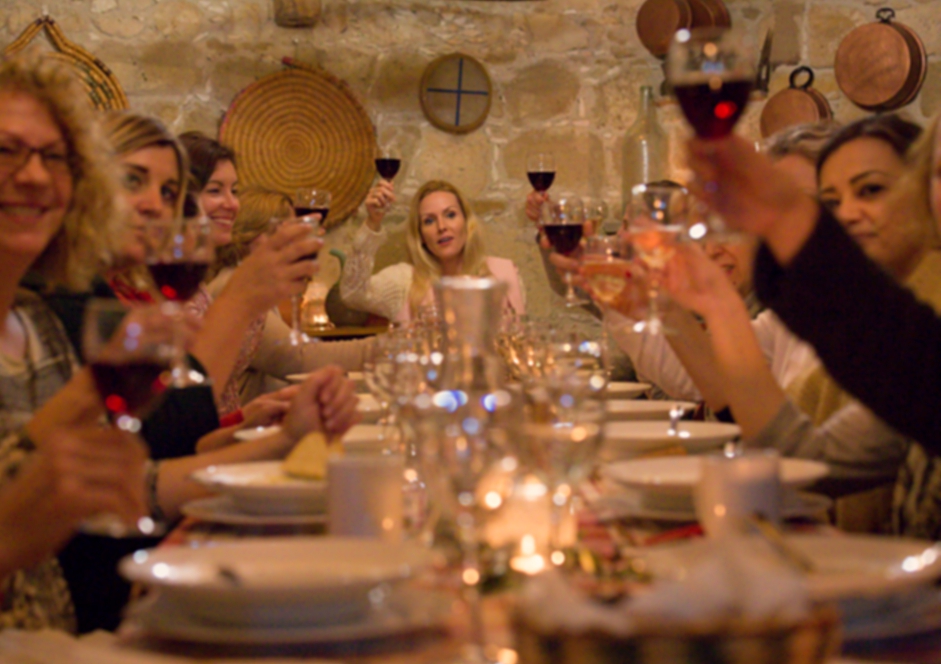 Cheers for beautiful days with beautiful souls… It continue to surprise me how quick we can love people when our hearts are open. We meet as strangers, dine as family and leave as friends…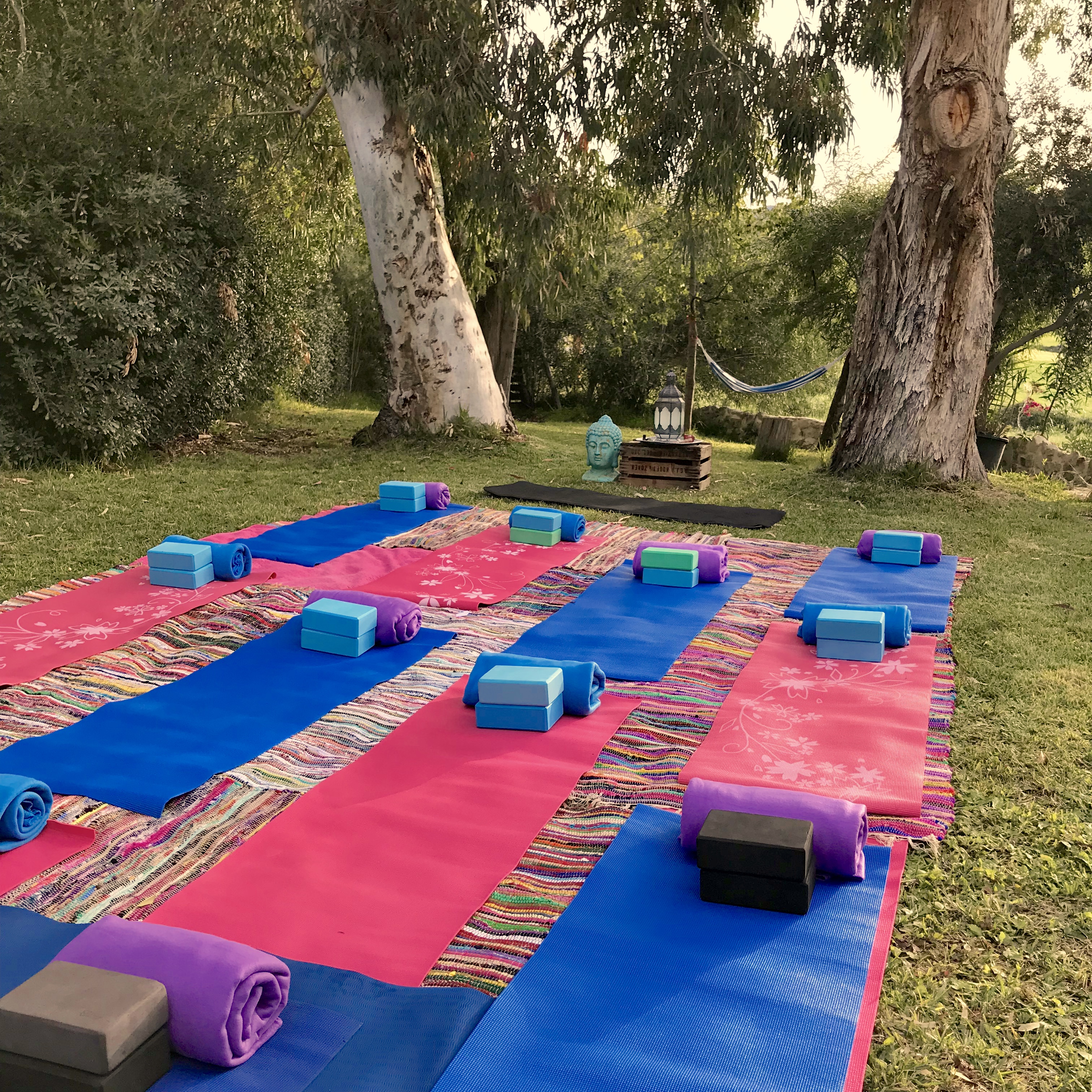 When the sun kissed us good morning,  we set up the yoga garden for the first yoga session of the day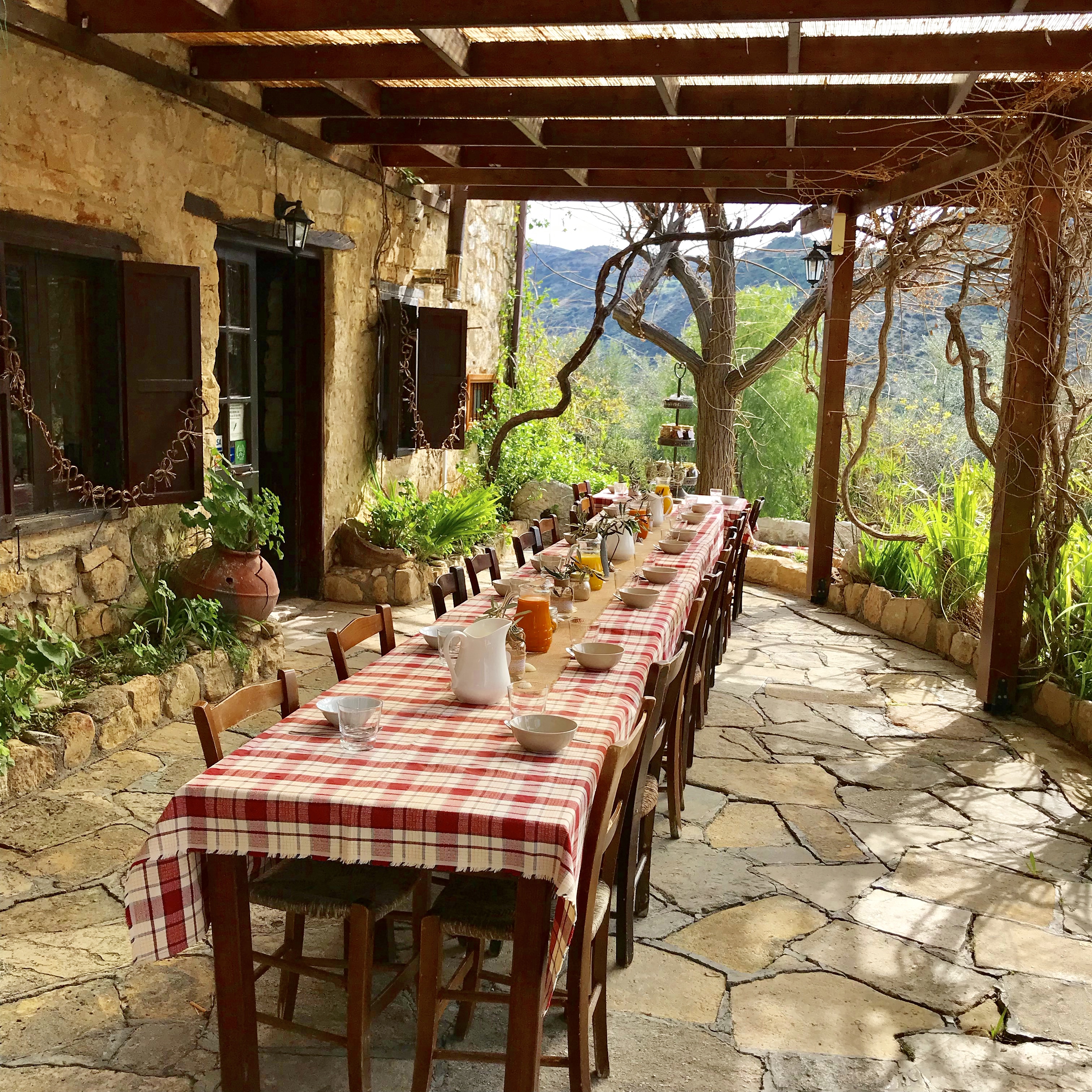 Breakfast table set for retreat guests and day guests with fresh orange juice + detox juice made of carrots, oranges and lots of ginger, plant milk, granola, fresh fruits, nuts, seeds..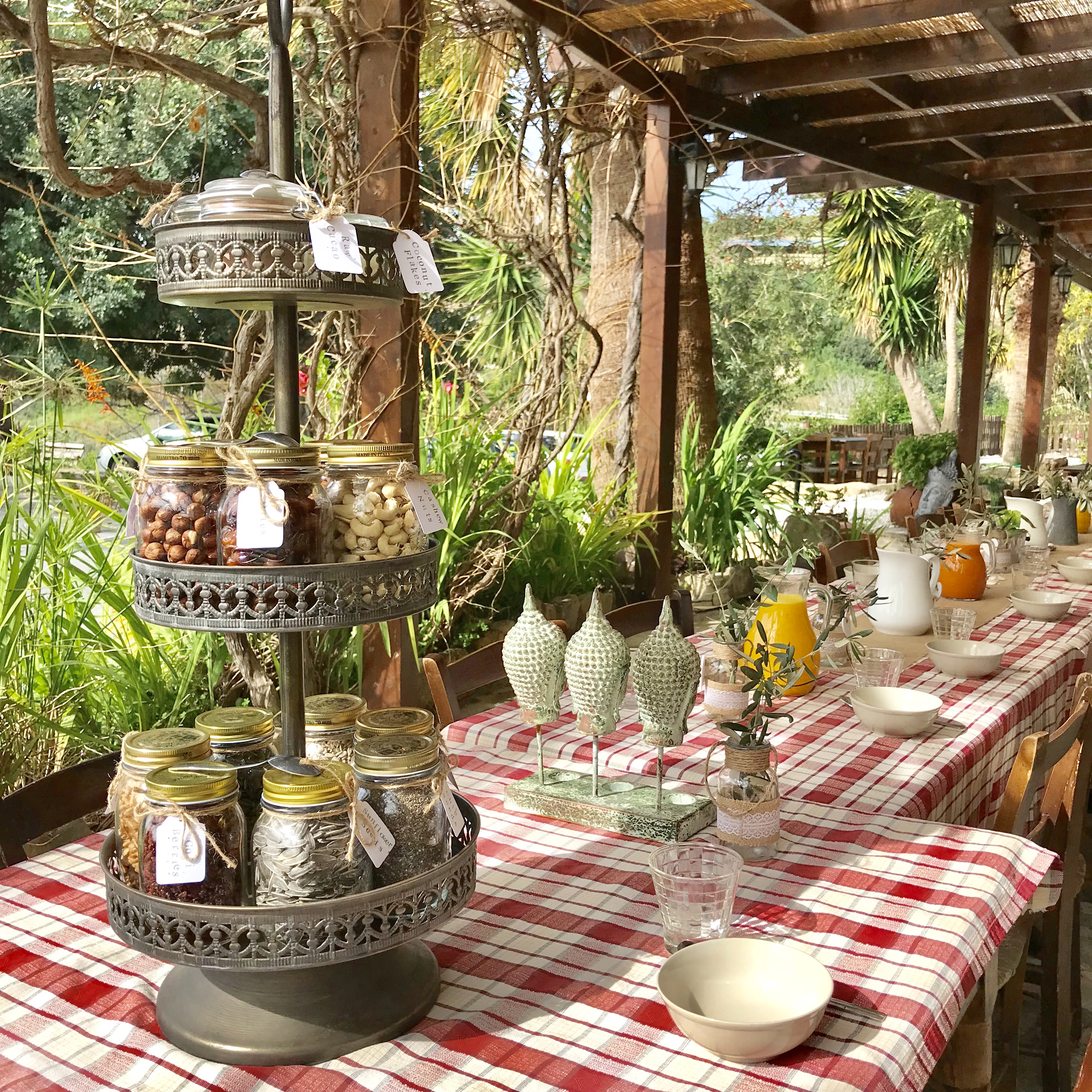 Best meals are the ones outdoor in the sunshine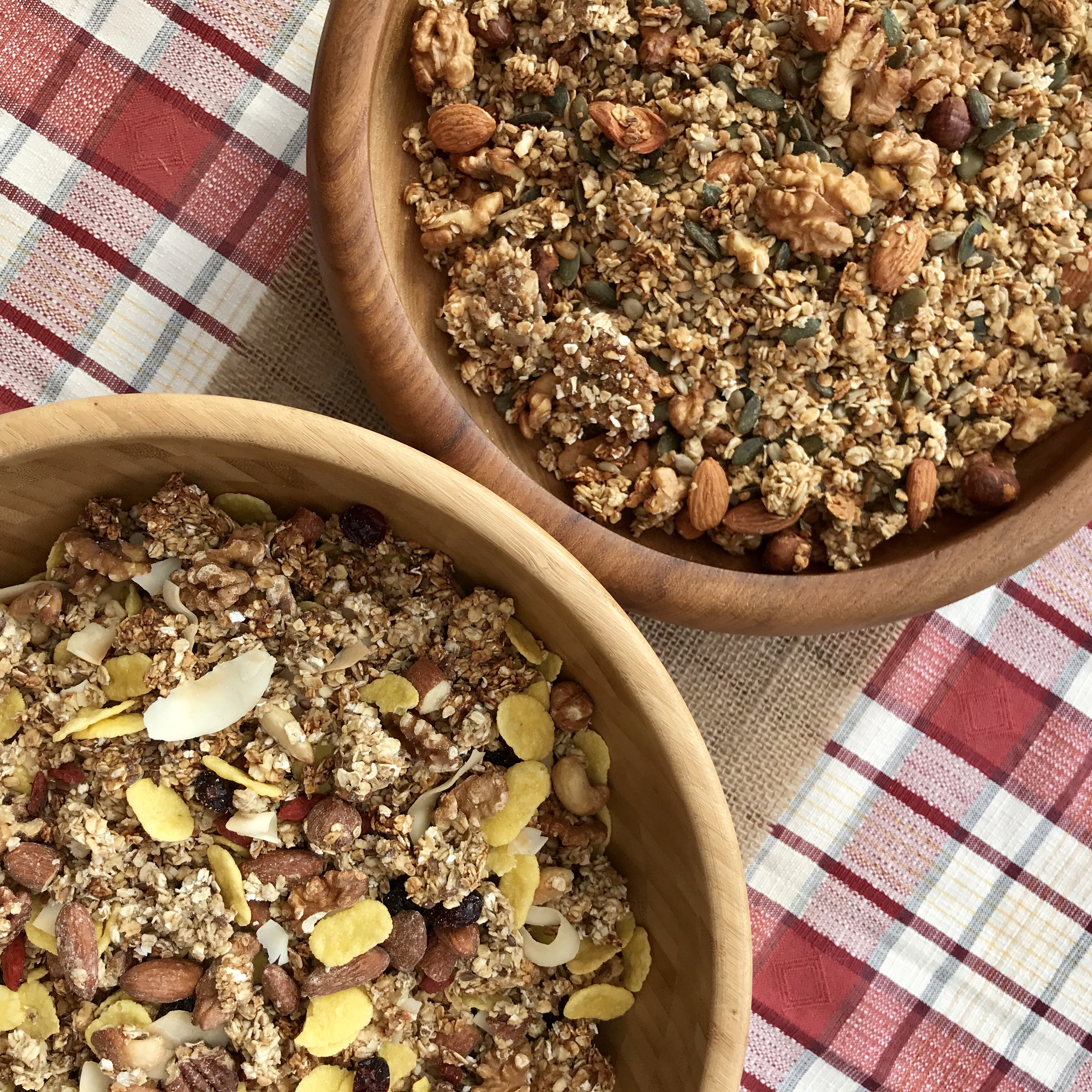 Homemade sugar free banana granola and granola with nuts, seeds, coconut chips, organic corn flakes and dried berries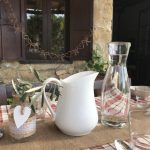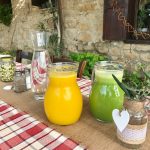 Freshly squeezed orange juice – Cyprus oranges are the best! Detox juice made of celery, green apple, cucumber, spinach and ginger. A selection of different plant milks for breakfast too (Soy, koko dairy free, almond)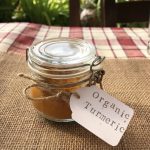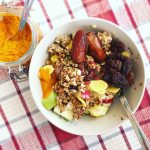 Nuts, seeds, dried fruit, organic turmeric/spirulina/and maca powder is available for our guests to add on to their healthy nutritious breakfast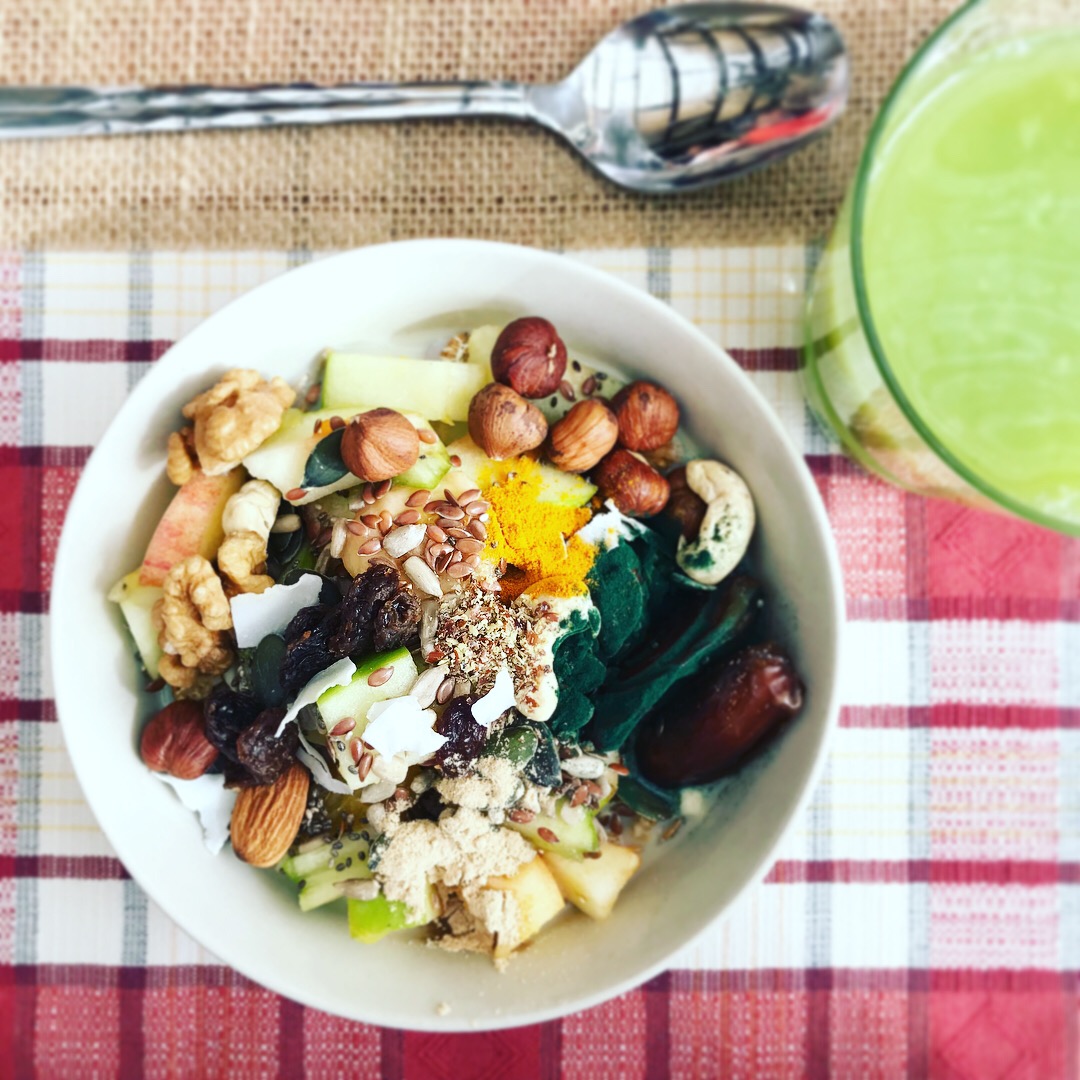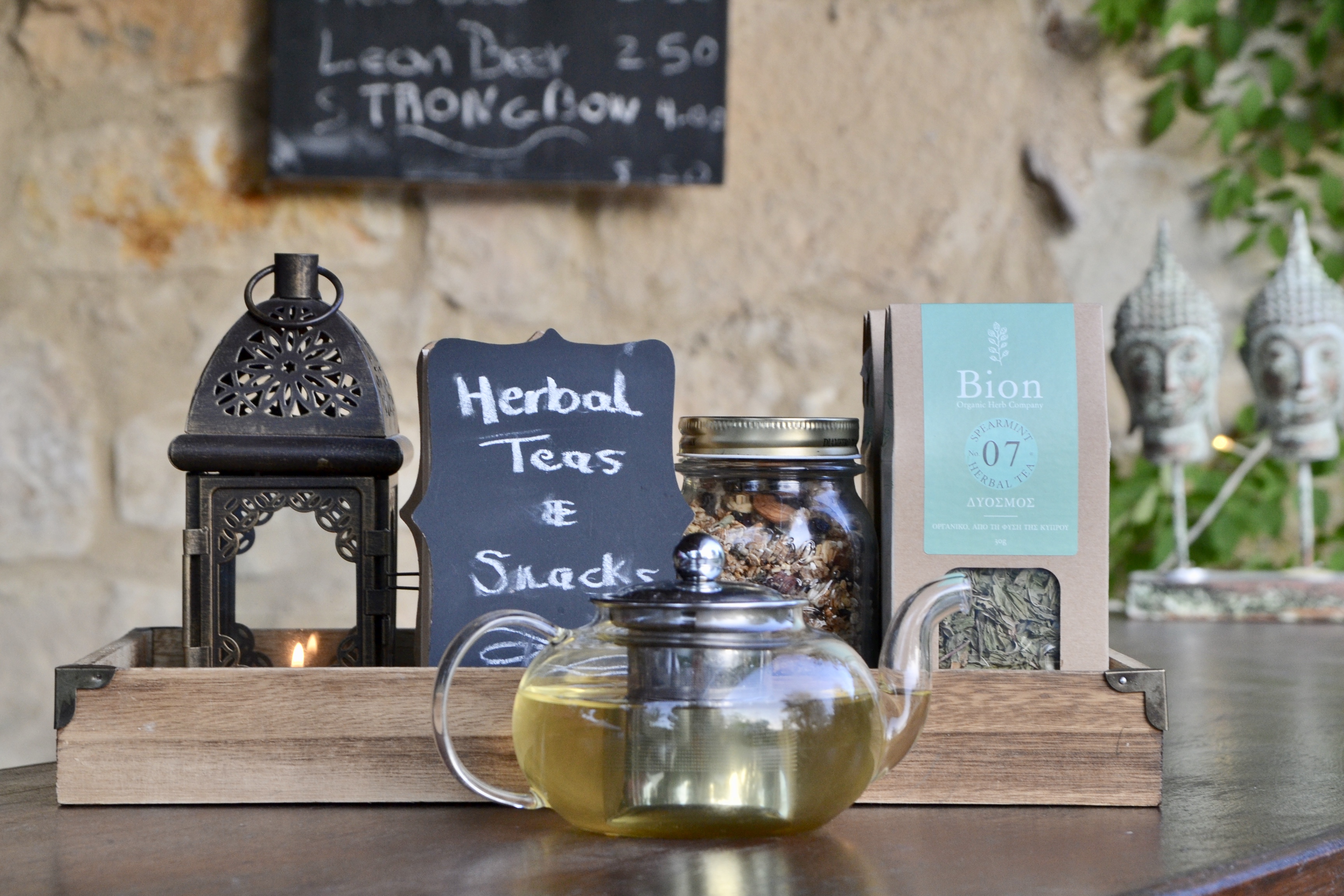 Sereni-tea…enjoy a cup of herbal tea, a book, a magazine or just enjoy the peace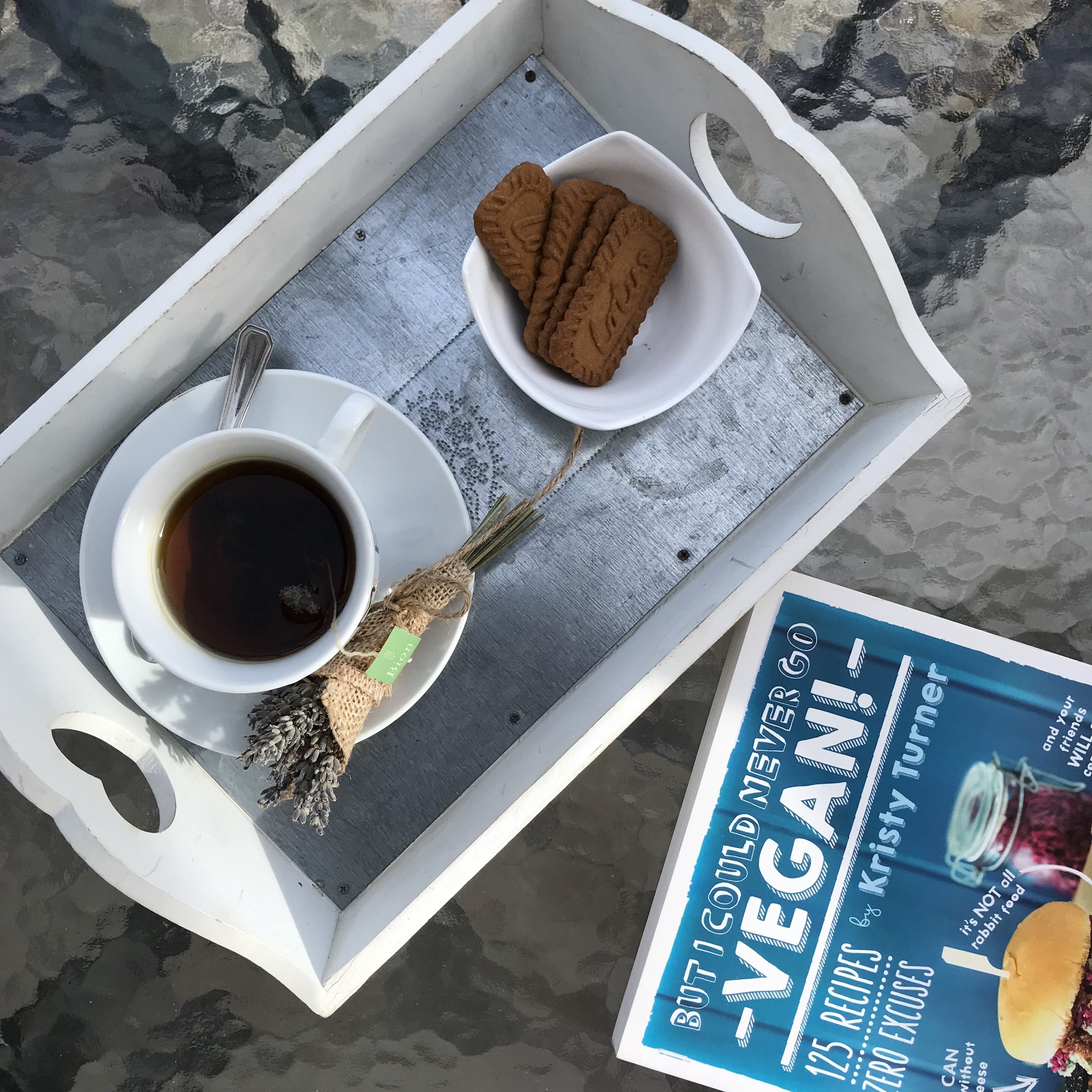 Some of our guests like to learn more about cooking vegan food, so we provide a selection of vegan cookbooks and magazines for you to get inspiration. We also have a little library with books for you to borrow while you're staying with us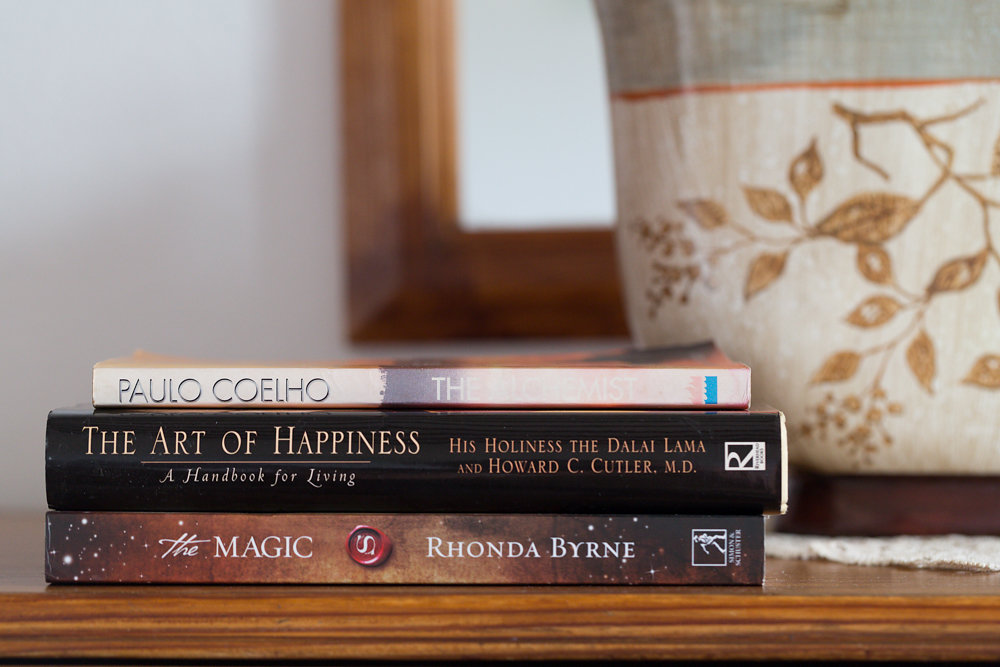 "We loose ourselves in books, but we find ourselves too…"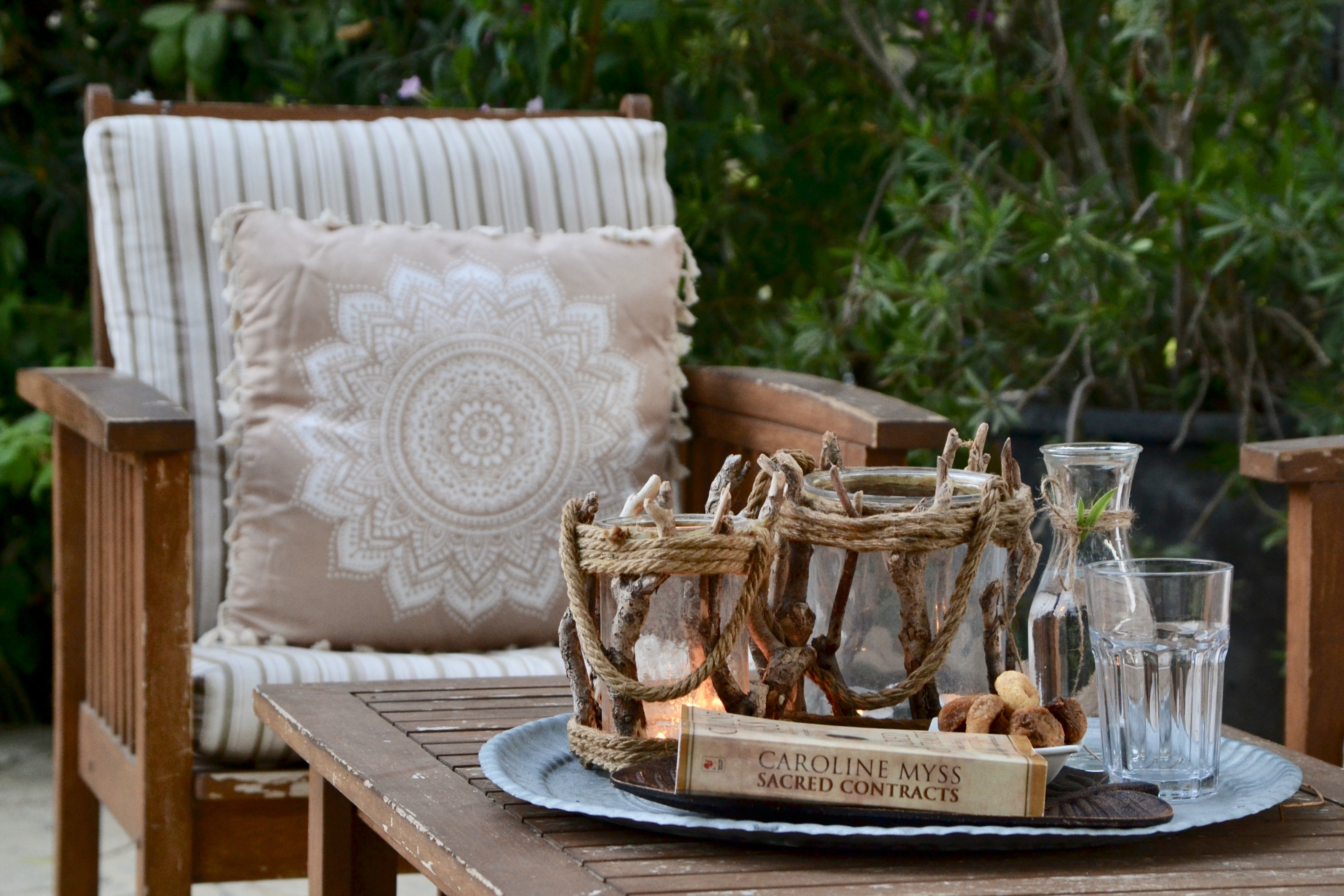 Holistic taster sessions started after breakfast and throughout the market day. On all of our retreats we will have a market day with small local businesses with vegan products and crafts. We wish to support the local community and also women in business. We also have a range of holistic therapist available for booking on our retreats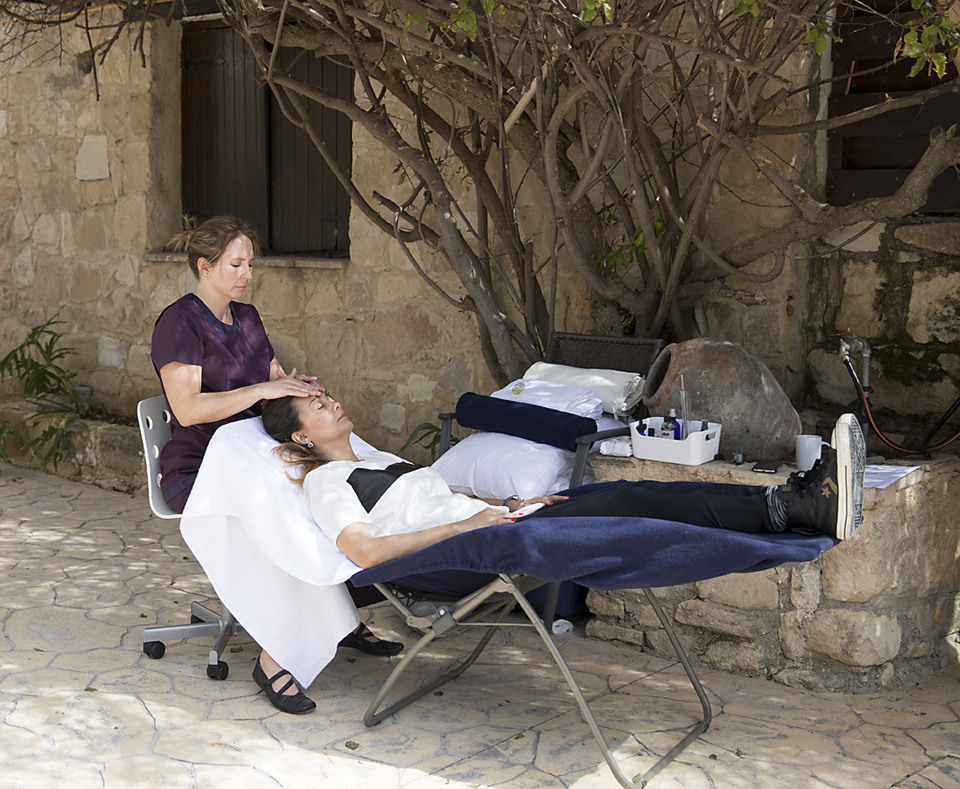 Julia McLellan of Heel & Balance pampered our guests with Facial reflexology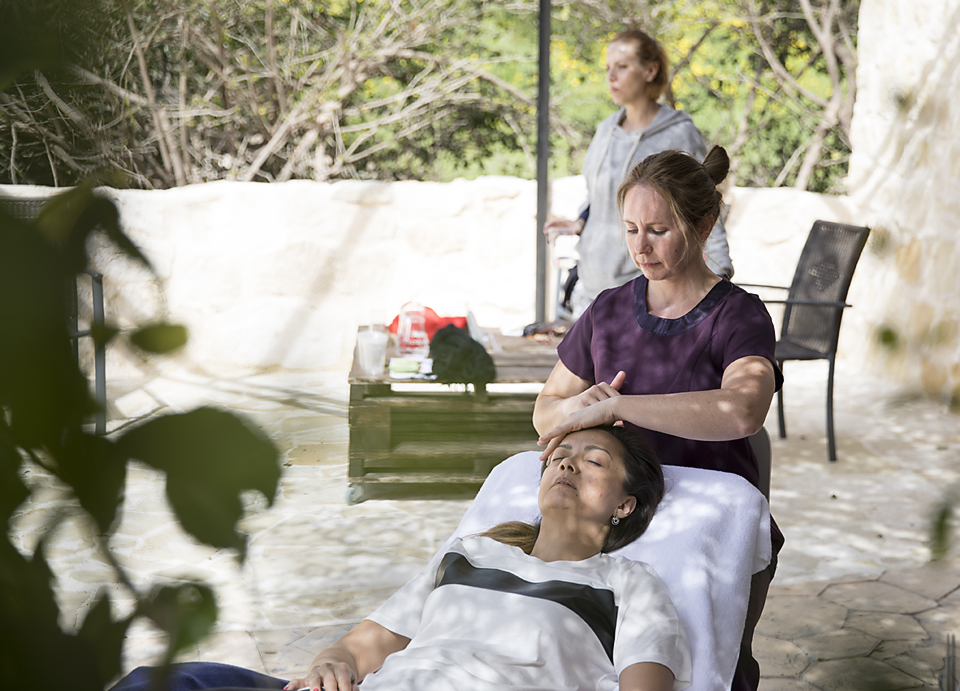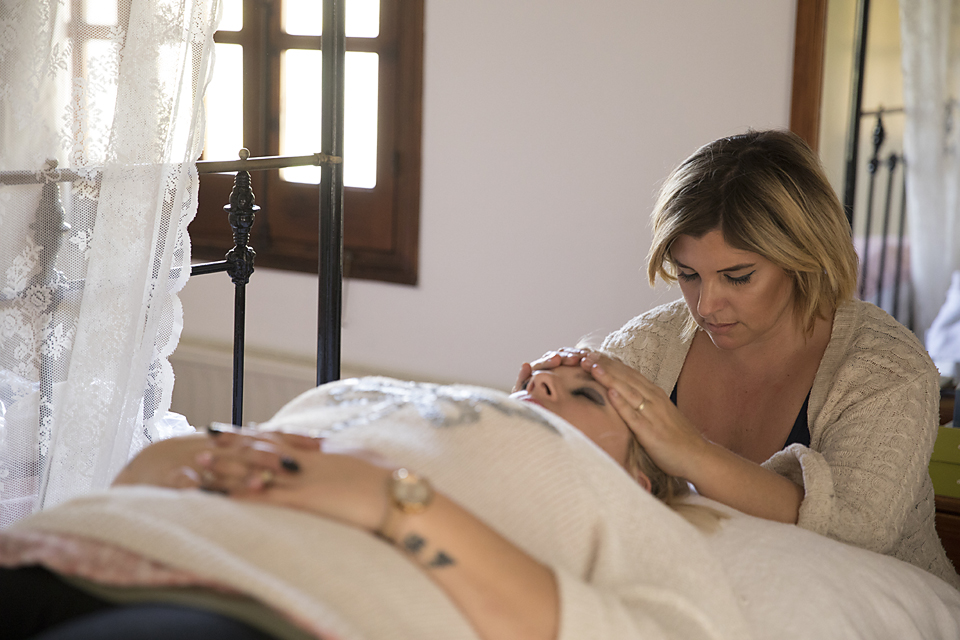 All of our retreat include a complimentary Reiki session by Sam. Everything is energy. Reiki is a Japanese technique for stress reduction and relaxation that also promotes healing. It is based on the idea of a "life force energy" that flows through us. When we have low energy, we're more likely to get stressed and sick. When high, we feel happy and healthy. The word Rei means Higher power and Ki means Life force energy. You don´t have to believe in anything, just try. "The best cure for the body, is a quite mind"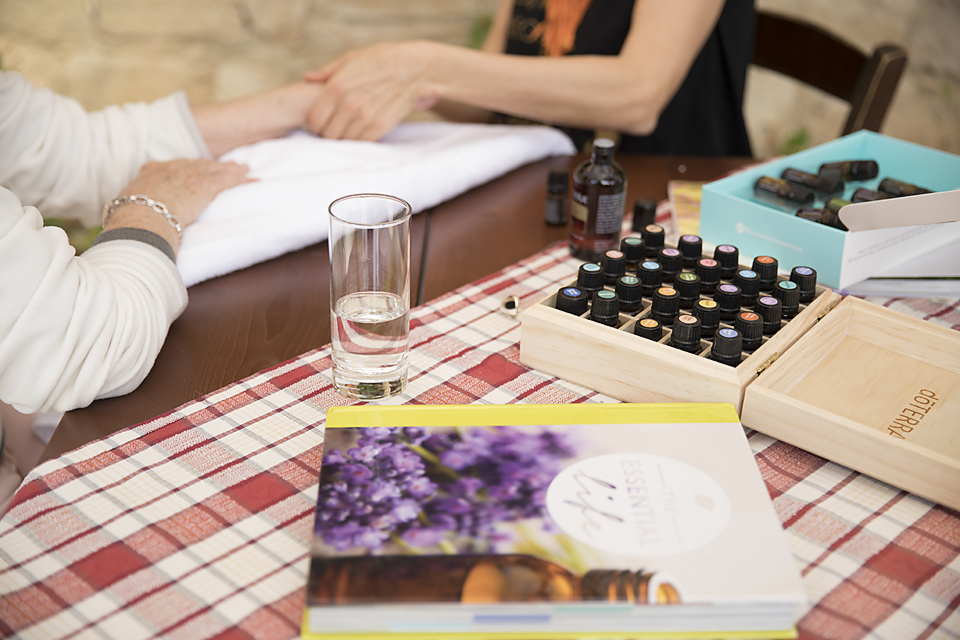 And a complimentary session of DoTERRA Aroma Touch Hand Technique by me. The specific oil are adresses the recipient´s personal needs. With the Aroma Touch Technique I can give an essential oil experience that positively affects different body systems.
Why we use essential oils at The Olive Tree Sanctuary?
Essential oils have been used for thousands of years for their medicinal and health benefits. Topically, internal and diffused. They can work as an antidepressant, antibacterial, antiviral, and also relieving pain in muscles and joints (soothing). Essential oils can help improve sleep, reduce stress with their calming properties. This is also why we use Lavender in the complimentary sugar scrub jar. In meditation and in Reiki for the different chakras, for balancing, grounding, calming, uplifting, inspiring ect. For cleansing the respiratory system in breathing techniques /pranayama (yogic breathing). And we add a drop of wild orange essential oil to water for an uplifting mood. And we love their smells;) It wasn't until modern days researchers and scientist could explain how they really work. Essential oils are made from distilling the different parts of plants, including the leaves, roots, bark, flowers, resin and peels. It´s extremely important that the oils are pure and not diluted with chemicals. We all know plants have healing powers, as they are the root of where modern medicine is today. Imagine how powerful just one drop of essential oil can be when the most powerful healing compounds of a plant are distilled or extracted into one oil..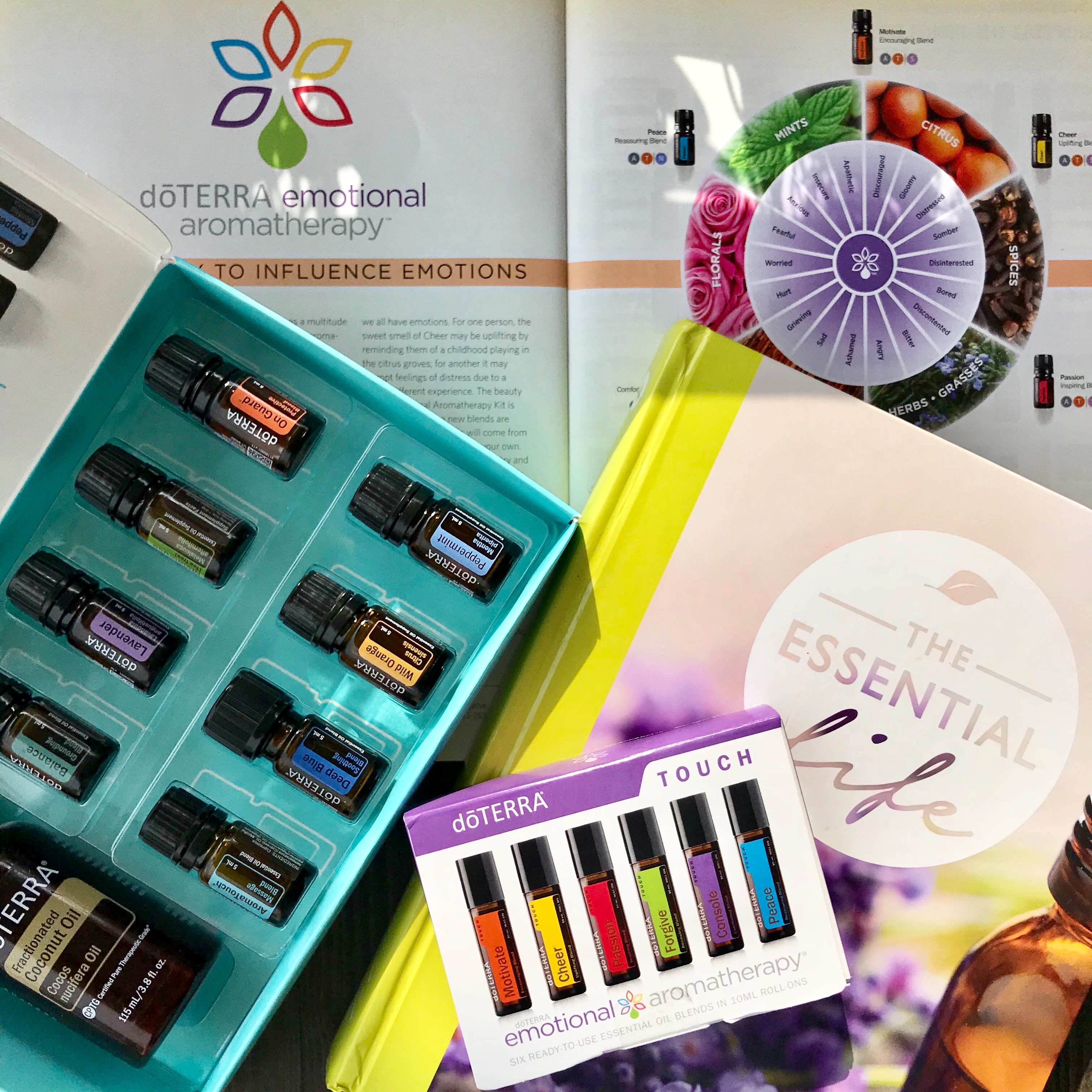 Today I only use essential oils – no more chemical perfumes or skin lotions. I stopped using perfume both because I didn't want the chemicals on my skin (and because a lot of big brands still test on animals, which I don´t want to support) but maybe the most important thing is that I realized that essential oils benefits your body and mind in so many ways. So why not use essential oils as perfume and at the same time benefit from them? With the doTERRA emotional aromatherapy I'm able to control my emotions better. Of course our thoughts are the most important thing, but when you've noticed that there's something that helps, you want to share it with others. Aromatherapy has been used to influence our emotions for thousands of years. We all know a scent can make you feel good, or provoce a not so nice feeling, a memory ect. The different plants and blends of essential oils we know from chemistry and aromatherapy research, usually stimulates a specific emotional response, but this is individual. Our guests will smell the different oils, and pick the ones they like, addressing both how their current emotional and physical state is, and after a talk about the oils and their benefits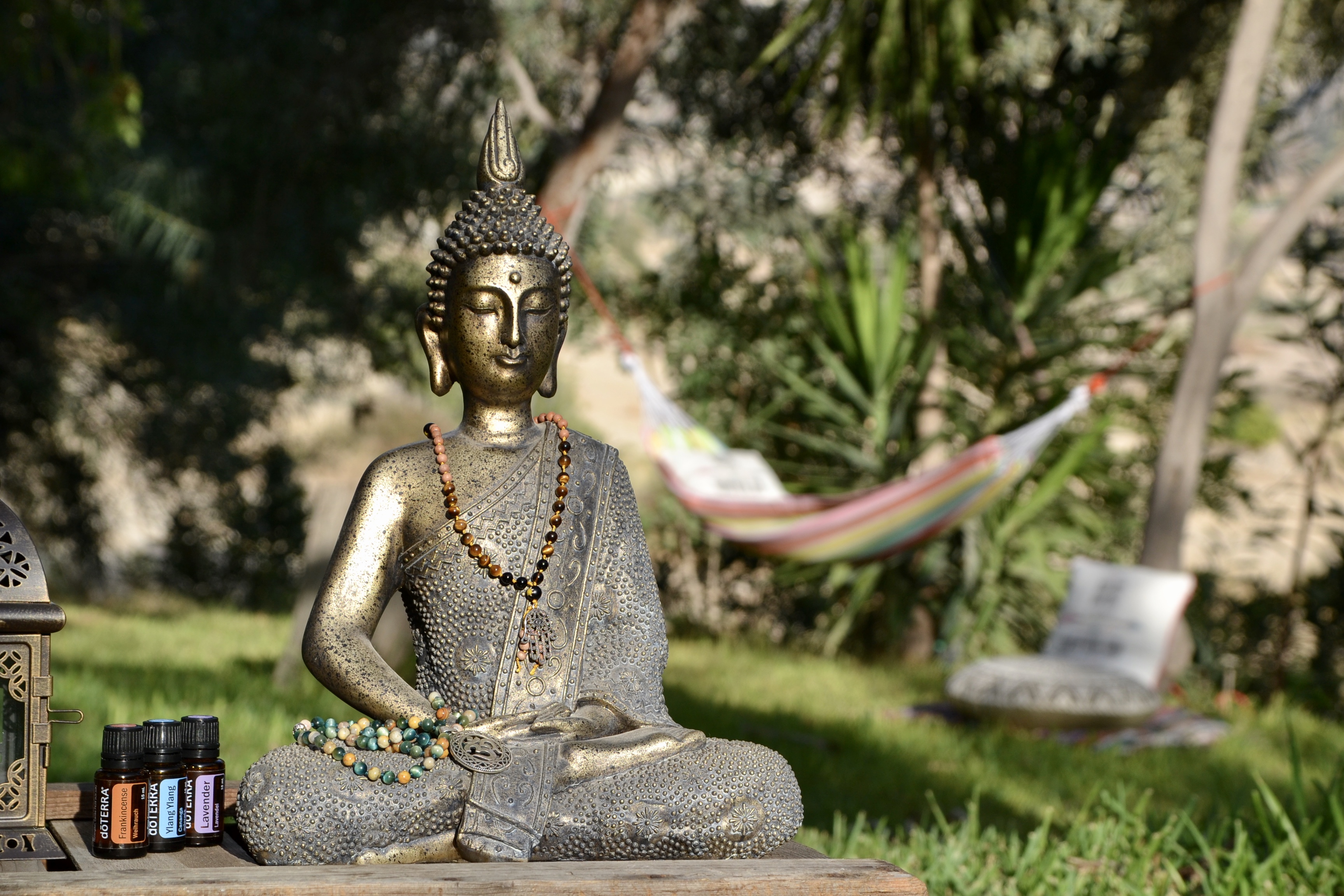 At Lunch time we gather around our table outside. There's nothing better than eating al fresco to the sounds of nature and feeling the spring sun beams. And eating healthy and delicious vegan food…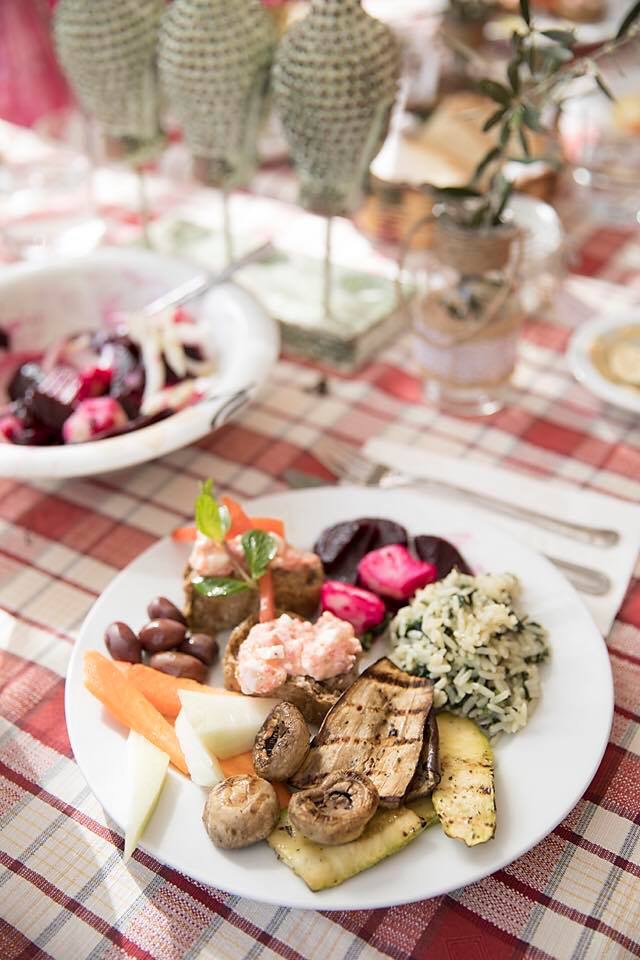 Do you love food? We do. We believe in order to heal, healthy nutritious food plays a big role. "Vegan food is soul food in its truest form. Soul food means to feed the soul. And to me, your soul is your intent. If your intent is pure, you are pure". – Erykah Badu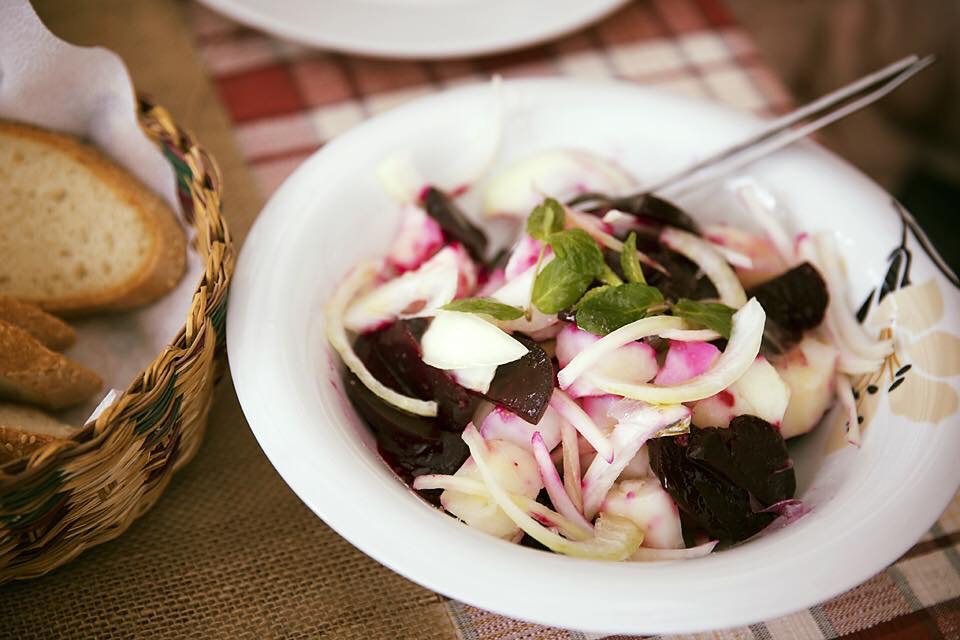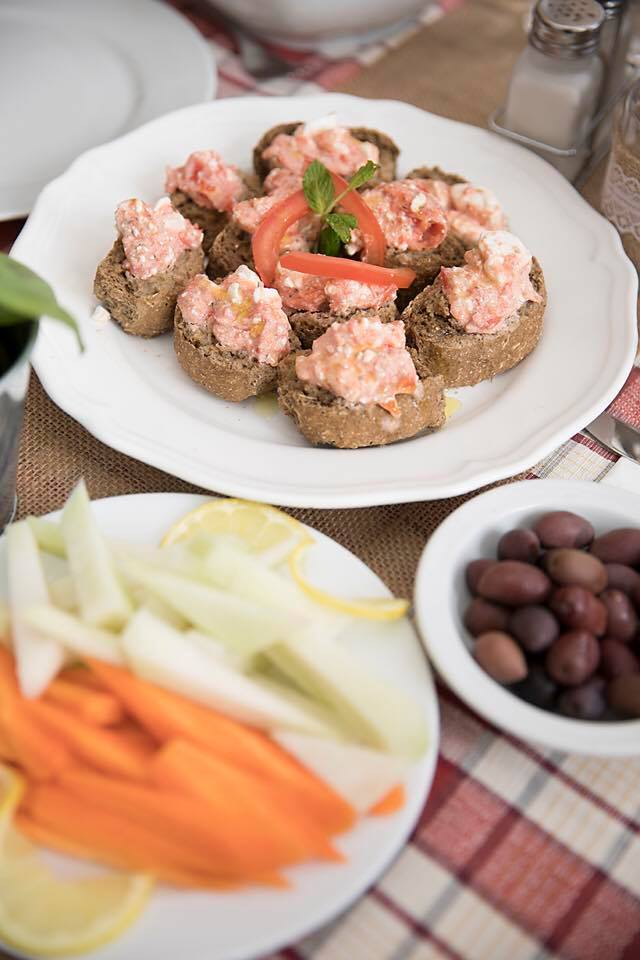 The market day started with vegan cakes and herbal teas for everyone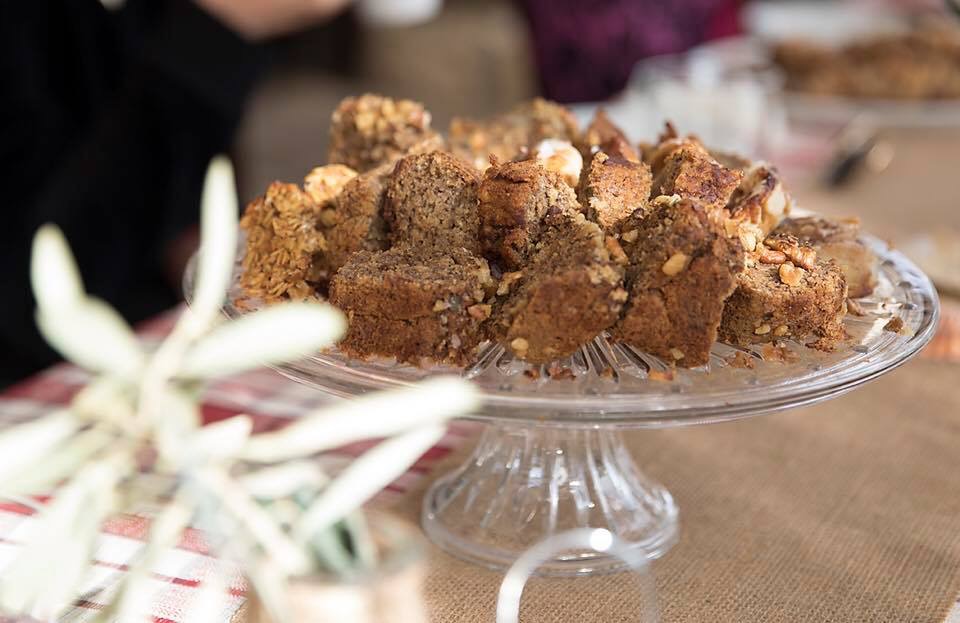 A selection of super healthy ones and not so healthy. Healthy is also to treat yourself with something good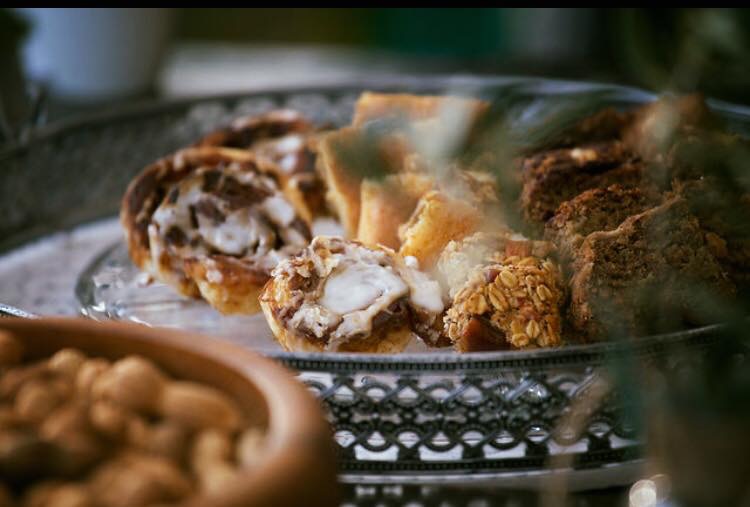 Some of the lovely arts and crafts and products from the market day
Beautiful yoga inspired jewelry by Harley & Honey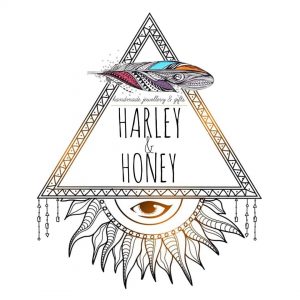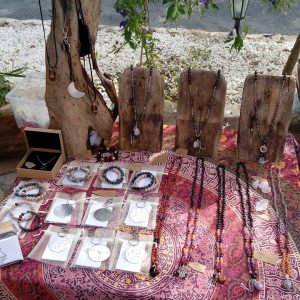 Awesome yoga/vegan/inspirational clothes by Peaceful Warrior Yoga Shop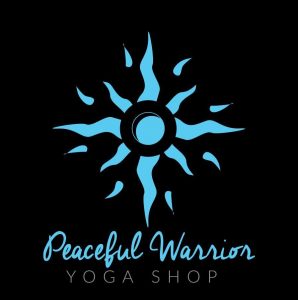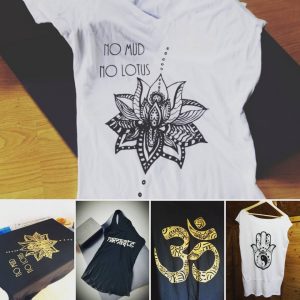 Lovely vegan products from Le Petite Spa Cyprus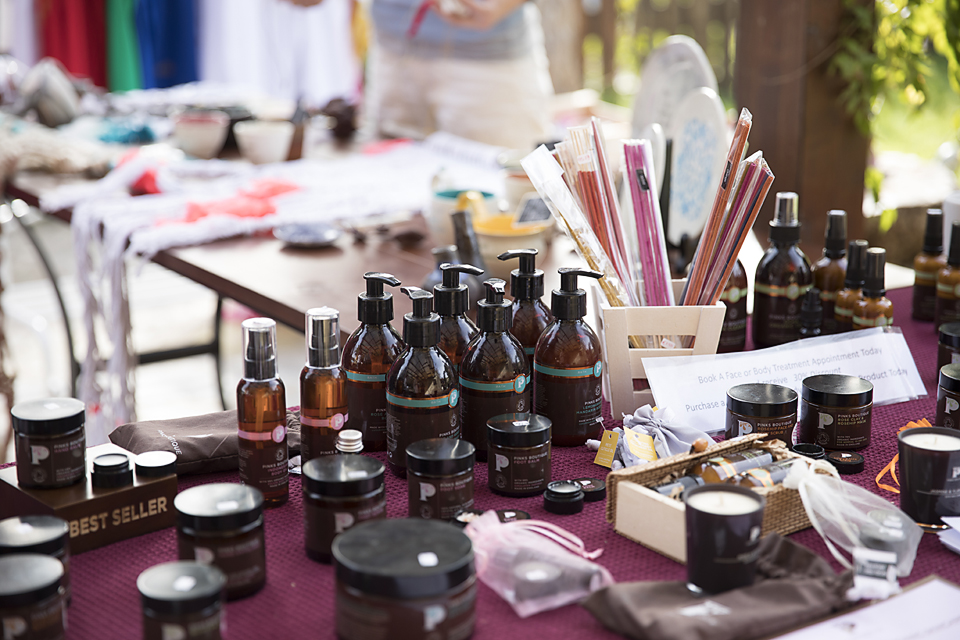 Handmade ceramics by Ceramic Studio Tochka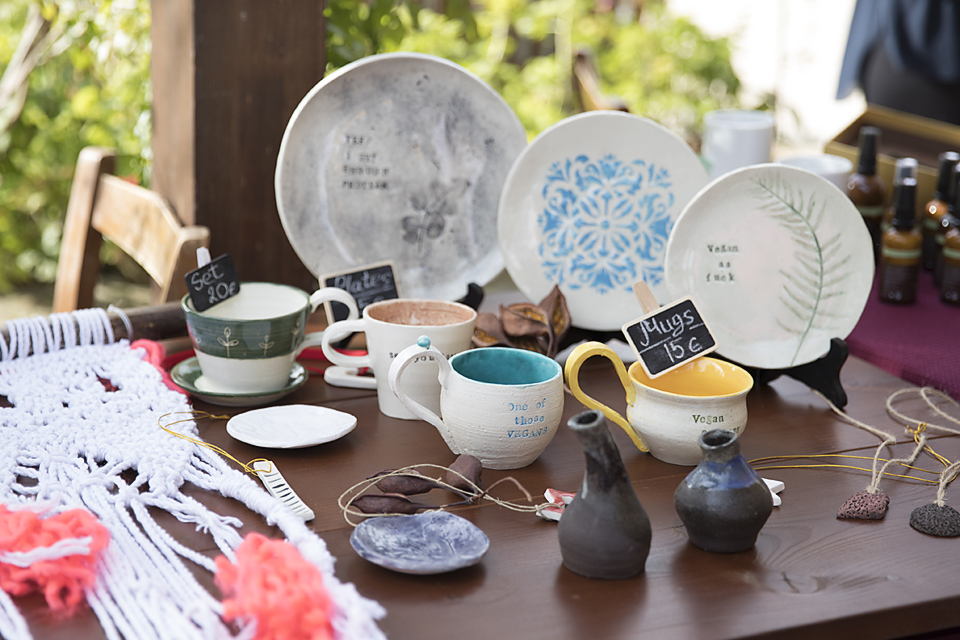 And Mandry´s Fund, The Farriers – Vegan Bed & Breakfast,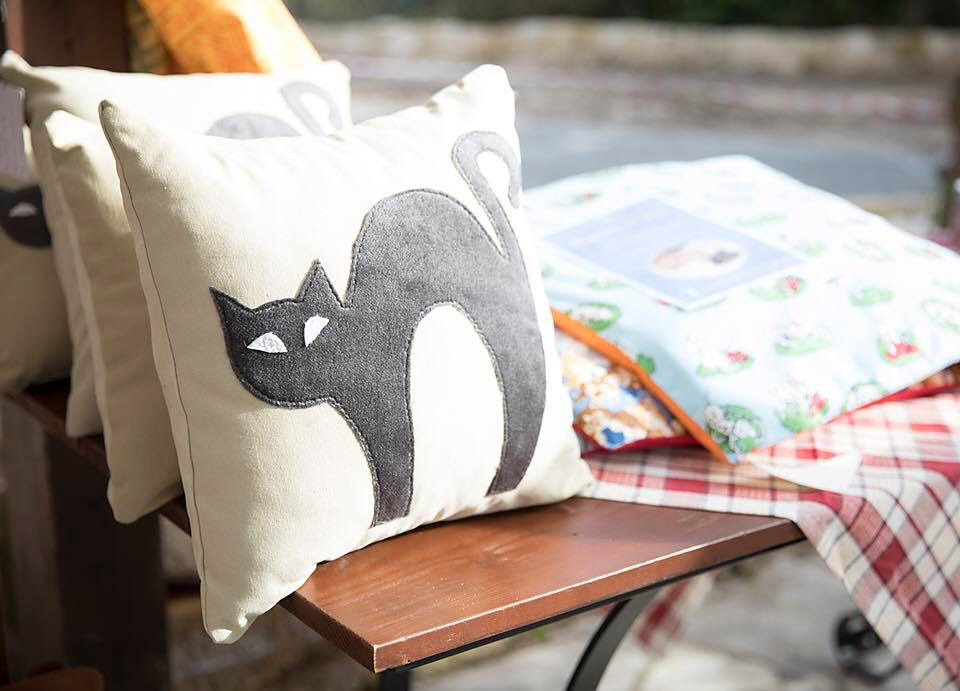 Val at Decorative crafts.gifts – Made with love were also represented there.
As the sun was setting the yoga garden was ready for the last session of the day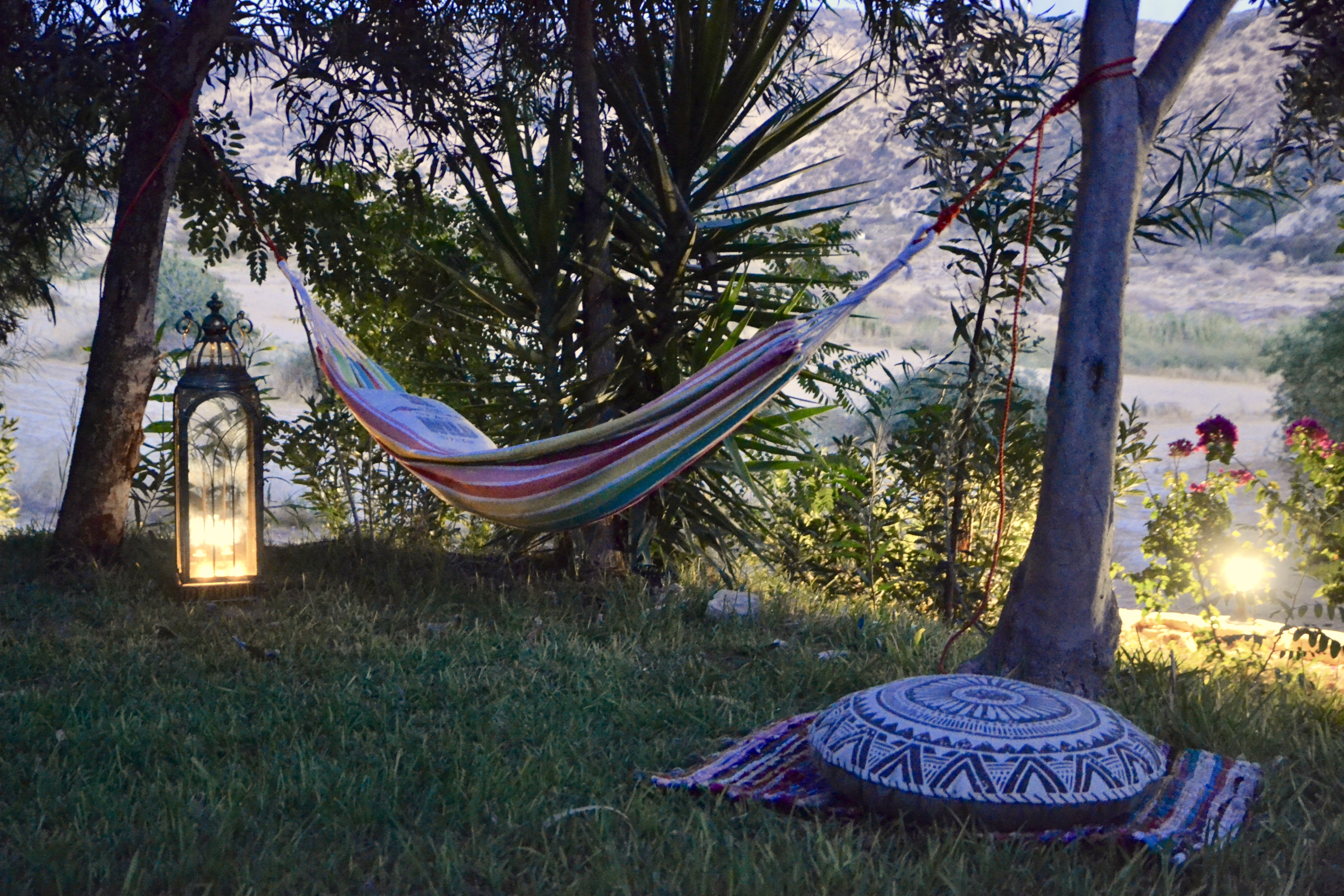 As the yogis are on their journey, we prepare for dinner…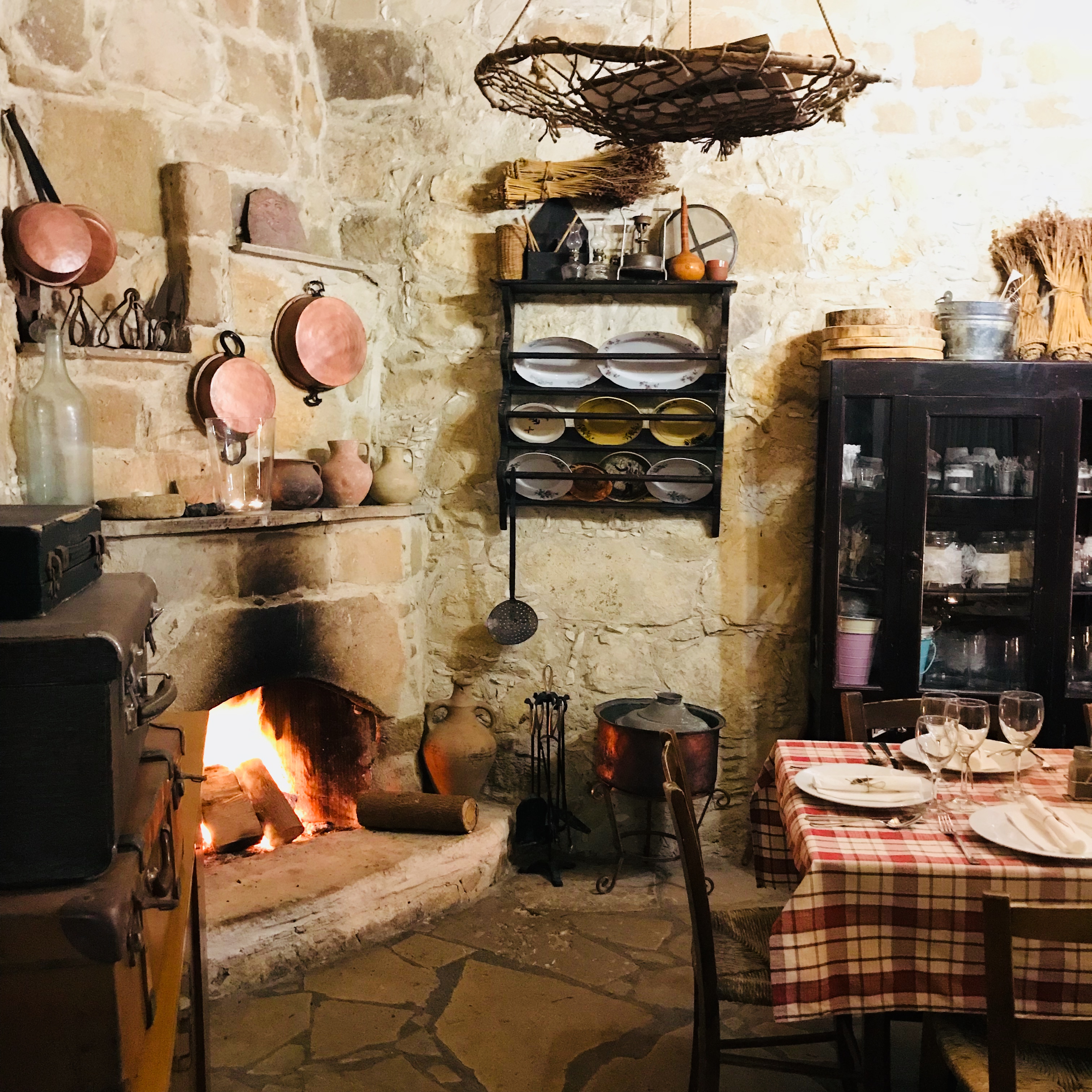 I think I'm in love with the charming rustic and traditional Cypriot style…and you add a fireplace! Can't get much better than this..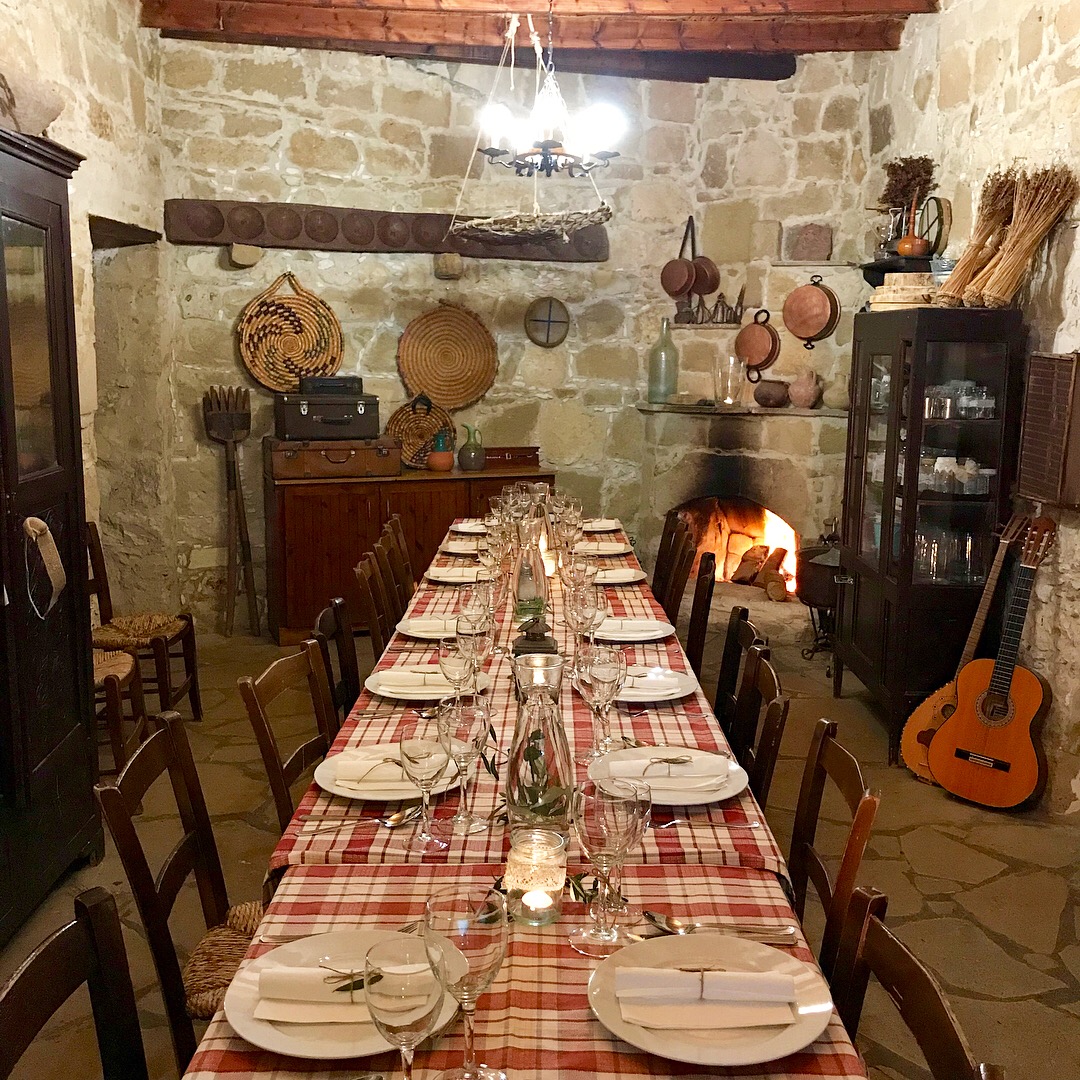 Table set for dinner with our olive tree theme
And just to show you a little bit more of the food made by the chefs at Vasilias Nikoklis Inn Local, fresh vegetables, herbs and spices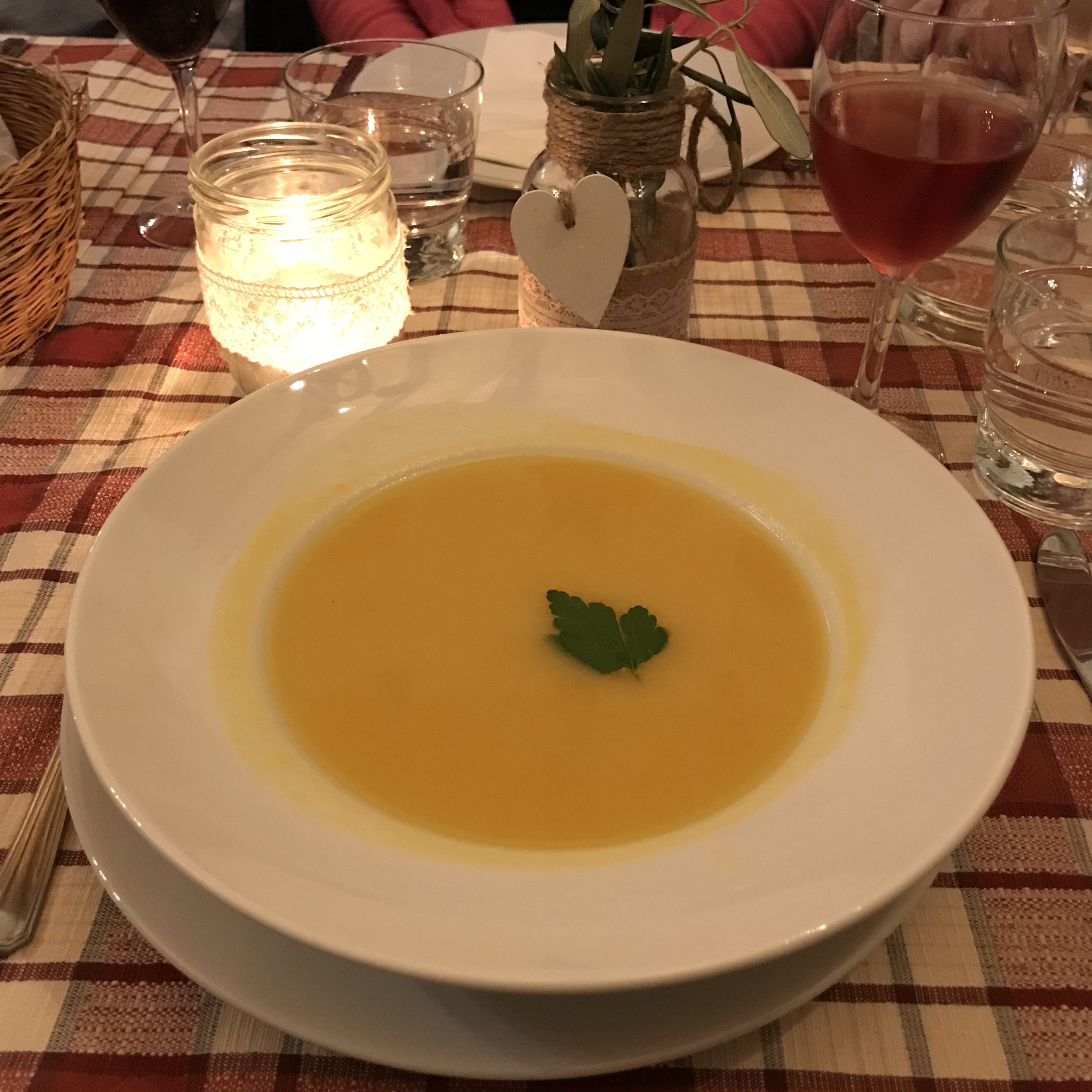 We had delicious creamy soups for starters
Fresh tasty salads of course…with olive oil from their own Olive Garden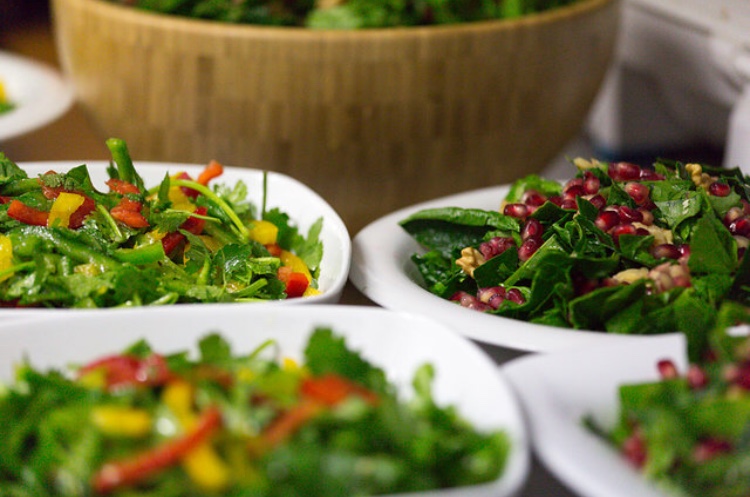 We had stuffed peppers and vegetables. And homemade veggie burgers…Excuse the quality of this photo, but it was too good not to share even if it´s an iPhone one.. And fresh fruits for desserts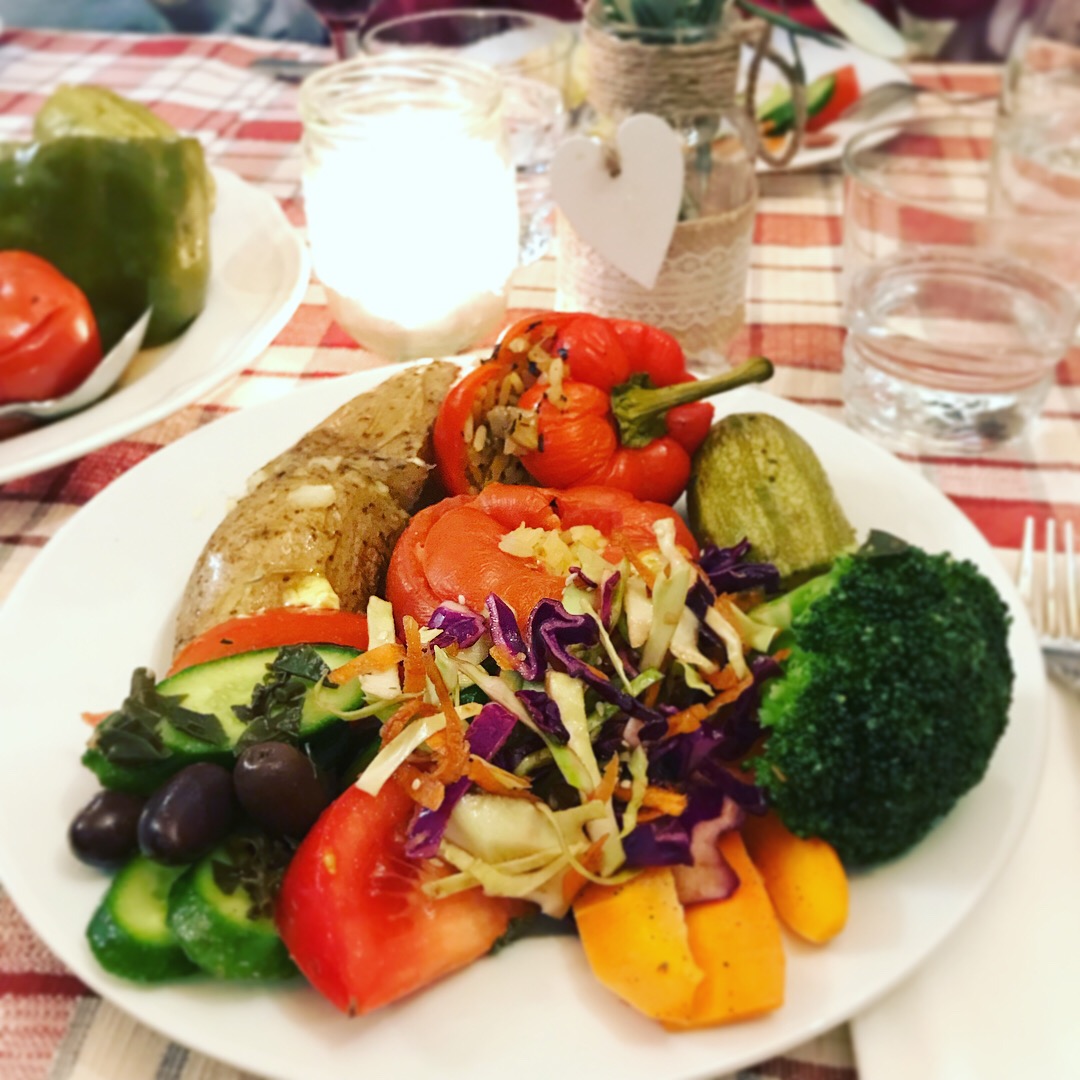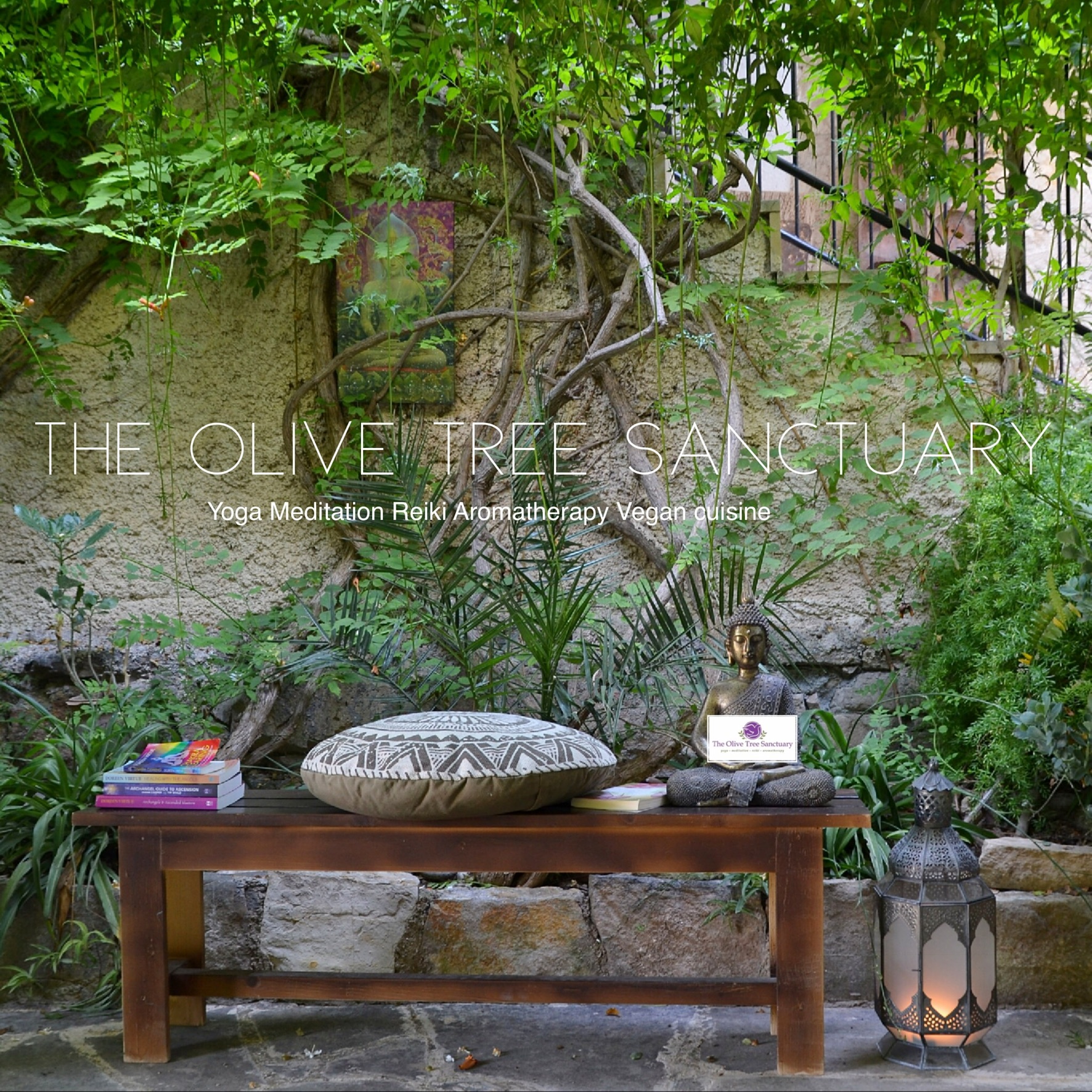 Feeling so much happiness and gratitude after this beautiful opening weekend of The Olive Tree Sanctuary. We're feeling blessed for meeting so many beautiful souls. And we couldn't have had a better team at Vasilias Nikoklis Inn and group of people. «Your Soul is made of stars». Then the hardest part…saying farewell to our Beautiful Souls. Namaste!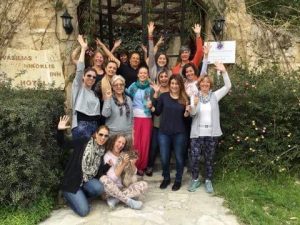 Lots of love and happy tears from All of us at The Olive Tree Sanctuary & our venue Vasilias Nikoklis Inn
Come and begin your journey with us on the beautiful Island of Love
The reason Cyprus is known as "The Island of Love" is from Greek mythology. Aphrodite – The Goddess of Love and Beauty, according to the legend came from the sea and her birthplace was the beautiful Petra Tou Romiou or Aphrodite´s Rock. The Olive Tree Sanctuary is only a short drive from this magical place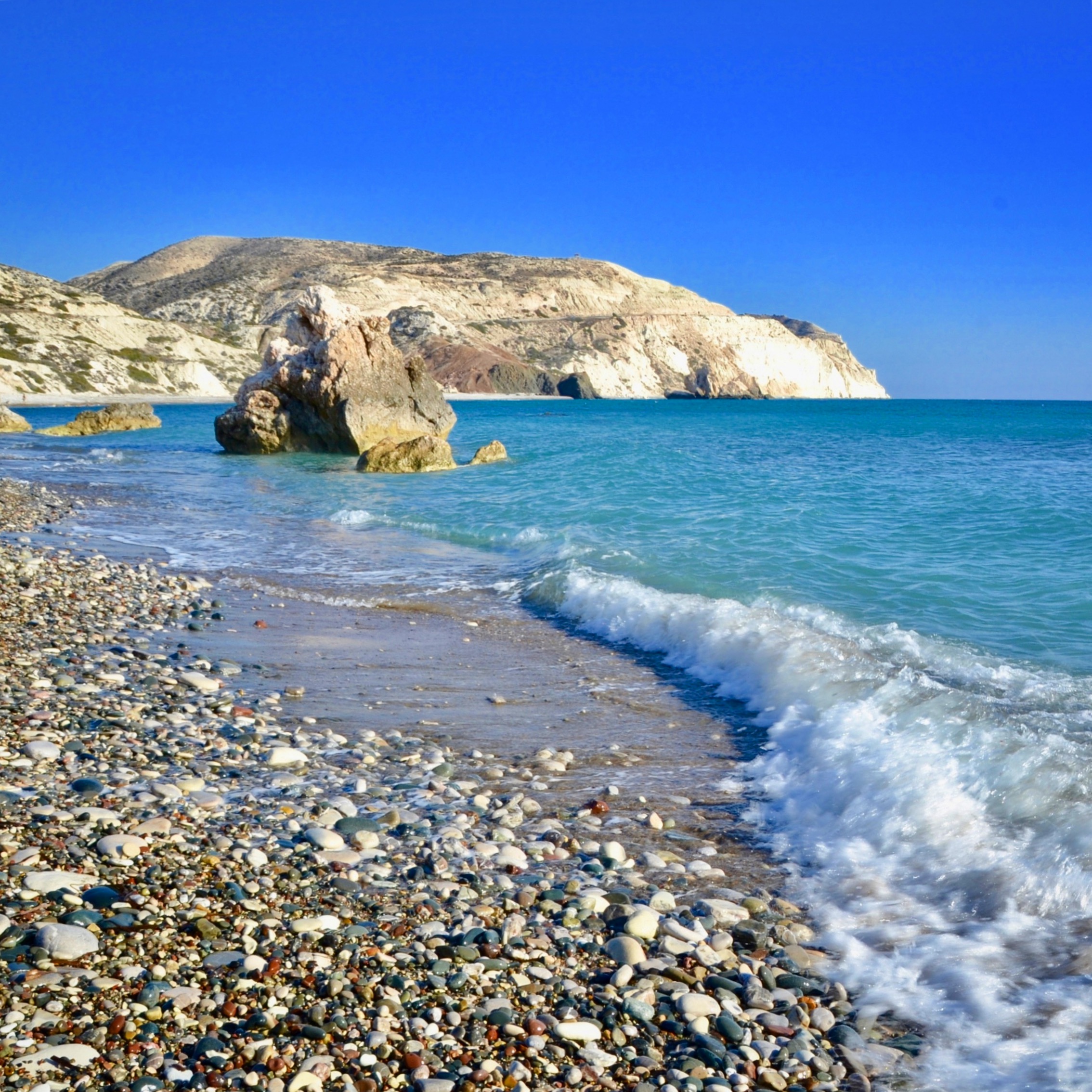 "Smell the sea and feel the sky – let your soul and spirit fly" – Van Morrison
Imagine sunset or sunrise yoga in this beautiful place.. Swim in the crystal clear and warm Mediterranean Sea. The sounds of the waves calms the mind and soothes the soul…