Vegan in Cyprus
Vegan in Cyprus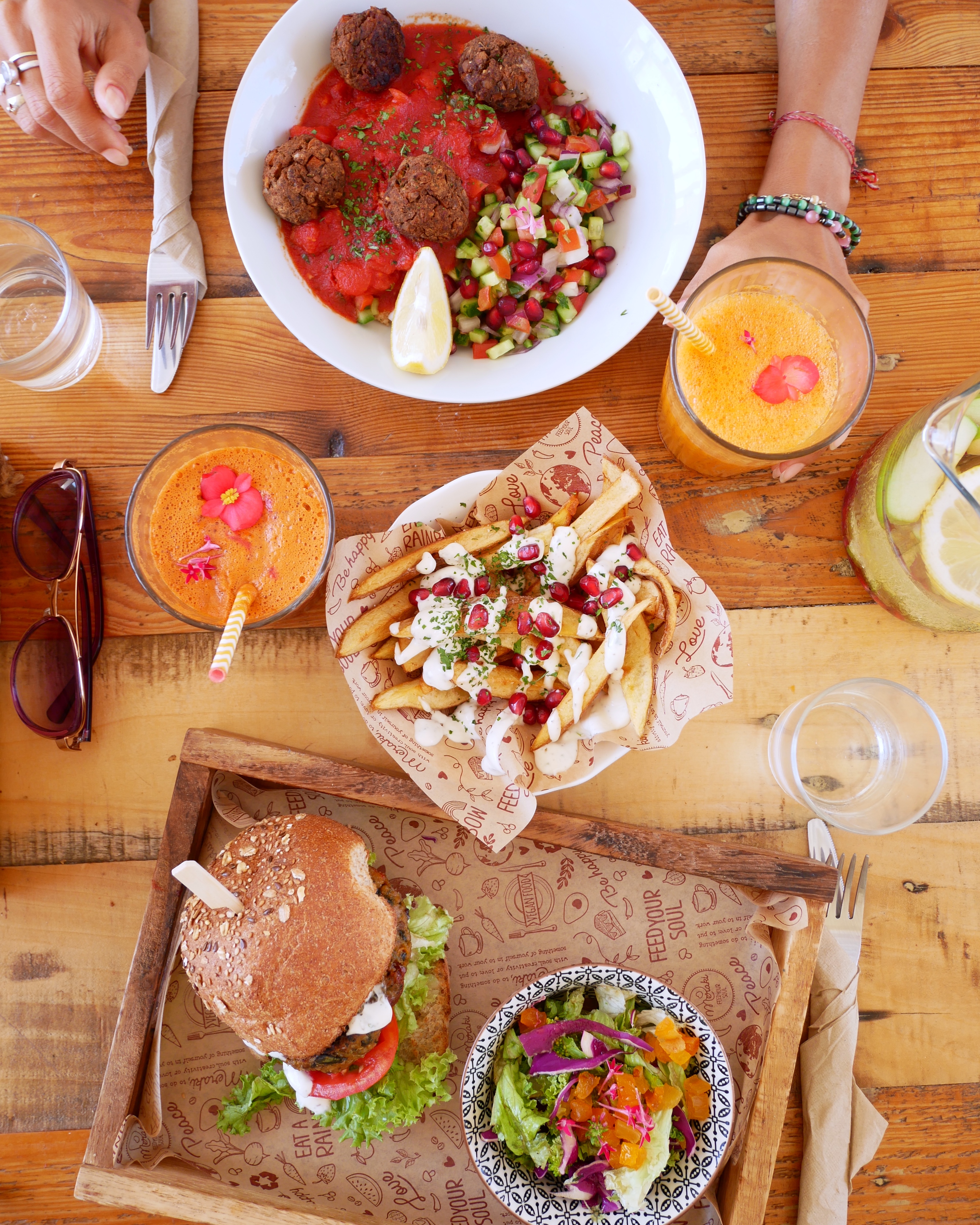 Wondering what it´s like to travel as a vegan in Cyprus? I´ll share some of the places to go when it comes to vegan food on this beautiful island. There's even a couple of new vegan places opening soon, and only in the last few months we've experienced more and more restaurants adding a vegan dish to their menu. It´s exciting times for people who wants eat more plant based and for those who are vegan. This blog post features vegan restaurants/cafes (there´s only a few in Cyprus), therefore I've made a selection of other restaurants where they have a vegan menu. I've picked a few from each district in Cyprus that I've tried. And there are sooo many places with vegan options now, even if there's not that many listed on HappyCow (The vegan and vegetarian guide to veggie places/options). I live in Paphos, so there´s a big over representation from this area:)I've added links to each place so you can find address and info on their page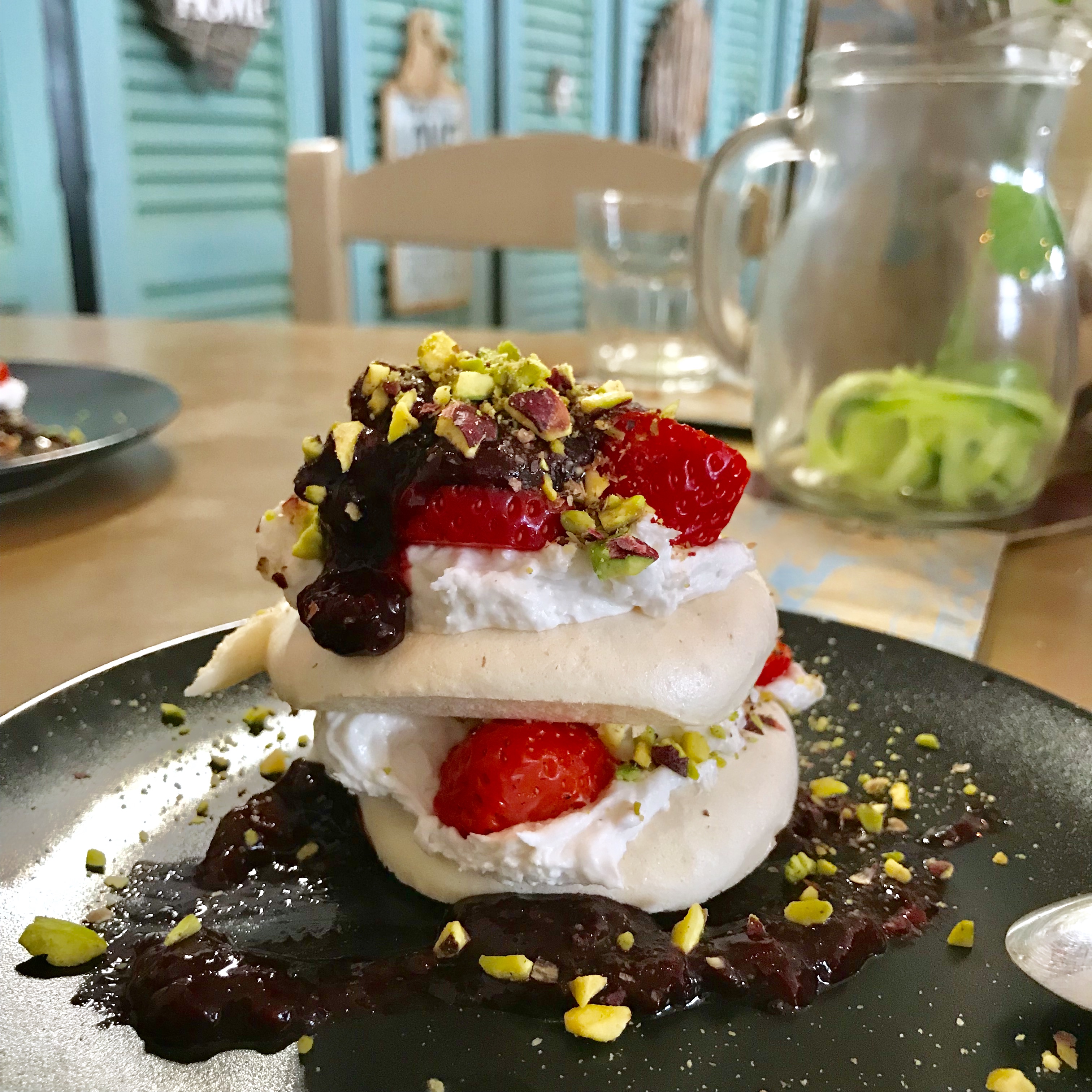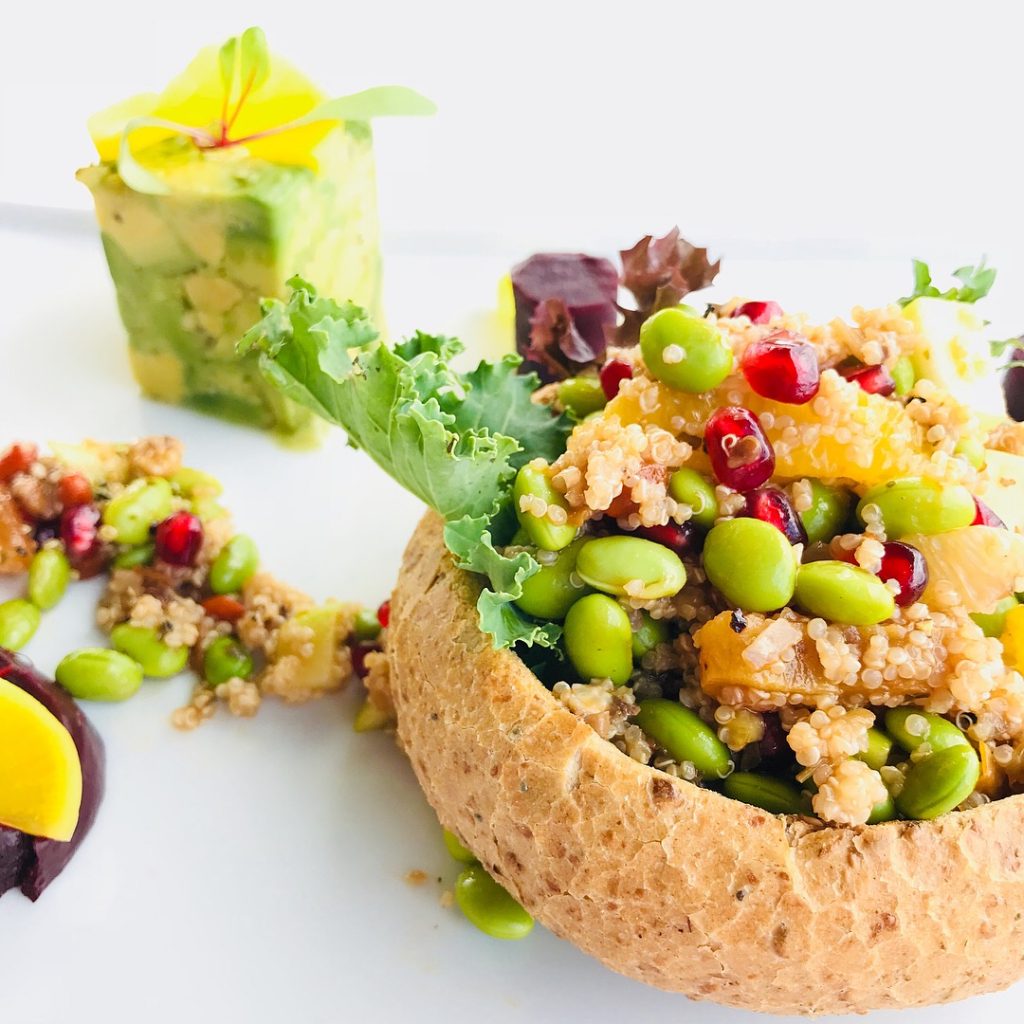 There's of course an abundance of fresh local vegetables and fruit, and legumes, beans, grains, nuts, seeds to more processed foods like Linda McCartneys sausages, burgers, Ben&Jerrys/Magnums vegan ice cream to local products like Koko dairy free milk, yoghurt and cheeses to find in supermarkets too (I think Alphamega is the best for plant based foods), and you can always veganize any menu in a Cypriot restaurant, if they don't have a vegan option. I have however chosen to feature vegan/vegetarian places and those with vegan options on their menu, not so many with vegan food as a side course, or where the menu can be veganized. There's a lot of places with super great service where they will make you something vegan, so I don't find it hard to be vegan in Cyprus.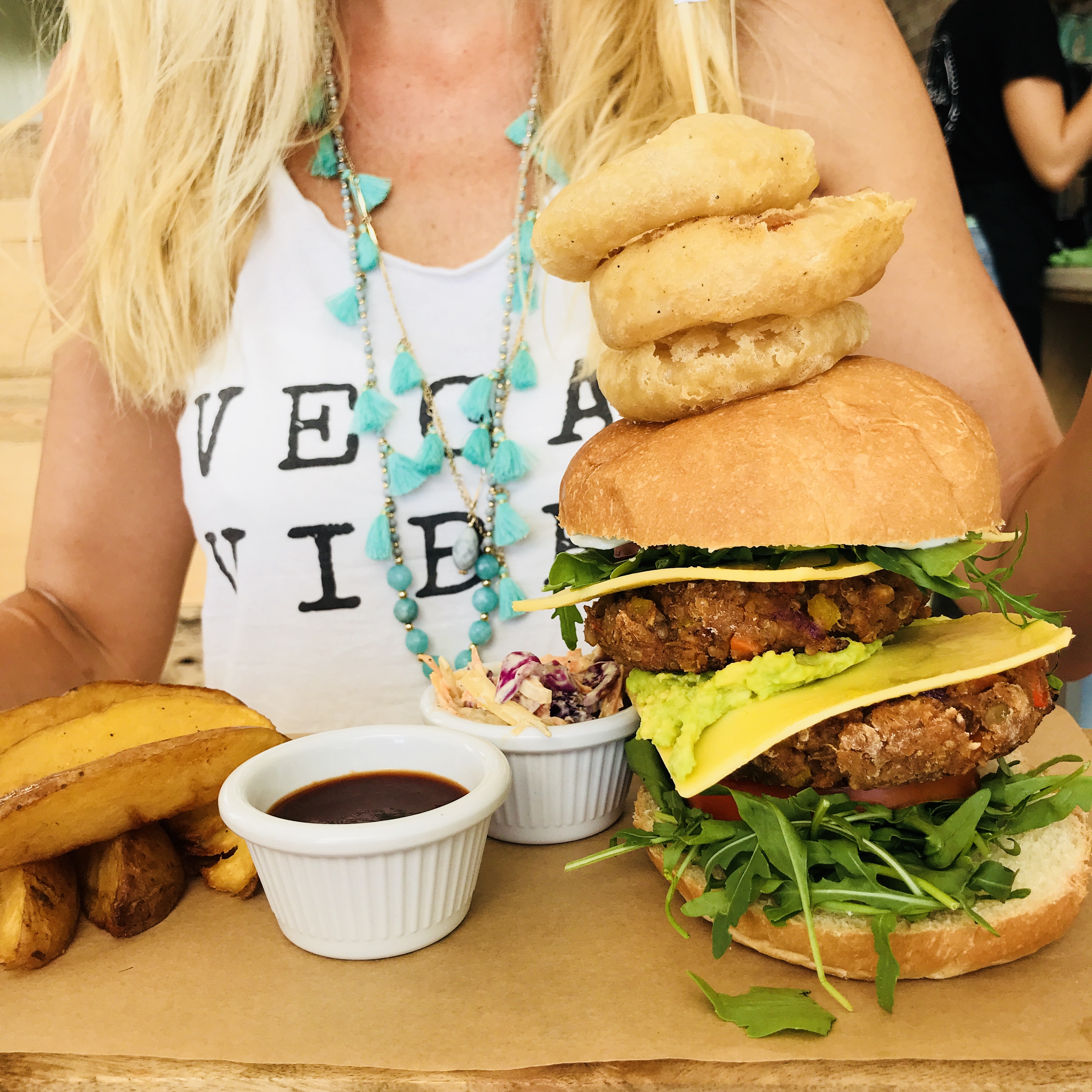 The mighty Meraki burger 100% plants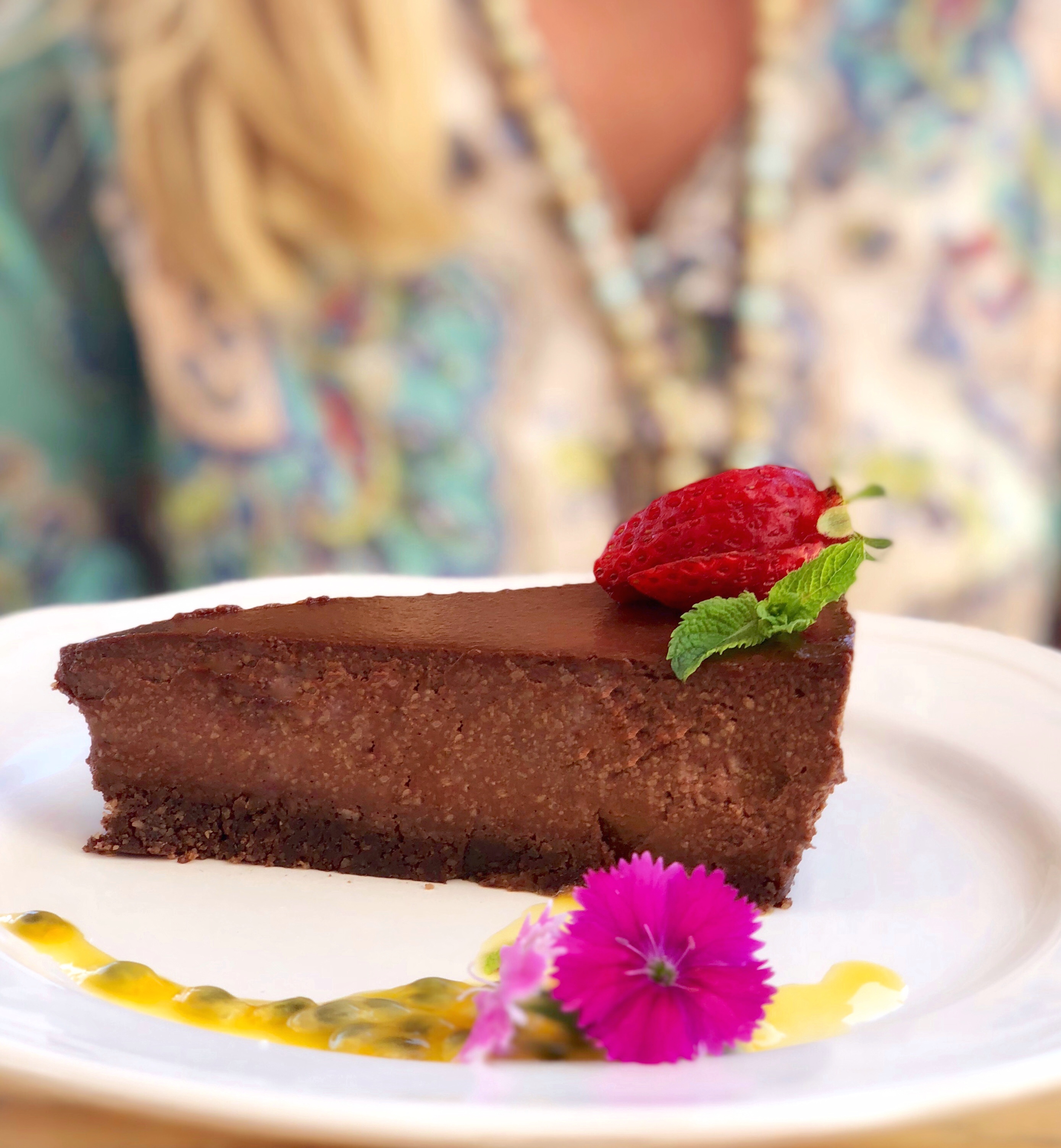 Vegan Cheesecake made from nuts! A feast for your mind, body and soul at Meraki;) Anything can be made from plants…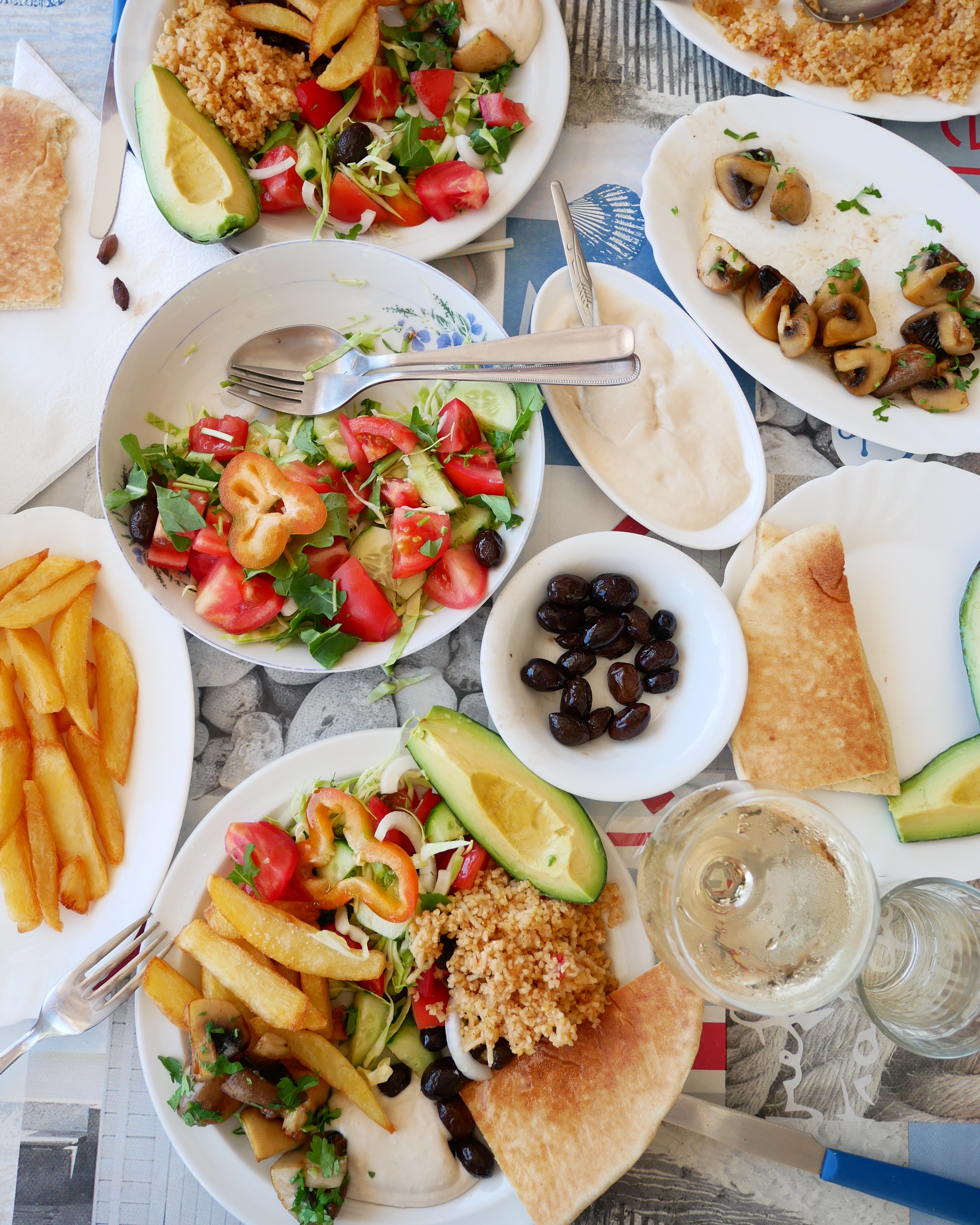 Vegan Cypriot Meze lunch in Anogyra village with the best local fresh produce! Most taverns can make this for vegans and if you're lucky they have yummy Fasolada on the stove, or lentils and rice, dolmades or spanakopita (spinach rice)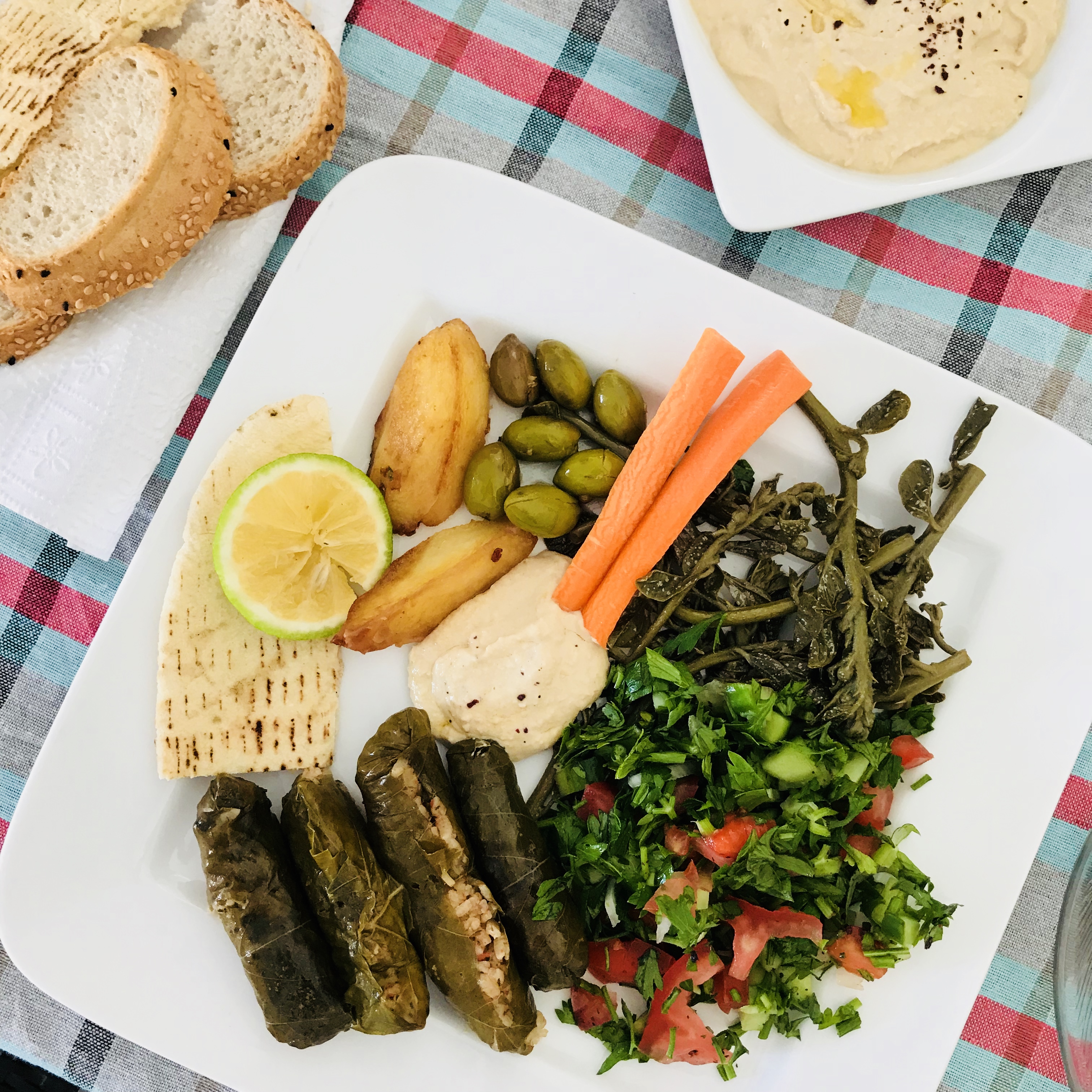 And then there is the best time of the year for vegans here; fasting! The Orthodox religion has several fasting periods. During the fasting (nistisima in greek), you can find a lot more vegan options. There's usually a sign that says "Lent", but always ask, because even though the fasting weekdays are without meat and animal prod­ucts (dairy and eggs), fish and shellfish is allowed. As you can imagine the Cypriots already make a lot of vegan food. No wonder it´s so delicious! The fasting started this year 19th of February with "Green Monday" or "Clean Monday (Kathara Deftera in greek), a bank holiday that marks the start of Lent, the first day of fasting before Easter. Its  celebrated with music, dance, kite flying and food of course. Restaurants often have a separate fasting menu at this time, and almost where ever you go, there´s an vegan option. The bakeries accommodate fasting by adding dairy-free, egg-free and meat-free pastries and cookies. Bakeries like Zorbas Bakery have a few vegan pastries throughout the year. There are a few fasting times a year with before Christmas and before Easter as being the biggest ones. A couple of the coffee chains here also have vegan options like quinoa salad and Costa has the most yummi fasting chocolate cake! And of course a range of plant milks which not every coffee shop here has yet…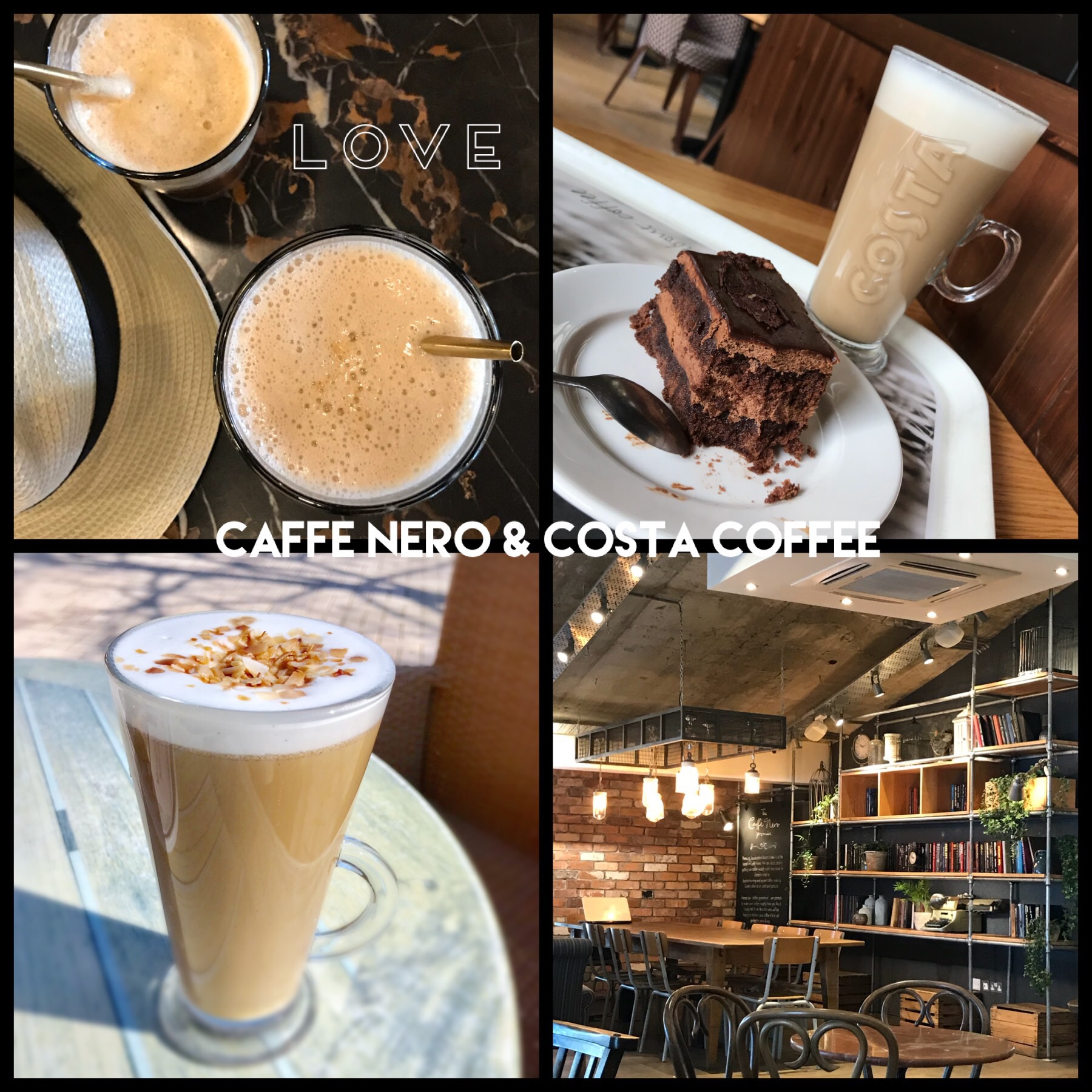 Try the Koko dairy free latte from Costa, and if you're lucky to be here during fasting…go hunt down that cake;)
You can also always find vegan food in chains like Wagamama, TGI Fridays (they have the Beyond Burger), Pizza Hut, Taco Bell ect. And in Indian restaurants and other asian restaurants. I will be updating this blog with new finds as I explore new places and discover more of how it is to eat out as a Vegan in Cyprus.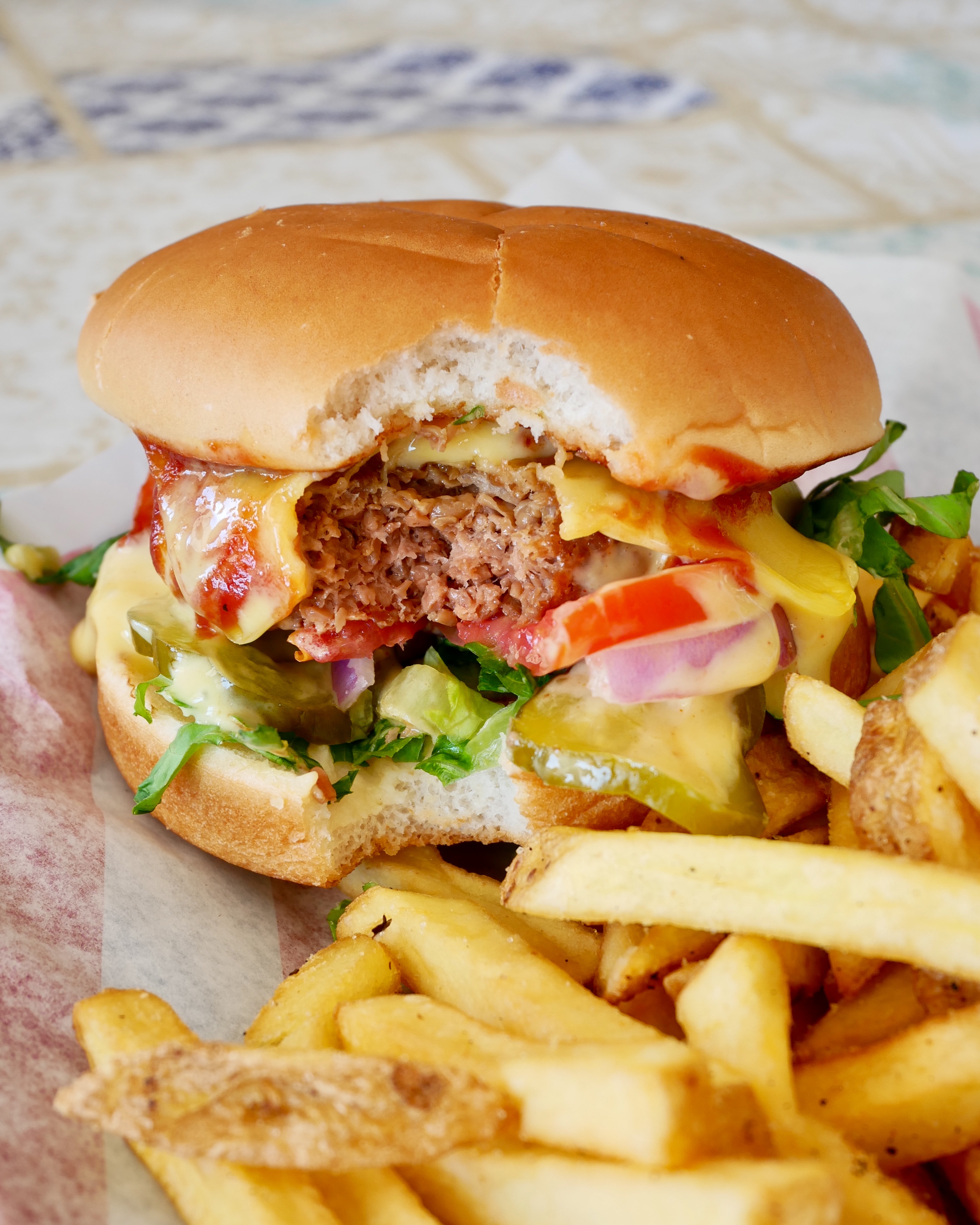 The Beyond burger at TGI Fridays
Vegan in Paphos
Firstly I have to say that I applaud the restaurants and cafes in Paphos for continuously adding vegan options to their menus! Paphos is turning into a kind of "Vegan Capital of Cyprus";)
Meraki Market Café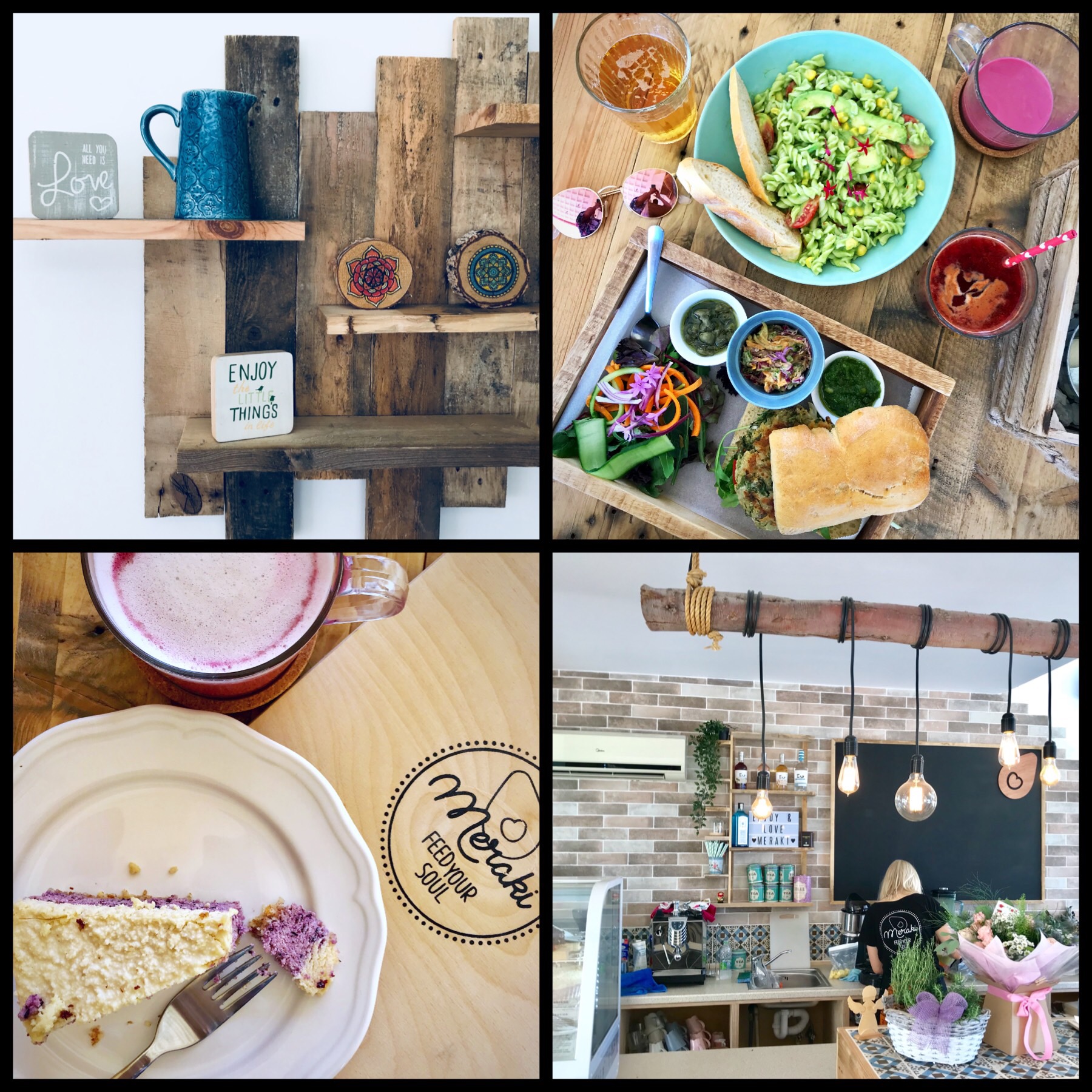 A vegan HEAVEN!! In June 2018 an amazing 100% VEGAN cafe opened in my neighborhood, Chloraka!! Meraki is a lovely cafe with food made with love! Fresh, tasty and a almost all vegan menu! I love the beautiful quirky little details and retro style. And super yummi food! I tried a delicious kale and quinoa burger and a blueberry cheesecake ~ lovely beetroot latte and a carrot, apple, beetroot and ginger juice – Just perfect! It's run by a very lovely and service minded couple who'll do the best to give you fresh, homemade, awesome plant based food. Almost can't express how happy I am to have a beautiful "feed your soul" cafe so close me! Exactly what I've wished for! Ohhh…and try their turmeric latte and pancakes too!Gluten free and vegan. Yay! They also have a little gift shop in their cafe with eco-friendly vegan products too! So now there´s no reason to use plastic straws anymore;) Get yourself a metal one or a bamboo straw and carry it with you. They also add new things to their menu and constantly improving the menu. This is def a MUST go to when in Cyprus!! Google maps location here
Let them eat cake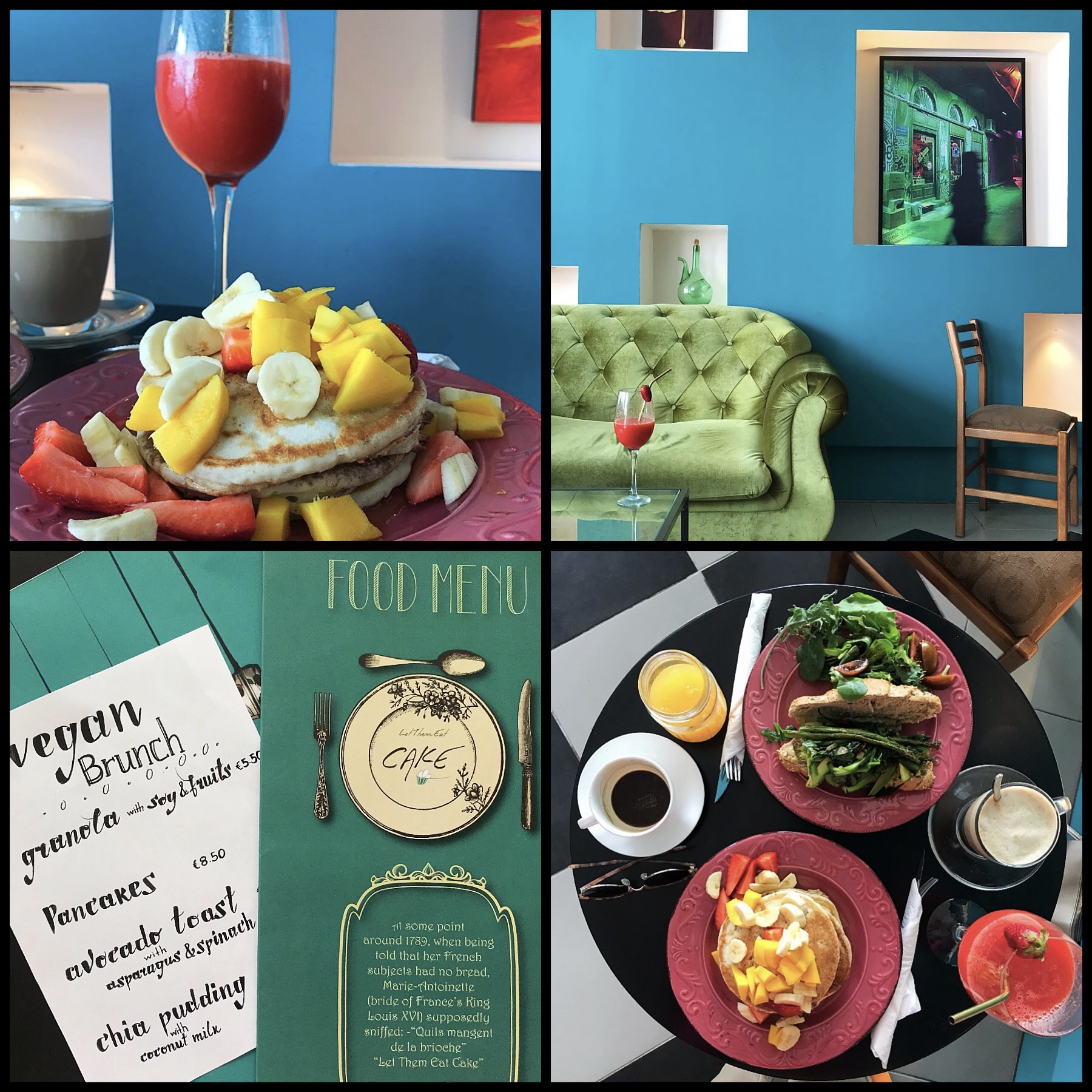 Let them eat cake has definitively more than cakes on the menu! And what a cool place! Love the bright colours! And I LOVE that they have a VEGAN weekend brunch menu! You must go! The pancakes was awesome and the avocado toast was delicious. Very good coffee and different plant milks too. Excellent for lunch, brunch, coffee, sweet, healthy….and cakes! Follow them on facebook to see their vegan cakes. Google maps location here
Antigo Juice and more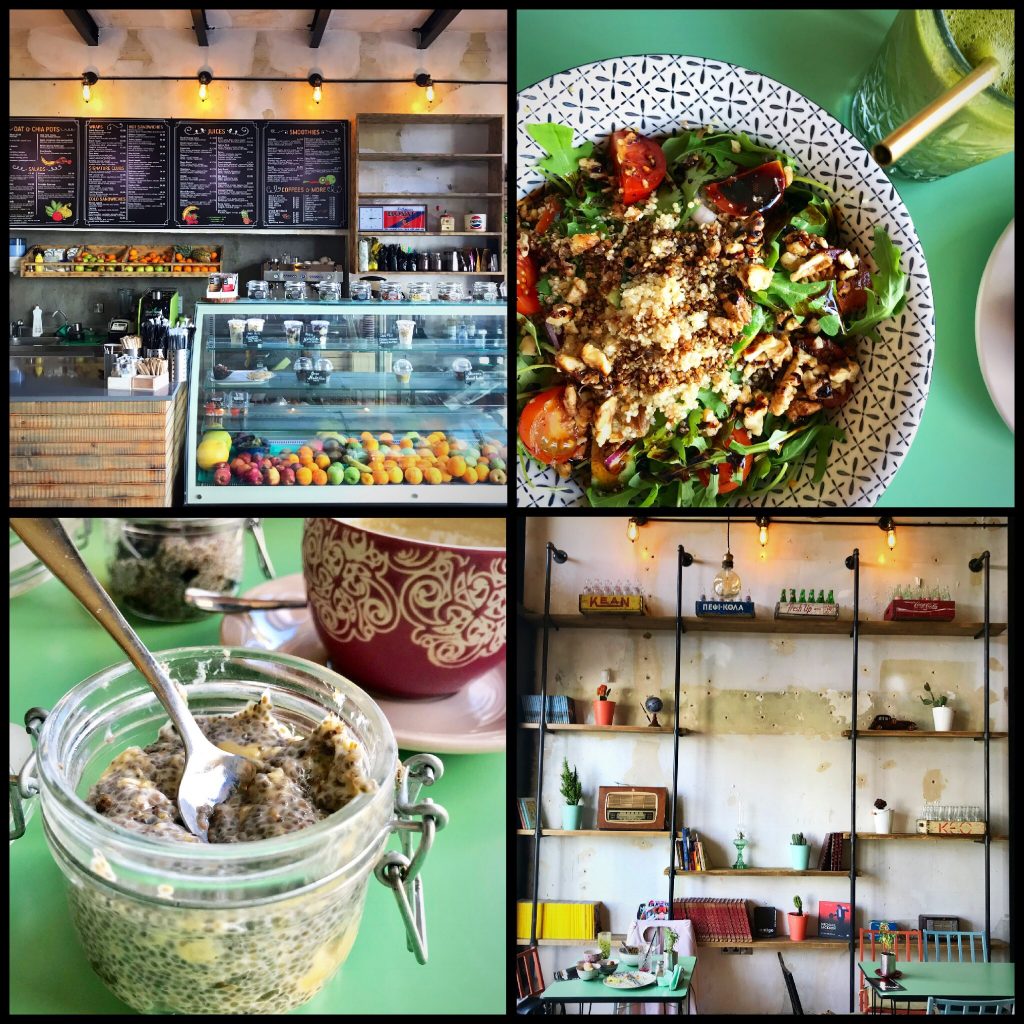 Antigo juice and more is a little gem in Paphos Old Town. It´s a perfect place for breakfast or lunch, snack…or just a latte with plant milk. They have different dairy free options too. Lovely retro place and super great service! Loved the quinoa salad, their smoothies and juices are great! Try their salads, chia pudding with peanut butter or an avocado wrap with tahini. And good coffee! Pop by this place if you're in the old town – it´s absolutely worth a visit. Google maps location here
Windmill restaurant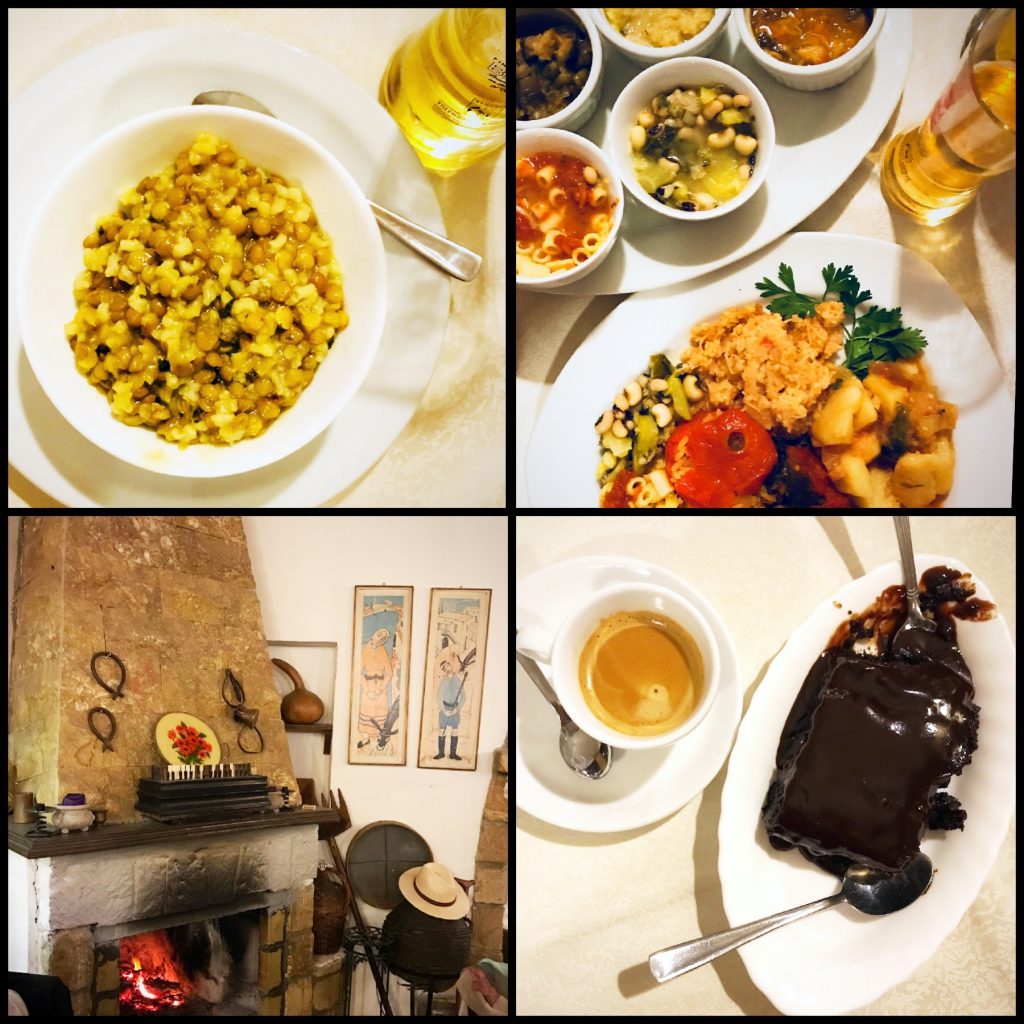 Windmill is my favorite traditional Cypriot restaurant in Paphos! Amazing food and beyond amazing service! It´s a super cozy and warm restaurant owned by a Cypriot family that you kinda fall in love with when you're there! Try their super yummi vegan meze or vegan platter, the mouth watering vegan chocolate cake is a must, and their lentil starter tastes gorgeous! Windmill can do VEGAN WEDDINGS too:) And the best is that the sweet Nancy always tries to improve their vegan options, arrange for vegan nights at their restaurant and last time they had vegan tzatziki and vegan feta cheese too! I highly recommend this place! Simply a must when in Paphos! Google maps location here
7 St. Georges Tavern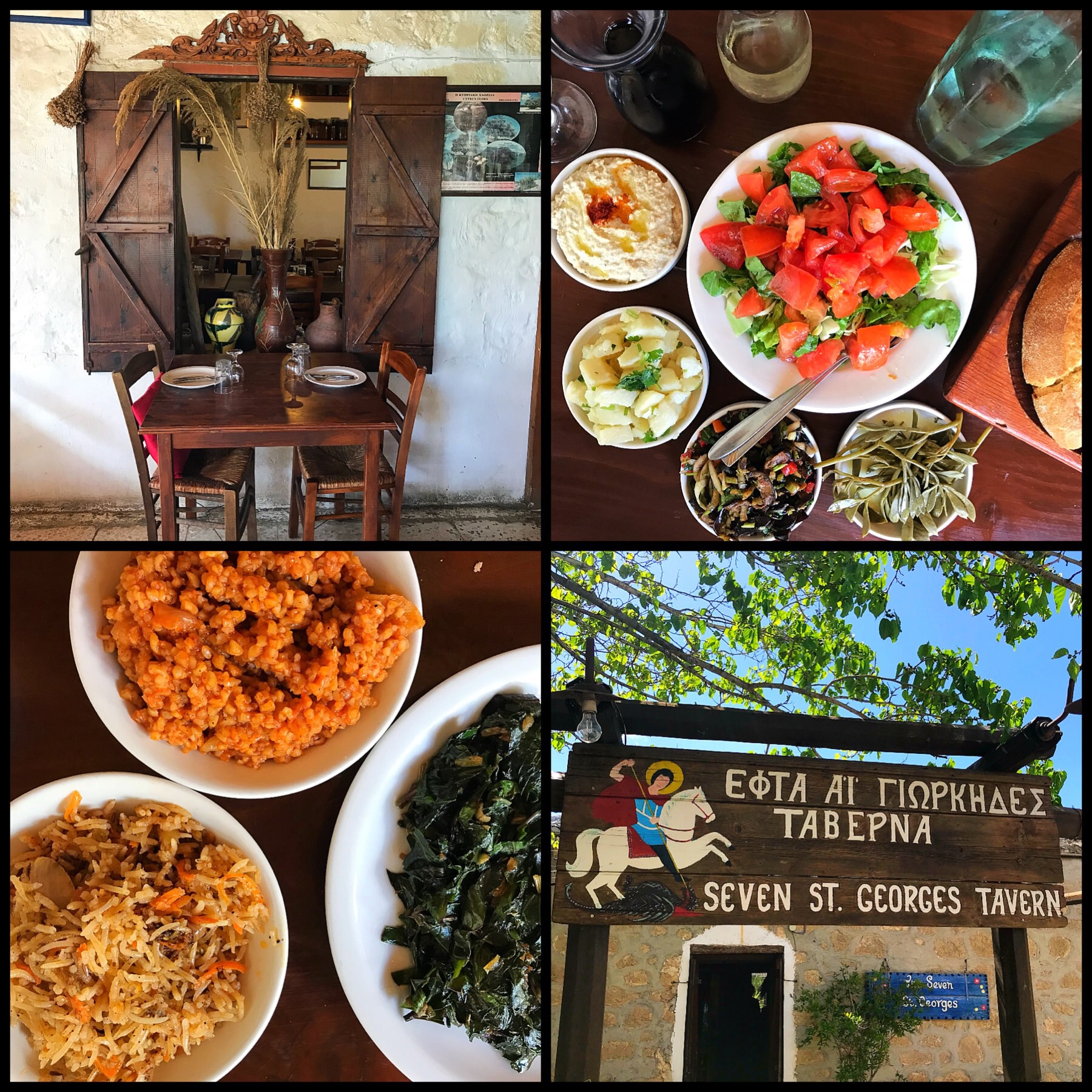 7St. Georges Tavern is a beautiful traditional Cypriot Tavern with super-friendly staff! They serve a delicious vegan meze! The food kept coming and we got so full we couldn't finish it all. A must when in Paphos! I can't wait to go back for dinner there and sit outside in the backyard. Book a table and let them know you're vegan beforehand. I think this might be another Cypriot favorite tavern! Google maps location here
Namaste Indian Restaurant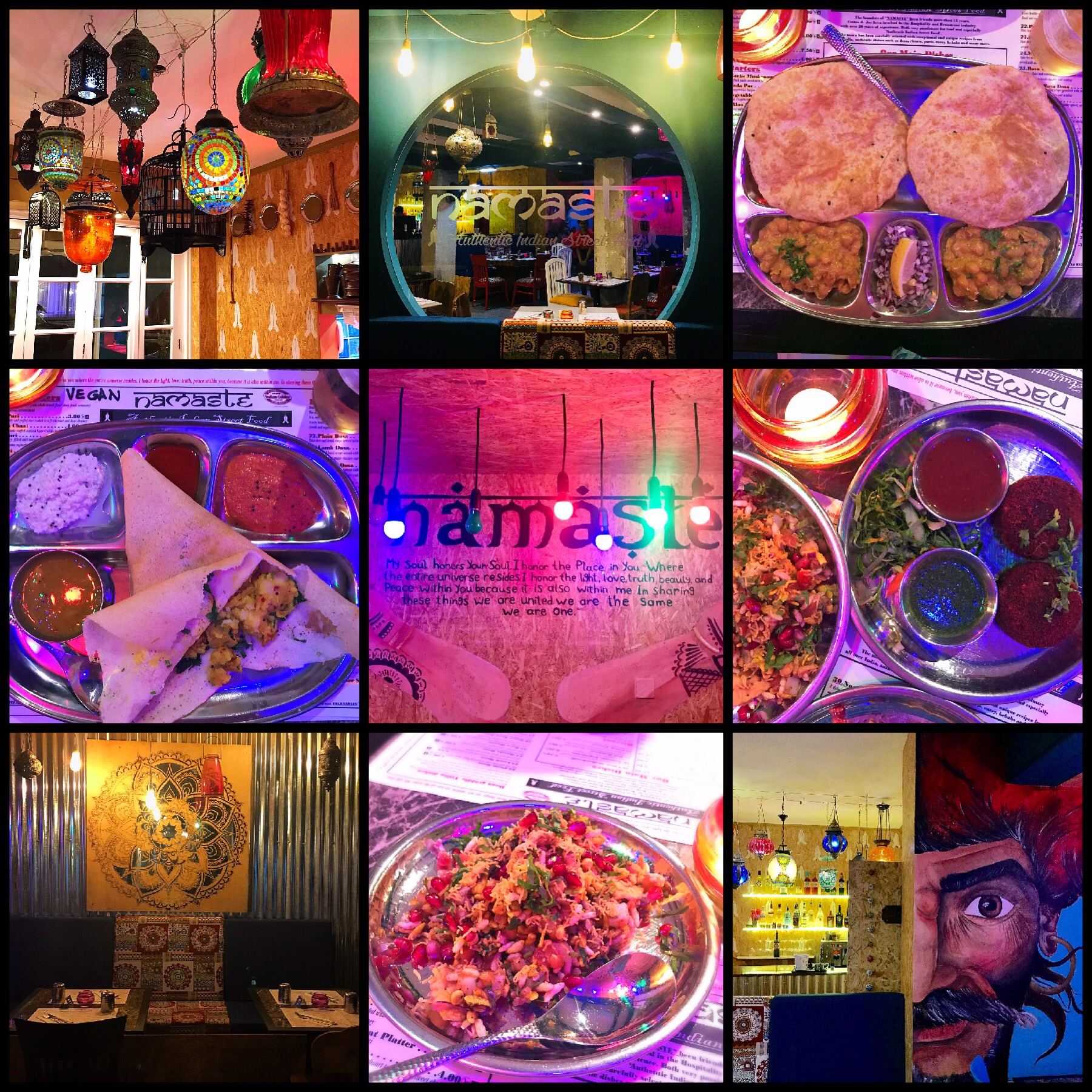 Namaste Indian restaurant is a little piece of India in Kato Paphos. I almost felt I was back in India:) I was so pleased to see they have actually highlighted their vegan options on the menu. Amazing food! Tasty, colorful and delicious Bhel Puri and Beetroot cutlet for starters. These were my favorites! Masala Dosa and Channa Batura for main – was very good! Love the Namaste on the wall, all the colors, paintings and lamps….colourful…just how remember India. Google maps location here
Yurts in Cyprus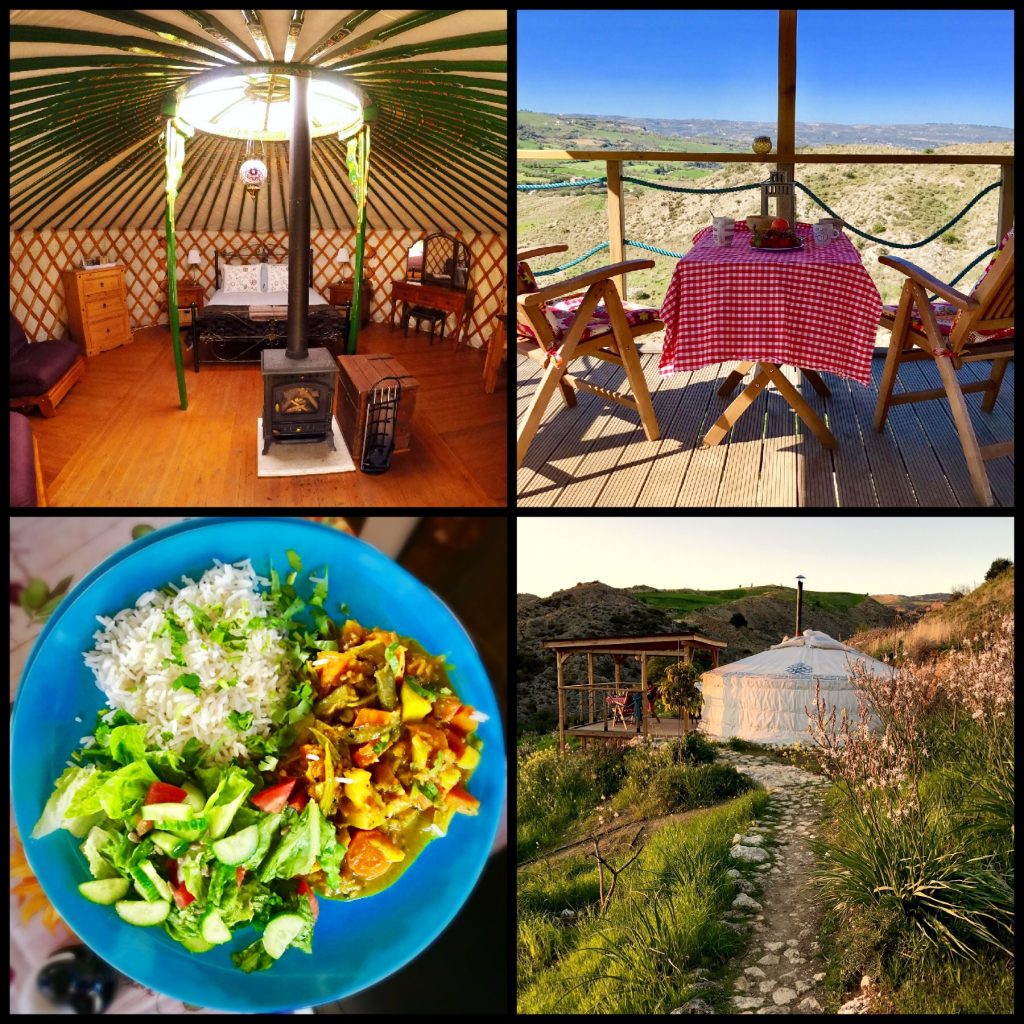 Yurts in Cyprus is not a restaurant, but a pet-friendly AND amazing place to stay in Paphos! If you've never been here before, book a night or two for a truly magical experience. Stay in the beautiful Mongolian yurts and soak in the sunset and nature from your little platform infront of the yurt. The warm, sweet and friendly owner, Pawel will make you a lovely healthy vegan meal for dinner, you just need to book. Google maps location here
The Farriers Vegan Bed & Breakfast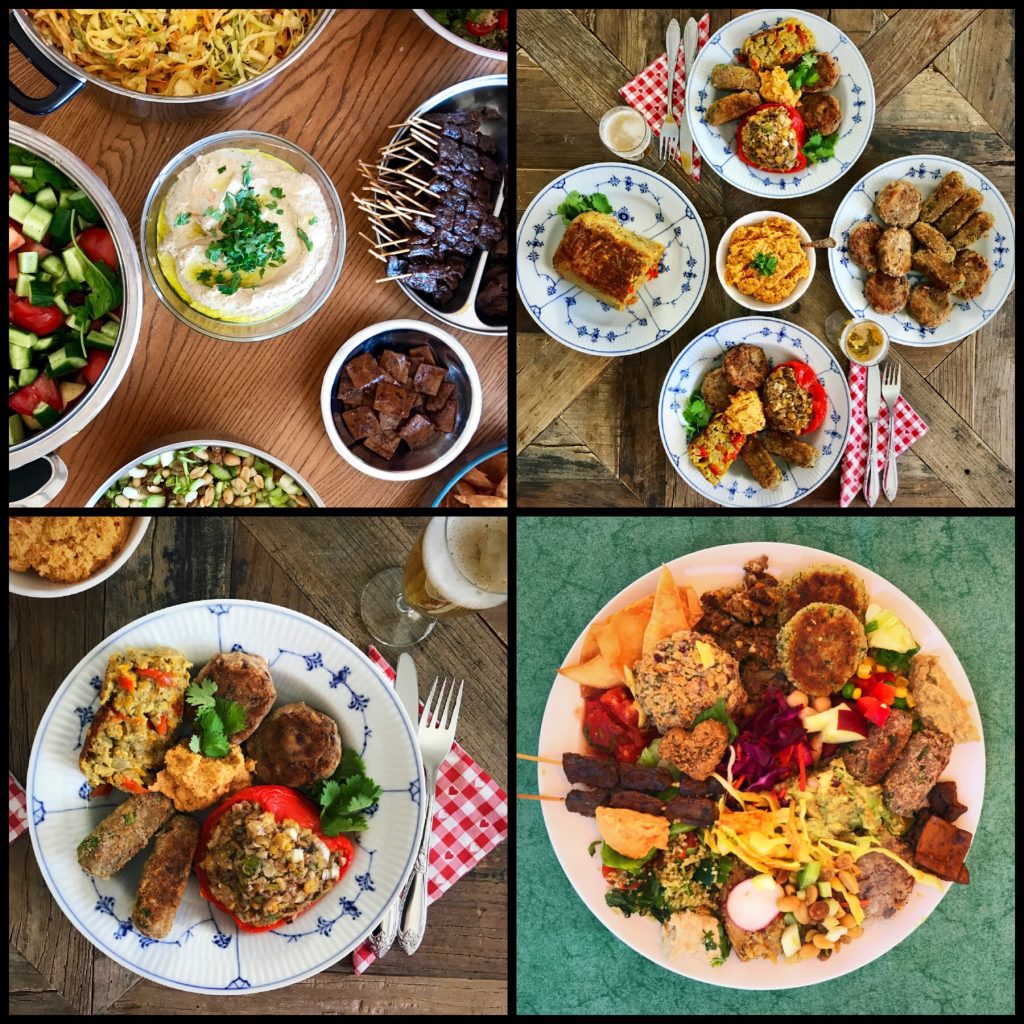 First time I went to The Farriers Vegan Bed and Breakfast was for a vegan picnic with so much amazing, tasty, gorgeous food prepared by the lovely animal lovers Cynthia and Barry – who runs this place. They don't operate as a formal restaurant, but will cook for you with a minimum of 48 hour notice to plan a menu, source and cook everything using fresh and local ingredients. They also have a take away/delivery/ready meal menu The photos with the white and blue plates are a ready meal order I placed. Lovely roasted peppers stuffed with beans, walnuts and mushrooms, bean burgers, lentil roast, sage and onion chipolatas and hummus with caramelized onions and roasted garlic! Everything was delicious! We had it both for lunch and dinner. The Farriers Vegan Bed & Breakfast is situated in the peaceful village of Kouklia – close to Paphos Airport and perfect for exploring the island. Ah..and did I mention they can actually cater for vegan weddings too! And visit their page for more info about the cattery, Mandry´s fund (TNR project for cats) or working holidays. Google maps location here
The Olive Tree Sanctuary /Vasilias Nikoklis Inn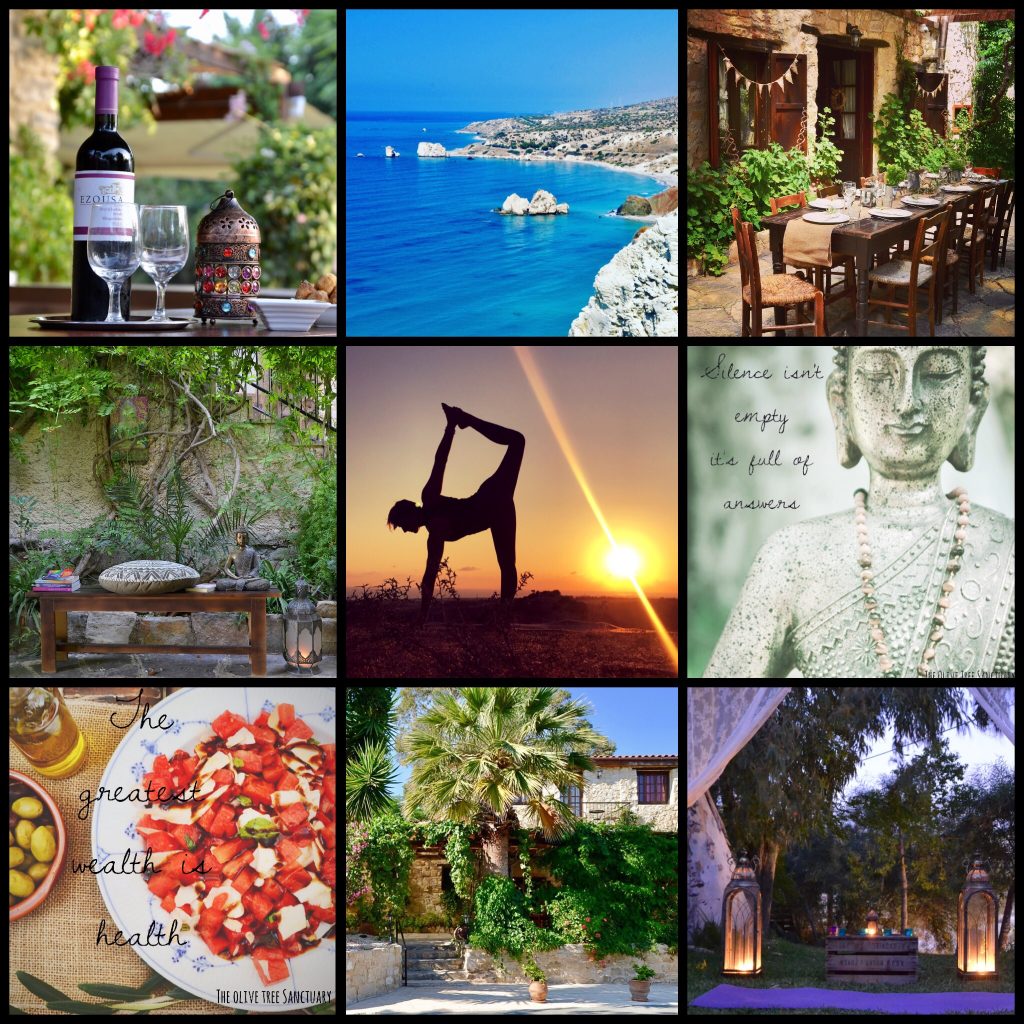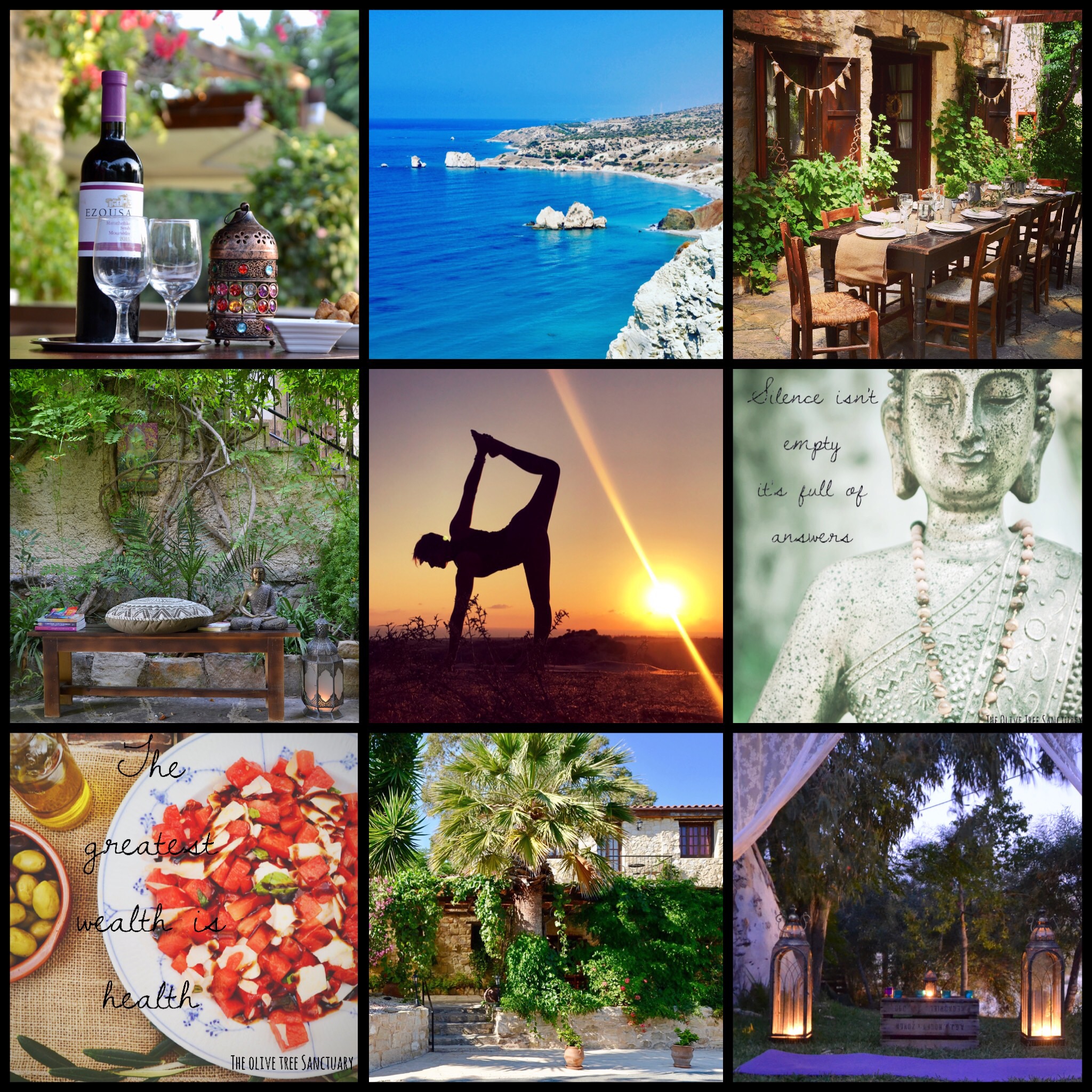 The Olive Tree Sanctuary was our vegan holistic yoga retreat which used to run on certain dates through out the year. It was a 100% vegan with vegan meals, toiletries, essential oils, vegan wines and beer. The beautiful venue is Vasilias Nikoklis in situated in a beautiful tranquil valley in Paphos. After my business partner and friend moved back to Scotland, we decided to leave it just as a beautiful memory with amazing retreats.  Just to show you a little bit more of what we had…Here from our "Song of the Self" – vegan holistic yoga retreat weekend in March 2018. Delicious vegan food made by the lovely staff at Vasilias Nikoklis Inn and us. They can also do VEGAN weddings, yoga retreats for a yoga teacher who wants to take their group there, and of course cater for vegans at their beautiful hotel. Contact them for more info if you'd like to stay there. Google maps location here
Viklari – The last castle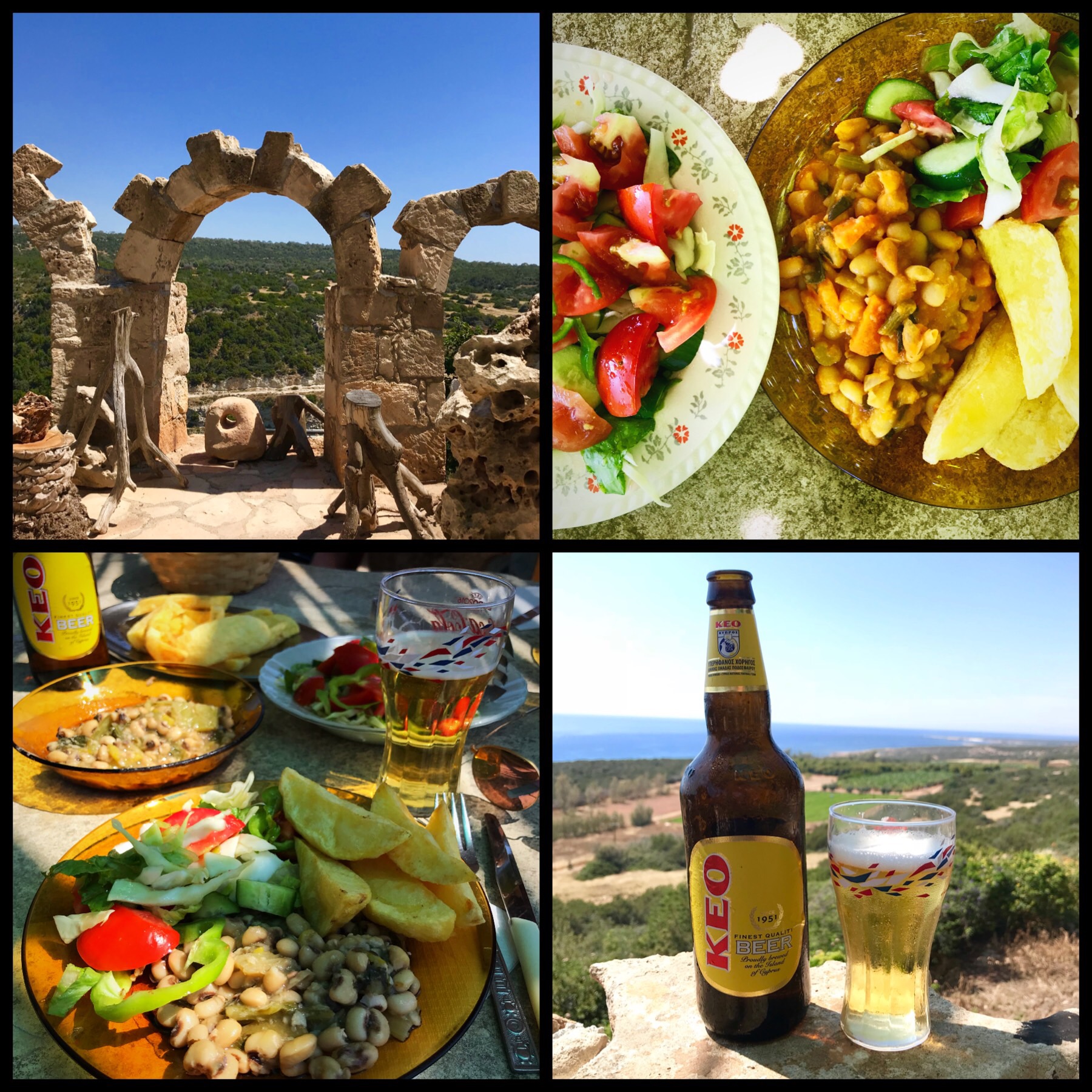 Viklari – The Last Castle is situated on a hilltop in the beautiful Akamas National park, on the gateway to Avakas Gorge – a stunning canyon well worth a visit too. The restaurant is only open daytime, so great for brunch/lunch. It is a typical bbq traditional basic style restaurant, but with tasty and fresh food! Very lovely people and excellent service! It is more of a meat orientated restaurant, but if you ask for vegan option they will serve you their yummi homemade veggie (bean) stew. The fresh produce, homestyle cooking, a keo and THAT view – is just perfect for a lunch after trekking or on your way to or from Lara Beach or Avakas gorge – both must see locations! Remember they close during the winter months. Google maps location here
Cap St. Georges Beach Club Resort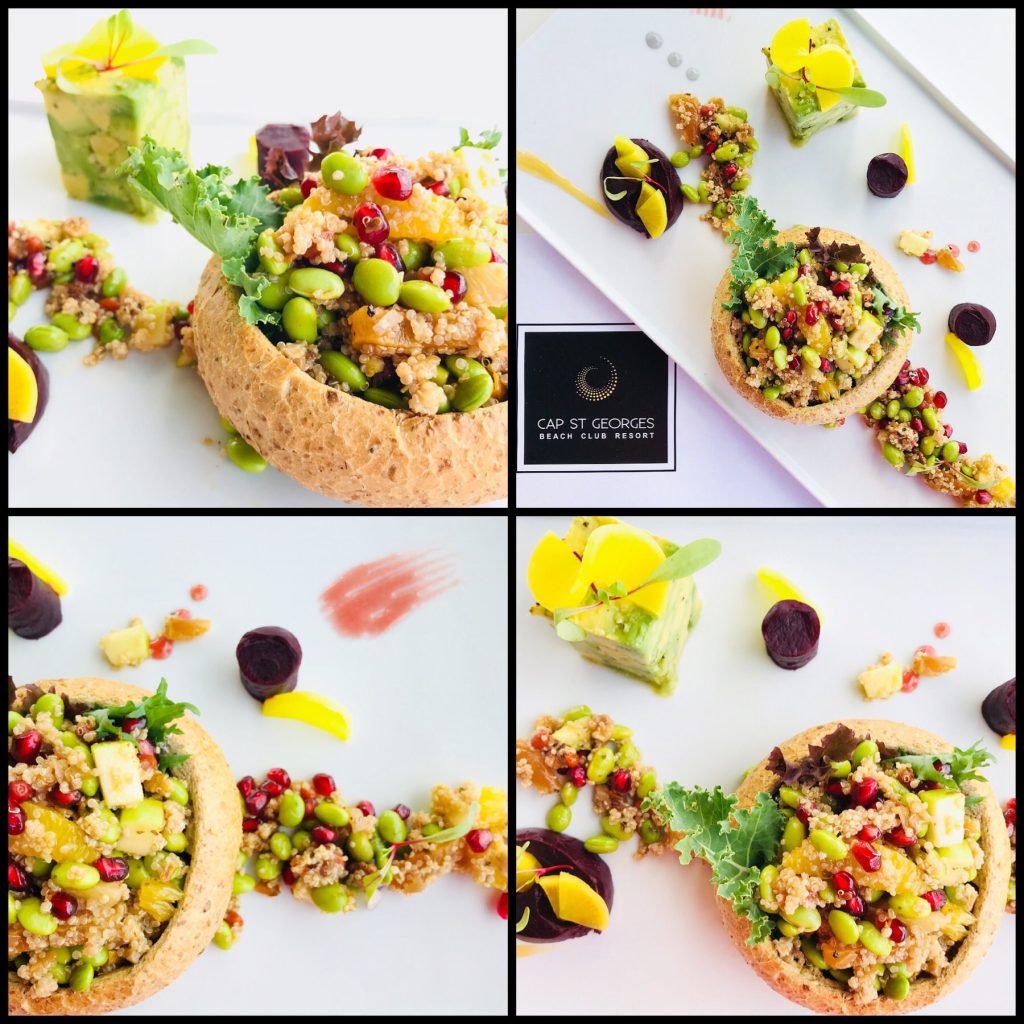 Cap St. Georges Beach Club Resort surprised me with this amazing vegan gourmet plate! I sent them a message to ask if they could prepare a vegan lunch for me at a yoga event with brunch. But I didn't know what I was getting being the only vegan. And then this work of art came! So incredible delicious! Loved the different tastes and the «paint brush» with sweet, fruity flavour!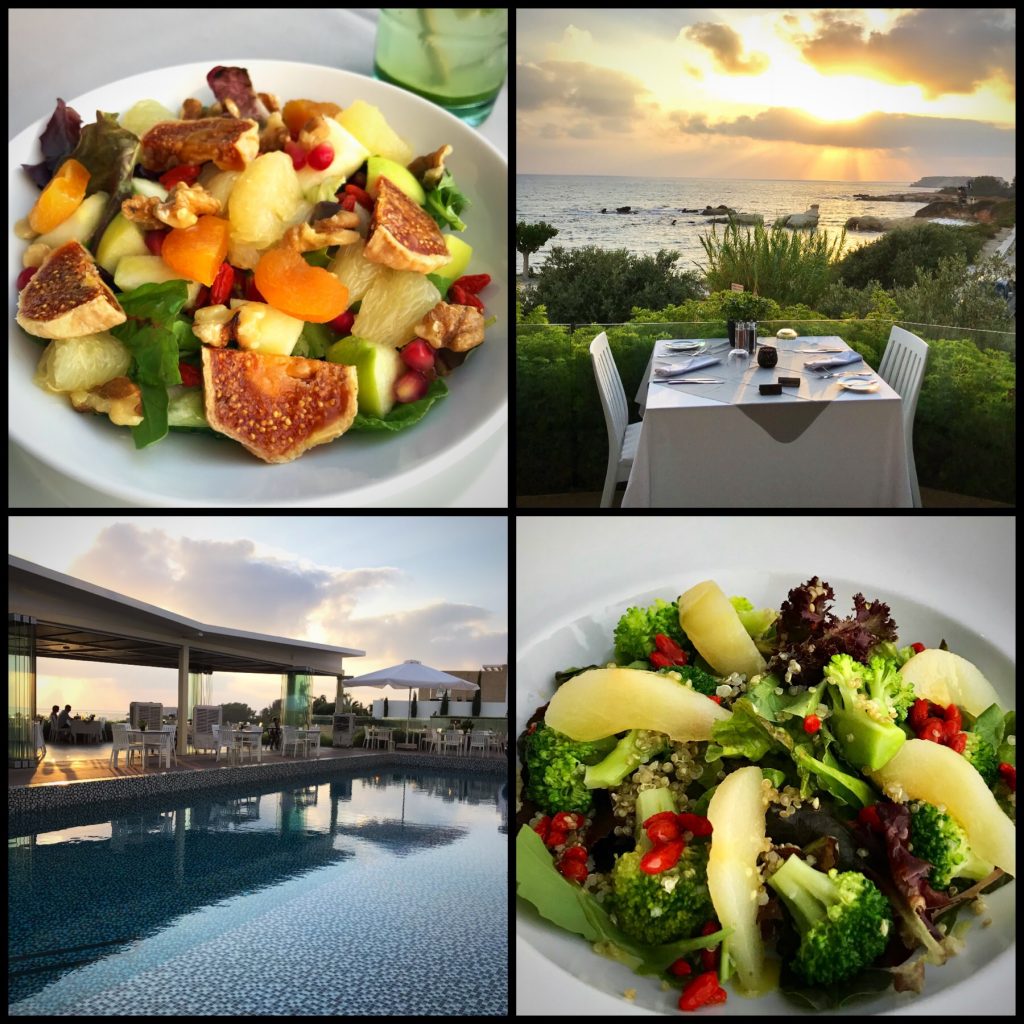 They do have a couple of vegan choices on their menu, but it is best for lunch, NOT dinner as it is only salads, but really good and healthy salads, so they will get a space in here;) Google maps location here
Pinguino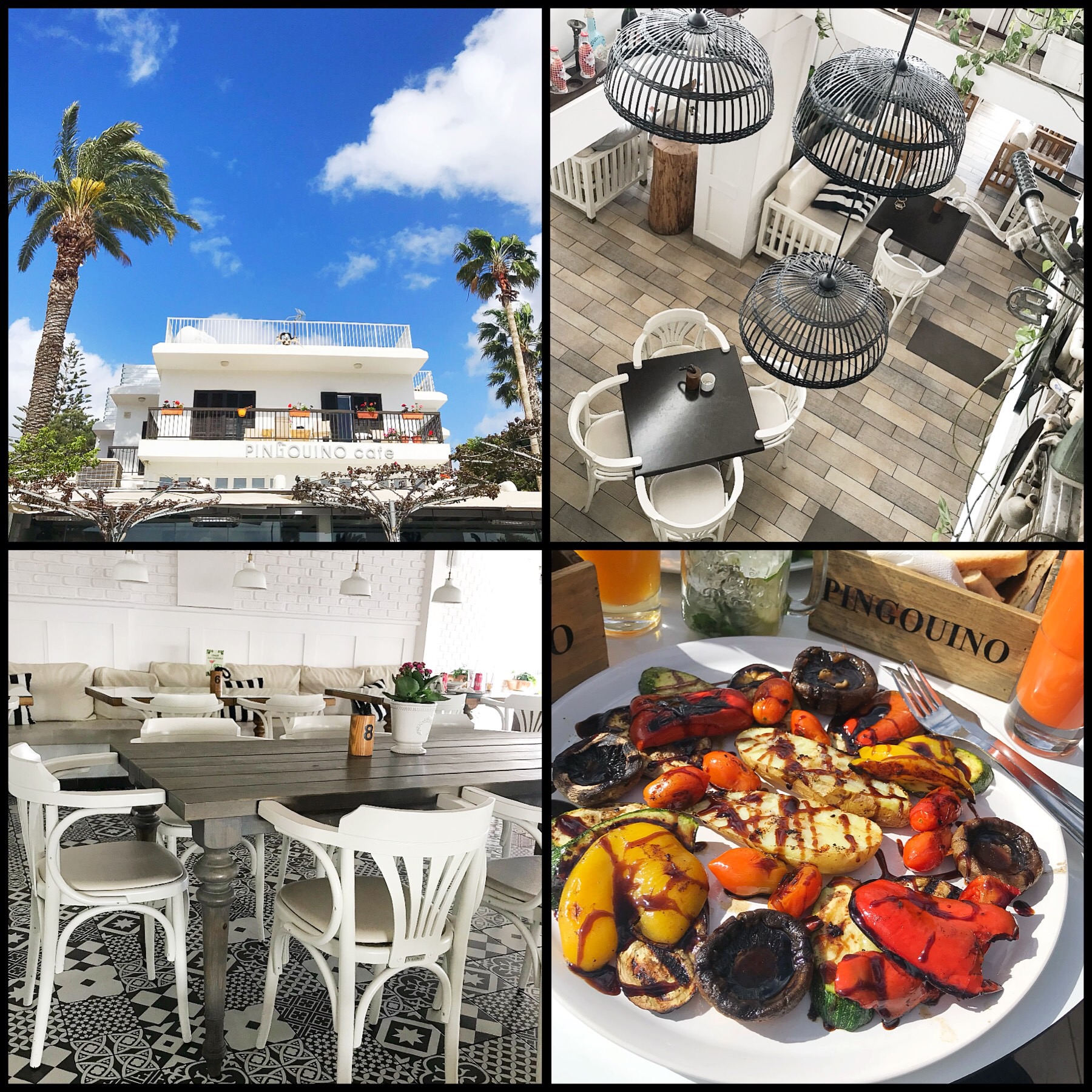 Pinguino is a nice cafe down at the harbor in Paphos. Great for both lunch and dinner. They have one vegan option called "Vegan gourmet platter" on their menu. Grilled vegetables with balsamic. It´s good, but I'm hoping they will add a little more "gourmet" to it;) Google maps location here
Boo-tea-licious Tea Room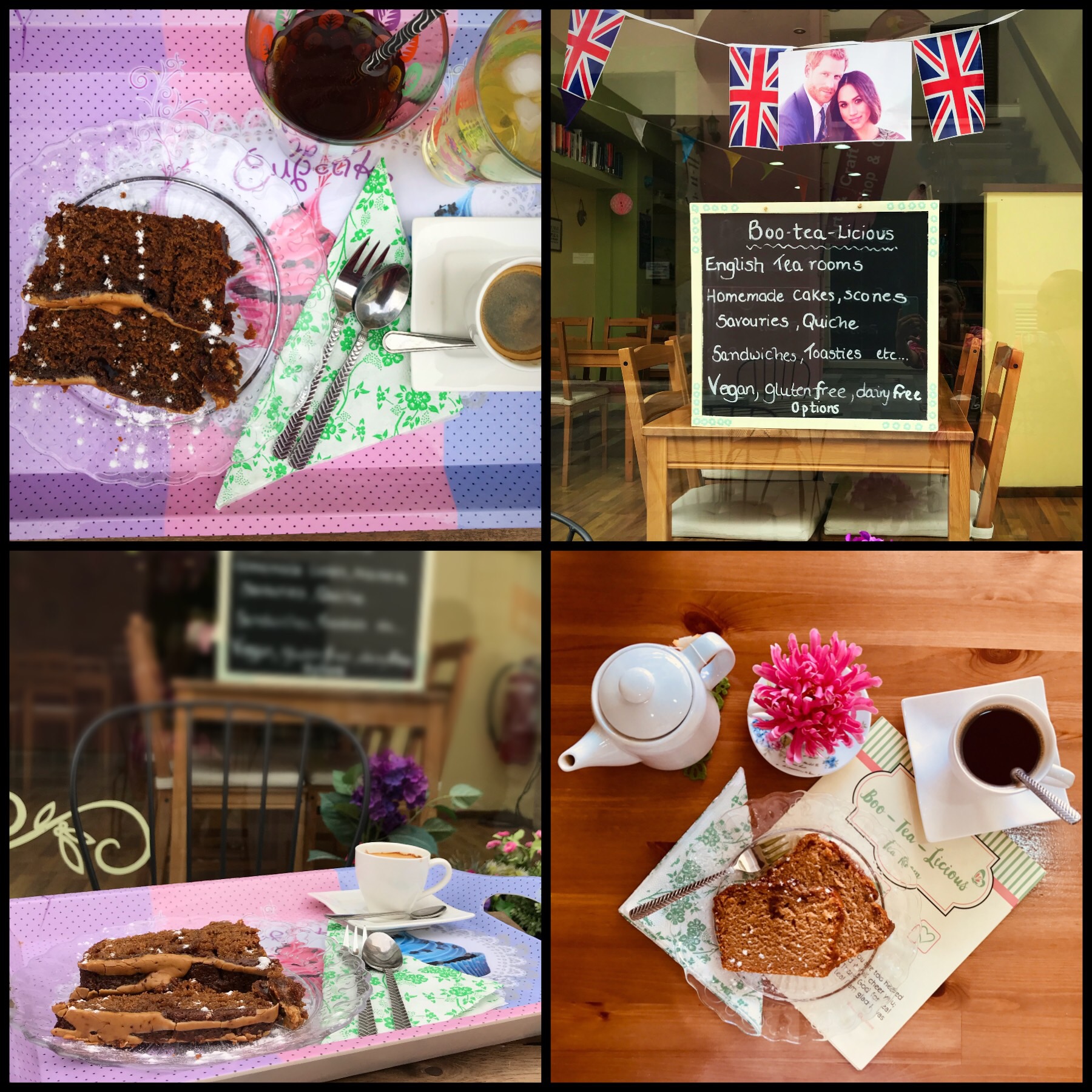 Boo-tea-licious is a cafe in The Old Town. Run by a very lovely lady that always has a vegan cake or two and vegan options on her menu. Her cakes are good! Vegan coffee cake might be my favorite! You can also order cakes from her. For Christmas I ordered her yummi vegan mince pies. She will also be hosting a delicious  English Vegan Afternoon Tea. For only €15pp (includes scones, vegan clotted cream, cakes, sandwiches, savories and a pot of tea of your choice) all home-baked with love. Saturday 6th October 2018 3pm – 5pm. Check out her event here
Google maps location here
St. Paul´s Pillar Restaurant/ Tavern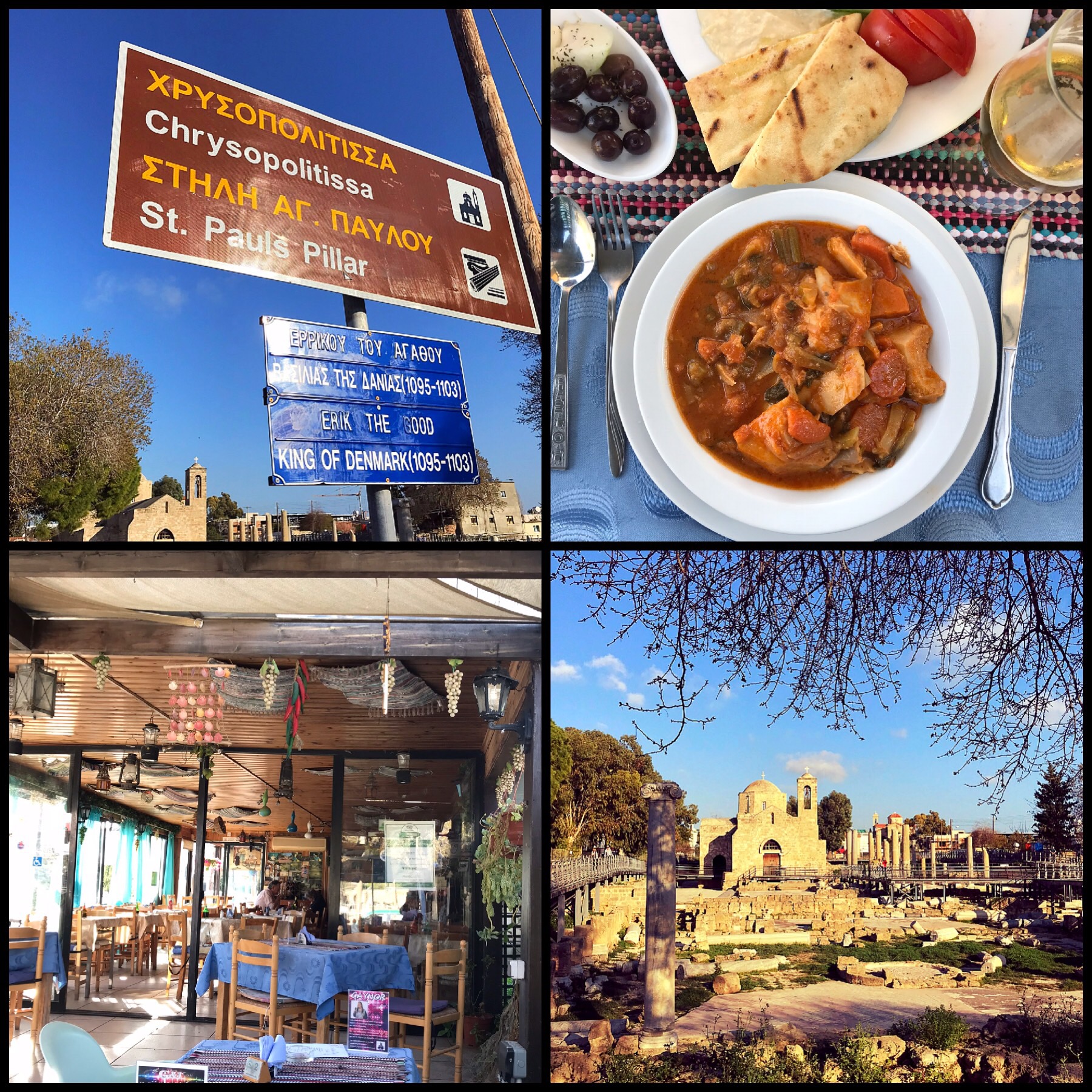 St Paul's Pillar Tavern – A street style tavern. All the signs and decorations around reminds me of backpacking in Asia for some reason. We felt we were out traveling…Don´t expect anything fancy, but nice prices, good food and a cool location by one of the archeological sites of Kato Paphos. The service was good. Really nice lady working there who happily told us about the vegetarian/vegan menu. I had a good ragu stew and a KEO – good lunch! Google maps location here
Ouzeri at Almyra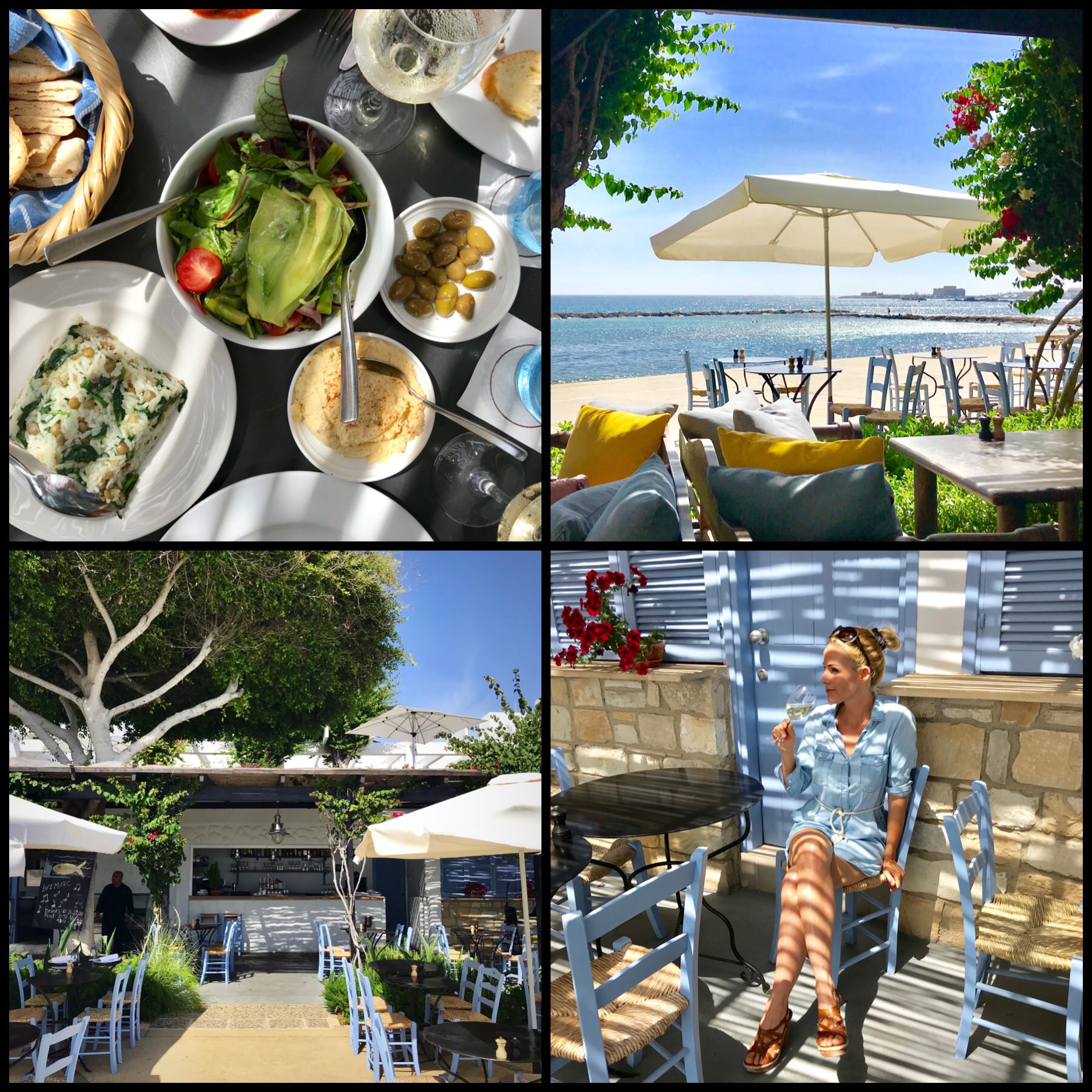 Ouzeri at Almyra hotel is situated in Kato Paphos along the beach and harbor. A beautiful place with great service! You can put together your own little mini meze of vegan side courses, but don't expect a full on dinner!! It is more a light lunch with wine type of place. The food is fresh and tasty. They have vegan wine:) Lovely sea view and nice vibe place! Google maps location here
Gelateria e cosi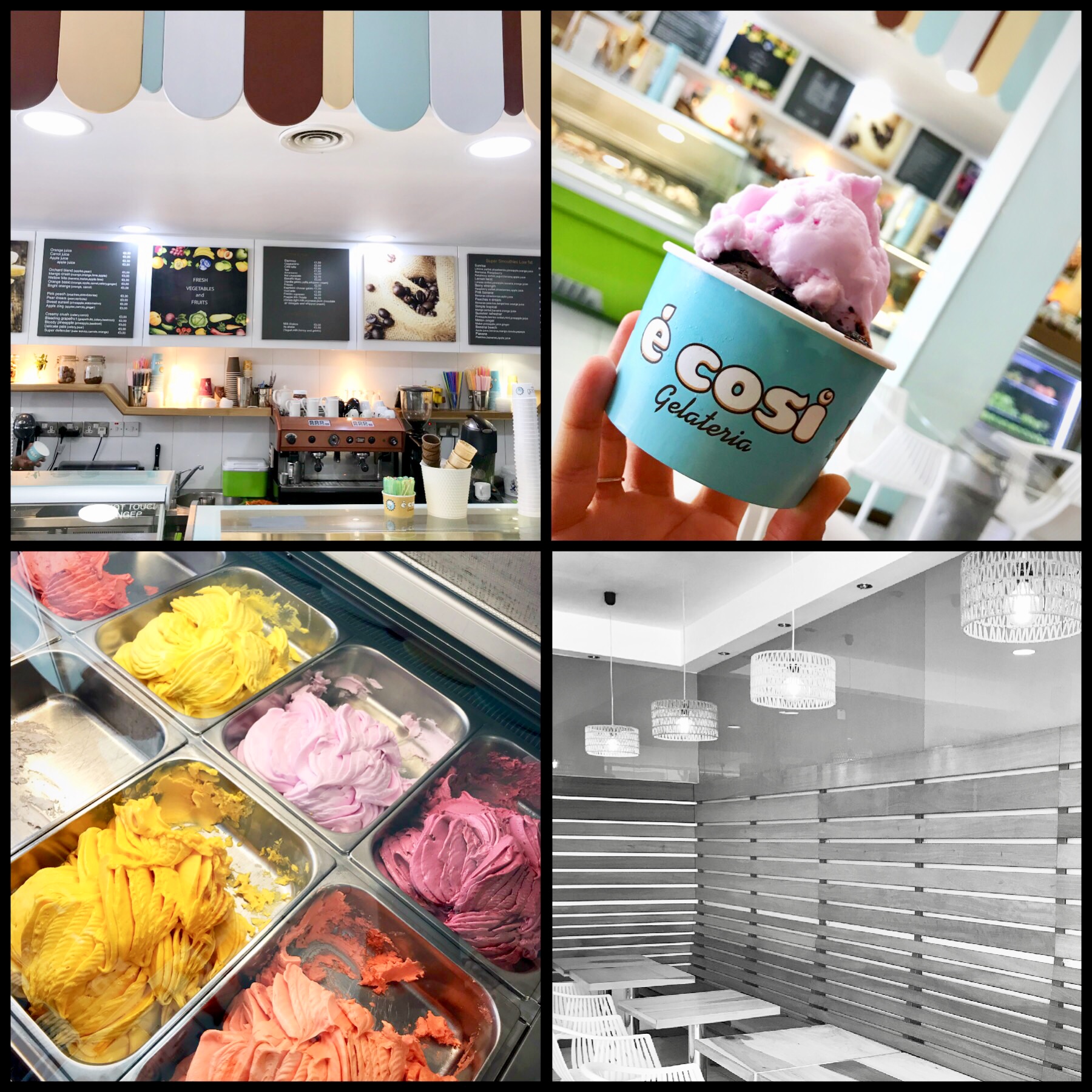 Gelateria e cosi is an contemporary Italian gelateria situated in Kato Paphos, with quite a few lovely vegan options. I was super stoked to see that they had vegan dark chocolate ice-cream and it was soooo delicious! I tried the rose petal one too, which was super nice! The ones on the top are vegan made with different fruits. They people working there were lovely too! Will def come back for more! Google maps location here
Palia iLektriki

Palia iLektriki is a well hidden gem in the old town of Paphos! They have a few vegan options on their menu, but if you ask too, they will make sure you are catered for with the best Cypriot hospitality. The owners are super service-minded and kind. We (The Cyprus Vegan and I) decided to order a little bit of everything vegan for a meze style lunch. The food was so good! Tasty, fresh and healthy, and some of it were even from the chefs own garden. Loved all of it, but the veggie risotto the most! Definitely a place worth a visit for local, healthy and fresh and a little bit of Cypriot traditional food (f.x stuffed wine leaves). Google maps location here
Paramythi Healthy Ever After

ParamythiHealthyEverAfter  is a mostly vegan and vegetarian (some meat options) cafe with amazing healthy food and equally amazing people who build their dream from a passion for healthy food, interior, art and music. It is like stepping back in time and entering a fairy tale with all their handmade/secondhand/retro furniture and artifacts. Absolutely loved this quirky place! The food was super good and healthy, and the healthy dessert made from cactus with dragonfruits and almonds was a very nice treat. Excellent service and super friendly people! Google maps location here
Artognosia Bakery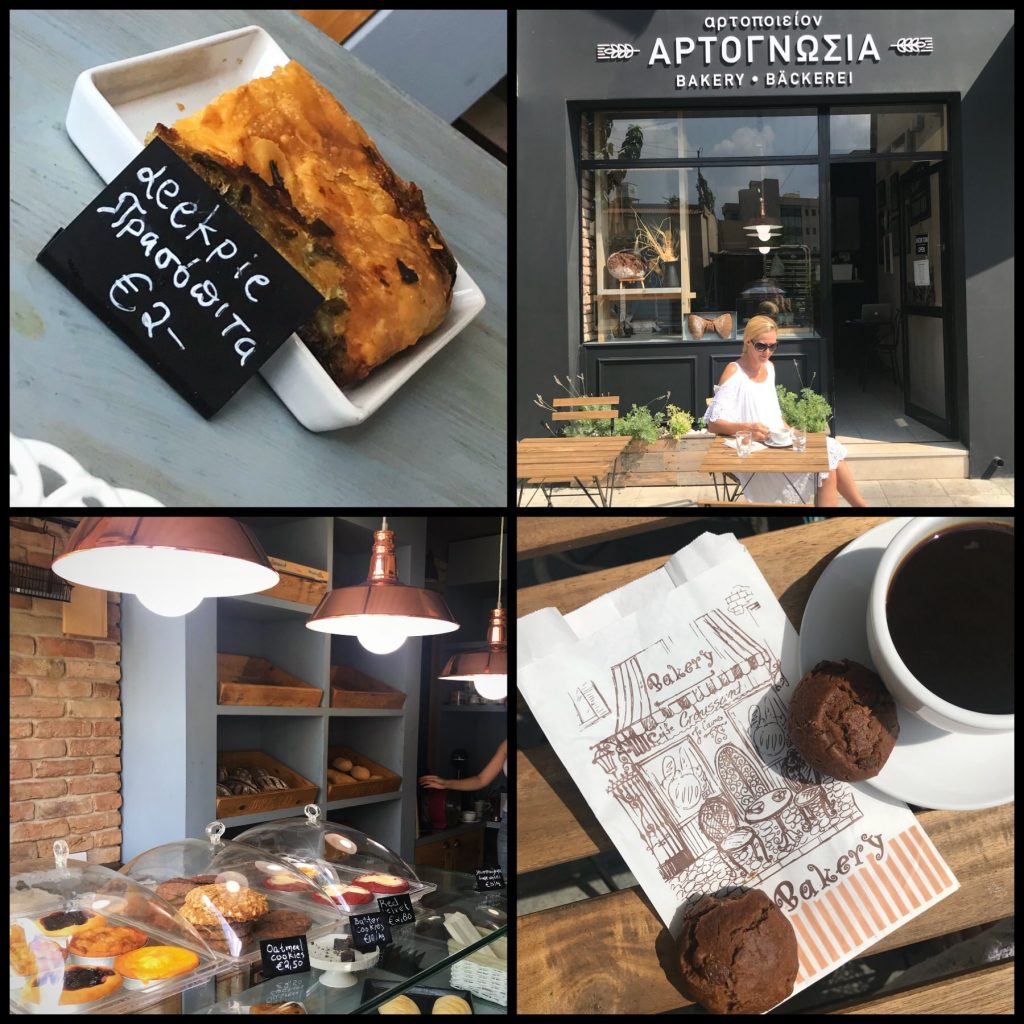 Artognosia Bakery is a super cute bakery with some lovely vegan options. When I was there she had ginger bread cookies and a vegan pie. During the fasting she has quite a lot of vegan options, but also outside the fasting times. Follow her fb page to see when she announces vegan options too. Google maps location here
Poco Loco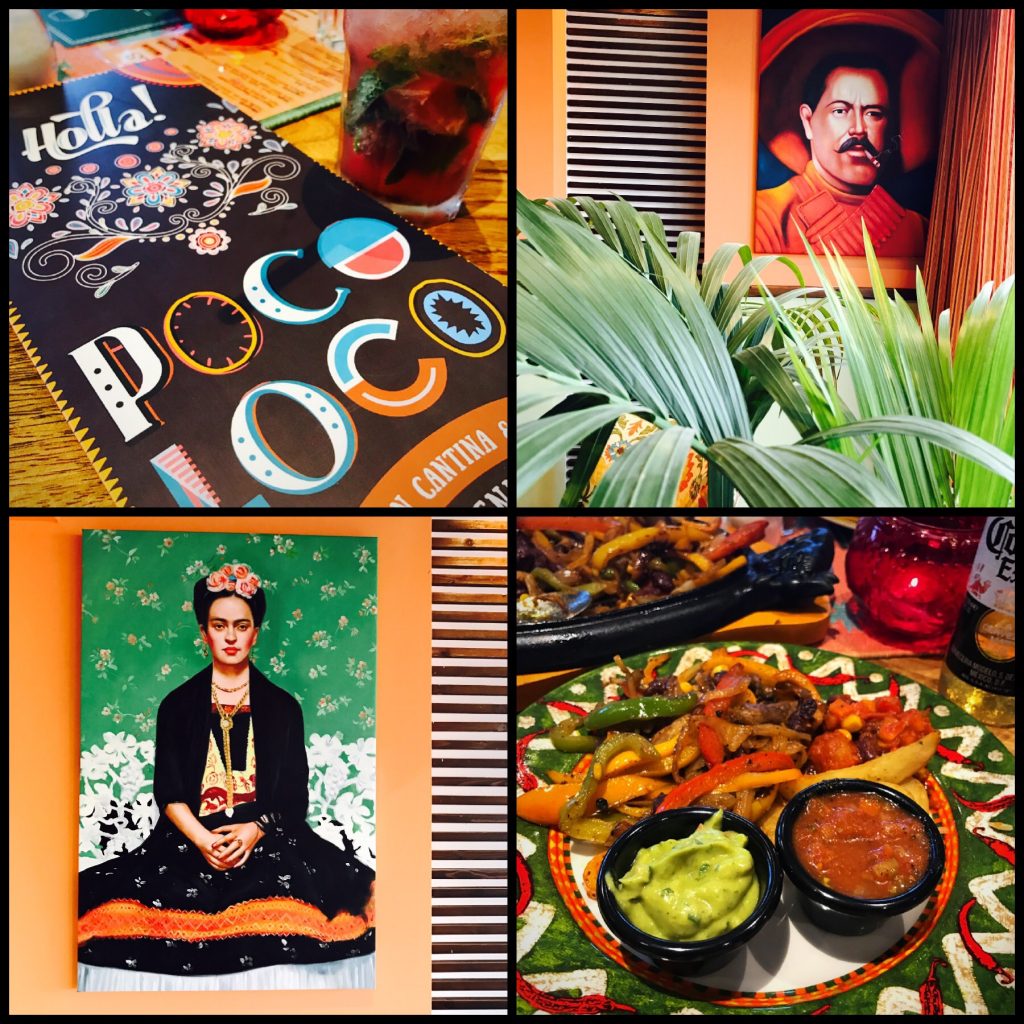 Poco Loco is a restaurant with Mexican food. Good for vegetarians and the vegan option was nice, just wish they would add some beans too. On their menu is says "just ask for Vegan or gluten free options". Google maps location here
Boat trip to Blue Lagoon with Cyprus mini cruises

Cyprus mini cruises has the popular boat trips to Blue Lagoon in Akamas, is also vegan friendly! Amazing place and great service both when booking and on the boat! Just ask them for a vegan option when you're booking your boat trip. I loved this cruise! Been to a few, but this one is by far the best service and food. Grilled eggplant and squash, yummi cous cous, salad and bread…perfect lunch on a boat:) Here´s google maps location for Latchi harbor 
Koulla's Sandwiches
(if you're traveling around Polis/Pomos/Kato Pyrgos area)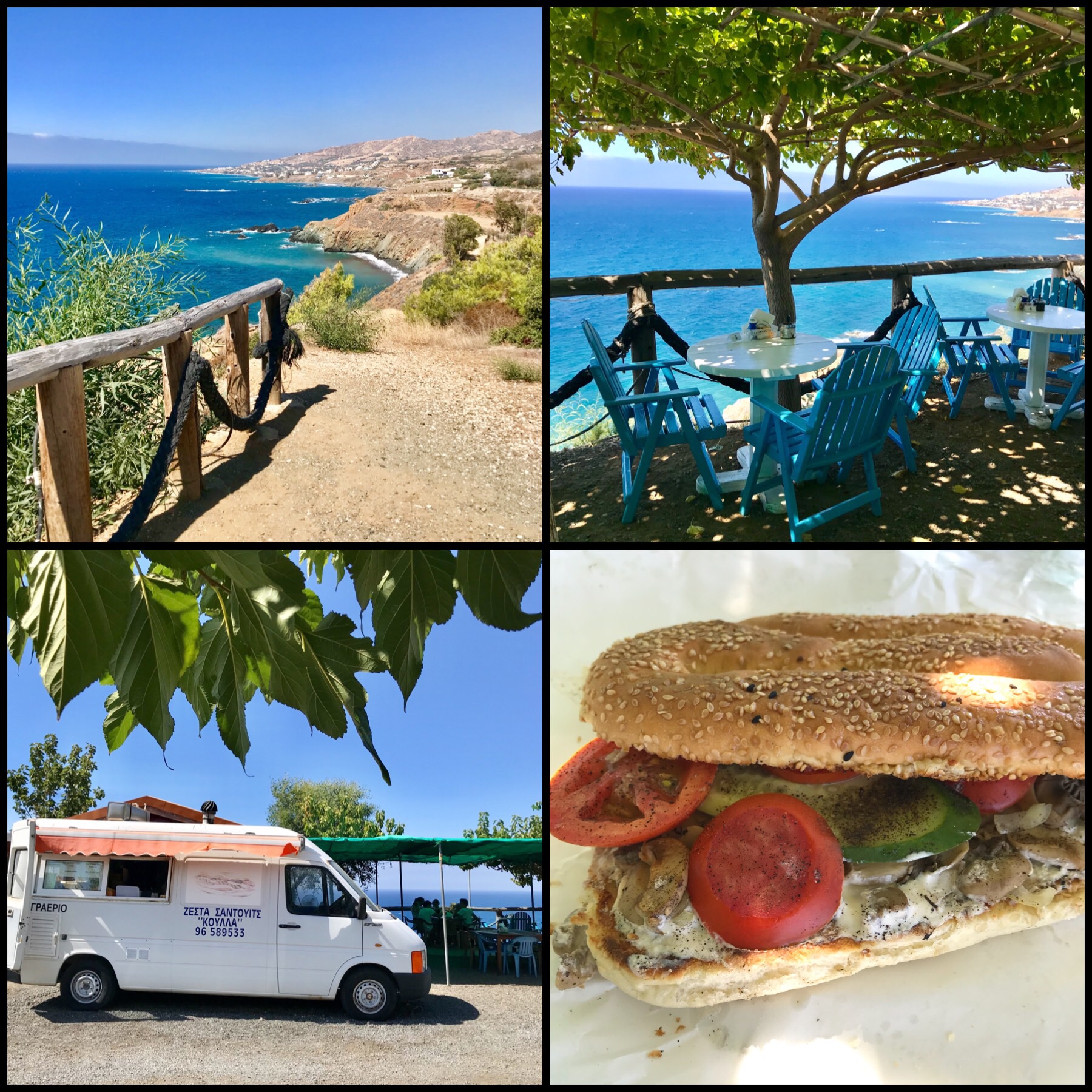 Koulla´s Sandwiches
is absolutely worth a stop if you're on a road trip. Beautiful location, lovely people and yummi sandwiches! We were on our way to Pomos and found this cool place along the road thanks to ENhealthy and The Cyprus Vegan. Highly recommend stopping here for breakfast or lunch, or a snack later. Excellent service and such lovely people working there. Love that a food truck has vegan options on the menu! The mushroom tahini sandwich was very good! And the melon was a nice treat…with the best sea view! Google maps location
here
Vegan in Limassol
Vegans coming to the island, vegans in Limassol and all over the island really…have something to look forward to; The opening of a brand new ALL VEGAN SHOP!! How amazing is that?! Imagine walking around in a shop where you don't have to look at dead animal parts, check ingredients and wonder if there is any animal products in the food, or if products are tested on animals! Animal testing is still happening even though laws are slowly changing when people get aware of the cruelty happing in laboratories AND when people start to say no to this cruelty. The shop will open at the end of October 2019.
Vegan4Life – The vegan shop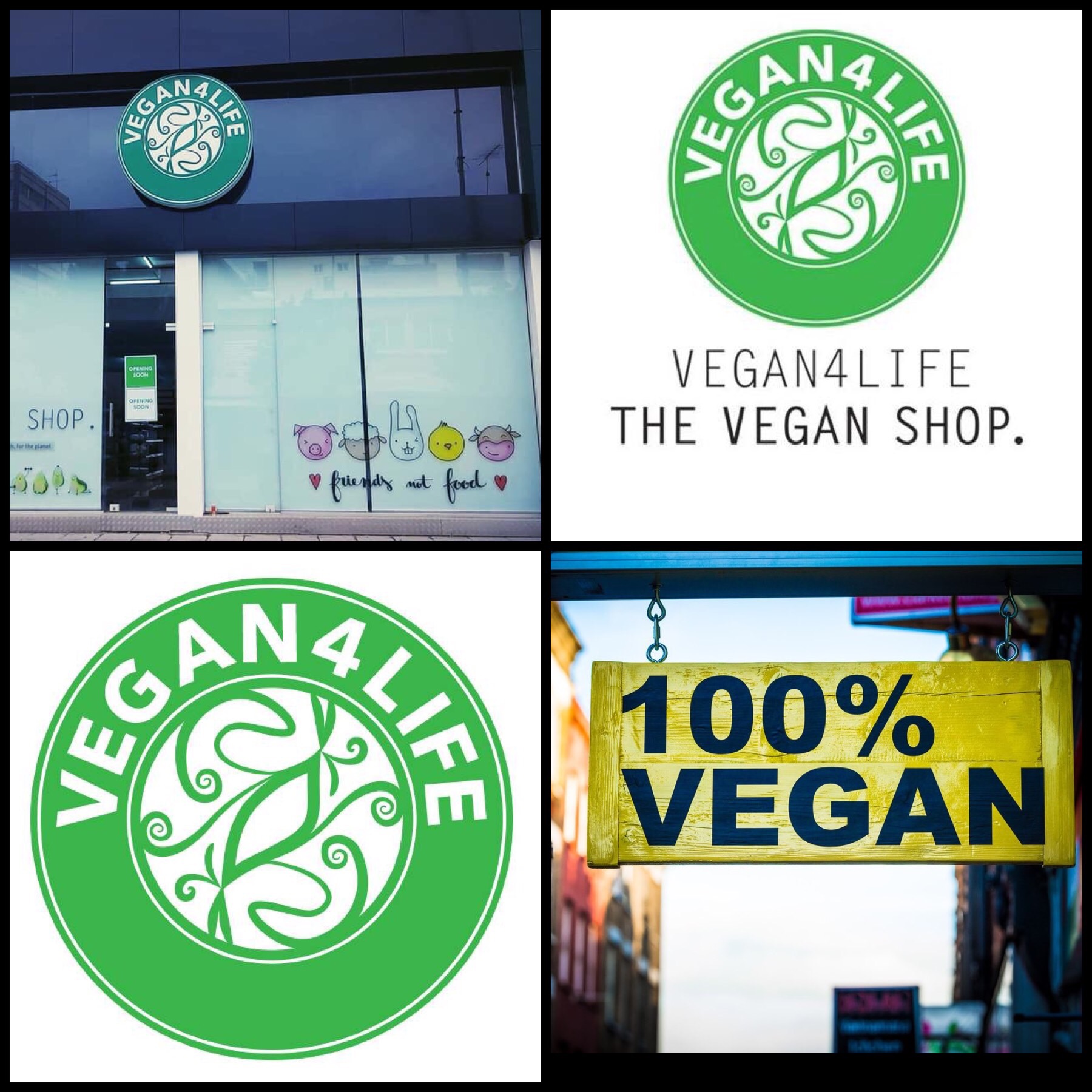 Vegan 4 Life is a new grocery shop in Limassol centre where everything is vegan! So exciting! I can't wait to visit in November. Follow their Facebook page to see when it is opening, opening times and what they're offering. Google maps location here.
Seashells Healthy Living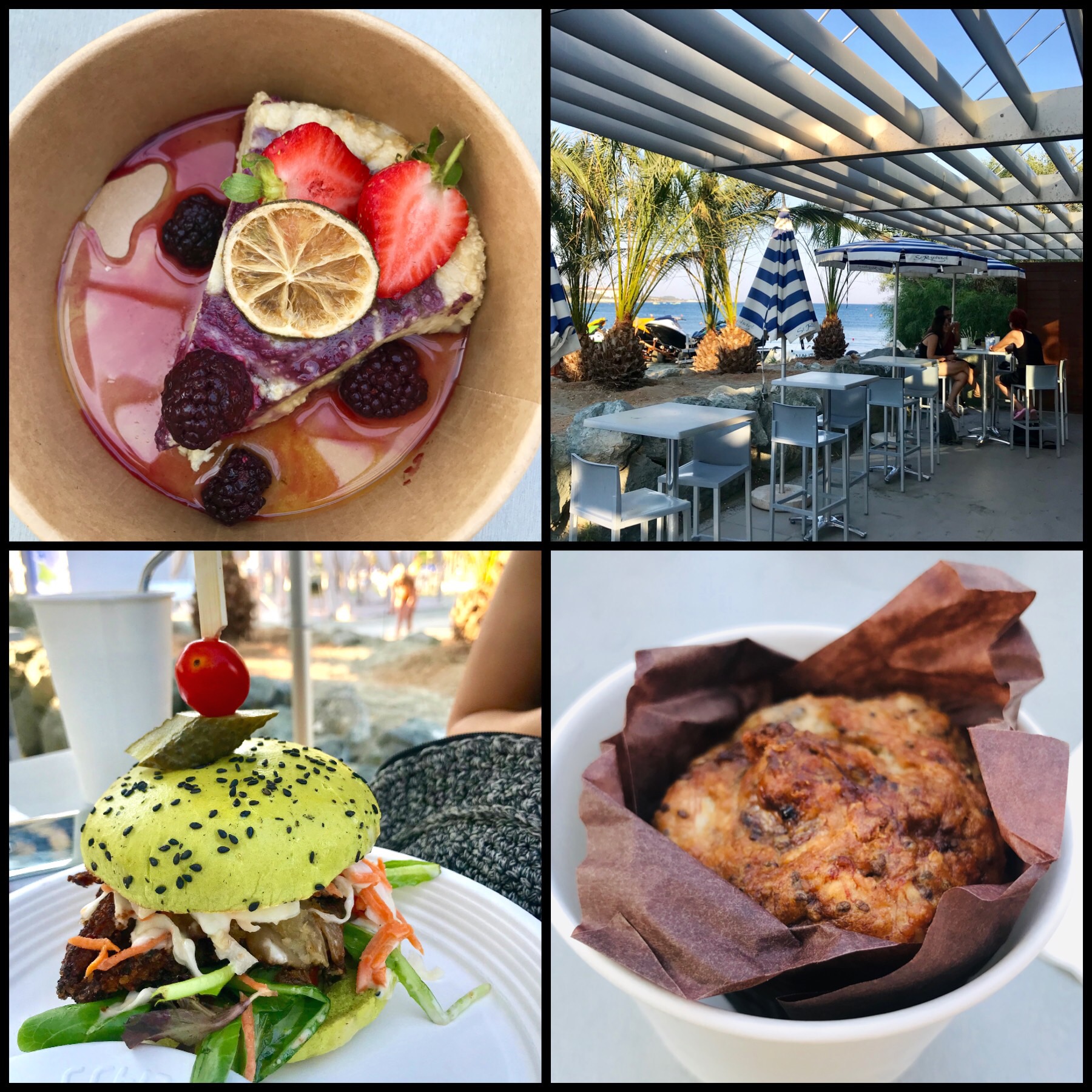 Seashells Healthy Living is definitively a must do when in Limassol! Its a Vegan beach cafe and it´s right close to St. Raphael, which is a very vegan friendly hotel. If you have the chance to stay there, do it. Must be one of THE best vegan cheese cakes I've had! Finally got to try this cool place and together with my friend Maria from @veggiesavvy and Cynthia from The Farriers Vegan B&B. We tried a yummi mushroom burger, the fab Beyond burger, a tasty jackfruit burger and we were so lucky to get the last few delicious banana muffins! Everything was sooo good. Great service, superfriendly. And lots of other healthy options too. Such a cool place by the beach! Google maps location here
Bakery Kafeneio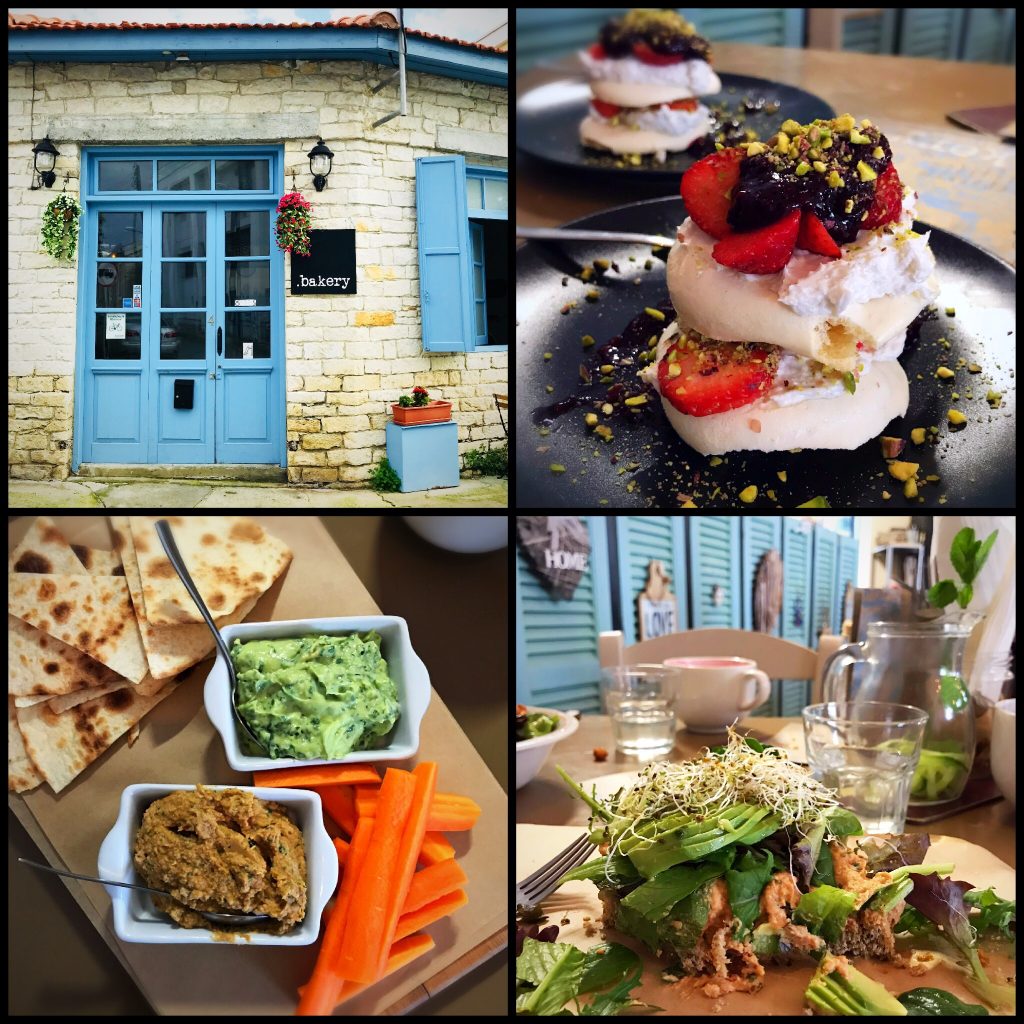 Bakery Kafeneio is a vegans breakfast/lunch heaven in Limassol. There´s quite a few vegan options on the menu and the food is amazing! I had the best vegan pavlova! I'm drooling as I'm writing! haha! You have to try this! And the delicious dips, charcoal and beet latte and a healthy Yummi avocado hummus toast. It's advisable to book a table as it gets pretty busy…no wonder it does when the food and the service is amazing…and it's such a good vibe place. Google maps location here
Superfood Organic Bar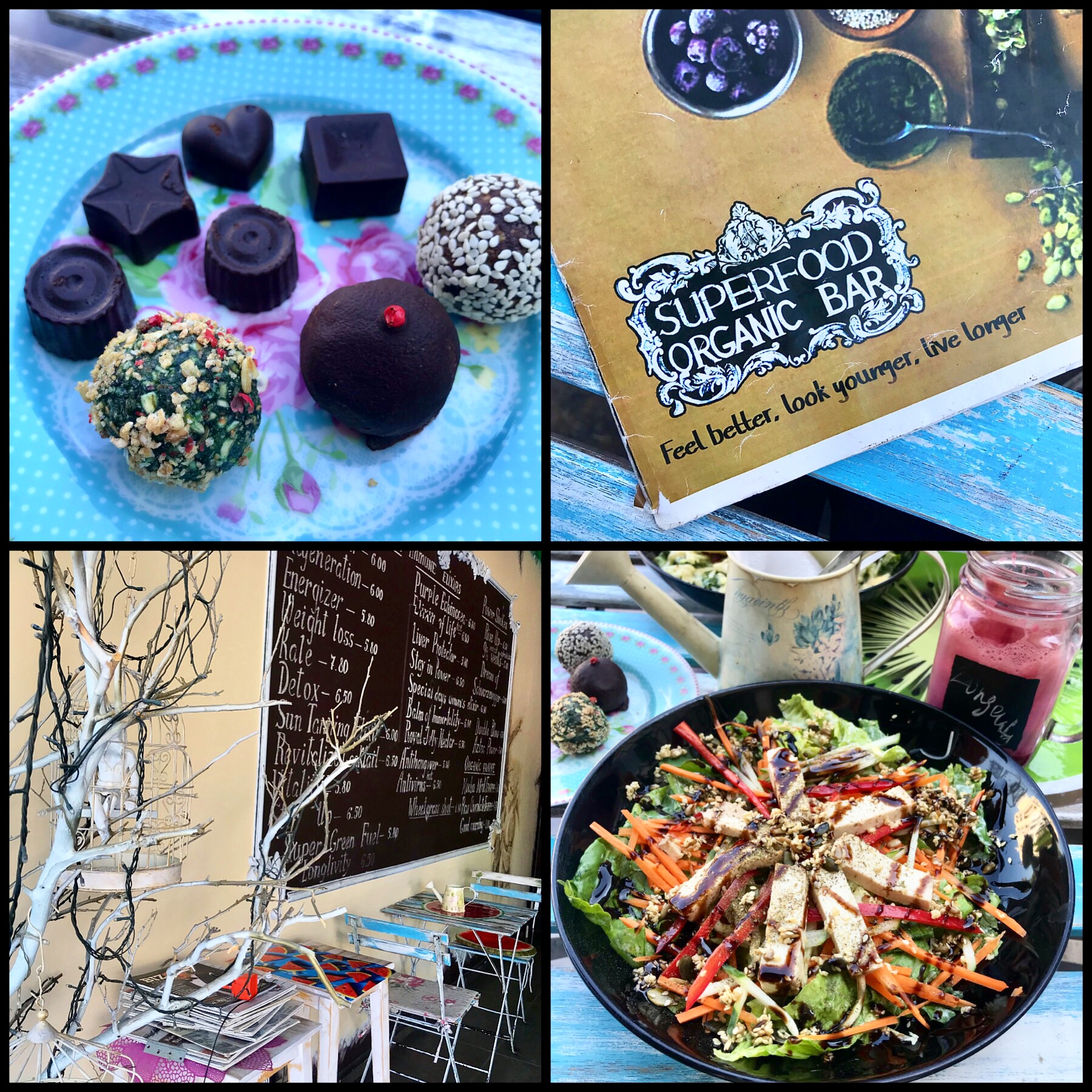 Superfood Organic Bar –  Is a lovely little cafe with a lovely owner too:) The focus is raw, organic, juice, tea, coffee and healthy foods. We tried their amazing fresh healthy juices, yummi raw balls of different tastes, tasty tofu salad and a date smoothie! Everything was just food for a happy body and mind:) Google maps location here
Theta Healthy Cuisine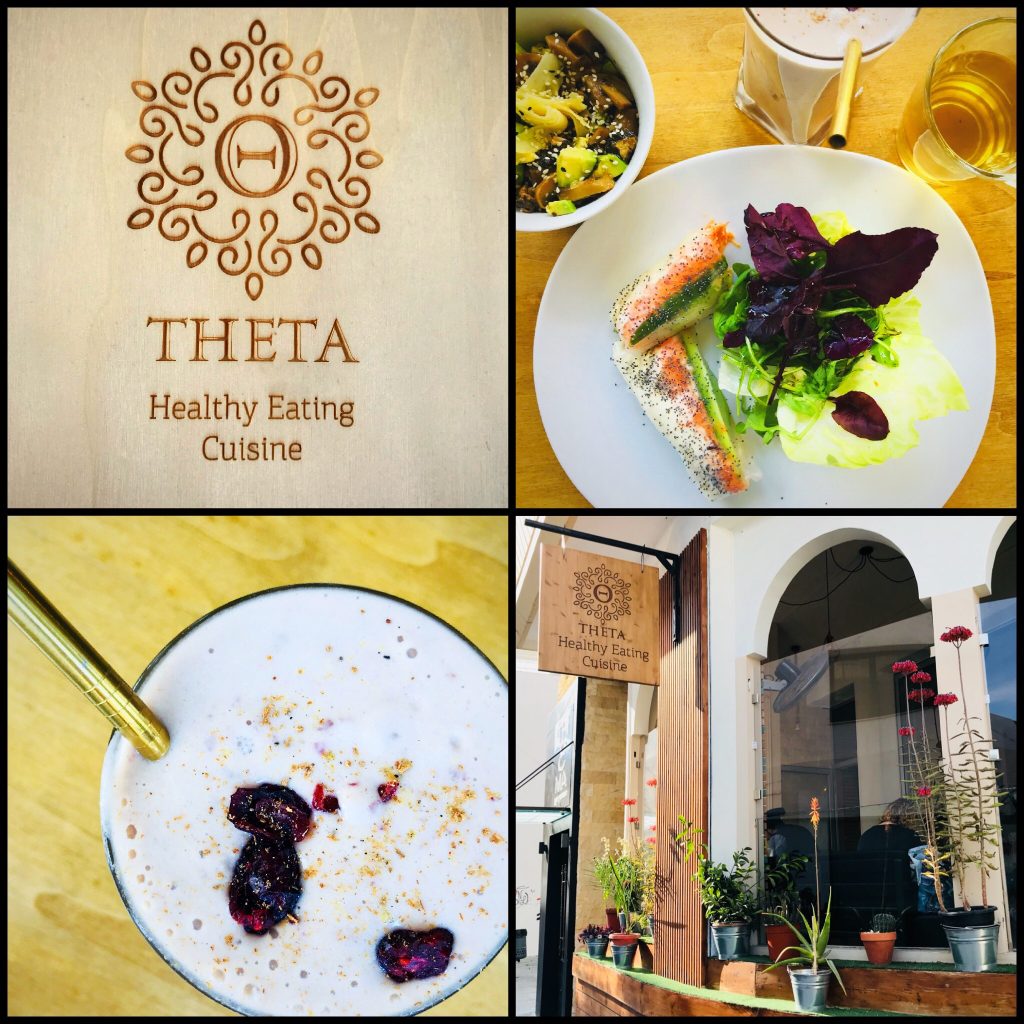 I love finding lovely places in Cyprus where they have quite a few vegan options on their menu. Theta Healthy Cuisine is a dairyfree and glutenfree cuisine…maybe next step will be vegan? I'm saying no to plastic straws wherever I go. It's a start. My metal straw sparks a good conversation around our plastic pollution! After doing a beach clean-up in Paphos and seeing the amount of plastic and plastic straws, it's not okay for me to part of that! If everyone could just take those small steps, it would have a big impact. Google maps location here
Smoothie & Sweetie
This is closed now, but I just had to have it in here…because you can still get some of her awesome food at another place…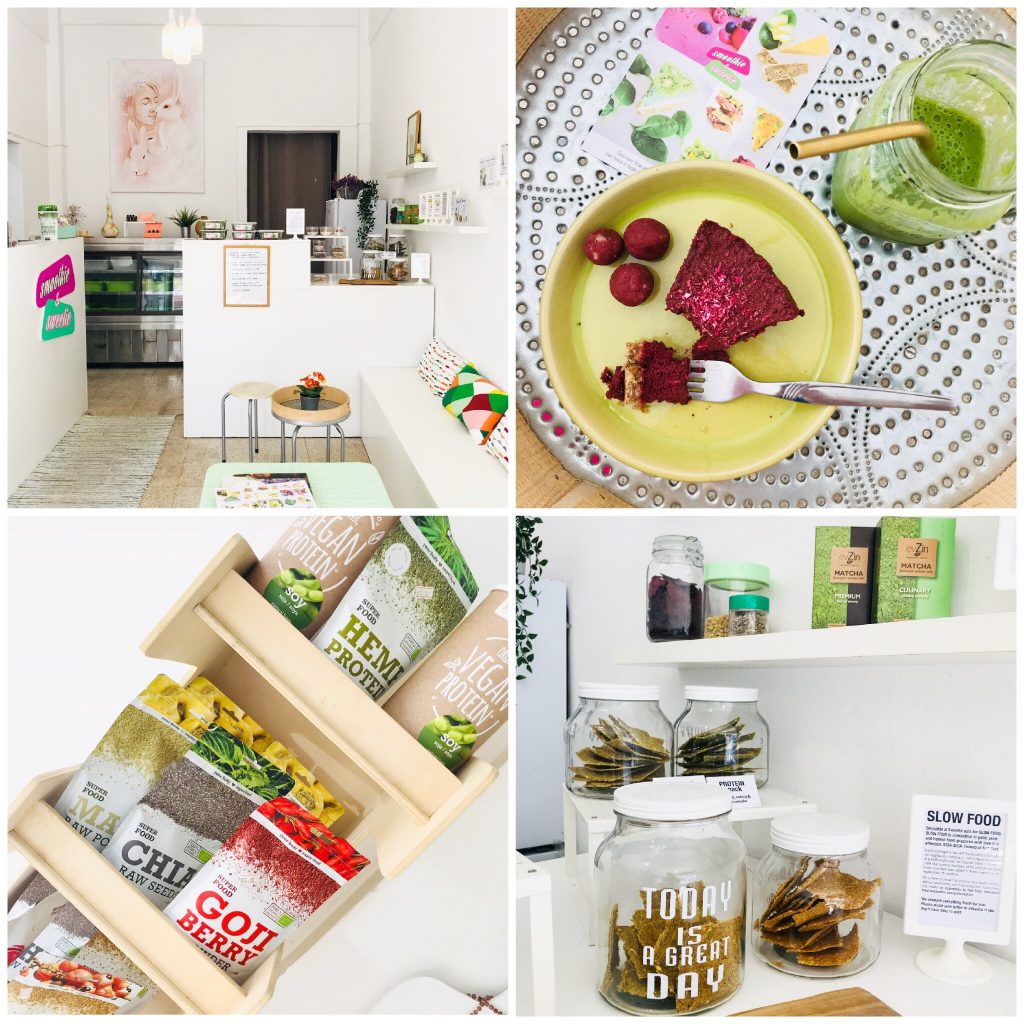 Smoothie and Sweetie is all vegan! It´s a little piece of raw vegan heaven run by a very lovely lady. Beautiful raw vegan cakes, detox smoothies, crisp breads, superfood and other homemade goodies. Sad to say this is closed now, but I just had to have it in here…because you can now get a lot of her stuff available at SensiFood-Healthy Cooking-Take Away & Delivery
Google location here
In Limassol I have a recommendation for a little Health shop with salads, sandwiches, health foods, raw cakes, protein bars, protein powders, superfoods ect and some eco-friendly products; Green Life Cyprus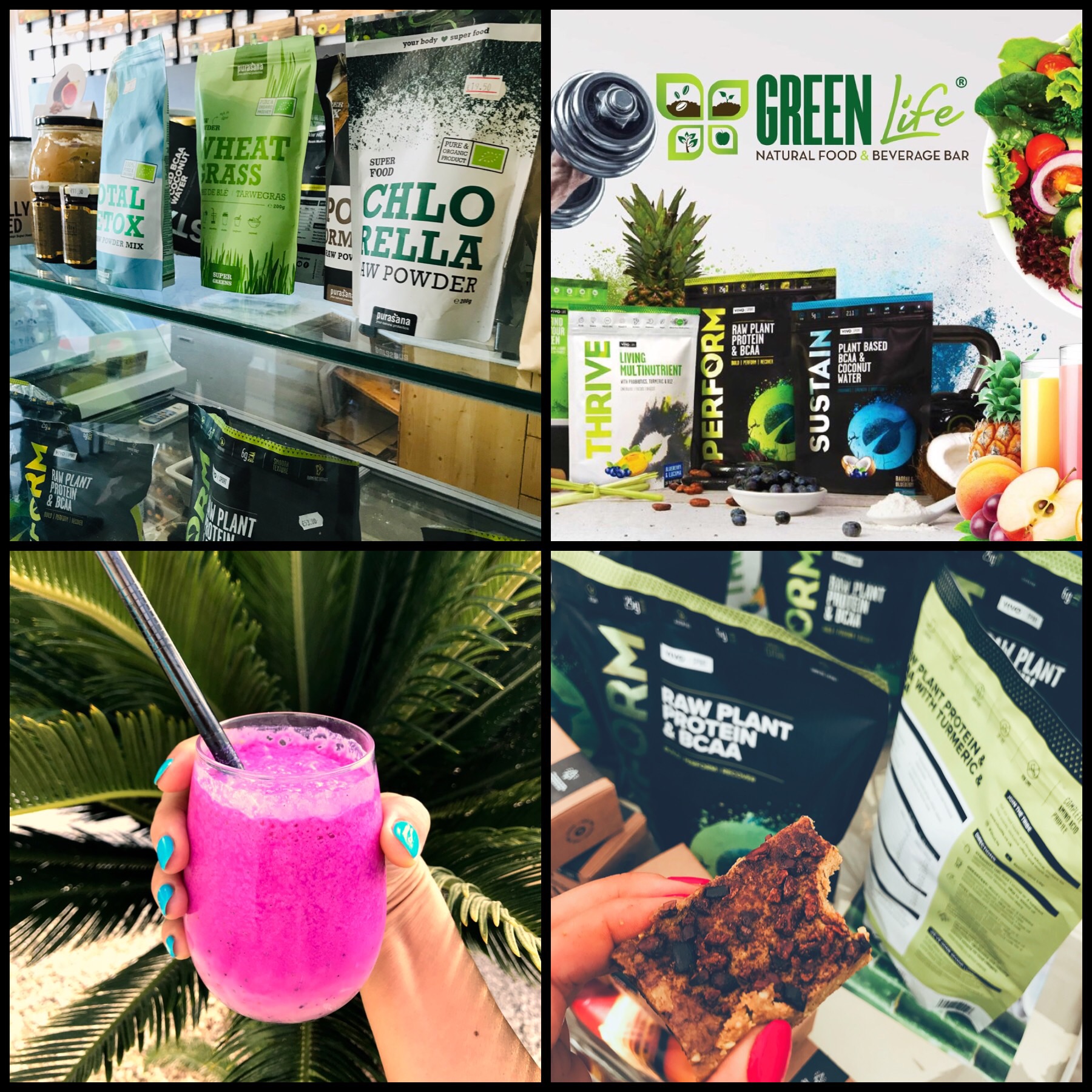 Green Life Cyprus is more a shop than a cafe, but you can sit down for a salad, juice or a raw cake or something. You can find Green Life Cyprus Google maps location here
On my list is to try;
Agvania Pizzaria the only meat-free kitchen of Limassol, serving vegetarian and the vegan pizzas are cooked on a separate oven! Google maps location here
And some of the Lebanese restaurants, and beach/lounge restaurants along  the coastline f.x Colombia Beach Resort
This looks nice to try too; Dionysus Mansion
Vegan in Larnaca
Solar Kitchen Bar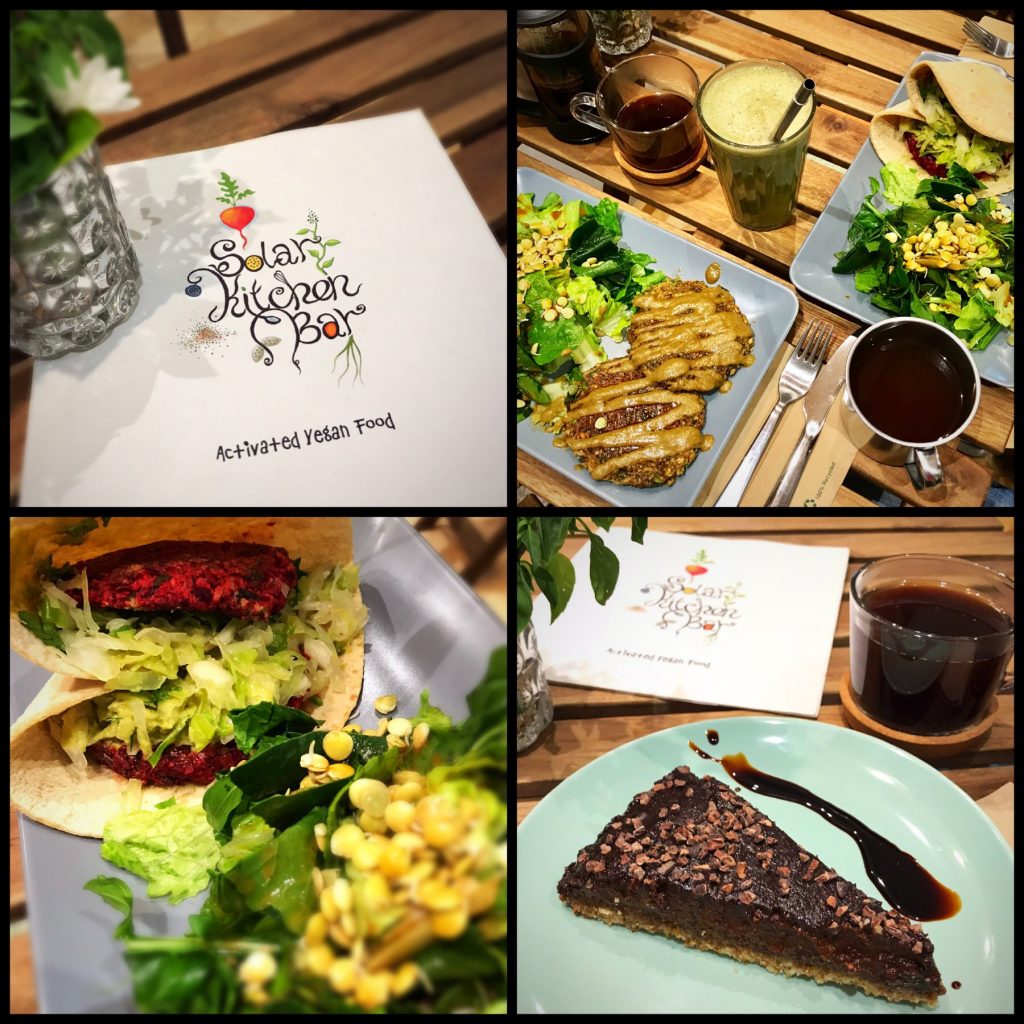 Solar Kitchen Bar – Activated vegan food. A vegan health heaven in Cyprus! This little gem of an ALL vegan cafe in Larnaca serves amazing Vegan food for the mind, body and soul. What a lovely place and great service! The food was OMazing!!Fava and sprouted wheat burger with almond-mayo sauce. So tasty and fresh – a pure delight for my taste buds. And the sprouted spicy lentil burger with mustard sauce – perfectly seasoned and so incredible tasty! We had a Yummi smoothie of the day, good organic coffee and carob tea. Ooohhh…..And their raw cake was sooo good! I love that they use metal straws, no plastic and recycled paper. They also sell homemade food like peanut butter. We bought a sourdough bread and olive oil with herbs- sooo good! Wherever you stay in Cyprus, it's worth traveling to this all vegan place! Google maps location here
Mingle Cafe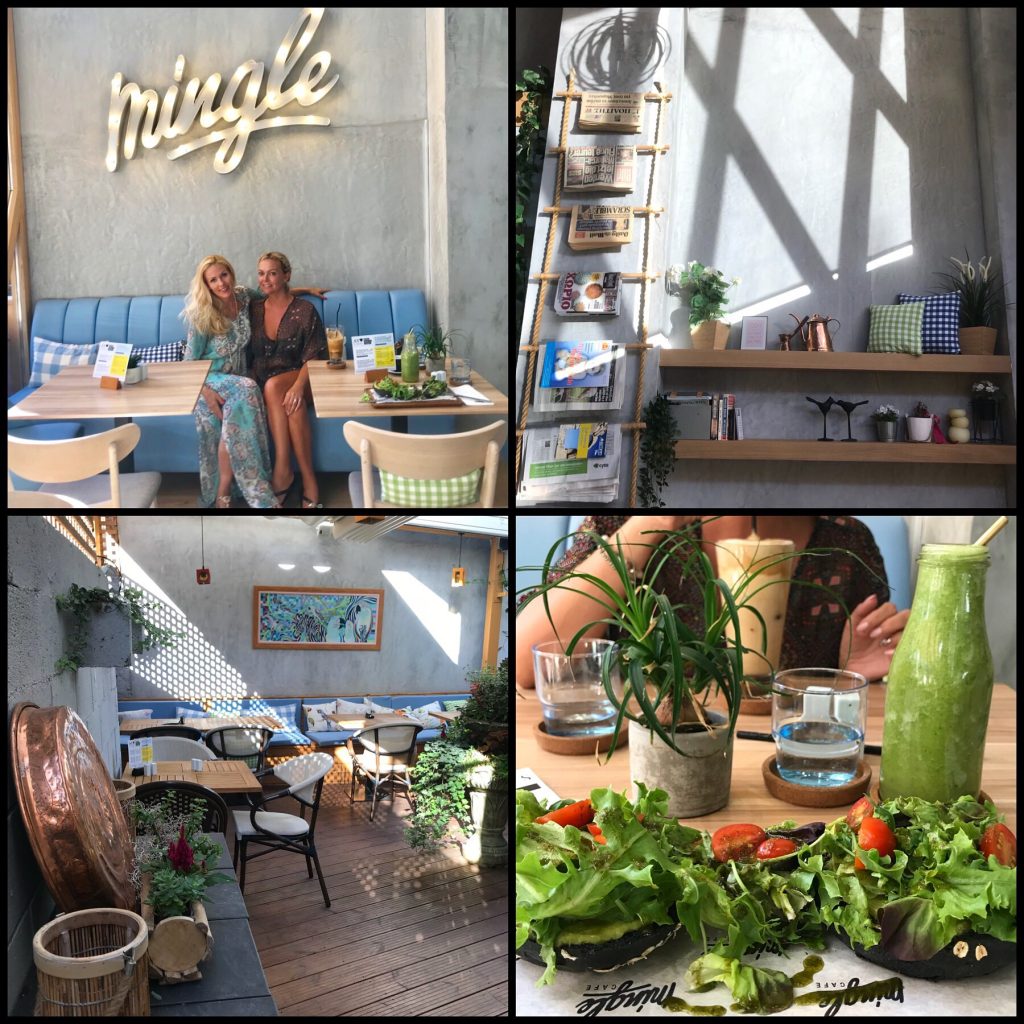 MingleCafe is a trendy, fresh and cool cafe with quite a few vegan options. Loved the fresh and tasty avocado on a charcoal bun and the healthy juices. Definitively worth a visit. Lovely place, people and interior. Google maps location here
Maqam Al Sultan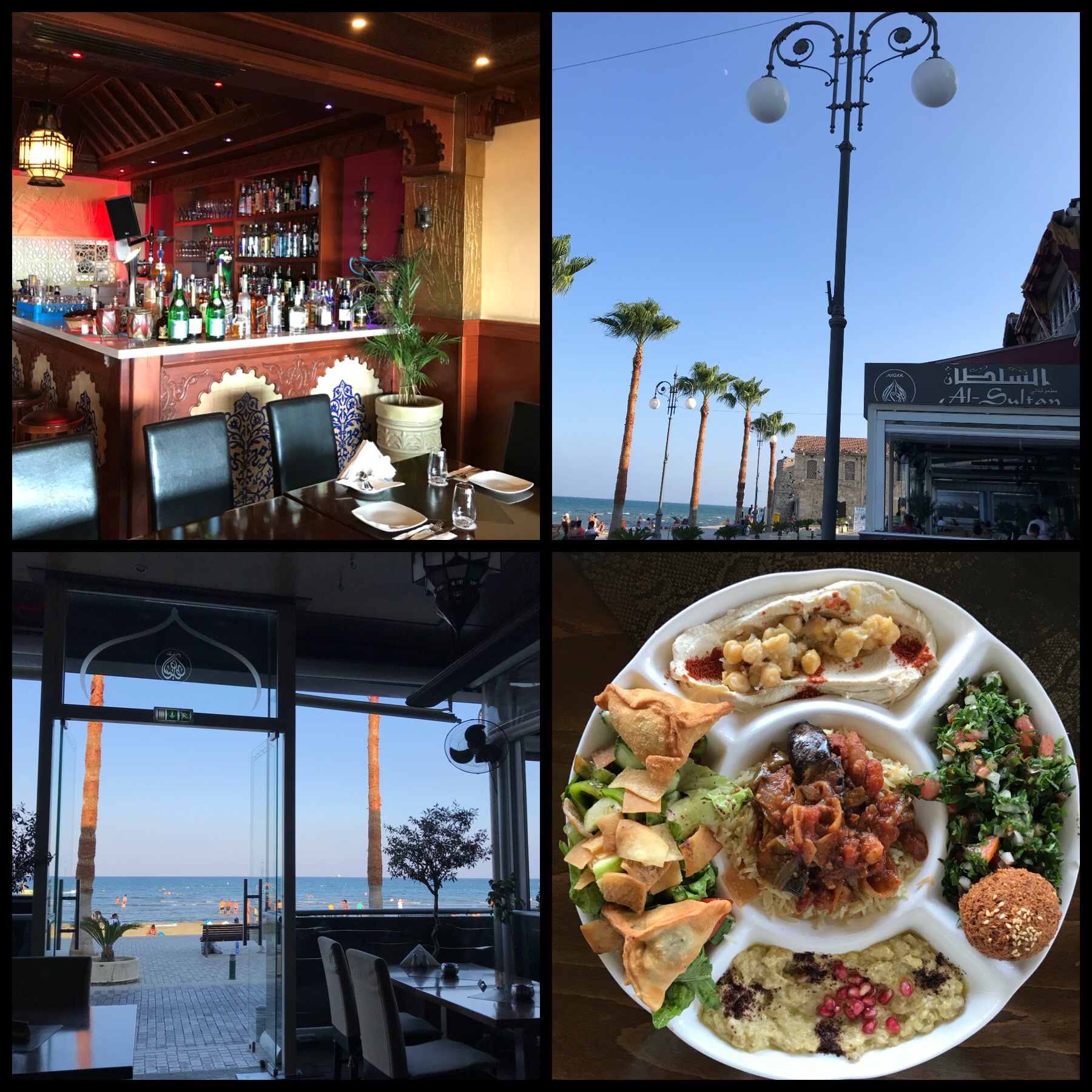 Maqam Al Sultan is a lovely restaurant which serves good quality Lebanese food.  A little bit of The Middle East in Larnaca. Maqam Al Sultan has a brilliant location along the beach in the old town. A bit pricey, but the extremely good service and food made it worth it. We were short of time cos I was headed for the airport, and they managed to make this vegan platter for us in a hurry! I was so impressed with them. Google maps location here
Lush Beach Bar and Re.Buke lounge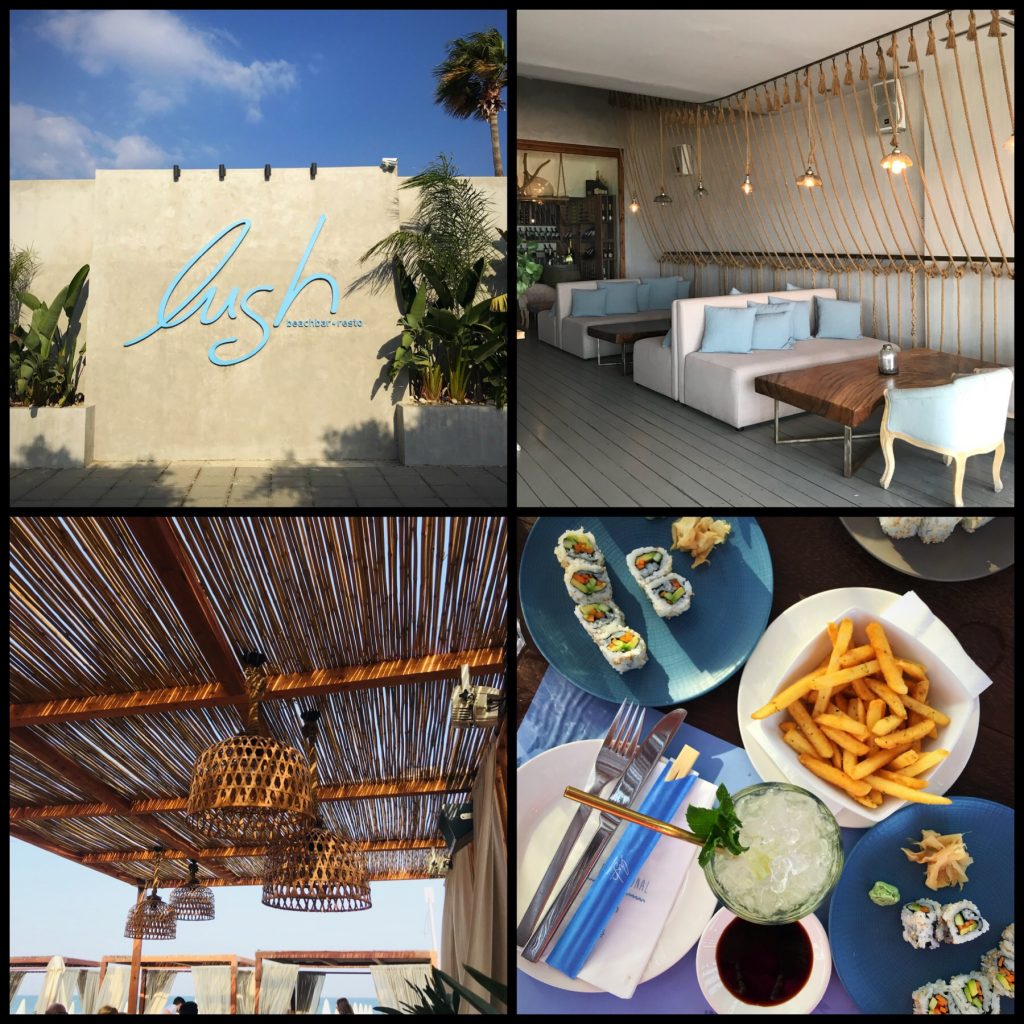 Lush Beach Bar and Re.Buke Lounge is perfect places for a snack and for drinks on the beach! Super nice location at MacKenzie Beach. I've had the vegan sushi – Yasai selection a couple of times, just add some chips;) Not much other vegan options on the menu…besides drinks;)Ps! The "mojito" is actually a mocktail – no alcohol since I was driving. Both places are perfect for a night out on the beach once in a while. Good music, nice vibe and great location makes it definitively worth it. They are pretty much next to each other so just have a look at Google maps location here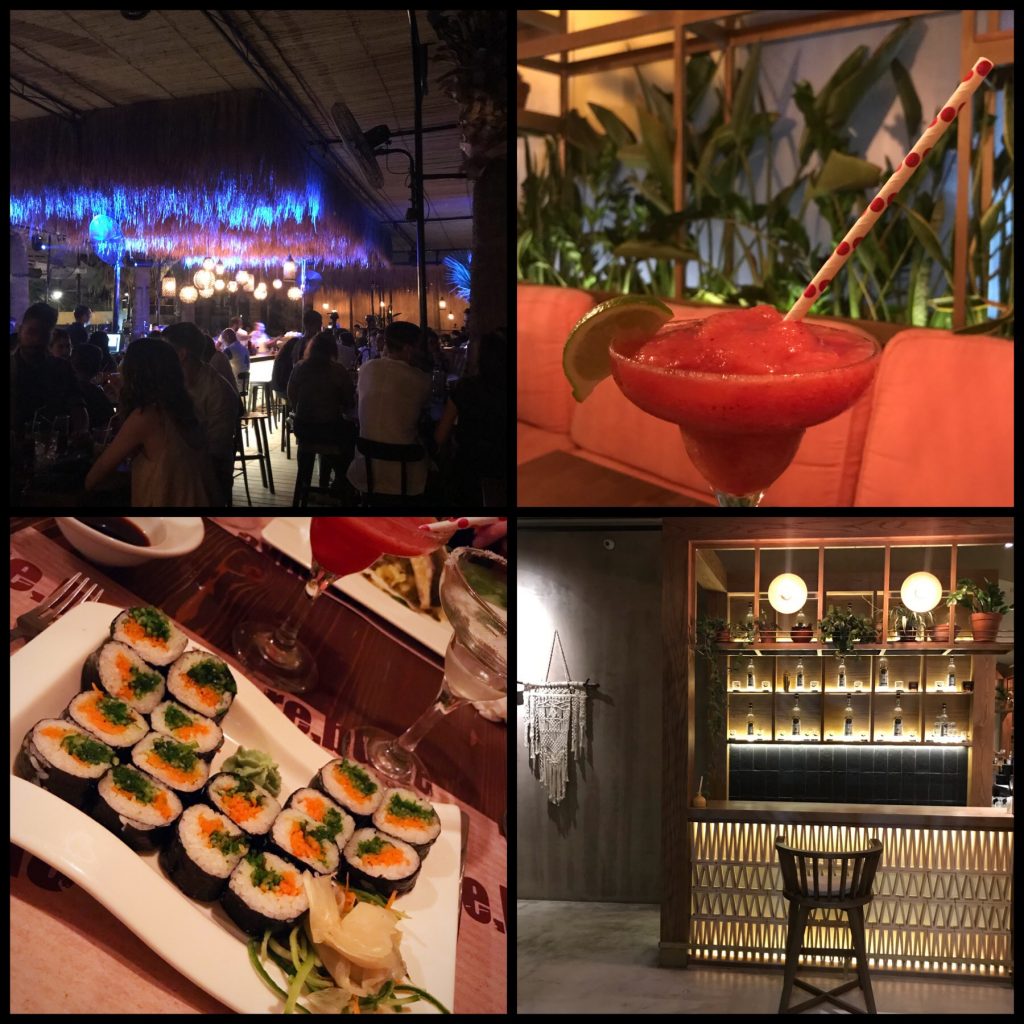 Re.Buke gets a big thumbs up for the paper straw in their drinks!! That's the way to go when you have a beach bar.
There's quite a few places with vegan menus and options in Larnaca..
Here´s some I´d like to try:
Holy Cow Neocanteen and more of the Lebanese places…
There are some taverns in the countryside that have started to offer more vegan food on their menu outside the fasting times. I haven't tried this one in Lefkara yet, but have a look at their fb page for more info about the food they offer. Panorama Tavern Nikolas in the beautiful picturesque mountain village of Lefkara.
Vegan in Nicosia
Inga´s Veggie Heaven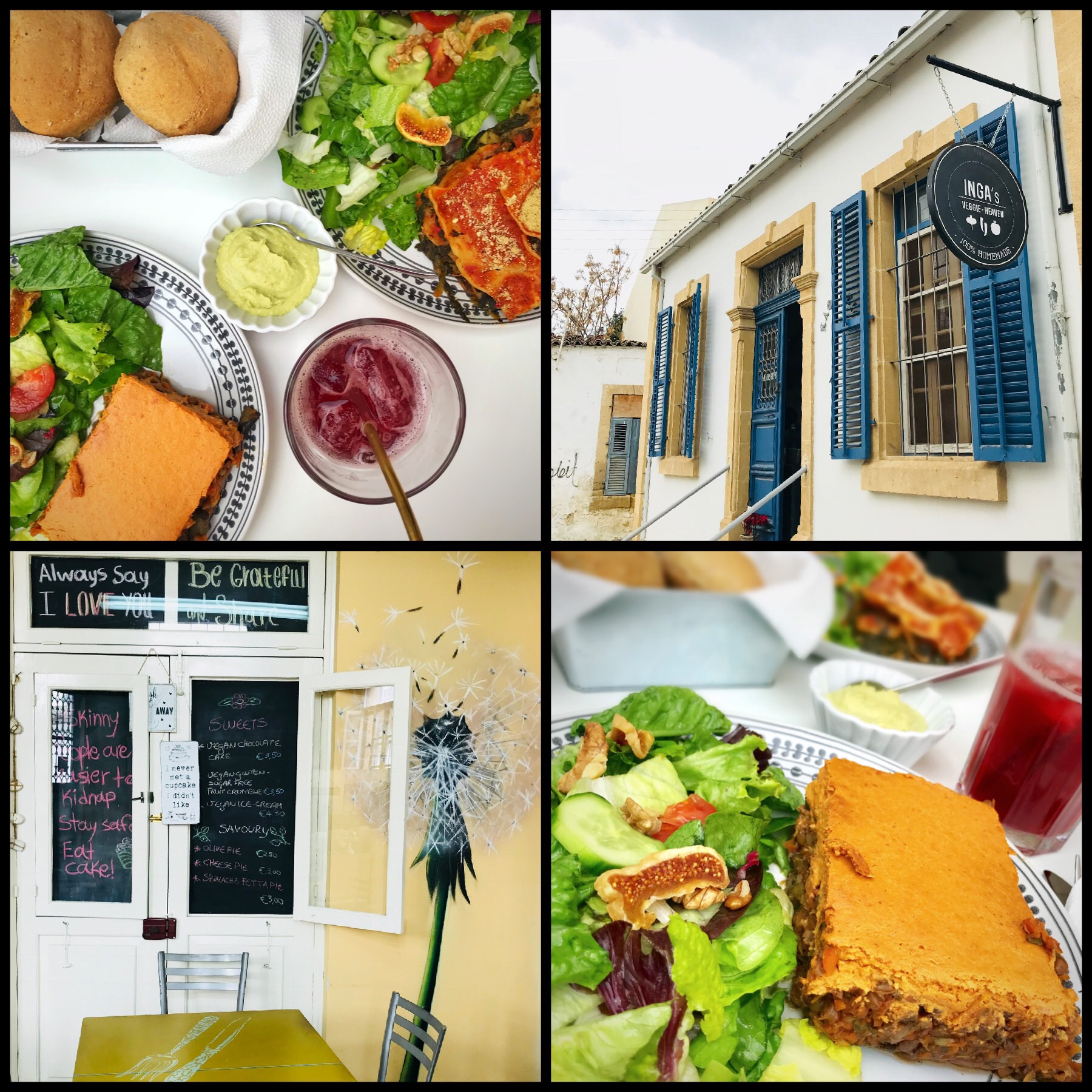 Inga´s Veggie Heaven is a vegetarian and vegan´s heaven as in her name! We had a really good lunch there with vegan moussaka and vegan lasagna. And pomegranate juice! Lovely food, super-friendly and great service! There´s a garden in the back so you can sit outside and enjoy the food there too. They moved a table out for us when we were there. A big plus too is the location – in the charming and picturesque old town of Nicosia. Google maps location here
Wood n´Fire Art Bakery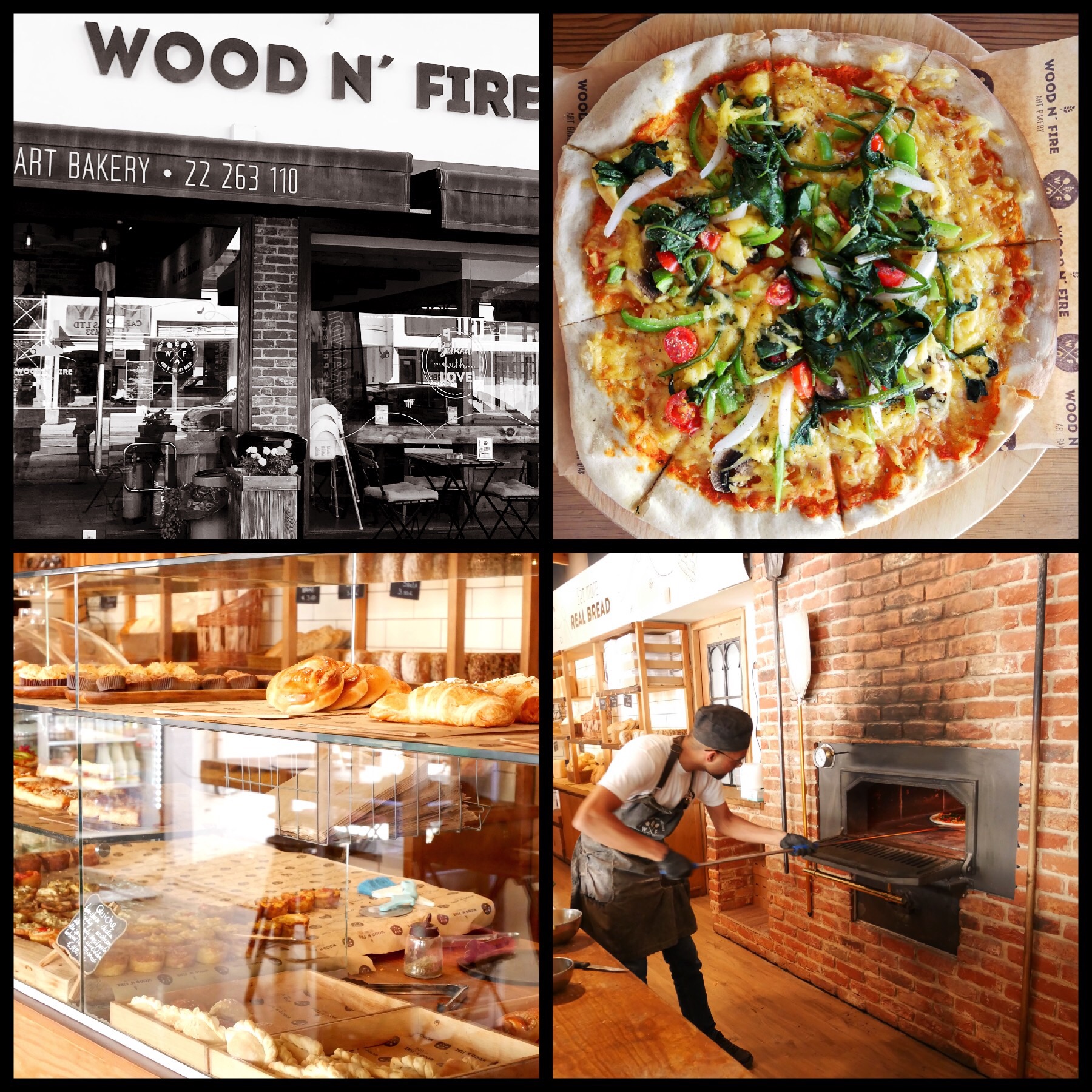 Wood´n Fire Art Bakery is a nice treat with different vegan options a little depending the time of the year. Bakeries usually have a lot more vegan options during Lent/Nistisimo/Fasting. I included these guys cos they made an awesome vegan pizza for us in the wood oven! Seriously good! You can find Google maps location here
D.O.T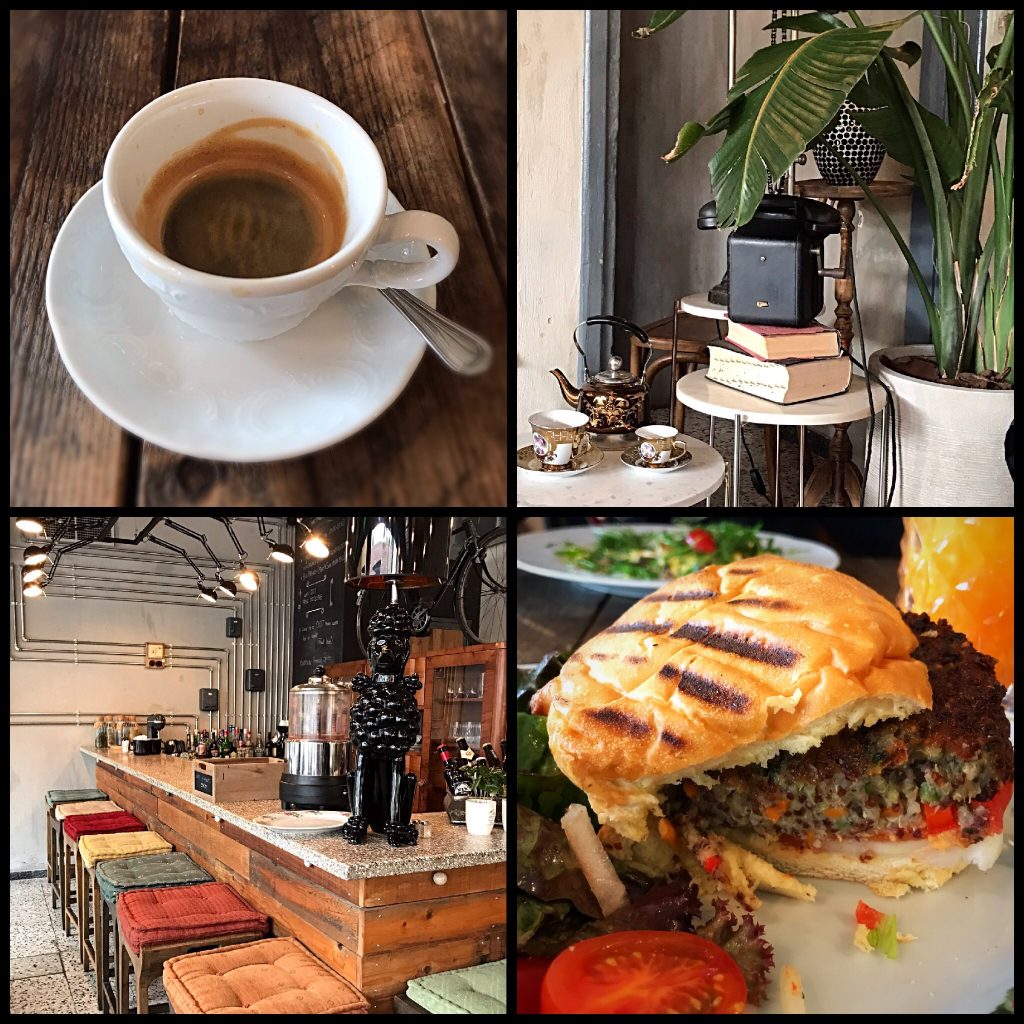 We stumbled across this cool place in Nicosia called D.O.T -Dinner Over Time. And they had the most delicious vegan red and white quinoa burger! Love that the menu specifies that the bun is vegan too. Fresh juice and good coffee – what else do you need? Perfect brunch! They have quite a few vegetarian options on their menu too. Google maps location here
Chopped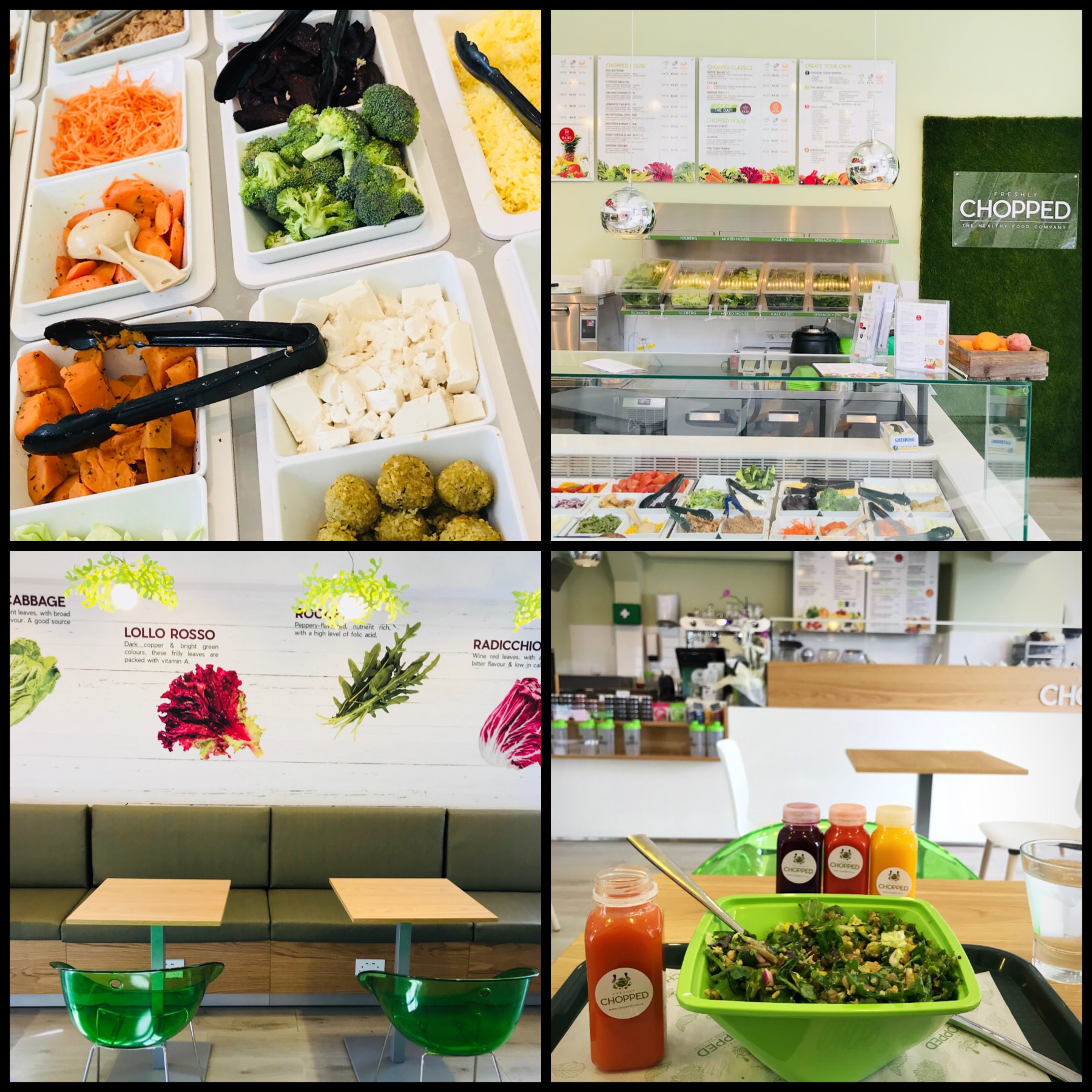 Freshly Chopped – The Healthy Food Company 
Healthy food served fast. I tried  a "vegan body builder" and a vegan falafel, plus juice – perfect quick healthy lunch! Tasty and fresh. Their juices are really good too. Google maps location here
48 Bistro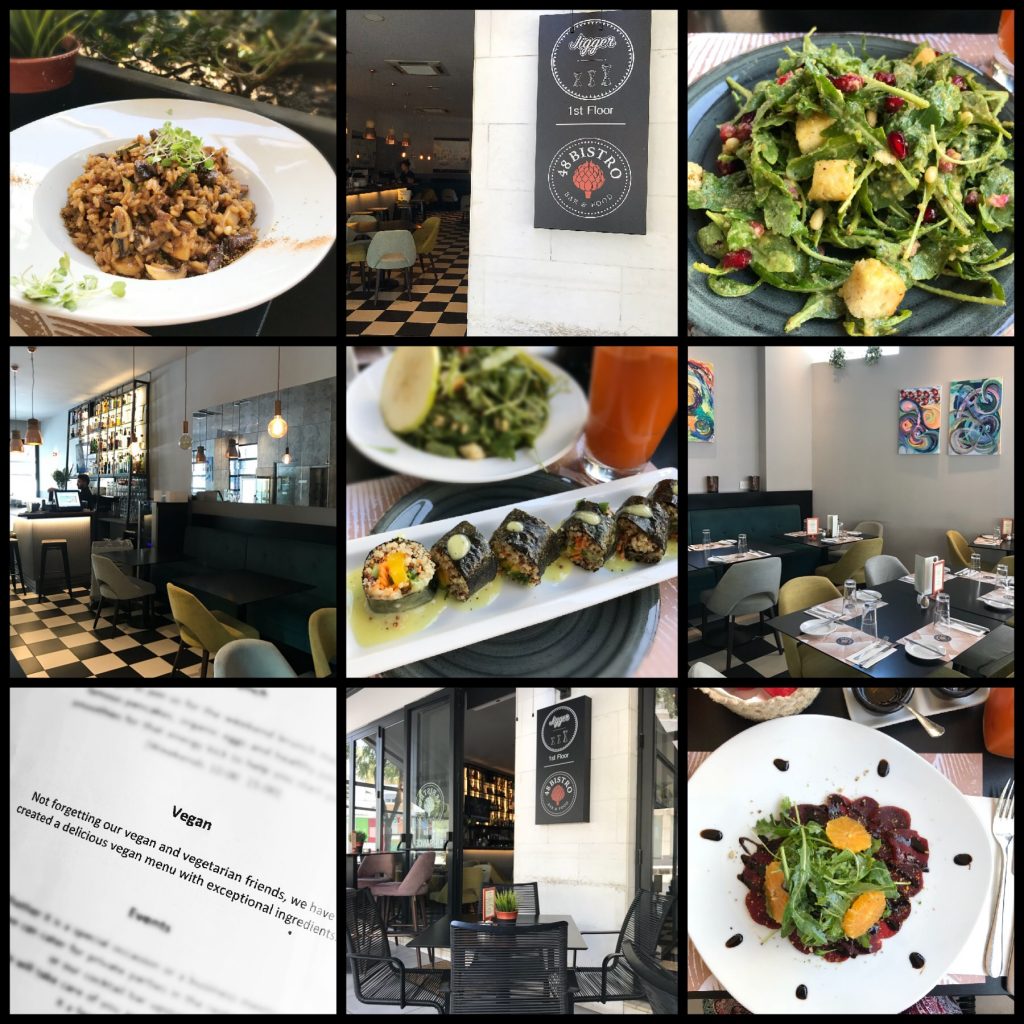 48Bistro is a really nice treat for a vegan. Loved this place so much we had to go back a second time to try more of their menu. The dishes are creative, healthy and delicious! This place is an absolutely must do when in Nicosia! Stylish, trendy and super vegan friendly for a non-vegan restaurant. Quinoa maki rolls were amazing, so were the wild mushroom risotto and the super tasty salad! The beetroot "carpaccio" were nice, but don't expect it to be close to the meat one (just have to say this in the "fake meat times", it is beetroot and tastes like beetroot). Fresh, healthy and tasty options for the health conscious vegan;) Love their menu with clear vegan options and their great service! Highly recommend this place!And there´s more options on the menu than what I had:) Google maps locations here
Balcony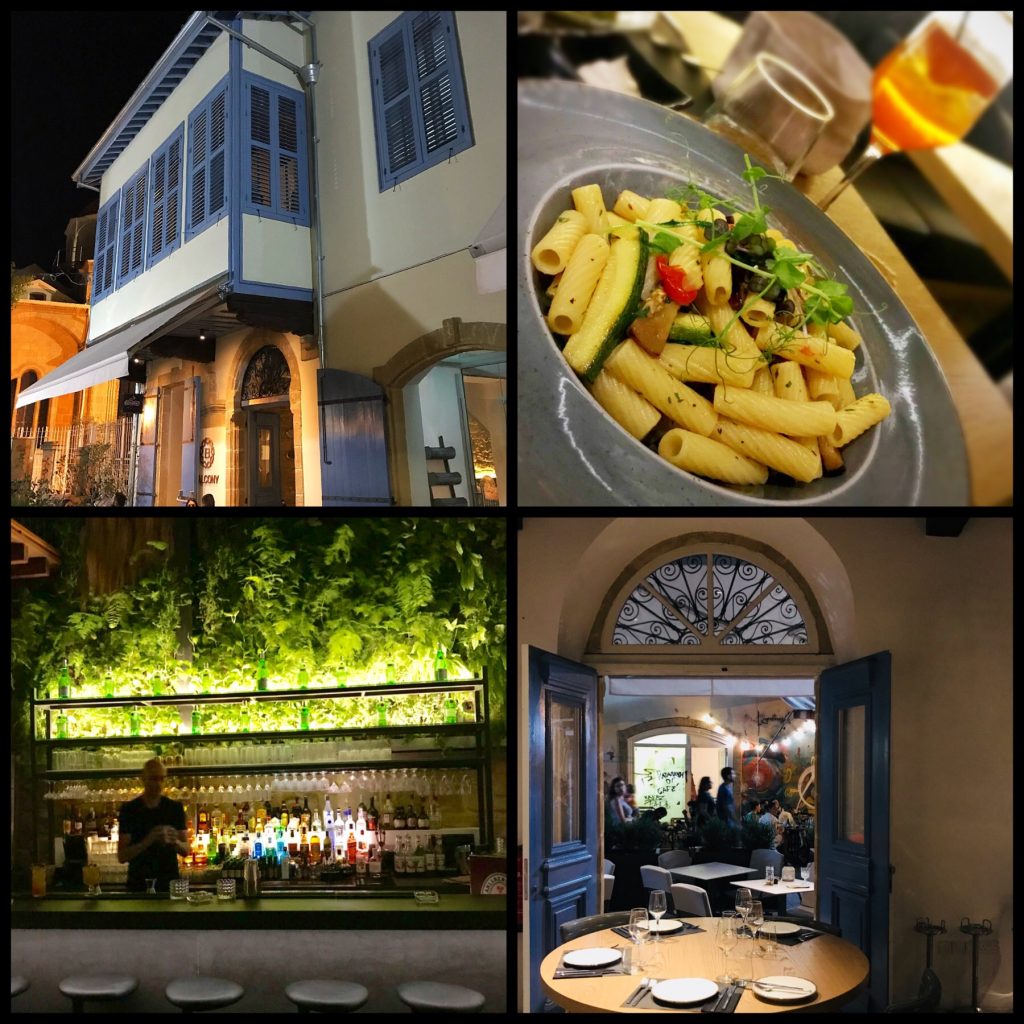 Balcony is a super nice restaurant and bar in one of the most charming streets of The Old Town in Nicosia. Lovely atmosphere and beautiful interior. We kind of just stumble across it and they had a lovely vegan option – a tasty and perfect spicy pasta dish with veggies. Loved the fresh sprouts on top. If you go, ask if they can add a little bit more veggies;) The food was very good, the drink was perfect and the service was excellent! Google maps location here
Nicosia has of course a lot to offer being the biggest city and the capital of Cyprus. I can't wait to go again!!:)
There's quite a few places I really want to go to soon;
All of their vegan cakes looks amazing! And I´d like to order from Little Miz Vegan All her treats are vegan & hand-made. Only pre-orders and 48hr notice is required. Check out her fb page for more info.
If you have any suggestions, please shout out, so I can add onto this guide….to make it easier to travel as a vegan in Cyprus:)
Whether you live in Cyprus or are traveling here, there´s plenty of delicious vegan options…you just need to know where to go:)
In september 2019 the first Vegan Festival in Cyprus was arranged by Vegan Fam. It was such a well organized and beautiful festival with lots of food, entertainment, music, speeches and markets. Hopefully there will be one next year too, so I´ll include a few photos from it and if it´s one next year too, make sure you don't miss it.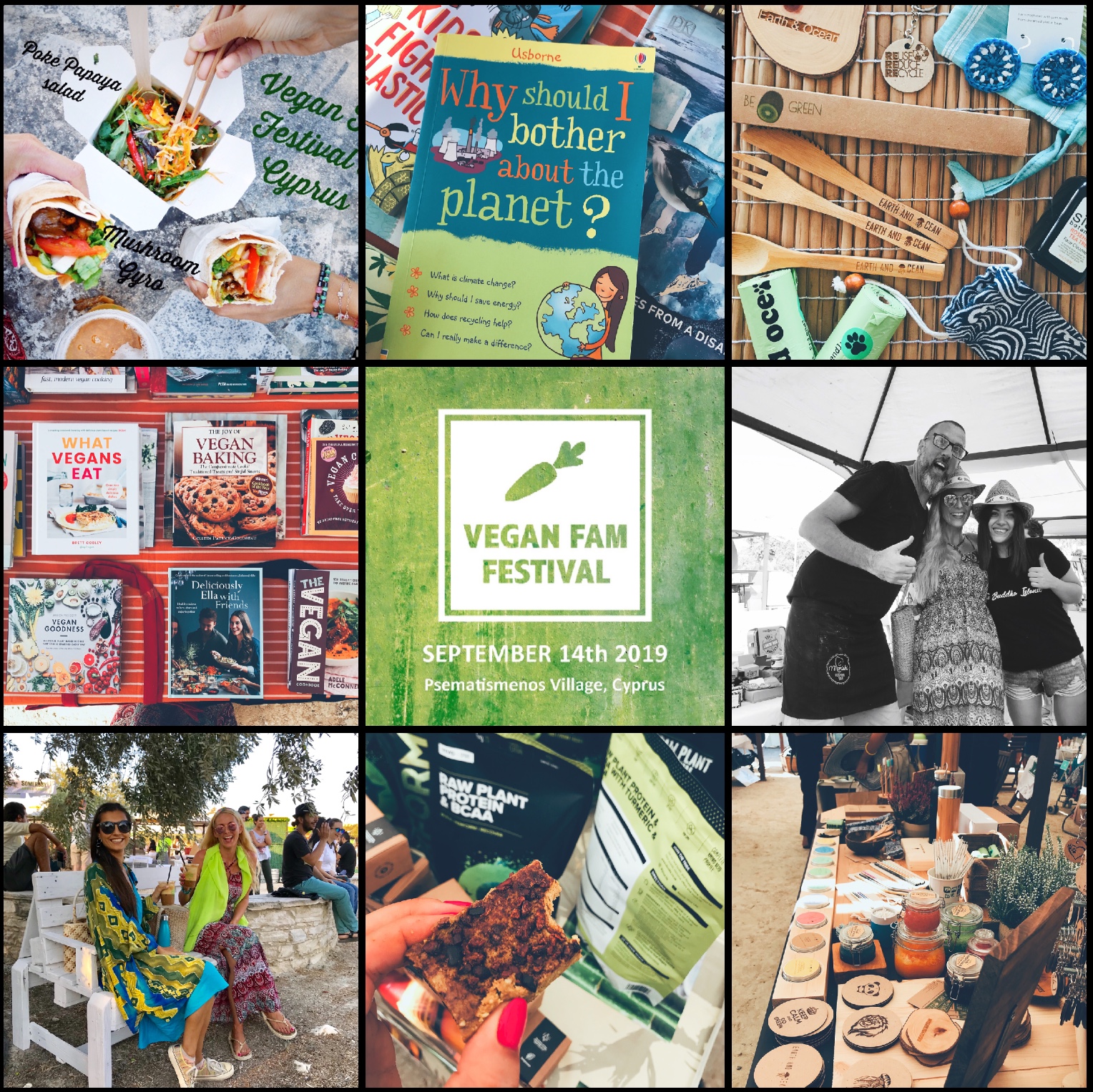 There's also different vegan and vegetarian catering companies like;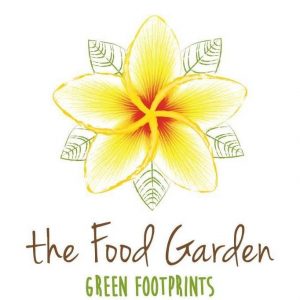 The Food Garden – Green Footprints
If you're traveling to Cyprus or you live here, I recommend you join the different groups where people post everything from vegan supermarkets finds to restaurants: Vegan Paphos, Vegan Limassol, Vegan Larnaca, Vegan Nicosia and Vegan Paralimni and local areas. Do check out my friend´s page The Cyprus Vegan for tips and recommendations around in Cyprus
I wish you happy vegan eating whether you come to the island in the summer or winter!:)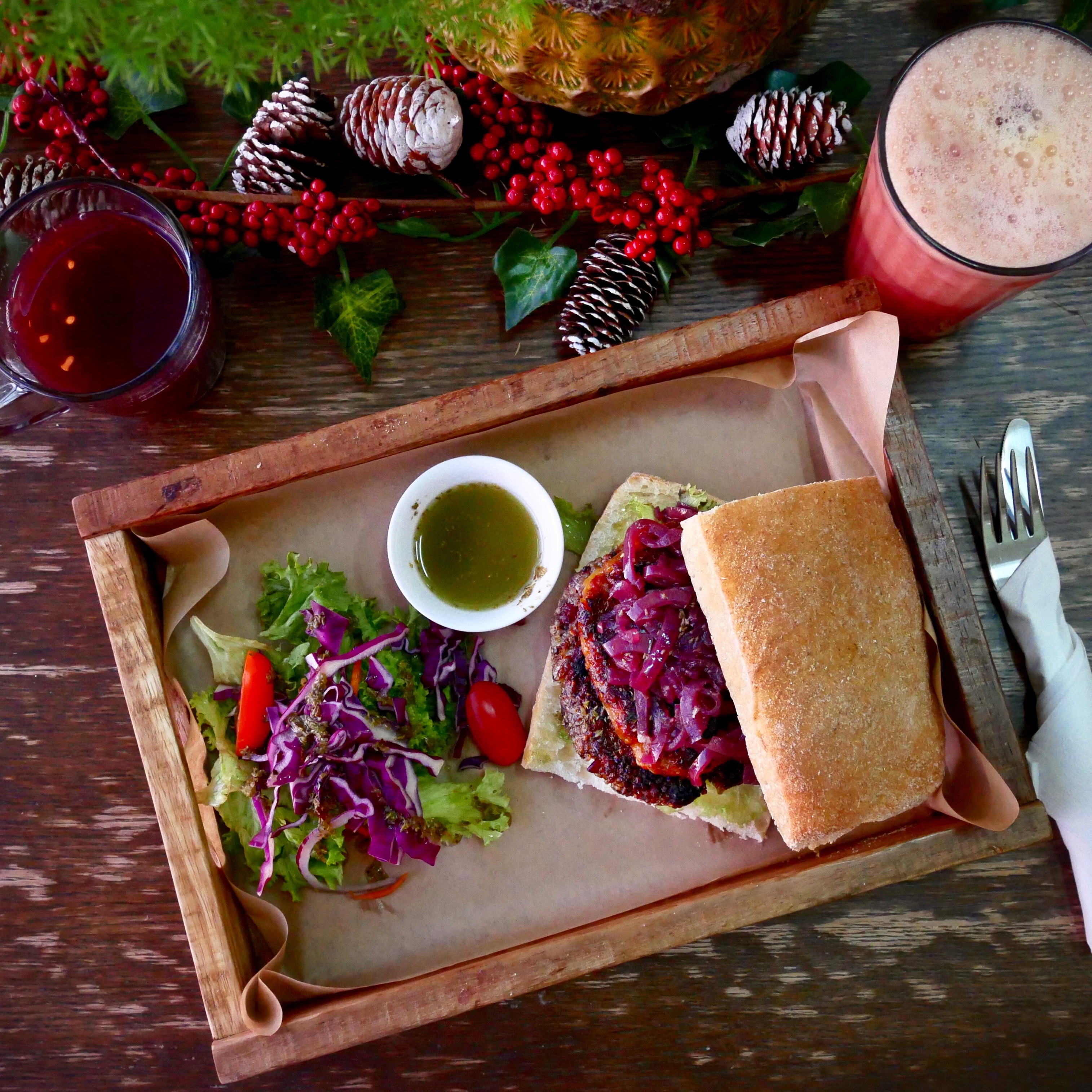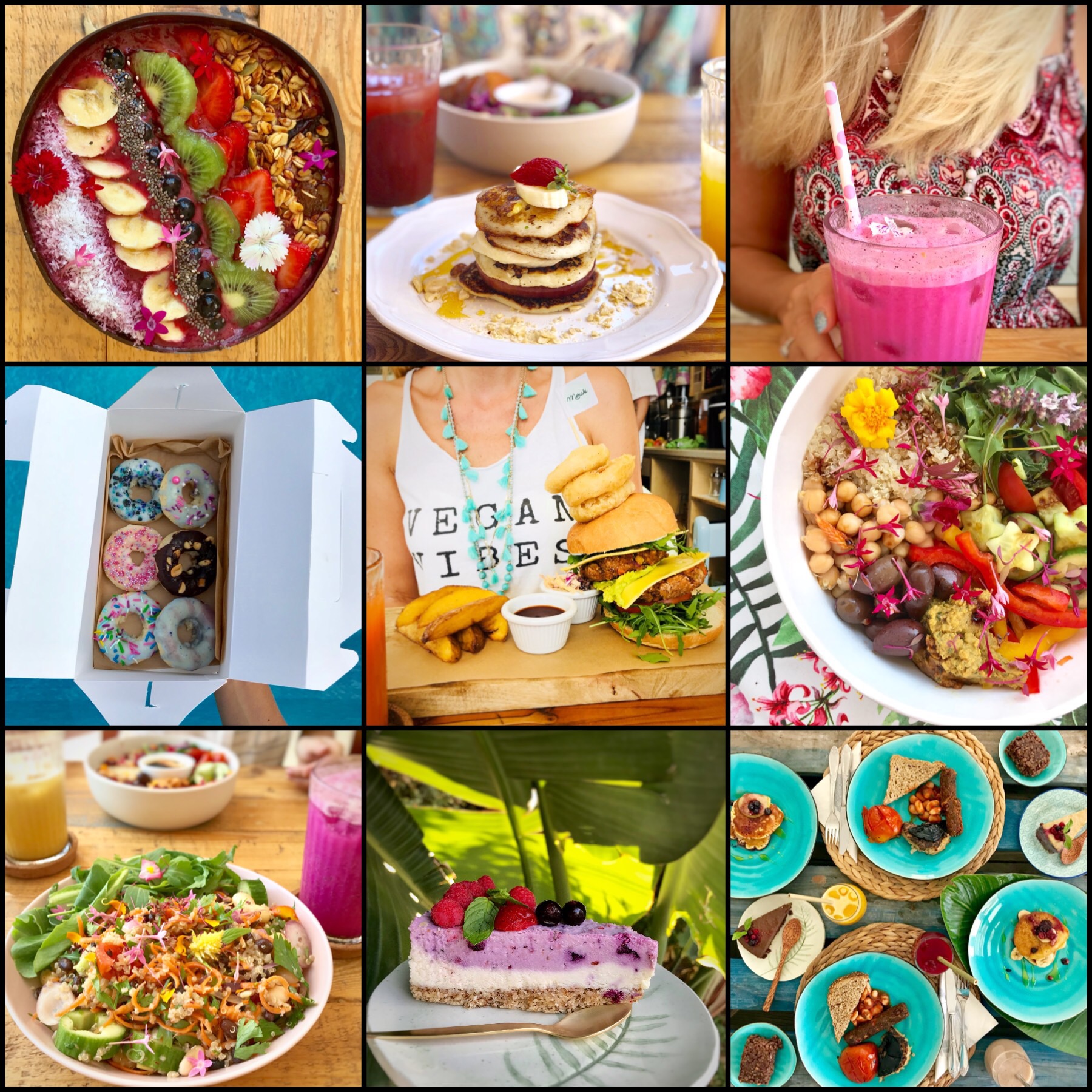 Lots of love, peace and happiness – That´s what I feel when eat yummi vegan food:) Especially at Meraki Market Cafe in Paphos:)