Vegan foodie in Tel Aviv
Vegan foodie in Tel Aviv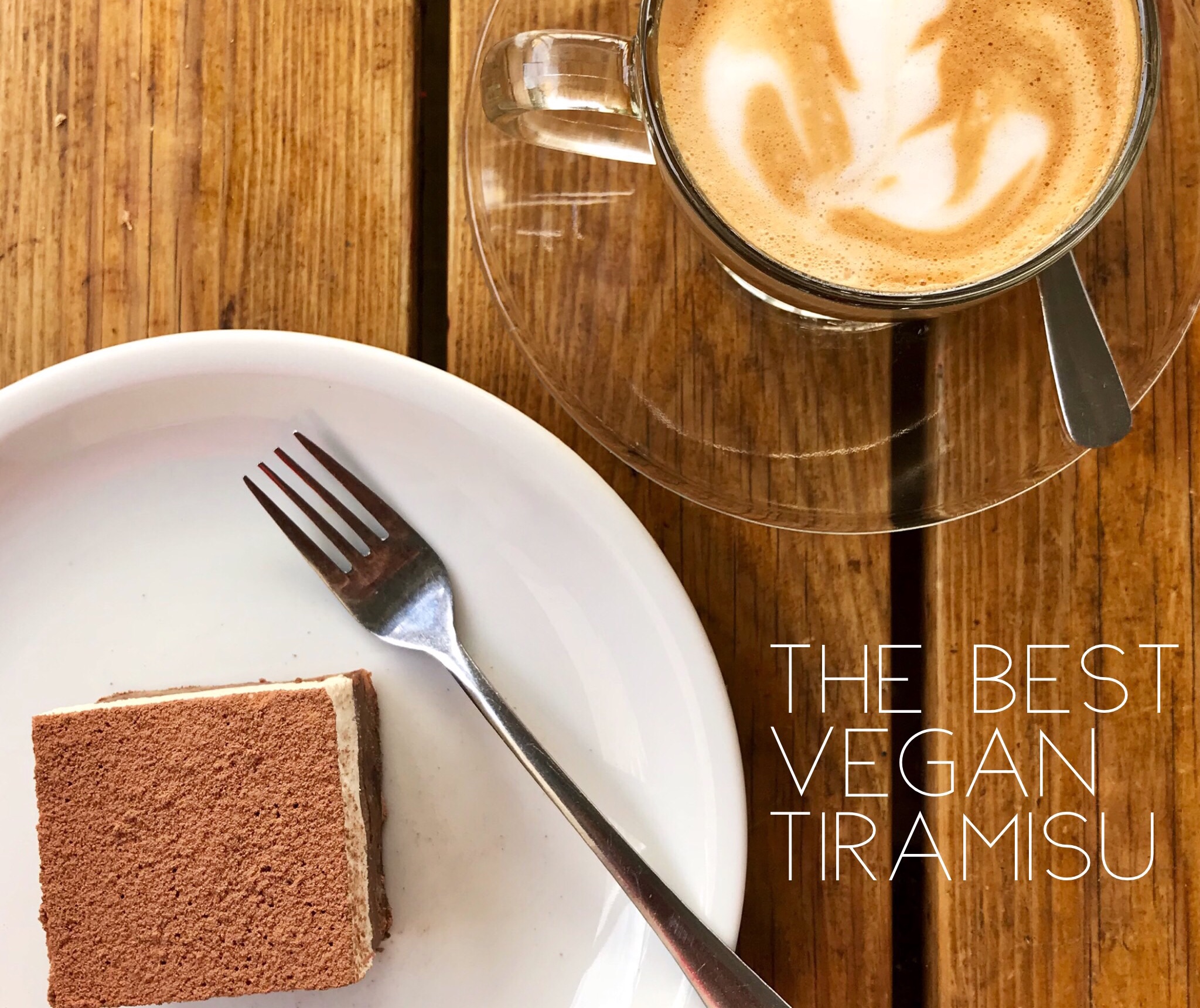 I was so excited to travel to Israel and especially Tel Aviv – which is known for being a very vegan-friendly city – It's truly a mecca when it come to vegan food! I've decided to write one blogpost just about the food because it blew my mind being in a place with so many vegan cafes and restaurants! And of course because I love food and love trying different foods – its only natural to write about food when it plays such a big role in my life and when I'm traveling. Eating tasty, local and fresh food is part of the travel experience. To me food is feeding my soul! I get extremely happy when I have amazing food experiences! Yup, I'm the one making those "Mmmm…"noises! haha! Yeah, you can tell if I like the food. When you search for vegan restaurants in Tel Aviv on Happy Cow there's so many to choose from! Pure happiness just by looking at all the choices! I picked the ones I thought were good for different food experiences.
"Four One Six"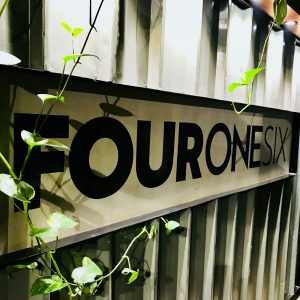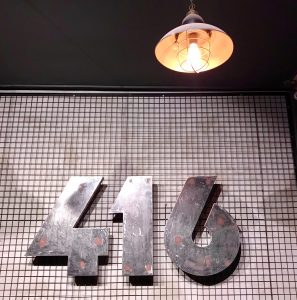 VEGAN HEAVEN!!Seriously! Every non-vegan have to go to a place like this and just try out this amazing, tasty, mouth watering Soul food! «Four One Six» is by far one of the best, if not the best place I've been for vegan food! And the awesome bartender and staff there made the place too. The New York styled restaurant is beautiful decorated and is probably one of the finest dining experiences in Tel Aviv. It's not only amazing to choose from a menu that's all vegan, but you can tell by the menu and the dishes it's innovative, delicious, beautiful and nutritious! Can't be much better than that!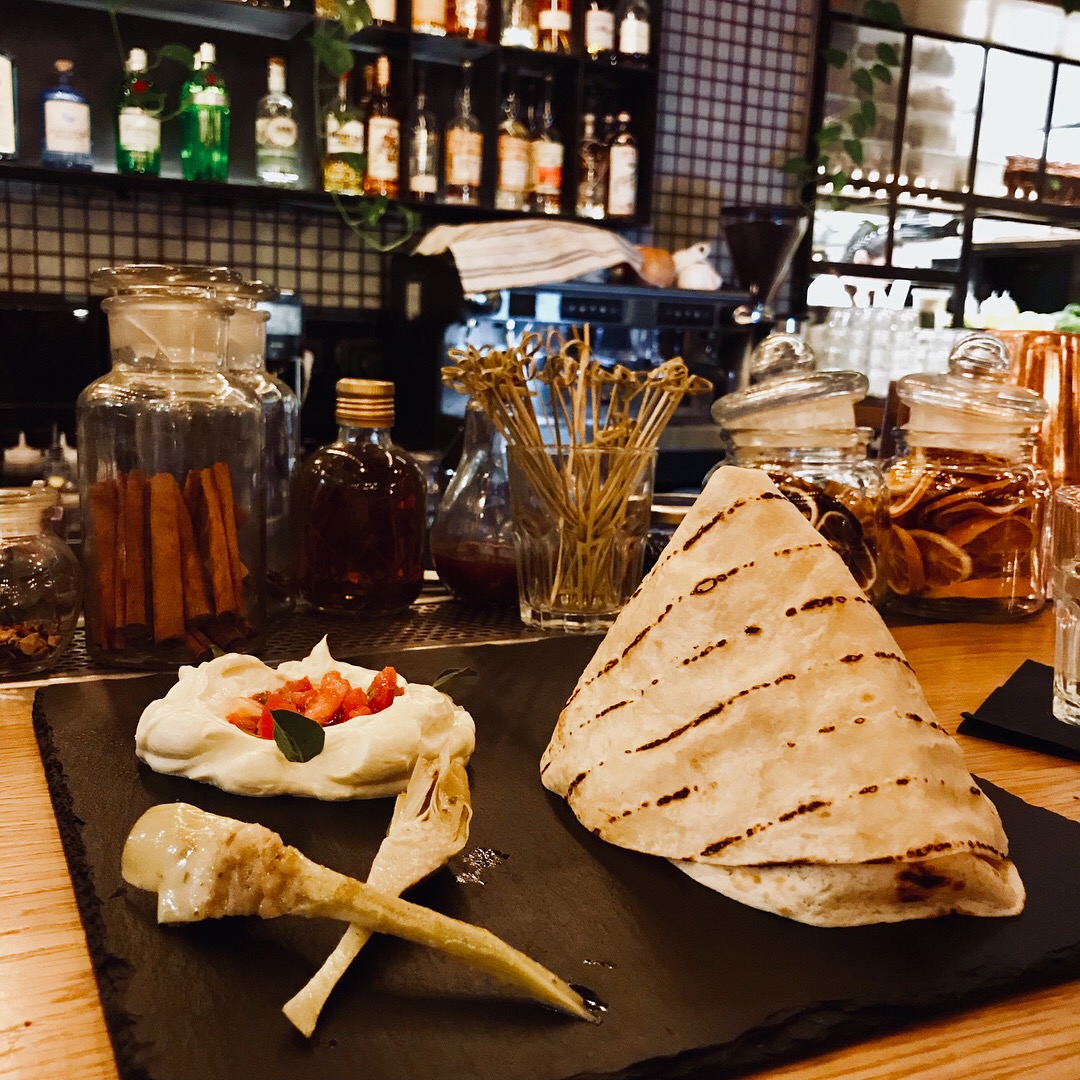 I tried «Lebanese cream cheese» with tomato salsa, artichoke hearts and grilled tortilla! Omg omg omg! A  mouth watering delicious dish!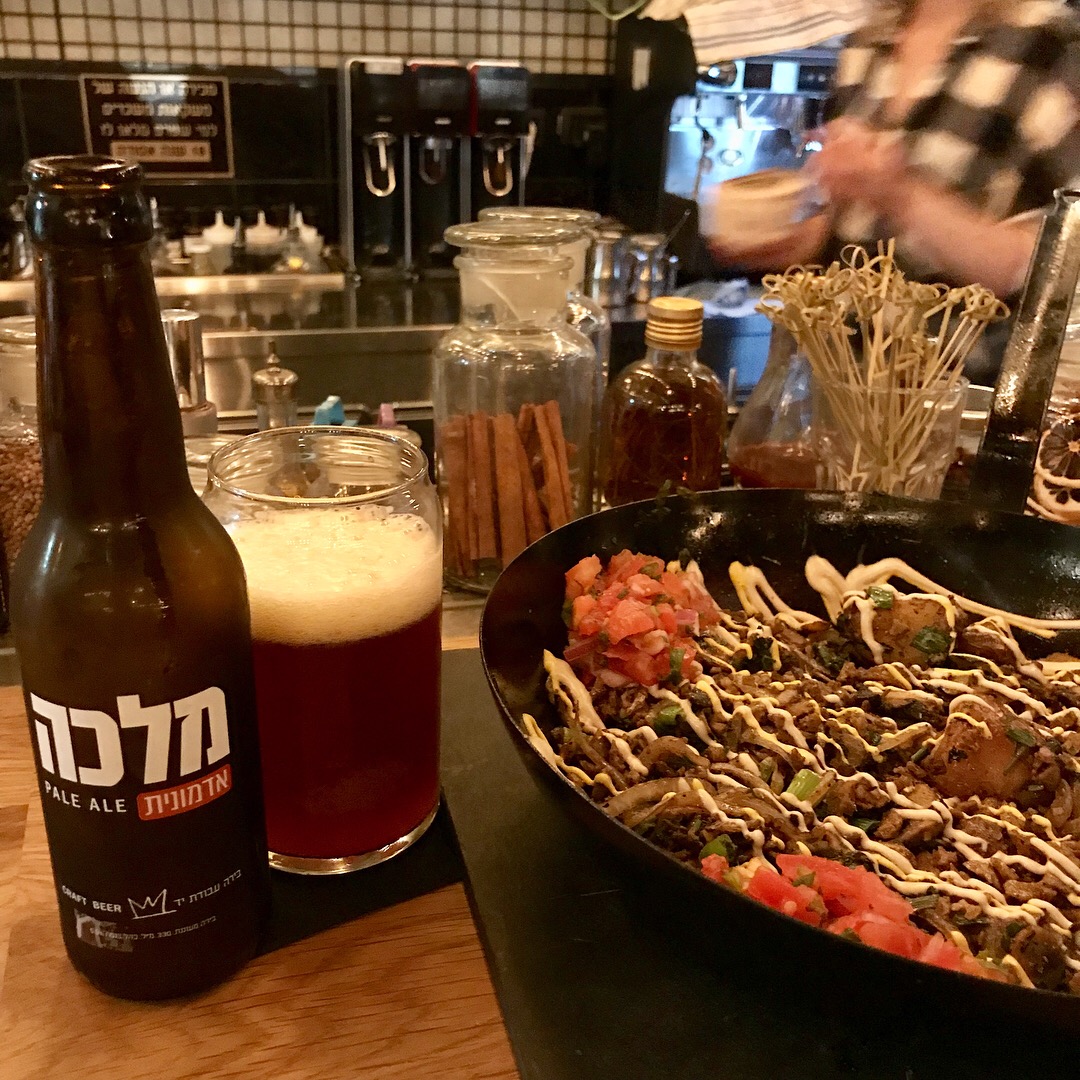 «Shawarma» in iron pan with mushrooms, onions, potatoes, herbs, pesto tahini, curry tahini and tomato salsa! Amazing!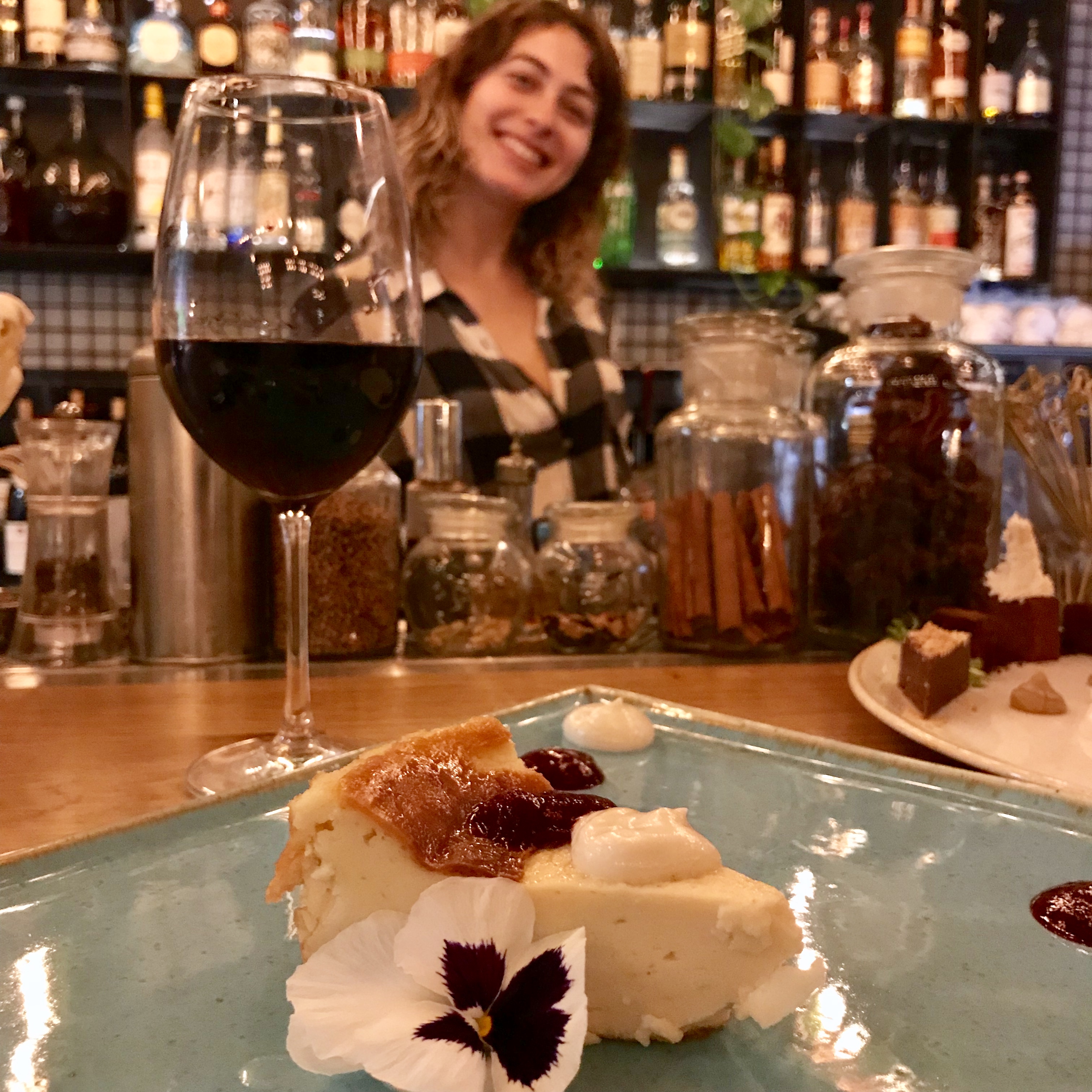 And of course I had to have two desserts!
Cheesecake and truffle train – Almost lost for words…I´m telling you, if you are one of those who thinks vegan food is just salads and boring, or you think there is so much vegans can't eat, or you think vegans are missing out on those amazing food experiences in nice restaurants – you need to try vegan food in a place like this! There's absolutely no need for dead animals or animal products when you can choose delicious vegan Michelin food like this!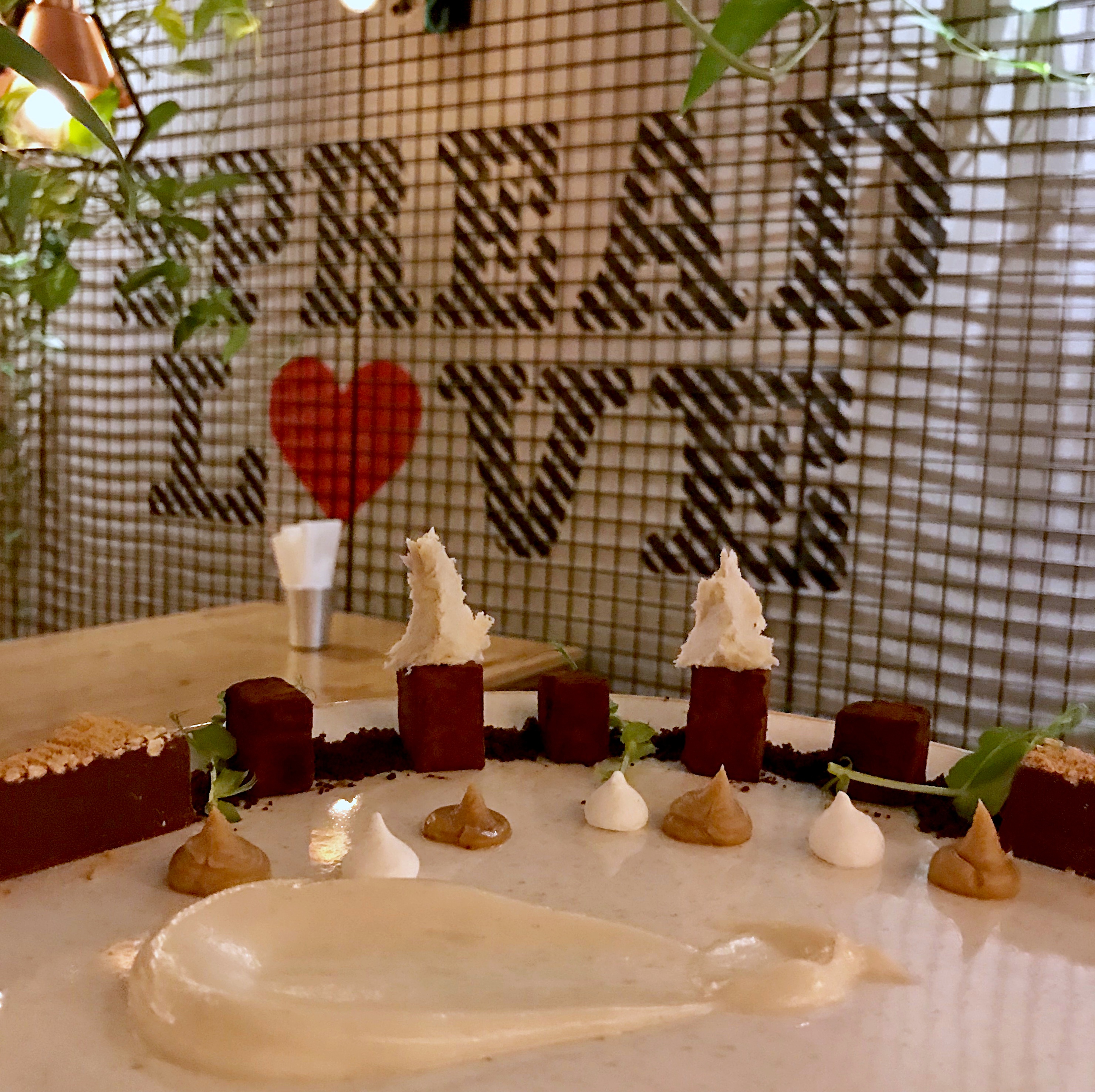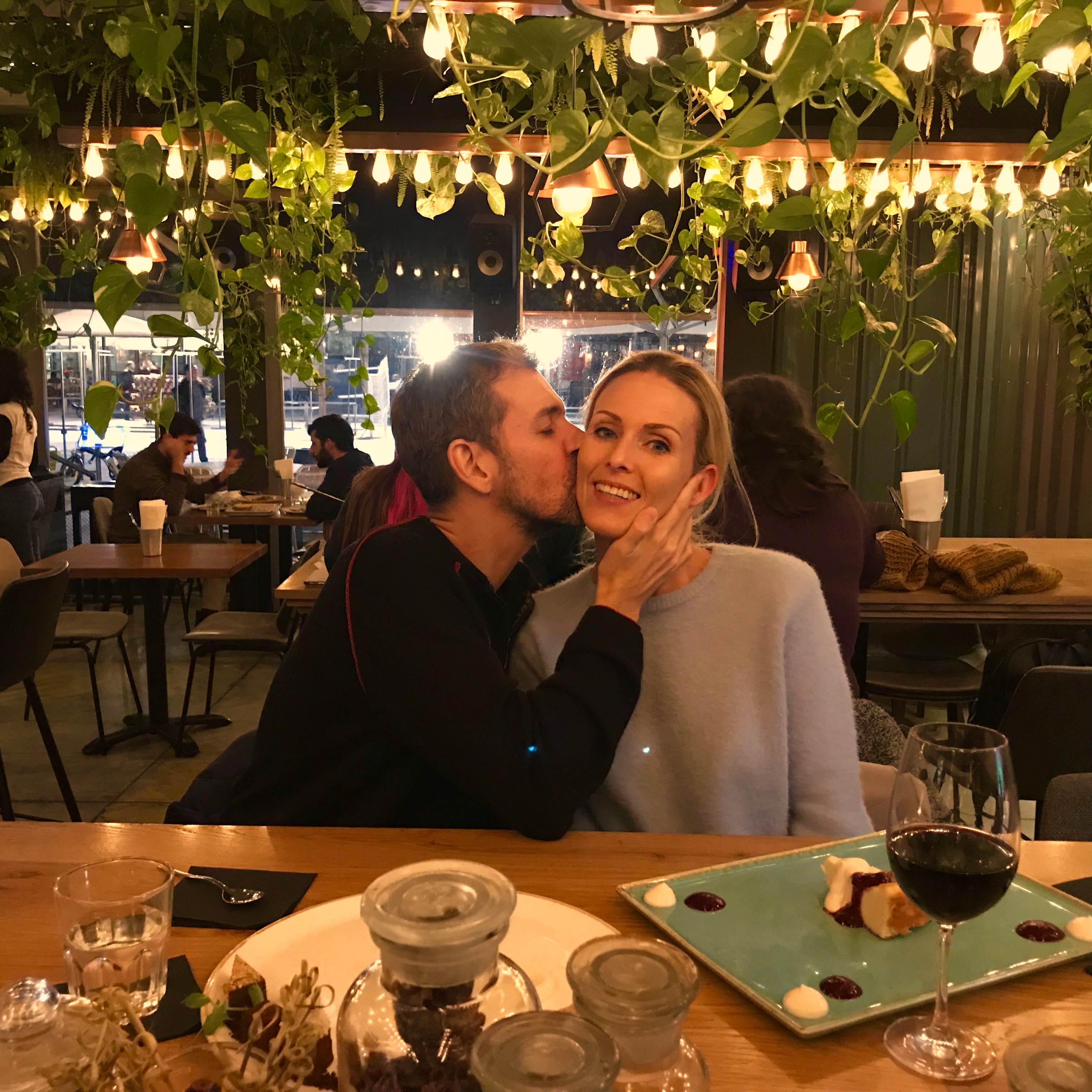 Super proud of this non-vegan man that came with me to all of these vegan places and were happy to eat vegan food all the time. And not feeling he missed out on anything!
"Anastasia"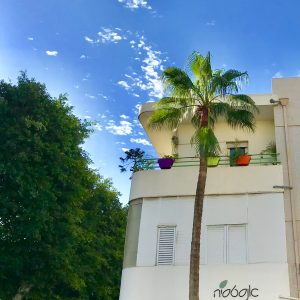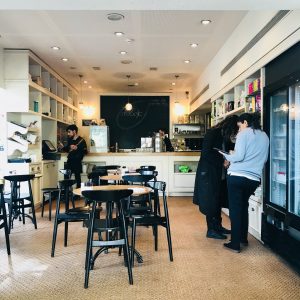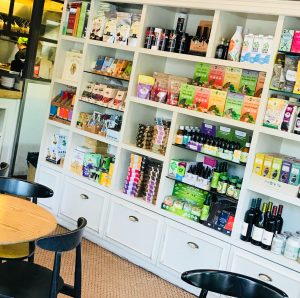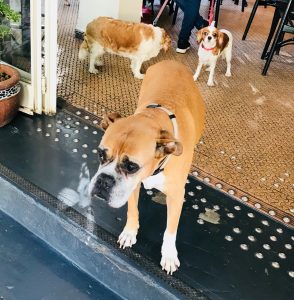 This is Soul food! I think I had The Best vegan breakfast! This trendy, super nice, dog friendly and healthy place – is another slice of vegan heaven! Anastasia is not only a cafe and restaurant, but also a health shop where you can get everything from superfoods to vegan wine and pet food. The  menu is mouth watering with all the different options of vegan, raw, gluten-free and sugar-free if you want, and just really healthy nutritious food. The raw desserts – omg! I tried the Tiramisu which was probably one of the best cakes I have ever had! Even health conscious non-vegans will love this place! The fresh vegetables and immune-boosting, superfood smoothies and salads are tempting to anyone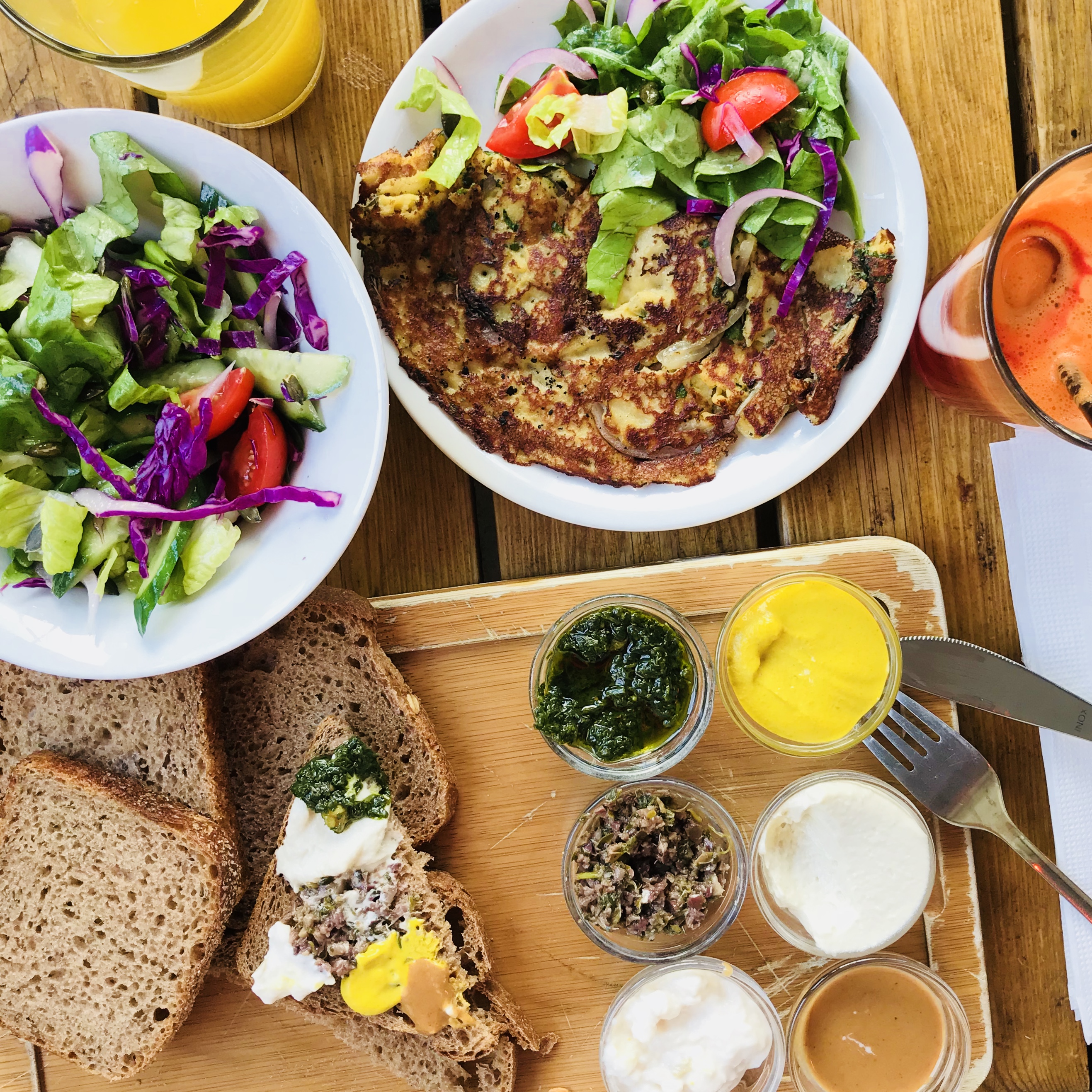 I tried the Breakfast of: Tasty chickpea and corn omelette with herbs and onions – I'm definitively going to try to make this at home! Best omelette ever!
All of the dips/House spreads are homemade and tastes amazing! Hummus, sun flower aioli, pesto, cottage cheese, turmeric tahini, sun-dried tomato spread and hazelnut butter. Green salad with pumpkin seeds and vegetables with olive and lemon dressing. Homemade gluten-free bread. And with carrot and beetroot juice -perfect combo!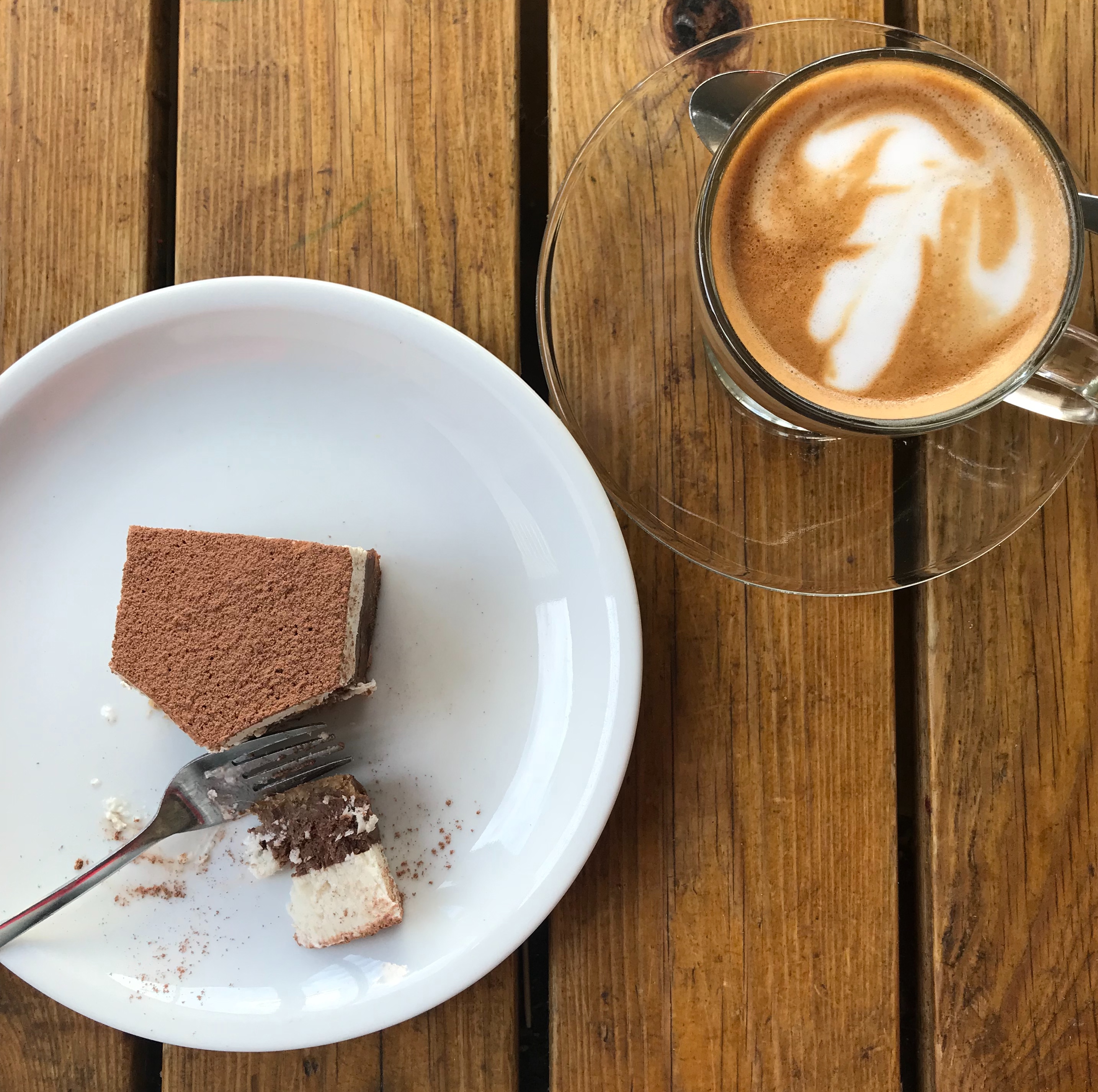 I had to try their famous raw sugar free cakes too! Three-layered dessert of pure magic! This was amazing! Date and almond cake, topped by chocolate coffee mousse! And coconut mousse. I had a cup of cappuccino together with this dessert that worked really well! I wish I could eat more! But left the restaurant very happy and satisfied.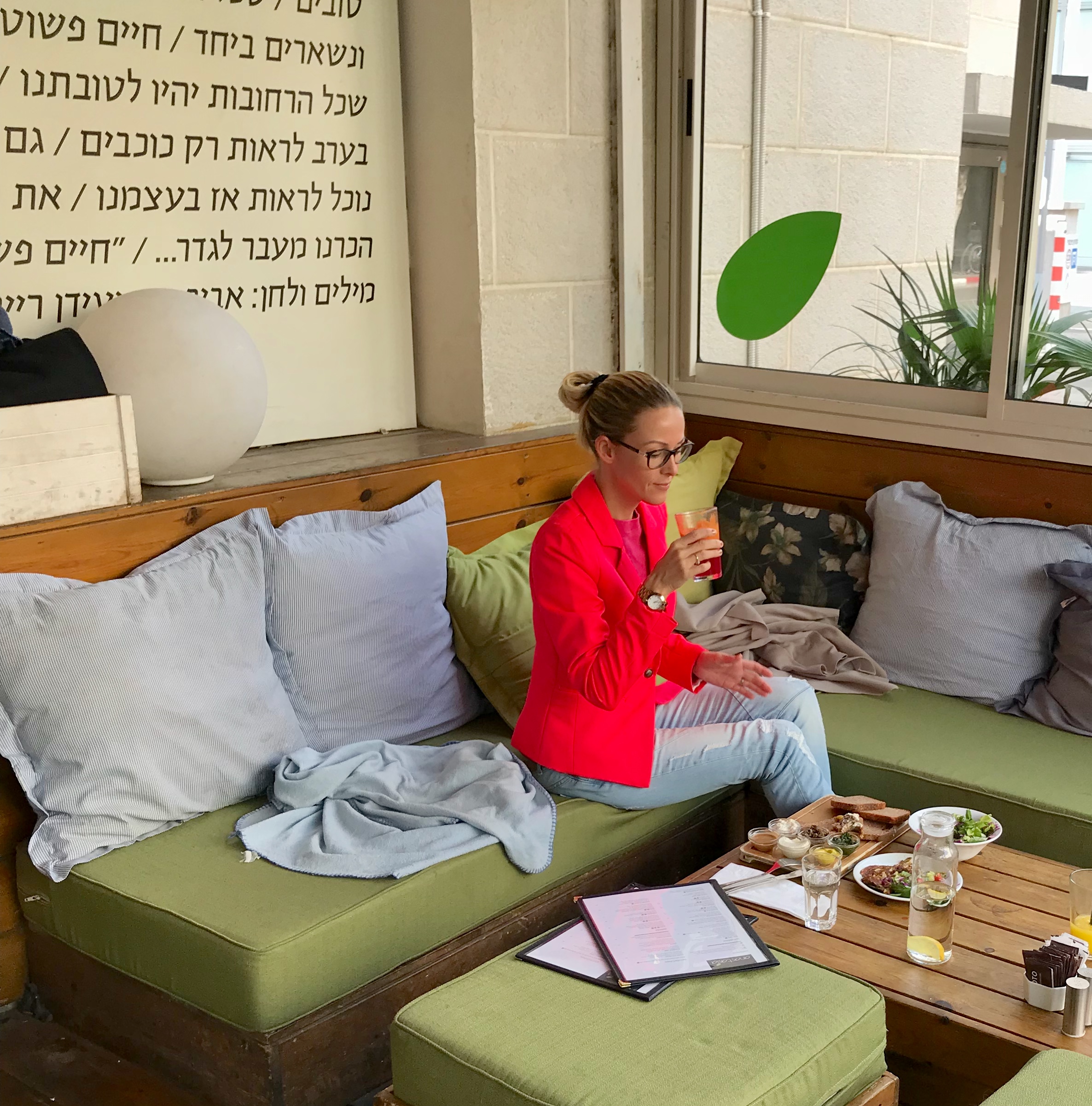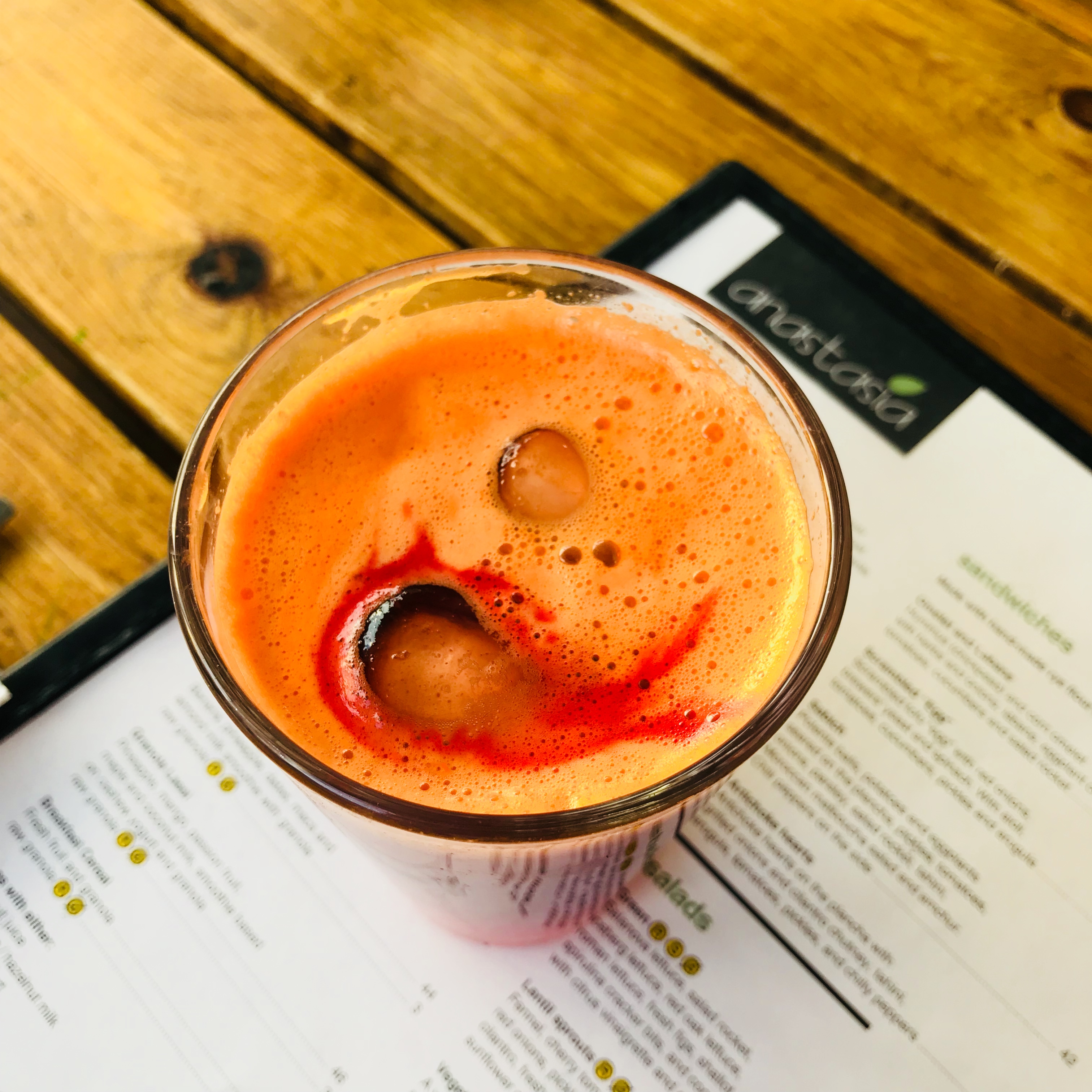 "Vegan food is soul food in it's truest form. Soul food means to feed the soul. And, to me, your soul is your intent. If your intent is pure, you are pure."
–Erykah Badu
"Bana"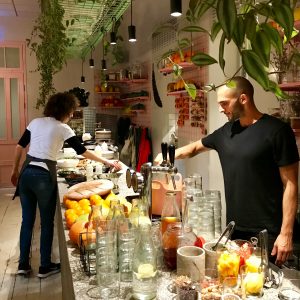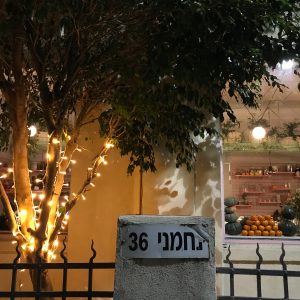 Bana is a little gem of a vegan restaurant in Tel Aviv. The minute you walk in there, you're welcomed by a very friendly and service minded staff. There's an uplifting mood there with a display of colorful vegetable and bananas hanging around. The garden is decorated with lights and there's a small front patio as well. The food was amazing!
For starters we chose the buckwheat sourdough with tahini and roasted tomatoes. Good starter. And Asparagus roasted with garlic oils do bread crumbs over butternut squash purée – this was amazing! And The hot salad – broiled zucchini and potato with fresh chard and pak-bong leaves and Dijon – one of the best warm salads I've had!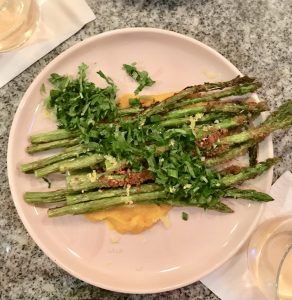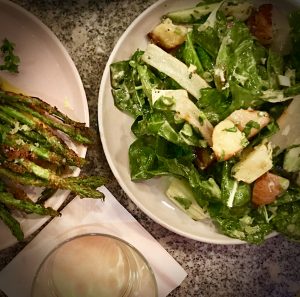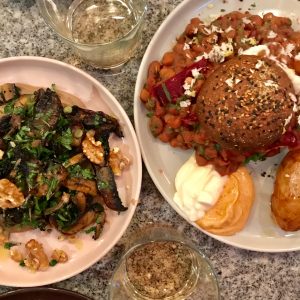 Mushrooms with herbs, chopped walnuts and chestnut cream – pure yumminess! And the Sloppy beet of red mullet beans, burnt beet, potatoes and aioli. This was too big for us to finish, but very good!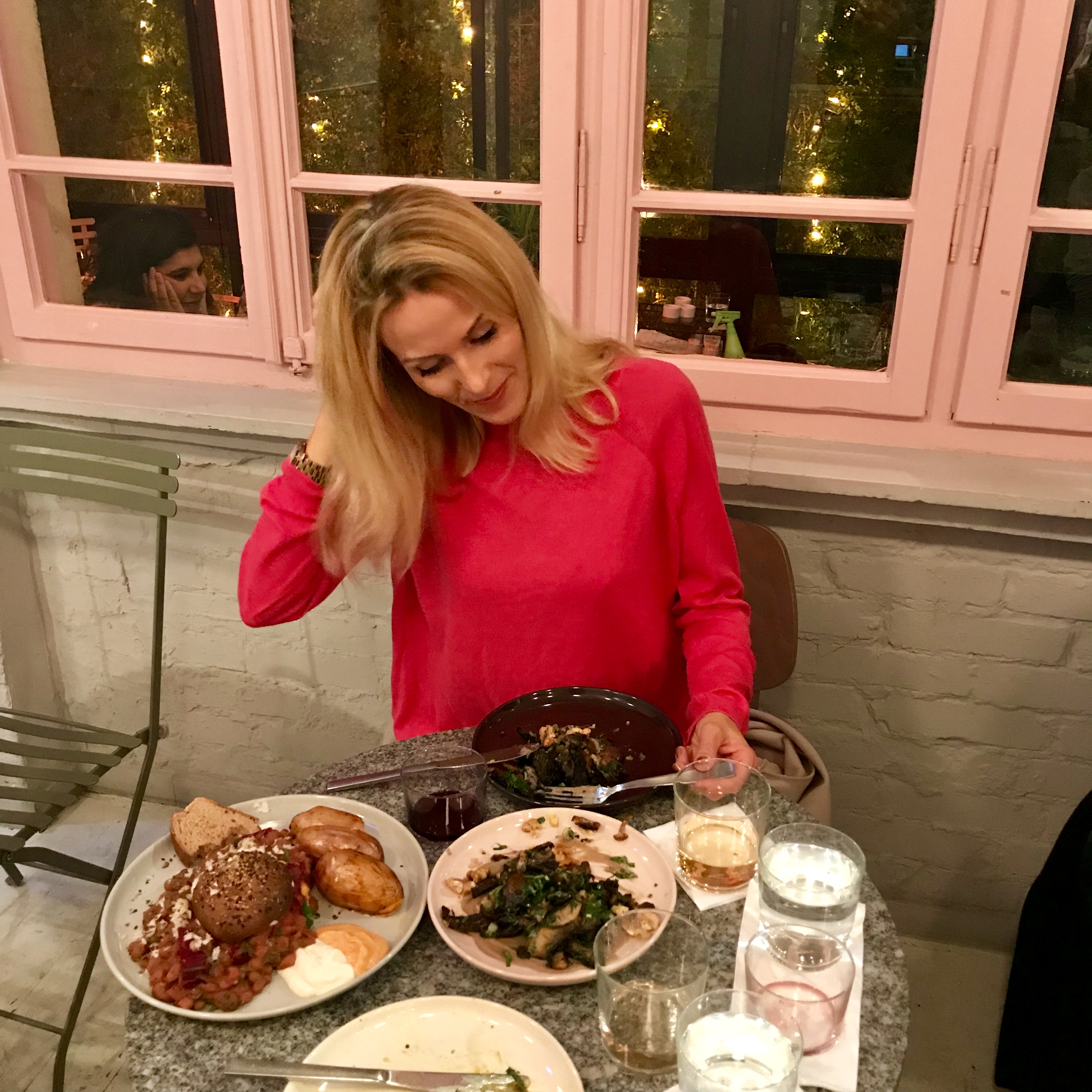 Wondering how much more I can eat! Haha!
I had to try their desserts too! The waitress was super awesome to recommend and also let us know that the nice creams are mostly made of bananas, so if you're not so keen on the banana taste, there are other desserts for you. I really wanted to try their nice cream, so I tried the Nice cream with broken hazelnuts and raspberry sauce. It was delicious…..if you like the banana taste as she informed us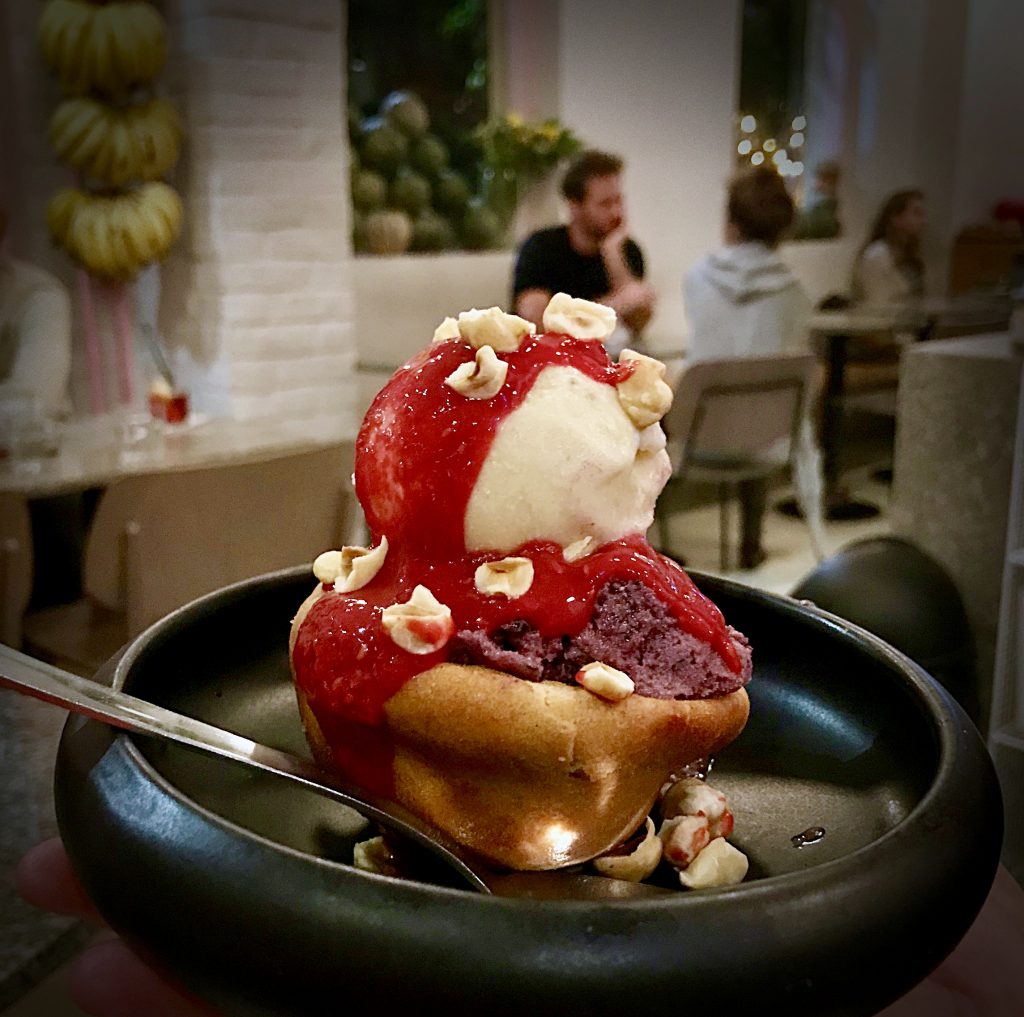 Yummi nice cream!! The only thing is that they serve wine in straight glasses, which okay may look good, but the aroma gets a bit lost. She also offered to let me try the different red wines. I had the Cotes du Rhône
"Zakaim"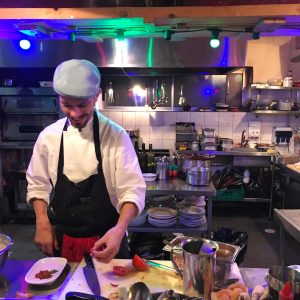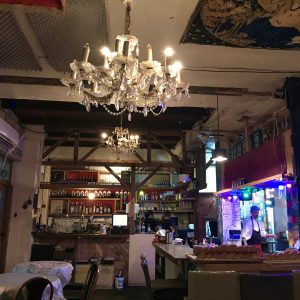 Zakaim is another gem of a vegan restaurant in Tel Aviv. It's a boutique restaurant with a super nice eco feel, everything is secondhand and cool decorated with random objects around like the carpets in the ceiling and an antique phone. There's also a backyard lounge!The lovely Persian influenced menu is made by Chef Harel Zakaim.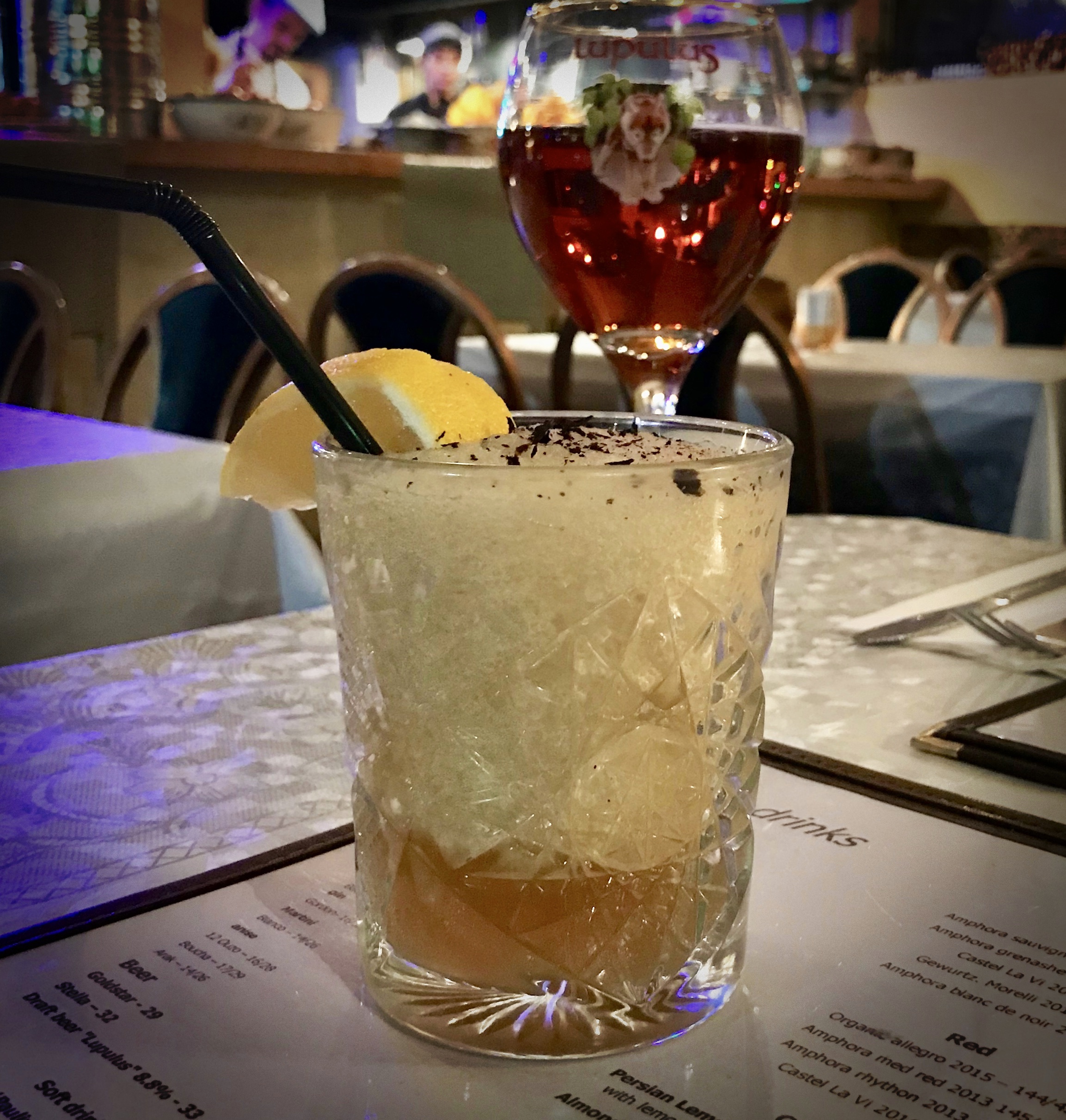 When in a place like this, you need to try the Persian Lemon Cocktail -gin made with marinated Persian lemon! I had this as a pre-dinner drink – very nice! The service was so good! Suggestions and explanation of the menu was made by the friendly and service-minded guy!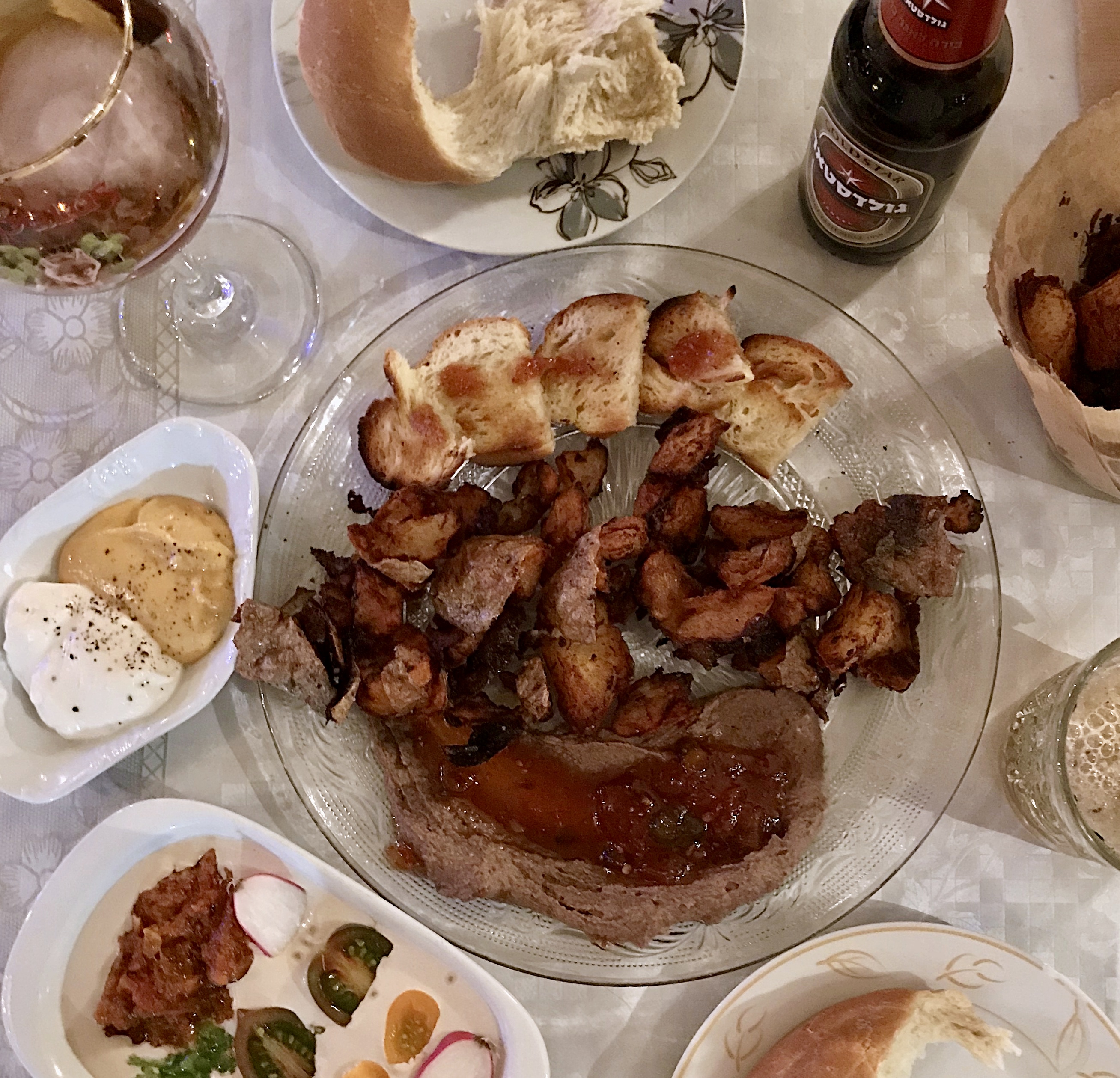 Tehini Plate with matbucha, fresh vegetables and homemade bread. And hand-torn fries with homemade mayonnaise – Perfect starters! The tahini spread, the jam and bean paste was amazing! Different spices that complimented each other! And local vegan beer! גולדסטאר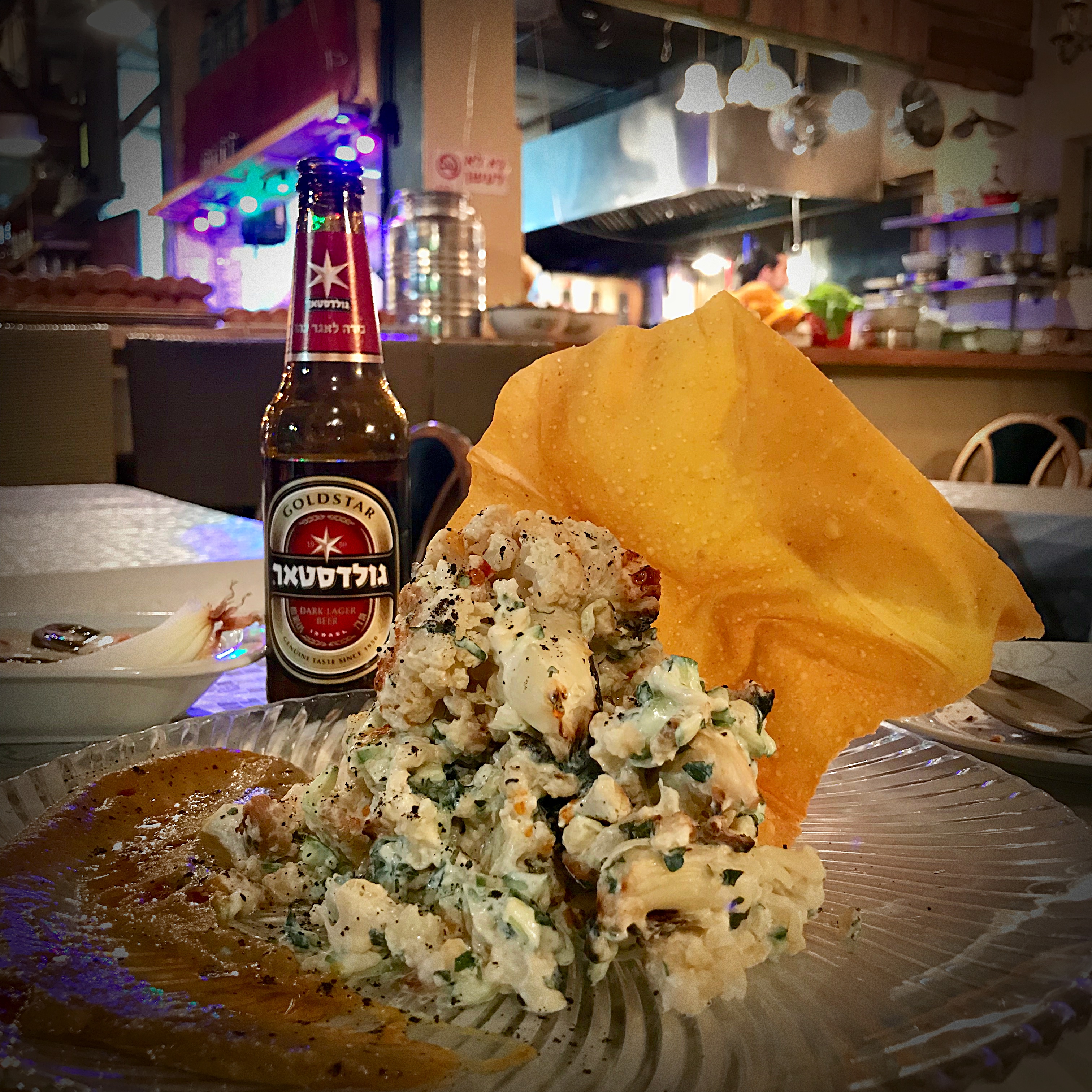 Cauliflower Gondi roasted in the oven, with tatziki, gondi sauce, spicy arisa oil, grated Persian lemon and roasted chickpeas. Served on a chickpea waffle – This was a good and creamy dish! It had a mild flavor and beautiful presented – almost looked like a flower decoration!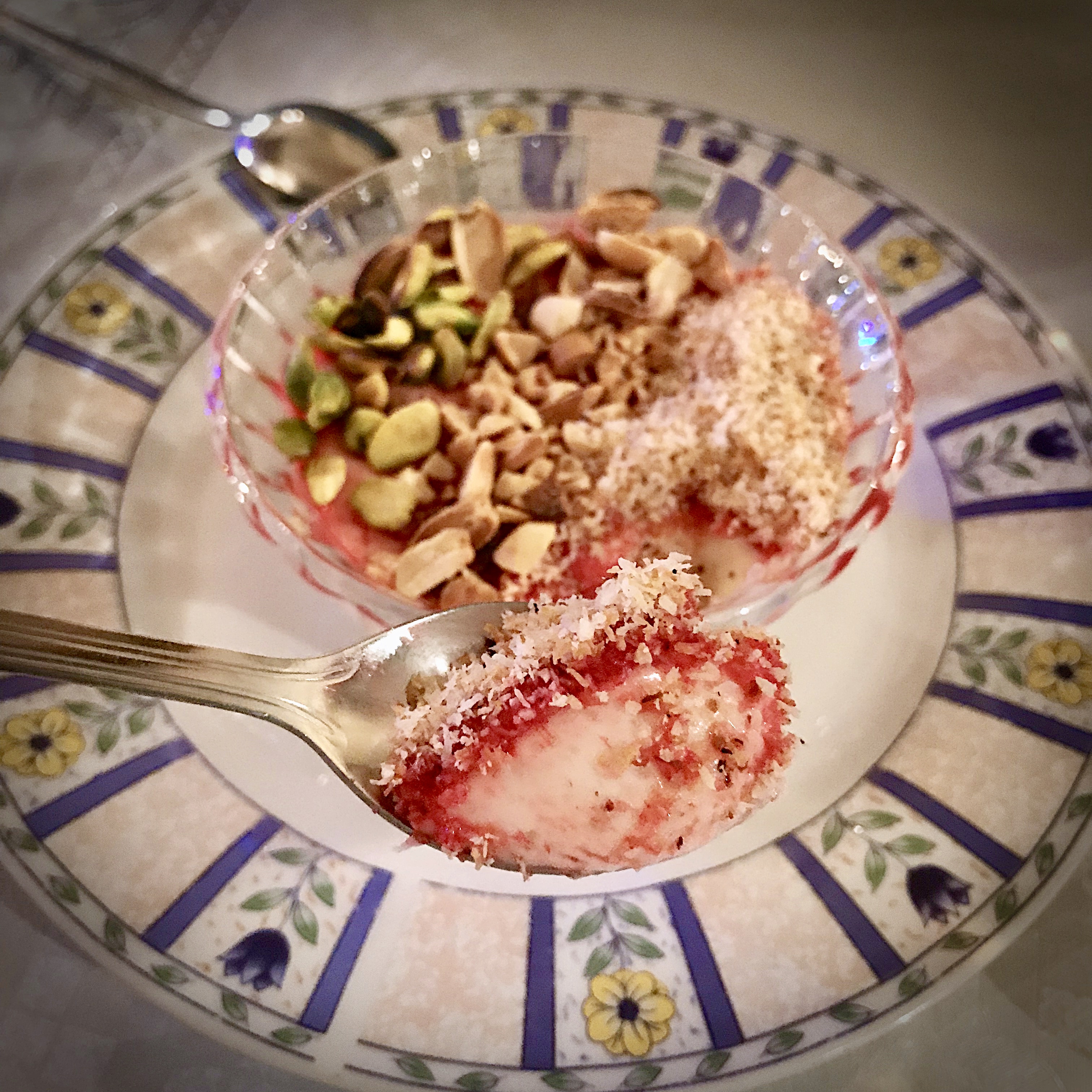 I was recommended the Homemade Malabi – and it was delicious! A bit like a panna cotta with pomegranate syrup, shredded coconut, peanuts and pistachios. Perfect! Lovely place, lovely food and lovely people – what more do you need?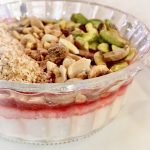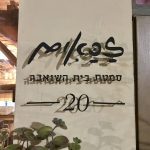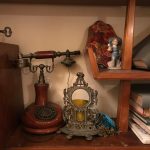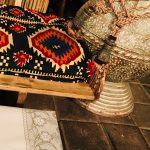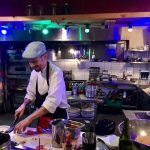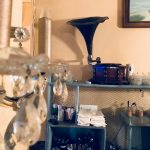 This trip has been a vegan gourmet journey all the way!
I can't believe how lucky we've been with the choice of restaurants, the service, the food, the drinks – everything! I so want to go back! This is just a few of the vegan restaurants in Tel Aviv!
Vegan is LOVE! Love for animals. Love for wildlife. Love for nature. Love for our planet. Love for people. For me it is also LOVE for food without dead animals and animal products. It is not about being perfect. It is about causing the least harm.
"Veganism is not about giving anything up or losing anything; it is about gaining the peace within yourself that comes from embracing nonviolence and refusing to participate in the exploitation of the vulnerable". ― Gary L. Francione
"We do not need to eat animals, wear animals, or use animals for entertainment purposes, and our only defense of these uses is our pleasure, amusement, and convenience".
― Gary L. Francione
Shalom!