Christmas feeling in Norway
Christmas feeling in Norway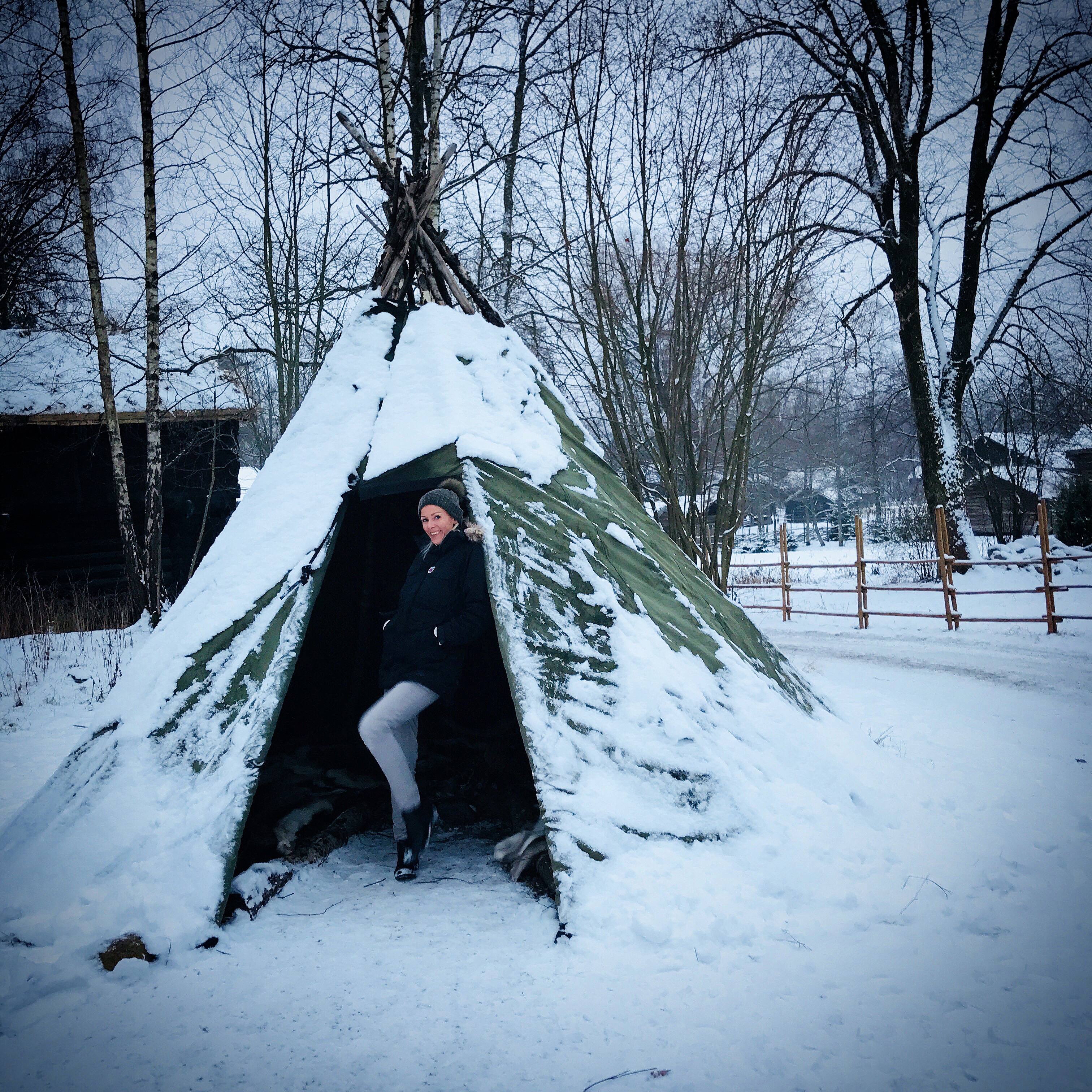 My heart is full. I feel so grateful for having the opportunity to celebrate Christmas in two countries. Norway first. Snow, traditions and amazing friends who invited me for an all home cooked vegan dinner! When I'm the only vegan. I think that's pretty cool…even though they eat a lot of plant based foods, it was so kind. And my friends who went with me to vegan cafes and restaurants, AND my sweet family who decided to make a vegan Christmas dinner! I feel so blessed and grateful for having such amazing, supportive, inspiring and kind friends and family. Kind people is my kinda people!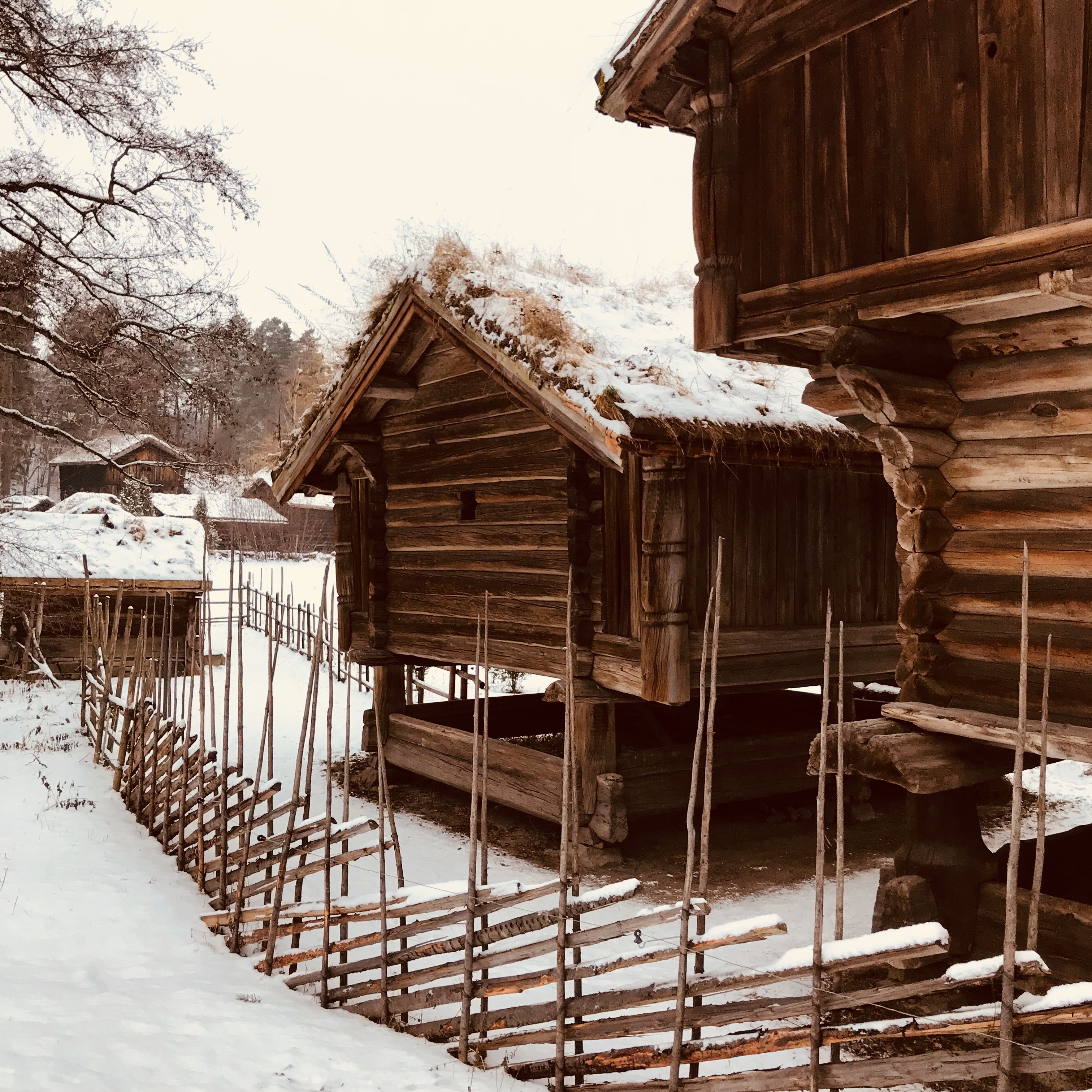 My mom and I went for a stroll around in The Norwegian Museum of Cultural History. Reckoned to be the world's first open air museum. It is both an outdoor and indoor museum with 160 historic buildings showing Norwegian daily life from rural and urban Norway from the Middle Ages to the 20th Century. The countryside shows farms from different parts of rural Norway. There's also an exhibition of Norwegian folk costumes, folk art and Sami culture. The lavvu in the first photo, has traditionally been part of the Sami culture of the northern Scandinavia for more than 2000 years.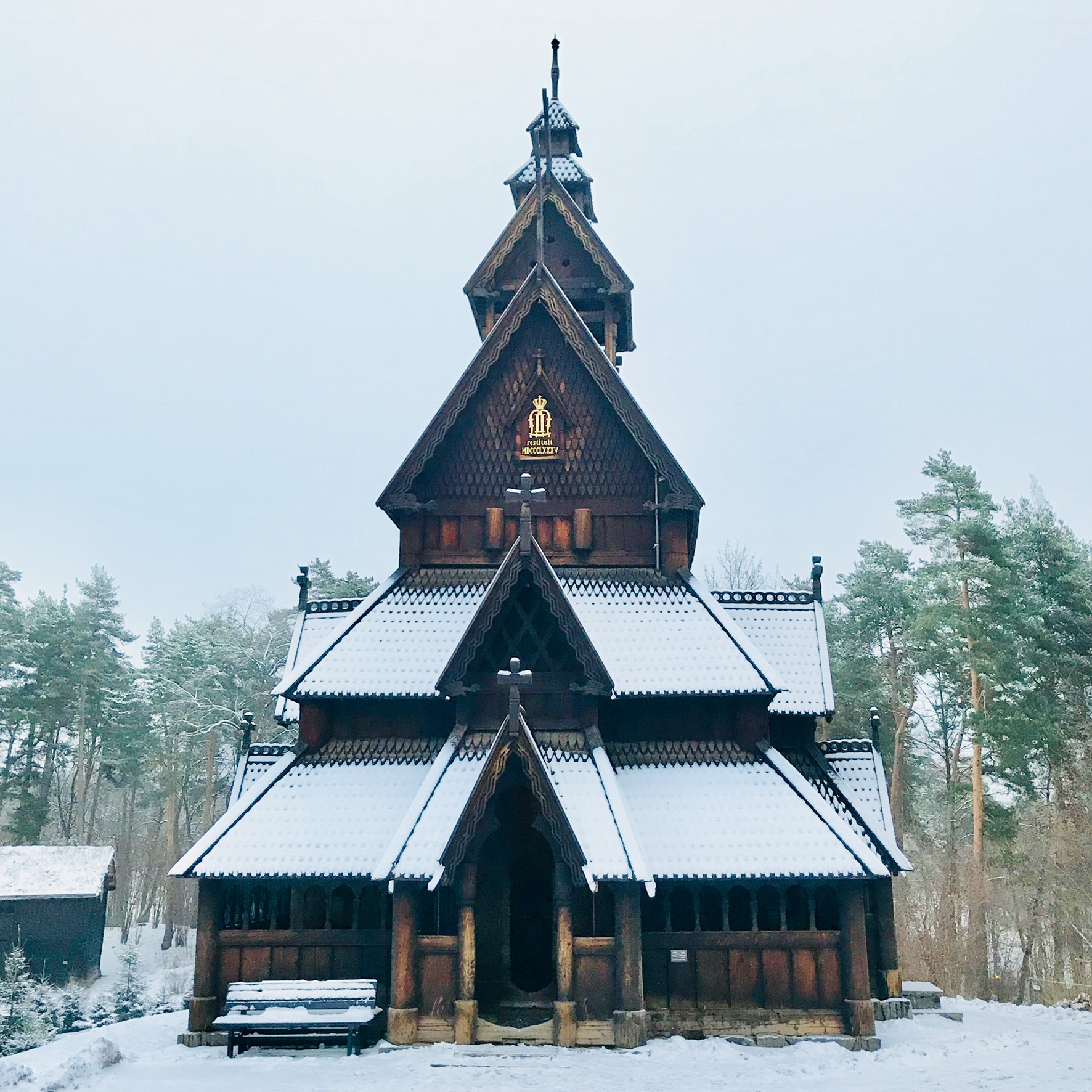 The Stave Church was built at Gol, in Hallingdal in the 13th century, and was reconstructed here in 1884.  In 1881, King Oscar II of Norway and Sweden, started to move and reconstruct old buildings in a public park at Bygdøy.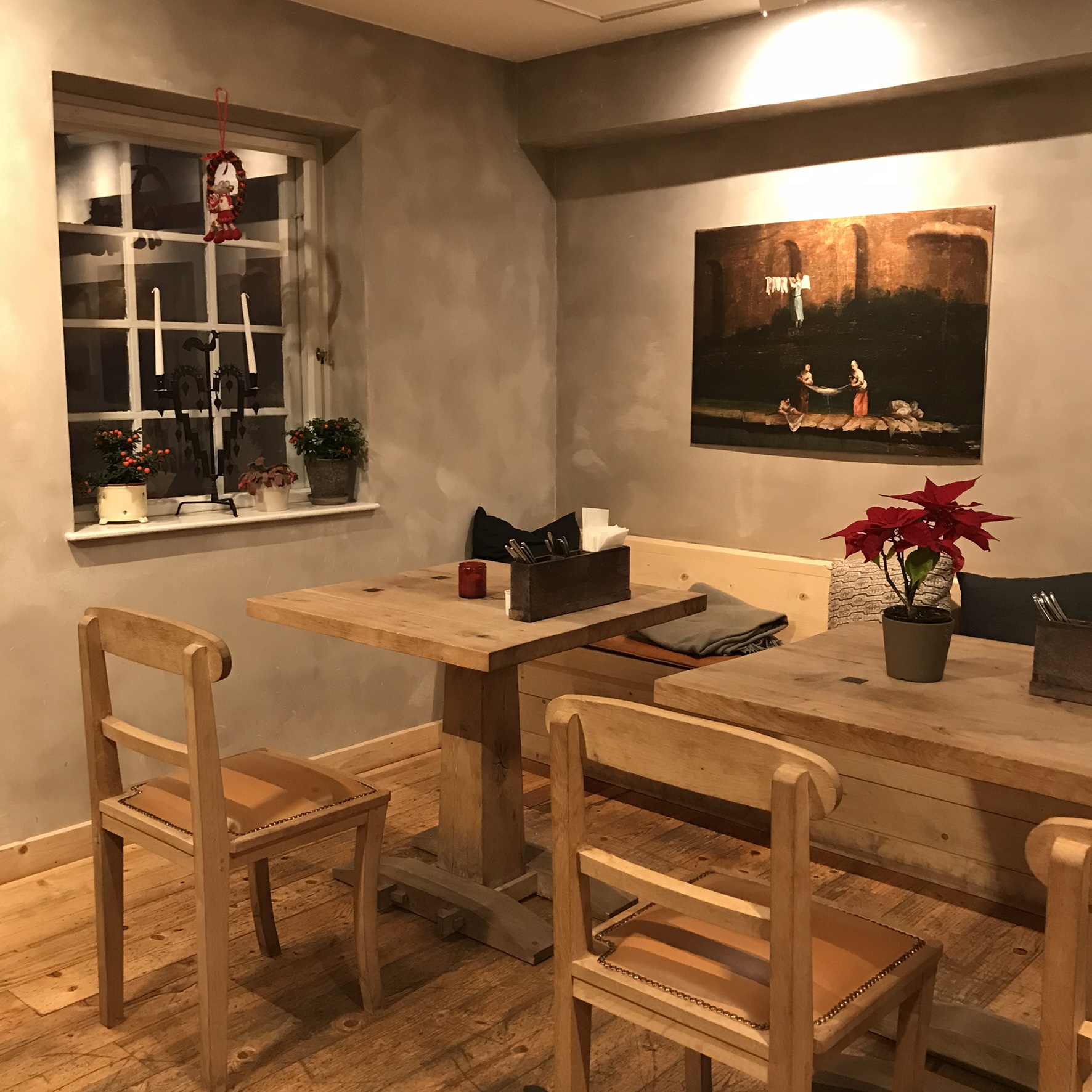 The cafe at the Norwegian folk museum, with its minimalistic Scandinavian design. Characterized by the use of natural materials, its functionality, clean lines and simplicity. It has always been a strong connection between nature and design in Norway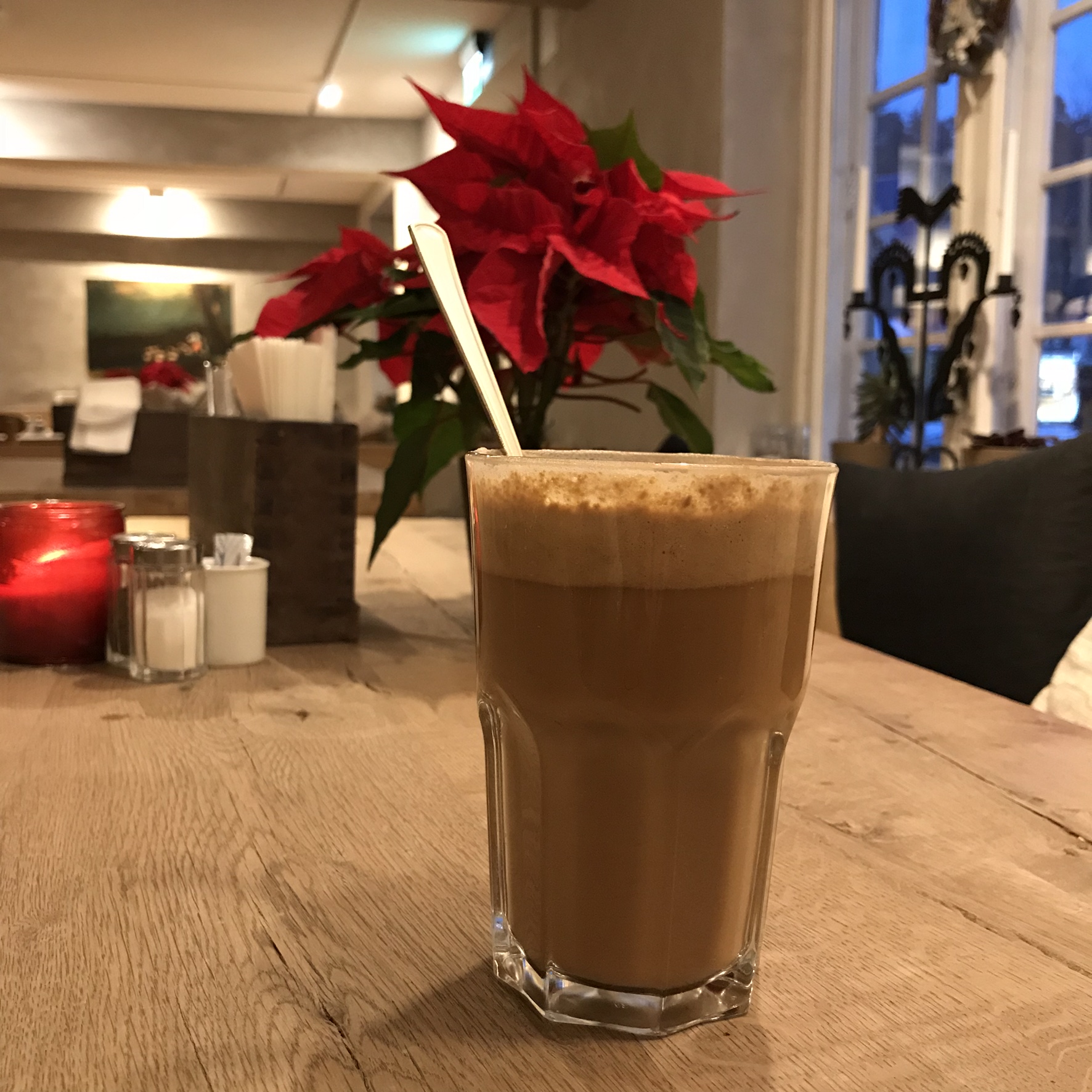 Enjoying my soy latte in the cafe…peace and quite, just an hour before they closed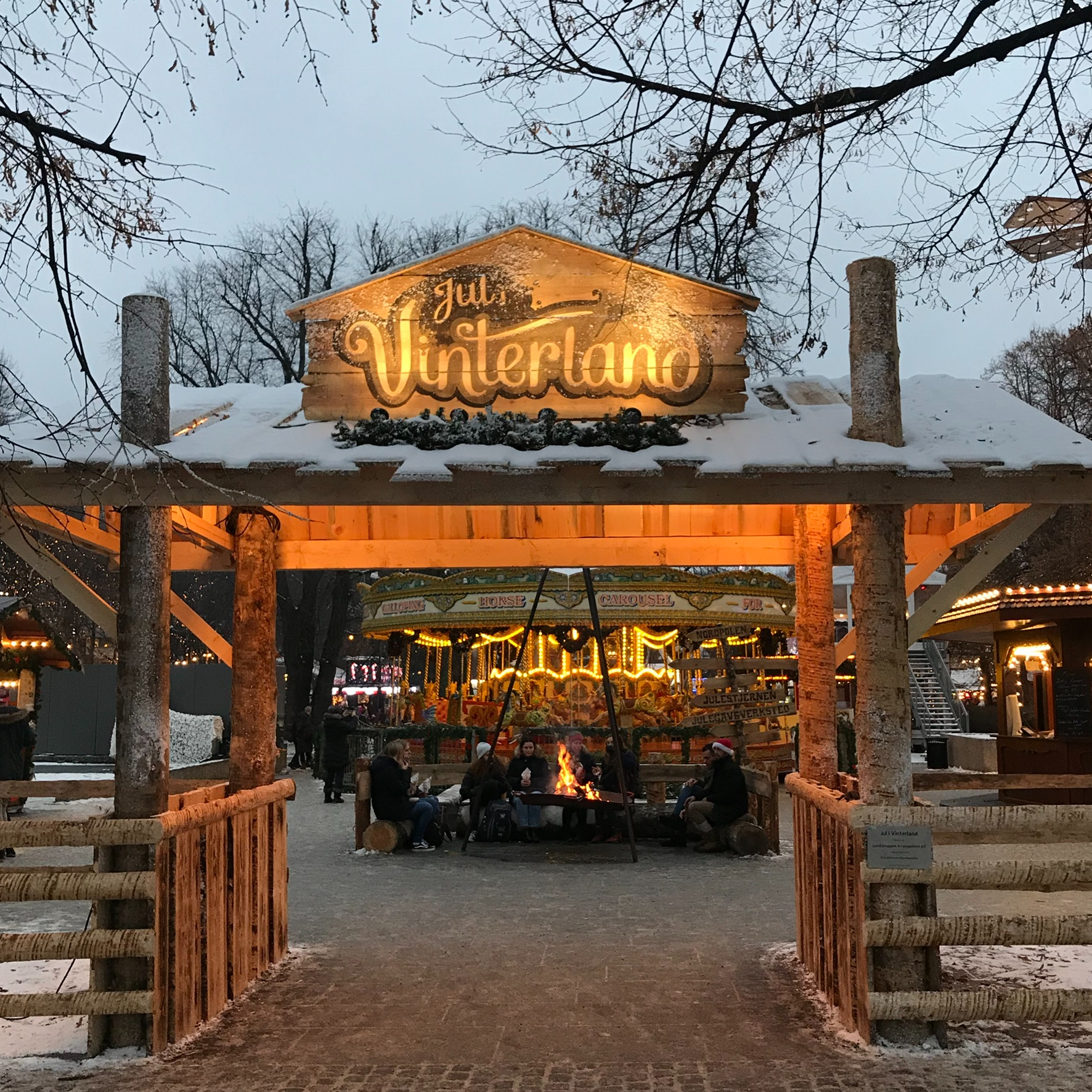 In the city centre of Oslo there was a Christmas market and "Christmas in Winterland" with campfires, ice skating, food stalls and a tivoli. "Jul" is Christmas and even though it is based on Christian traditions, "Jul"or "jòl" was the name of a month in the germanic calendar and celebrated in the middle of the winter. A celebration of the harvest and for spring coming. They ate and drank beer (Juleøl) to honor the Scandinavian Gods. Even though it wasn't a celebration like it is today, it was celebrated long before Christianity.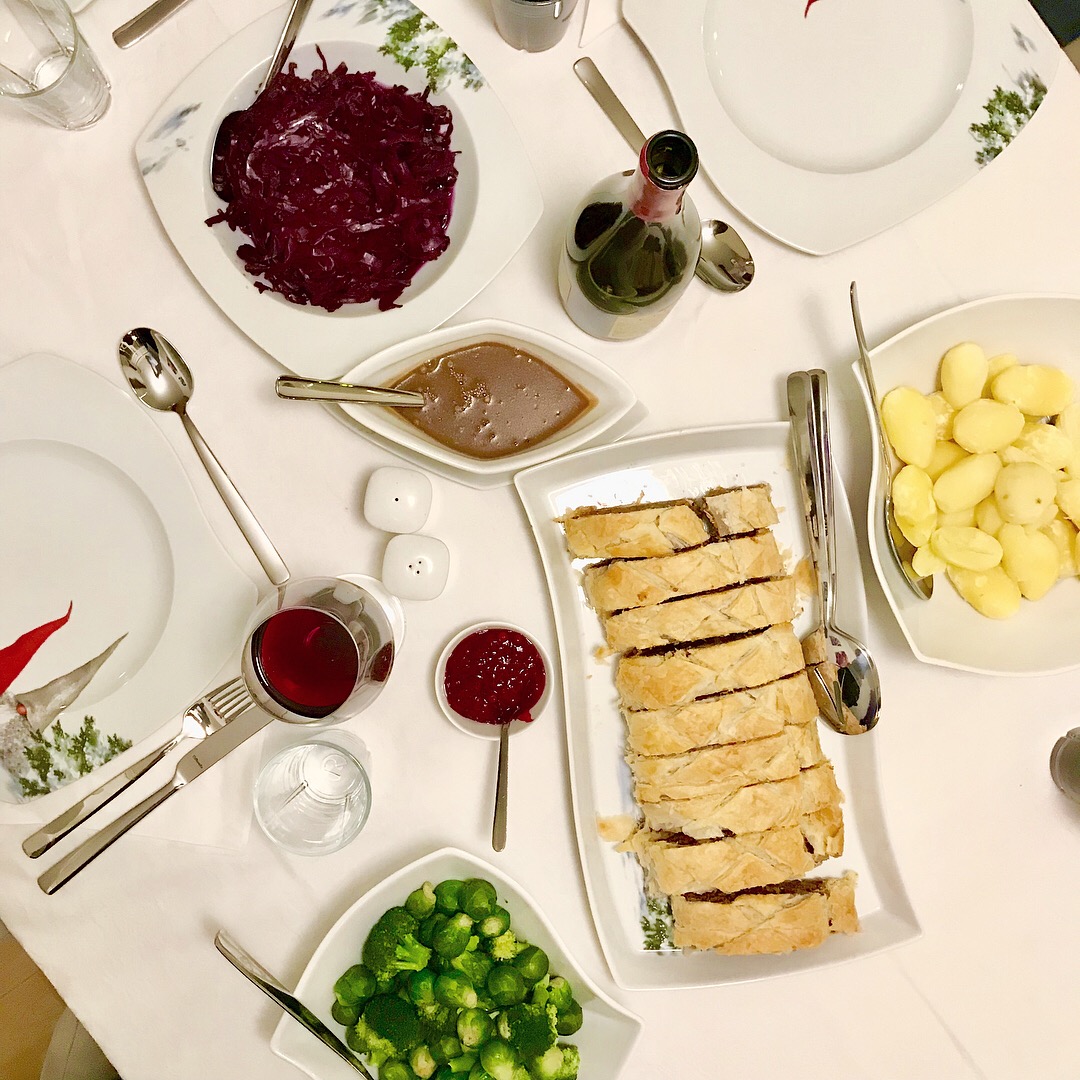 How amazing doesn't this look? My brother and I made a vegan Christmas dinner for the whole family on my last night in Norway. The recipe for this nut steak is from Veganmannen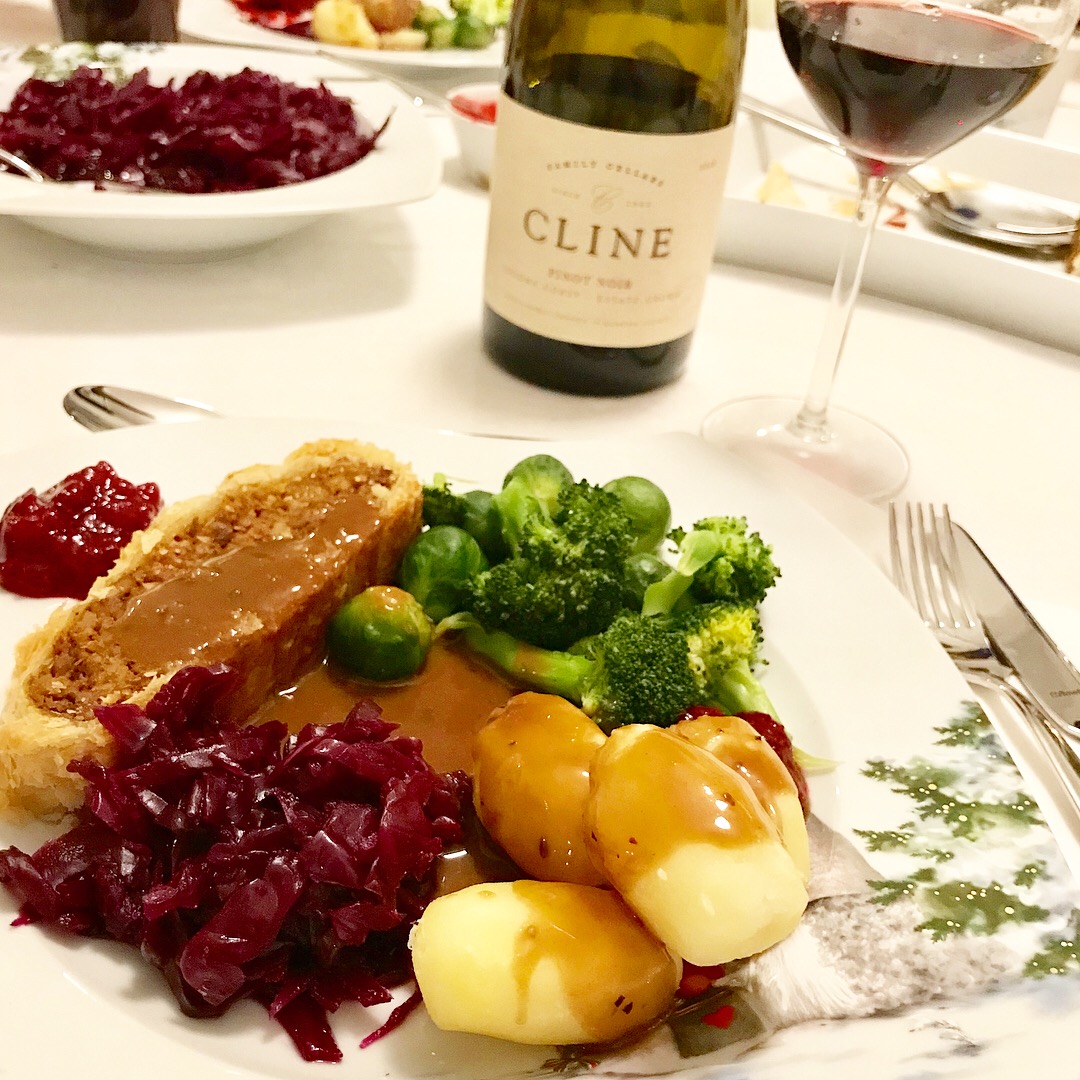 Nut steak with a lovely pepper sauce and of course vegan wine too;)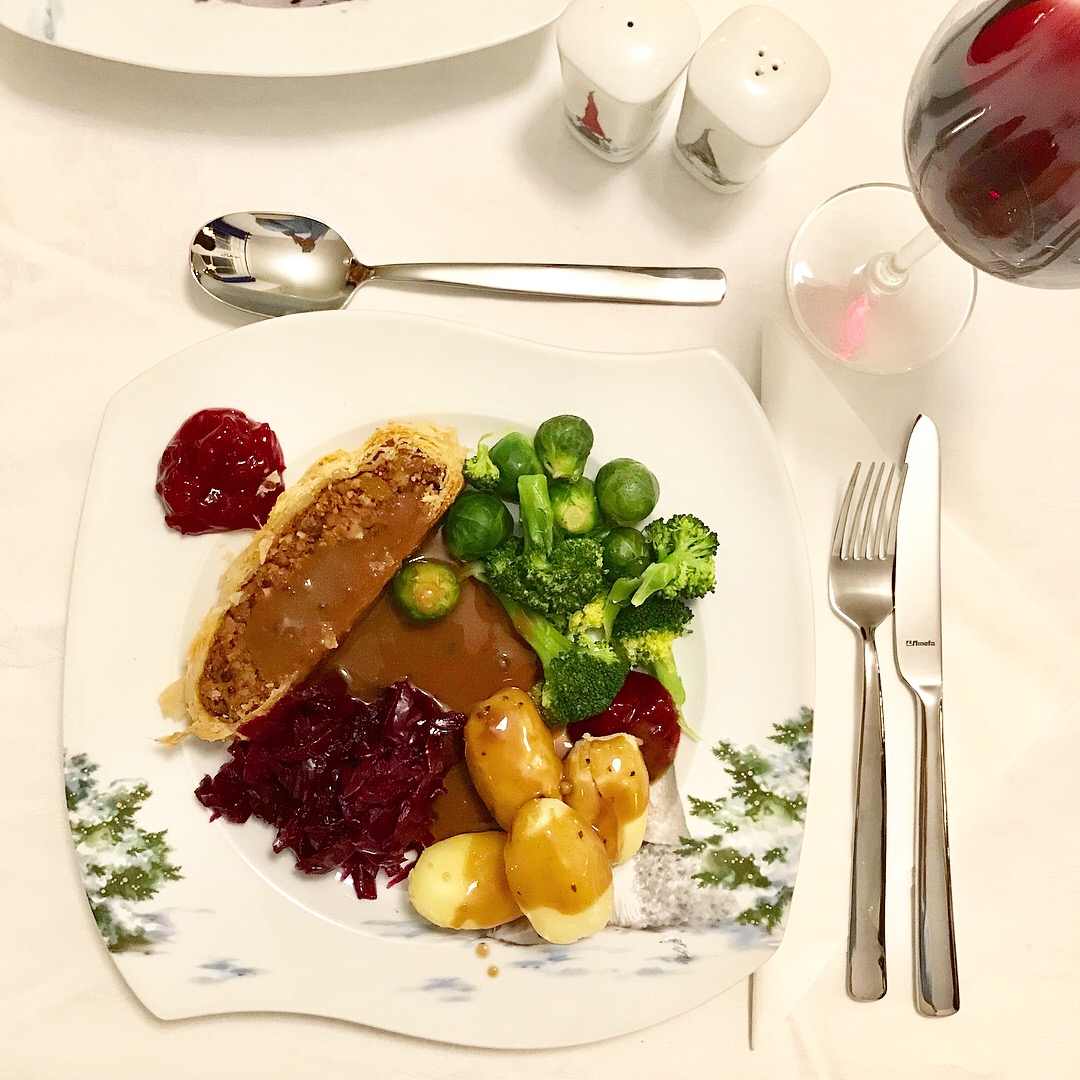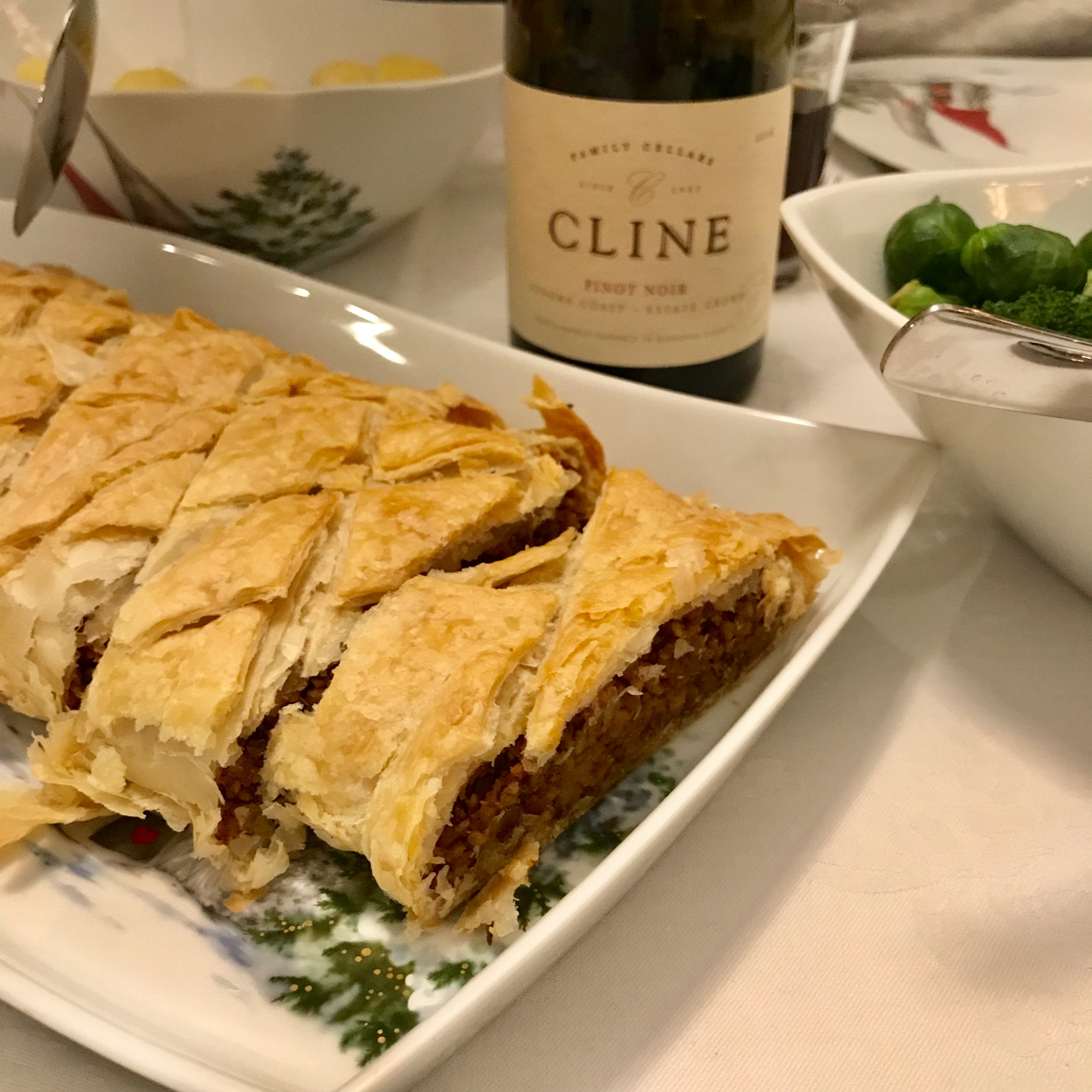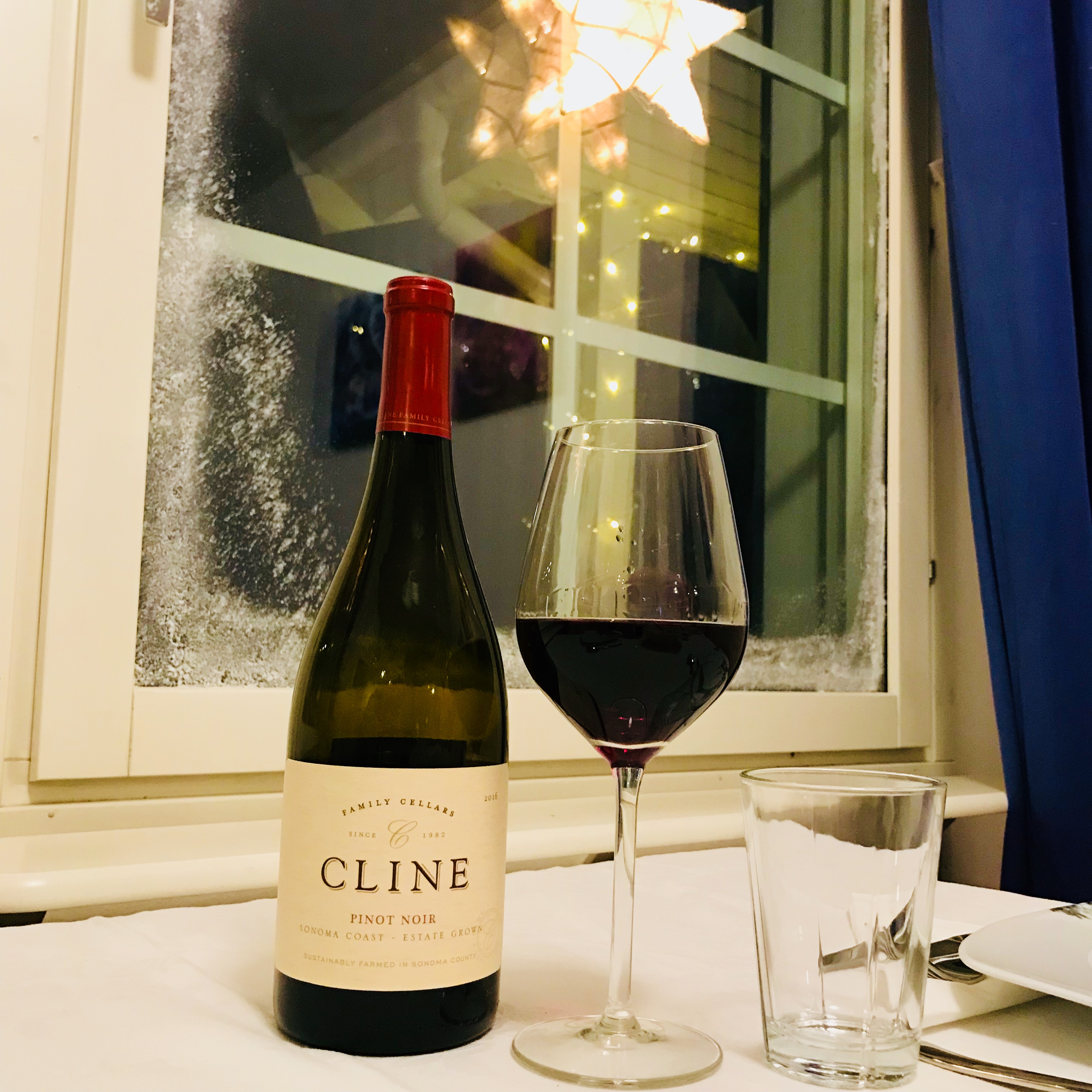 A glass of wine, cooking with my brother and the children in the living room with their grandmother. Enjoying that very moment sooo much. I'm glad I took this photo…cos it takes me straight back. Christmas is family. Friends and family.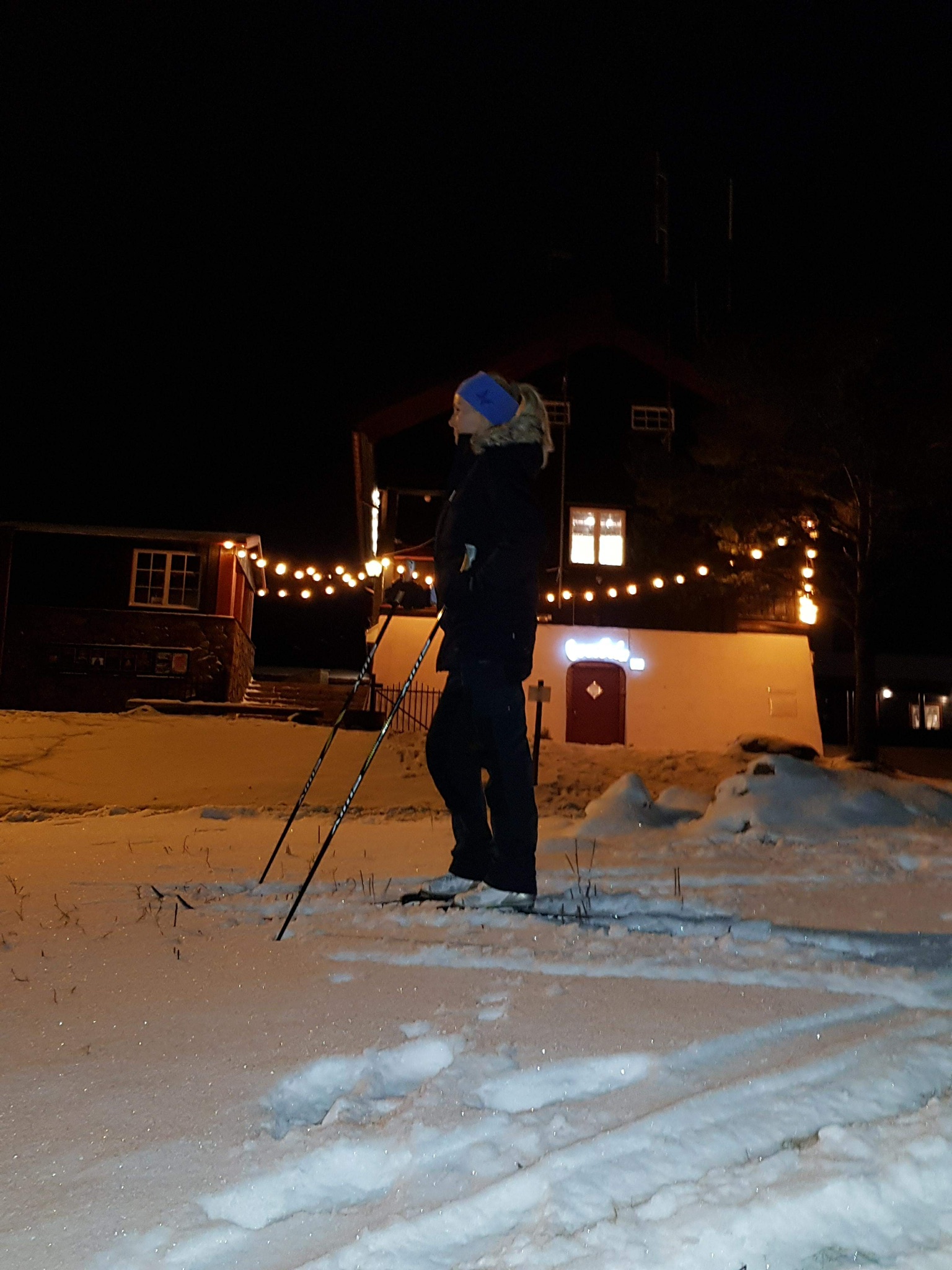 There wasn't that much snow, but just enough to go skiing with my niece downhill all the way from the top of Grefsenkollen in Oslo. And by the way, The Grefsenkollen restaurant and "Over Oslo" bar, looked really nice…only they closed for Christmas the day before we were there. Oh well…next time;)
When your friends invite you for an all vegan gourmet night….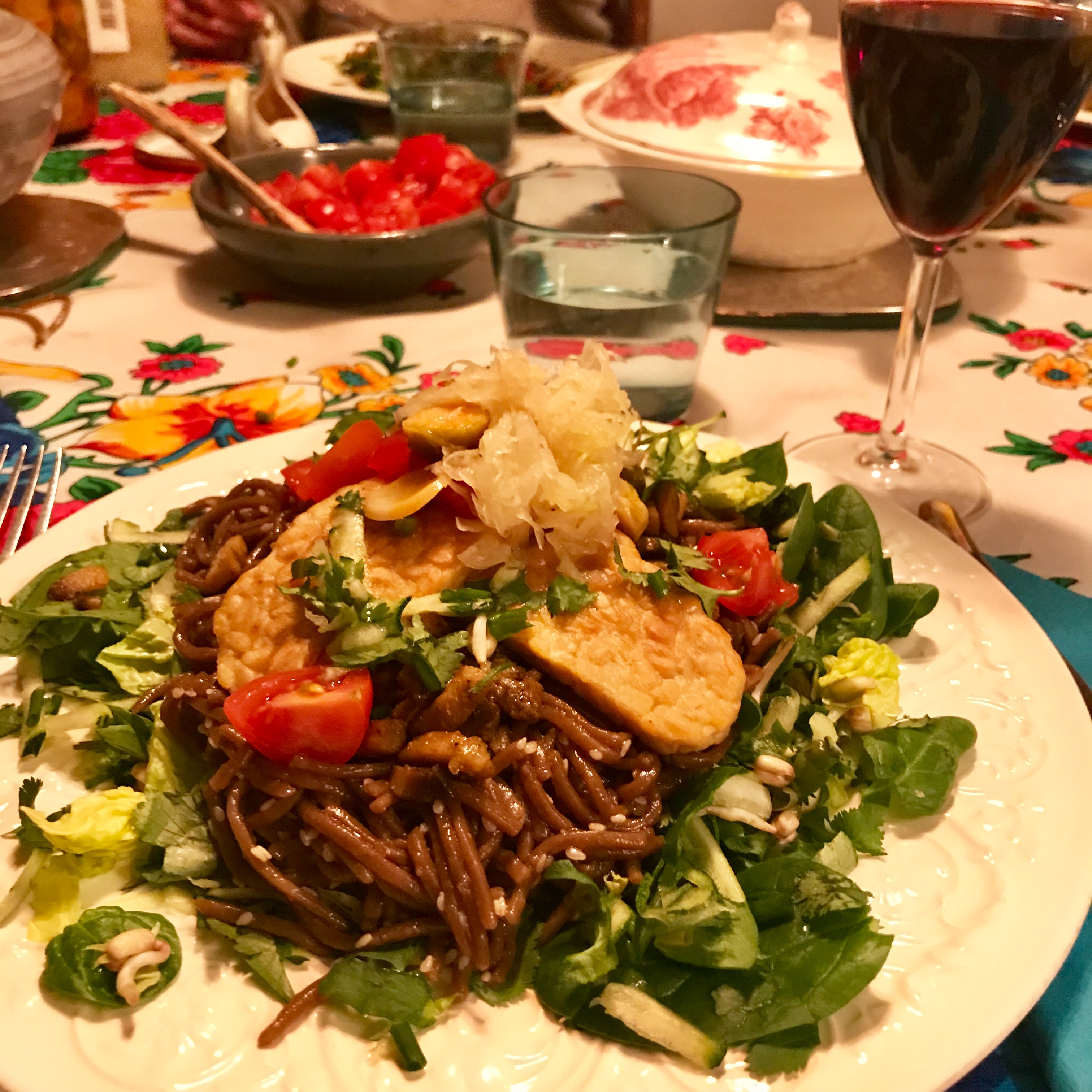 My friend´s fabulous vegan dinner! Here it goes; "Salad, secret to amazing salad is fresh herbs in there…Holy basil, chives and coriander. The noodles were japanese buckwheat noodle called 'Soba'. Mixed with tamari, chilli oil and roasted seasame oil. Mushrooms cooked in taste free coconut oil with tumeric, salt and pepper. Tempeh. Toppings were raw tomato and two kinds of fermented foods, brussel sprout kimchi (korean style) and sauer kraut!" This was AAAAAmazing!!!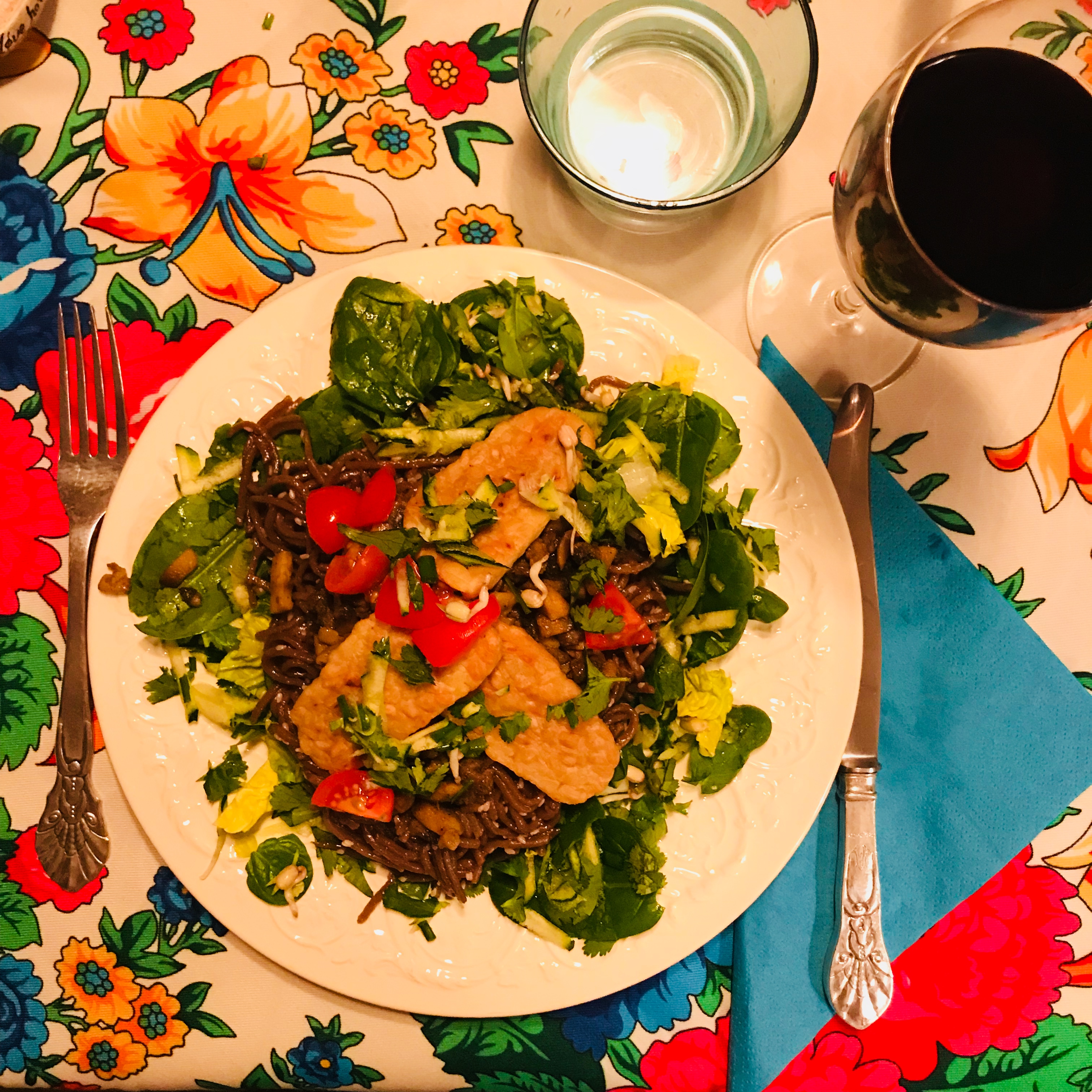 A lovely night with lots of good food, wine, laughter and best of all..good friends!
My heart was full of love when I left Norway…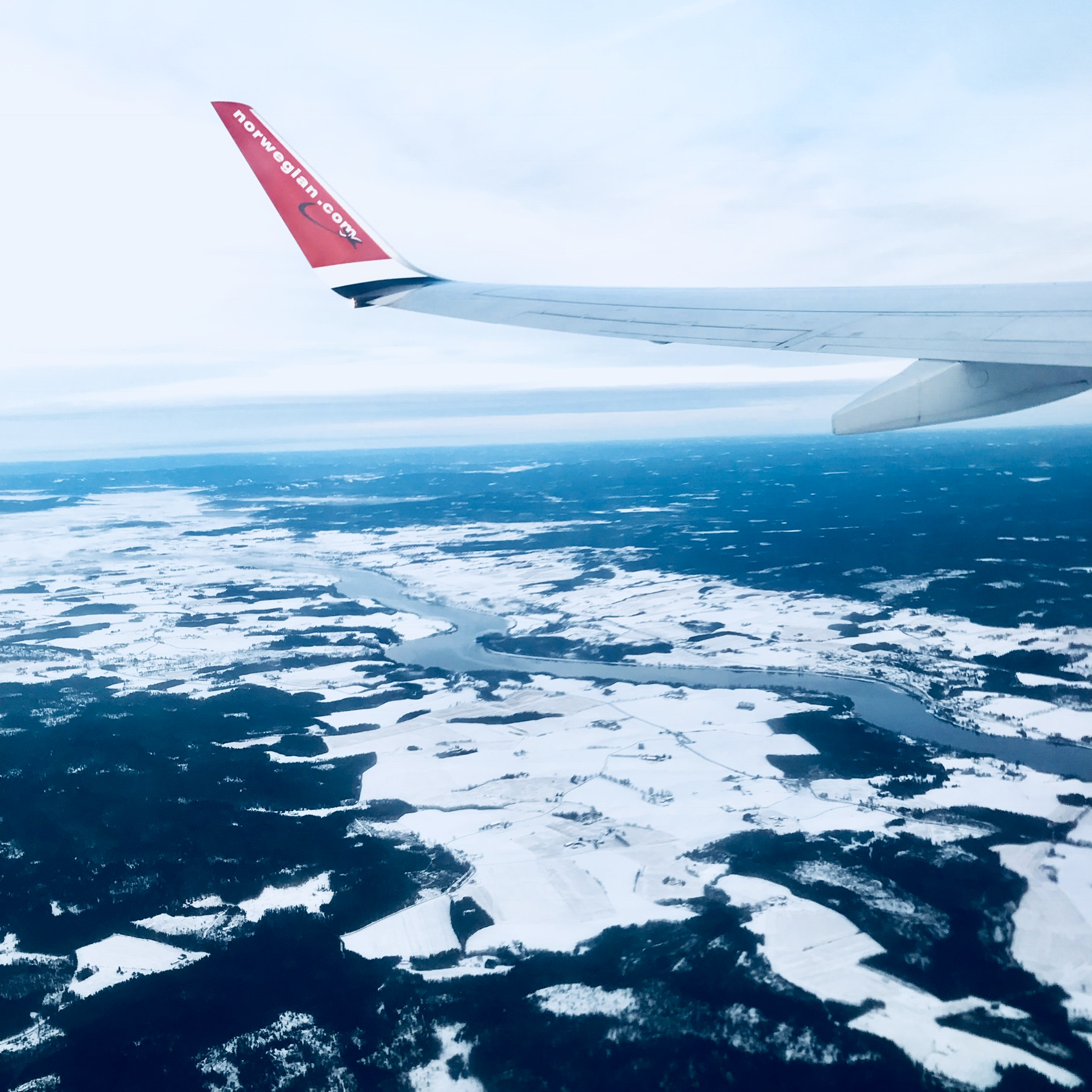 If you want to see more of the places I went to and vegan food in Oslo, there's another blog post "Vegan in Oslo" you can have a look at.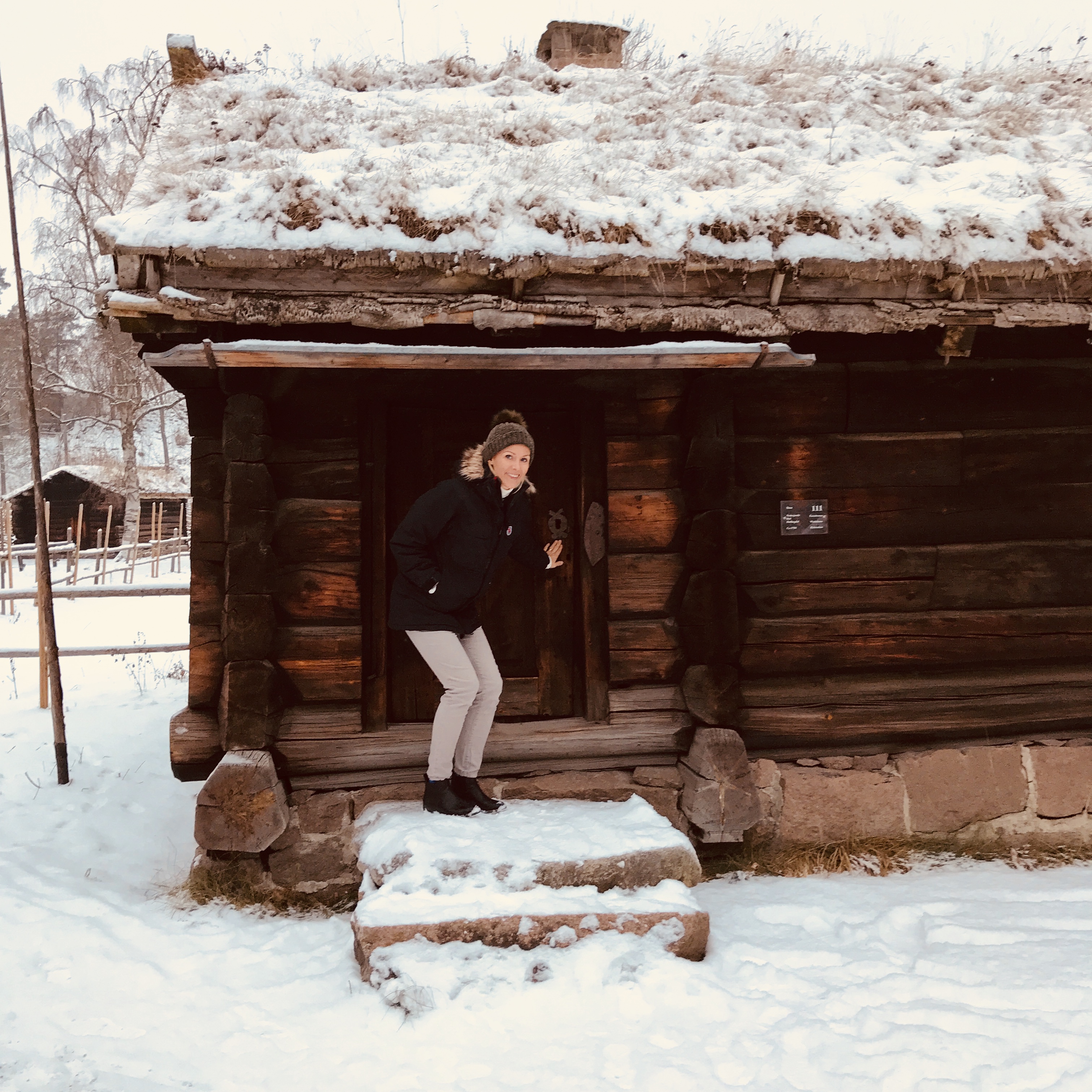 Next blog post is My vegan Christmas in Cyprus:)