Vegan Winter Roast
Vegan Winter Roast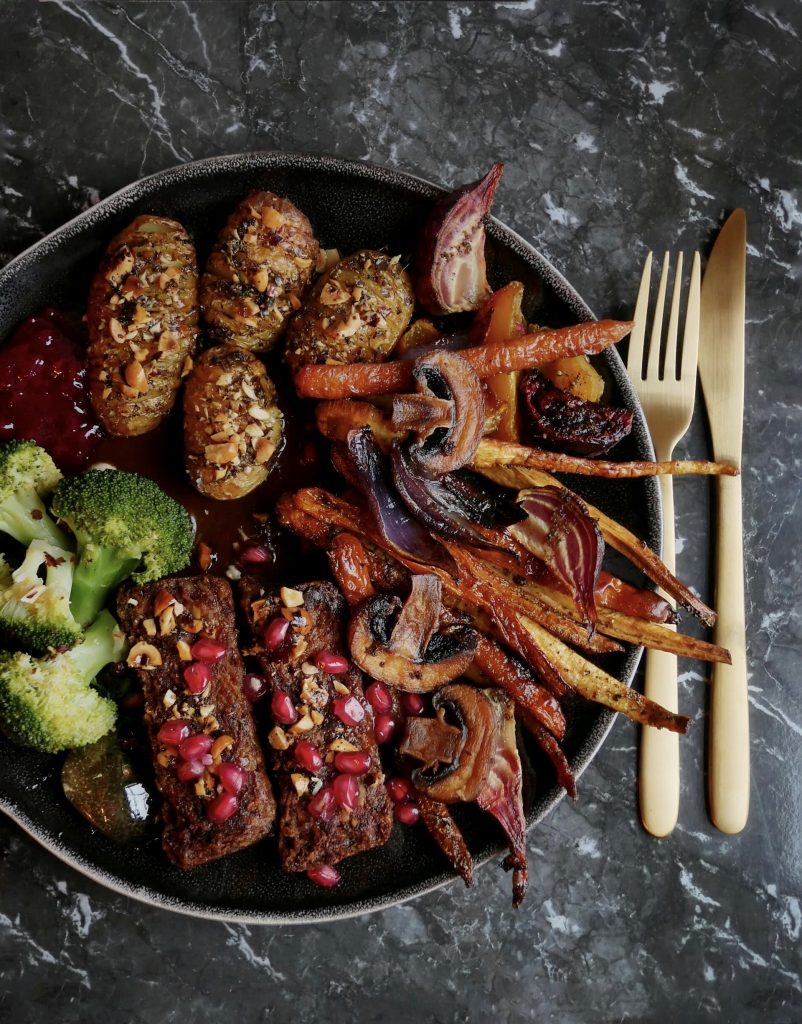 With root vegetables in season, this dish takes in all the flavors of autumn and winter. And don't you just love that we can eat delicious food that is less cruel, more healthy, better for animals and better for the planet! A win -win if you ask me;)
Recipe for Vegan Winter Roast:
1 tbl rapeseed oil
1 yellow onion
2 big cloves garlic
2 portobello or 4 aroma mushrooms depending on the size (100 gram)
1 ts thyme, 1 ts rosemary, 1 ts onion powder, fresh thyme
1 tbl grinded juniper berry
1 cup lentils
1 cup kidney beans
1 cup oats
1 grated carrot
1 tbl vegan Worcestershire sauce or bbq sauce
1, 5 cup walnuts, pecans, hasselnuts
1/2 cup vegetable broth (add more if too dry)
2 ts tomato paste
1 flax egg (1 tbl grounded flax seeds, 3 tbl water – stir, let sit for a few minutes)
1/2 cup dried cranberries
Sea salt and pepper
Pre-heat the oven for 175 degrees. Fry the onions, garlic, mushrooms, carrot in oil herbs/spices, salt and pepper. Add the vegetable broth, sauce, tomato paste and prepare the flax egg and transfer half in a big bowl and add lentils, beans and half the nuts. Use a masher to combine. Add the rest of the ingredients from the pan, chopped up nuts (it's nice with some chunks). Toss in the cranberries. Cover a loaf pan with baking paper and put the mixture in. Bake in oven for about 40-45 min. Check. Let rest in the pan.
I love to cut it up, freeze or fry it in a frying pan the day after. Serve with vegetables, sauce and potatoes. Or like here oven-roast root vegetables, red wine sauce, apple and rowanberry jam/jelly (made with pectin, not gelatine), and delicious hasselback potatoes. Top with pomegranate seeds and fresh thyme.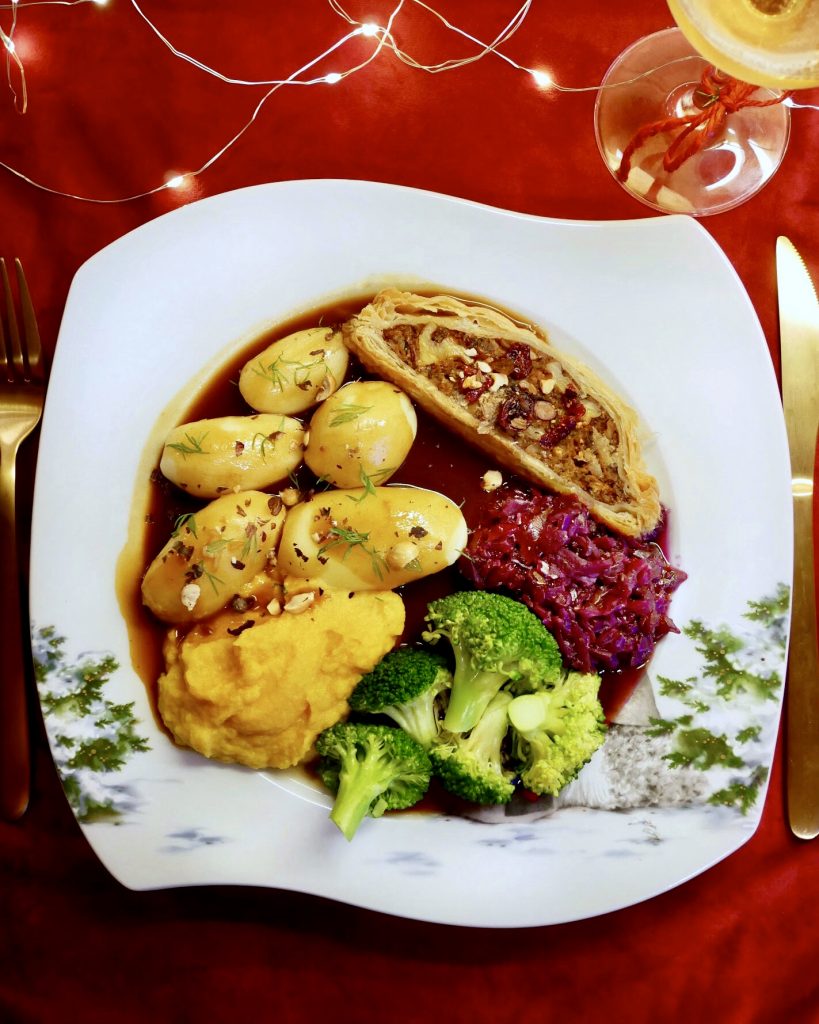 I made another one with puff pastry for Christmas and of course all the traditional sides: potatoes, pickled red cabbage, turnip mash with vegan butter and oat cream, broccoli and brown sauce. I used the same recipe for the roast, only added extra spices: 1/2 ts sage and 1 tbl tamari sauce. Sooo good!
Enjoy with a glass of wine, beer or maybe a kombucha. I wish you a lovely meal with foods your body will thank you for!
Lots of love:)