My contribution to The Cyprus Vegan's 7-day plant based meal plan
My contribution to The Cyprus Vegan's 7-day plant based meal plan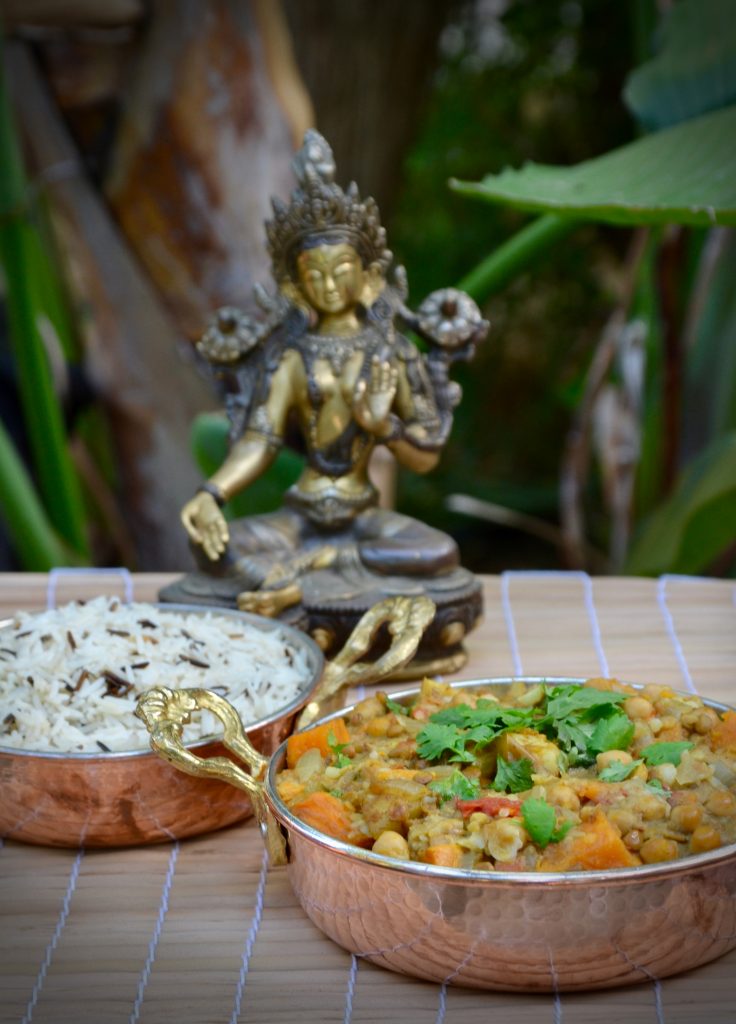 Indian inspired pot
by dharmalivi for The Cyprus Vegan
This is one of my absolute favorite vegan meals!! It's so easy to cook and you can use whatever you have in your kitchen. The ingredients I've listed are usually in our house all the time. I stock up on a few items and the fresh ones are always on my grocery list. I love to make this as an everyday meal, but also when we have guests. It's always a winner and no one leaves any leftovers! You can prepare easy and quick. Leave the pot and let it cook when guests are arriving. You can also make it more spicy or hotter if you want. This pot is mild…For those who like it not so hot and spicy. Taste with a spoon and see what you like. Add more spices or water/coconut milk.
Ingredients
Serves 4
2 onions chopped (can be yellow or red onion, or both)
2 tomatoes
1 big sweet potato (and or pumpkin)
5 potatoes (you can choose to have more or less)
2 garlic cloves
2 tablespoons grated fresh ginger
4 tablespoons coconut oil (you can use vegetable oil, but less than coconut oil)
2 teaspoons garam masala
2 teaspoons cumin
2 teaspoon turmeric
½ teaspoon cayenne pepper
½ teaspoon ground black pepper
1 small cup of water
1 can of organic coconut milk (or if you want more creamy use coconut cream or just water if you don't want the coconut milk)
1 can of organic chickpeas
1 can of organic lentils (green or red)
Juice of 3/4 of a lemon
Fresh coriander
Rice of your choice. I love the basmati wild rice.
Directions
Food prep: 5-10 min
Cut onions, grate garlic and ginger and cut sweet potato and potato.
Add coconut oil to your pot. I use an iron pot. Set on low to medium heat. Add cumin and the other spices. Stir and add onions, garlic and ginger. Stir while on medium heat. Add the tomatoes and small cup of water, and let it simmer for a few minutes. Add the sweet potato and potatoes, chickpeas, lentils, coconut milk and bring to boil and let it cook under lid on low to medium heat for 30 minutes or longer. Stir in the lemon juice at the end. Cook rice for the number of people you are serving. You can slow cook this dish too. That's what I do when I have guests coming. I think it tastes better too. Low heat for an hour or two. Serve warm with fresh coriander. This dish is great leftover food. Store in an airtight container in fridge for around 4 days. Or freeze.
Enjoy!